For Nearly a Century, Baltimore Home Tours Have Brought Together the Architecturally Curious
The real-life version of "Zillow surfing"—in which homeowners open their houses to visitors to show off their home's personal style, quirky features, interior design, or historic architectural details and renovations—has a rich history here.
If you've ever lost an hour mindlessly scrolling through real estate listings, you understand the appeal of seeing what's beyond a home's front door. It's a similar curiosity that has drawn attendees to home tours in neighborhoods throughout Baltimore for decades—from the annual Historic Reservoir Hill Garden and Home Tour each summer to the Union Square Cookie Tour of Historic Homes each winter.
The tradition of organizing tours of private homes goes back nearly a century here. At the first Maryland House and Garden Pilgrimage in 1930, visitors paid 50 cents admission for the chance to see inside one of 37 homes across seven counties. That year's hard-bound tour book listed Chesapeake Bay ferry times to reach properties on the Eastern Shore, two decades before the convenience of the Bay Bridge and when many of the region's country roads remained unpaved. But the allure was worth the trek.
"Among our many heritages, the heritage of old houses and old gardens is unique and precious because in it we find the past recreated in a way peculiarly intimate and alive," wrote Susan Meriwether Bryan in a foreword to the House and Garden Pilgrimage committee's 1938 publication. "Monuments and records give us the large drift of history. But old houses and old gardens give us the men and women who made the history: here within these walls, those others' lives; in this continuing garden, hands long-dead planted beauty still aflower."
In the 93 years since, we continue to flock to home tours to experience history on a personal scale.
"Lots of people are naturally curious about how other people live," says Jason Freeman, who highlights the architecture and history behind houses in the city's many distinct neighborhoods on his @historichomesofbaltimore Instagram account. "Homes are such personal spaces, so having a stranger open up their home and getting to see inside—it's basically like the real-life version of scrolling Zillow."
More than three-quarters of Americans report "Zillow surfing," or browsing real estate marketplace apps to explore unusual, odd, or luxurious homes without an immediate intention to buy. Home tours, where homeowners open their houses to visitors to show off their home's personal style, quirky features, interior design, or historic architectural details and renovations, fulfill a similar curiosity with an even richer experience.
On Freeman's Instagram account, which started out as a personal hobby and quickly blossomed to a following of nearly 61,000, the posts with interior photos are consistently among the most popular.
"If people know about a neighborhood or have walked by it, but they don't know the history, getting to learn about some of the interesting people that have lived there and things that have happened there can make a stronger connection for people with those places," says Freeman, who branched out beyond social media to offer walking tours of Mount Vernon and Roland Park over the past two summers.
In the same way, he says, home tours satiate our curiosity on a deeper level by offering a chance to connect with the home's resident expert—its owner—and access a well of stories behind the property.
"The owner is participating because they are proud of the house, whether they've restored it, designed it uniquely, or just have interesting furniture and art," Freeman adds. "So that's also part of the appeal."
Such is the case for Debra and Francis Rahl, who have lived in their 1857 Italianate rowhouse in Union Square for 43 years. A National Register Historic District spanning just five blocks east to west and three blocks north to south, the neighborhood is a community of about 550 houses in Southwest Baltimore and anchored by the 2.5-acre Union Square Park.
Each December, the Union Square Cookie Tour of Historic Homes welcomes 500 visitors to the neighborhood to tour 20 of its Victorian era rowhouses, often including the lifelong home of journalist H.L. Mencken on Hollins Street. Visitors have two hours to complete the self-guided tour, stopping at each home at their own pace.
The Rahls have been participating in the event since the first year they moved in. With help from family and friends stationed in each room to answer questions, they open their entire home to visitors. Overlooking Union Square Park and originally housing bankers, investors, and factory owners, the Rahls' block of Stricker Street was once known as Millionaire's Row. Homes here feature intricate carved cornices at the rooflines and cast-iron lintels over the windows, evoking Italian Renaissance palaces such as the Palazzo Medici in Florence.
Like many in the neighborhood, the Rahls' three-story, 22-foot-wide rowhouse had been divided into six apartments during WWII. Over the past four decades, the couple has painstakingly restored much of its original floorplan.
"Being part of the tour every year gave us the pressure to get another room done because you had a lot of the same people coming through," Debra says of the early days. "It really helped us get our house complete."
And the Rahls enjoyed checking out their neighbors' homes as well. Not only was it good for neighborhood camaraderie, it gave them a chance to see how other homeowners tackled similar restoration challenges.
"It was fun to go around and visit the houses because we had a chance to do some architectural archaeology," says Francis. "We traded ideas with one another."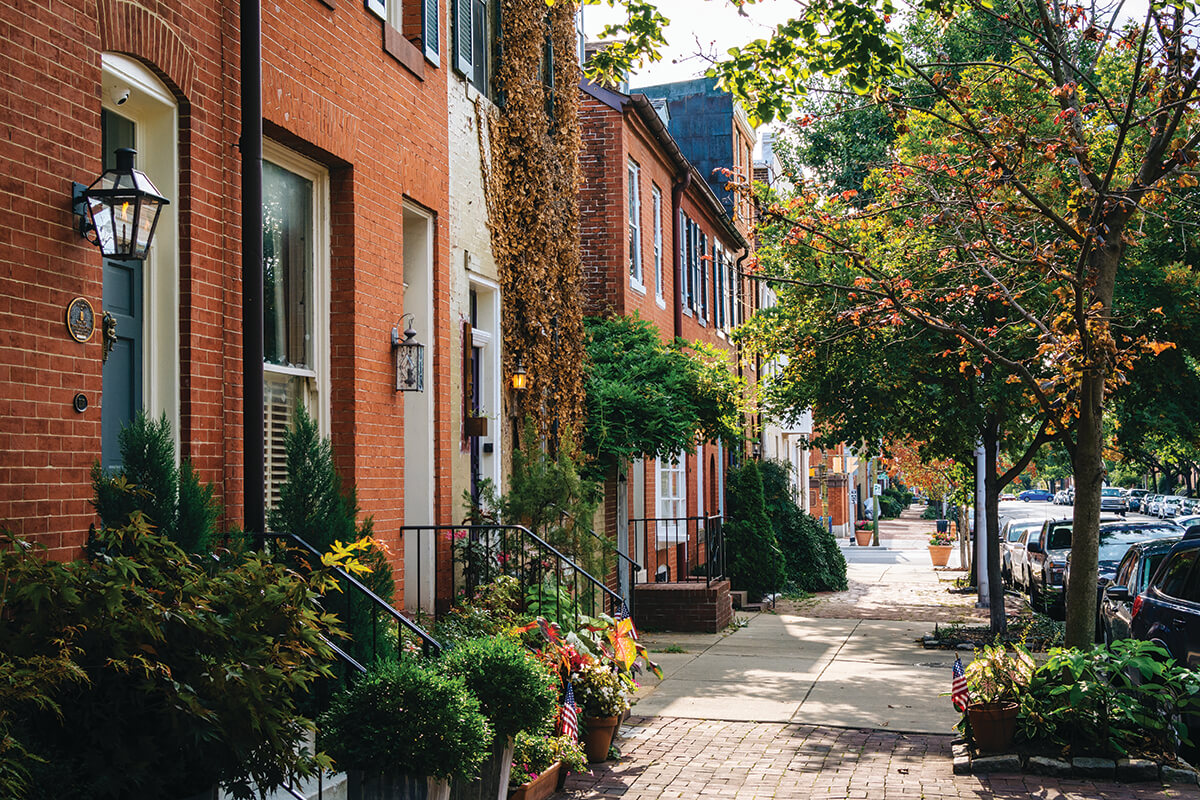 Home & Living
Pull out your calendar to pencil in these annual explorations of Charm City architecture.
And each house on the tour has its own unique personality. "People visiting are always surprised at how the interiors are all different, because the exteriors look the same," Debra adds. "They go into a house, and somebody may have the same identical floor plan that I do, but they've done it very modern, versus what we've done here is more traditional."
Cookie Tour visitors stepping into the Rahls' grand parlor—with its 12-foot ceilings, Victorian-era furnishings, and painted slate mantel—are greeted by a massive Christmas tree. Nearly touching the ceiling and dripping with hand-blown ornaments and glass icicles, the Fraser Fir takes a minimum of three days to decorate and has become a beloved feature on the Cookie Tour—so much so that visitors come bearing gifts.
"I have a number of Christmas ornaments on my tree that people have brought me on the tour," Debra says.
Early on, the Union Square Association moved its annual home tour from the fall to the second Sunday in December to avoid competition with a growing number of neighborhood tours. With the change, the community embraced the holidays by going all out on seasonal decorations, hosting a holiday market in the park, and by offering homemade cookies at each stop. The ticket price—$25 this year—includes recipes for all the cookies on the tour.
"We have residents from 56 different cultures represented here," says Bif Browning, Union Square Association president. "So we may get Turkish, Peruvian, Lithuanian, and old-school Baltimore recipes, depending on who's on the tour that year. It's always unique."
But not everyone comes for the cookies, or even the chance to peek into a stranger's home. Some come because of a deeper connection
to the neighborhood.
"We get a lot of people who have lived at Union Square in their childhood who come back and see how things have changed," Browning says. Or sometimes people are thinking of buying in the neighborhood and want to take a closer look. And there's another group who is invested in the properties themselves. "We also get a lot of very serious historic restoration and architecture type of folks who come to watch how the houses are changing and progressing over the years," Browning adds. "We opened our home the first year we moved here, while it was still under construction, and it's wonderful, you get some great ideas, but people are very free with sharing how they think you should [renovate]. We always hope when they return, they are happy with what we've done."
The Cookie Tour and its proceeds support programs for residents in the tight-knit community throughout the year, from a Sunday Sounds in the Park concert series to progressive dinners, a yard sale, the Easter egg hunt and Christmas tree lighting, as well as activities and meetups for the growing number of families with young children.
"Most people don't realize what a gem of a neighborhood we have here," Debra says. "The tour helps get people into the community to see what the houses are like and meet the neighbors."
No matter what draws visitors to the home tour—neighborhood research, nostalgia, history, or curiosity—they are welcomed with hospitality and depart with a genuine connection and cookie in hand.
"We have beautiful historic homes in our neighborhood, but the real strength of our neighborhood is the diversity of people we have and the common bond of community," Browning says. "And that's done by having all these events—all these things that get neighbors to know each other. And I would dare say there's not another neighborhood in Baltimore where people not only know their neighbors on their block, but they know neighbors on every block."