Behind the Gilt Curtain
In intensely private Guilford, three homeowners on the spring House and Garden Pilgrimage share stories of their very cool stuff.
Guilford.
For nearly a century, its name has remained a synonym in Baltimore for high prices, closely guarded privacy, and social power. So followers of the annual Maryland House and Garden Pilgrimage last spring felt fortunate to get a peek into a handful of the grand homes in this leafy, exclusive neighborhood with its elegant—and sometimes ecclectic—architecture from the early 19th century. Guilford's participation was no doubt motivated by the fact that proceeds from the tour went toward restoration and maintenance of the beloved Sherwood Gardens, six acres of manicured, unfenced open space shared by neighborhood residents, and indeed, all of Baltimore. What the pilgrims generally didn't see, though, were the owners. So, as has usually been the case for the 73 years the statewide tours have been in operation, the tour-goers were left to wonder, "Who gets to live there?"
"There's definitely curiosity at work," says Margie Powell, who has been involved with the Pilgrimage for more than 40 years, first as a volunteer, and for the past 20 years as its executive director. And the curious are not just those from outside Guilford: "Usually, lots of neighbors turn out, people who live nearby but have never been in the house."
Sometimes, of course, what is even more interesting than these houses, gardens, furnishings, and decorative objects are the people who call them home. So we went in search of those owners, who had shied away on the day of the tour from the curious home-and-garden crowds.
One of those elusive owners is antiques dealer Maliene Wajer: Her story is that she tired of acting only as a temporary foster parent to all the beautiful antiques she'd seen go by in recent decades.
Wajer has been studying furniture since she was 16, buying and selling since she was 21 years old, and operating Crosskeys Antiques for 25 years along with husband Bernard.
"I'm 68 years old, and this is the end of it," she says, gesturing around her Guilford living room. "I'm not selling any of these things."
At the same time, a visitor may feel a small sense of relief to hear that Wajer has no intention of adding to her collection. Every surface of the 20-room, circa 1916 granite house is occupied, and it's nearly impossible to take it all in: the rugs, the furniture, the artwork in gilt frames, the animal heads—sculpted or stuffed—staring down from the walls.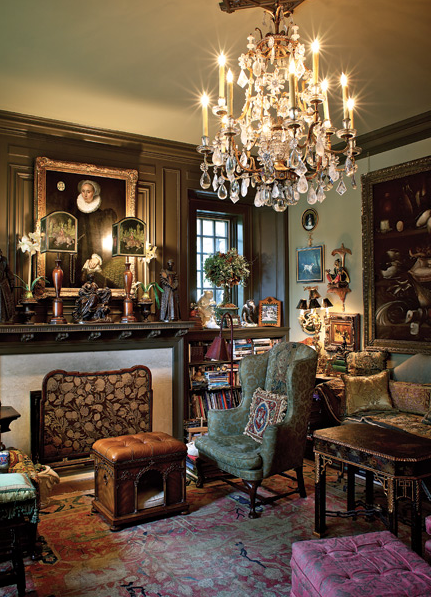 There's a pair of Queen Anne needlepoint chairs, a painted Chinoiserie chest, an early Italian table. Bronze statues of Mary Queen of Scots and her sister Elizabeth share the mantle with a carving of a woman removing a thorn from a lion's paw. There's a tufted leather ottoman that opens to reveal a clever dog bed, while hundreds of oversized art books are stacked under every table, chair, and sofa in the 40-foot room. Chandeliers dripping with crystal hang from the ceiling.
"People ask me if I ever get bored of things," says Wajer. "I've never been bored a day in my life."
There really is no one item that adequately serves as a metaphor for the collection, but if one were forced to choose, a candidate might be the large oil painting that hangs over the camelback sofa, which is upholstered in vintage fortuny, a cotton-based, velvet-like fabric popular in the 19th and early 20th cenrtury. The painting is about four feet high and six feet wide. A serene young woman sits near a window, and she's surrounded by dead animals, including a rabbit and a pheasant, the recent spoils of some kind of hunt, ready for skinning. It's a copy of a Flemish painting from the 16th or 17th century, Wajer says. Even the copy is more than 100 years old, and part of a four-piece series—two others are elsewhere in the room, while the fourth is in a house Wajer owns in England. Each of the four depicts a season (this one is spring), with the subject matter mainly food. Wajer's philosophy about collecting is illustrated by this painting.
"I don't care if it's an old copy or a made-yesterday copy. It's beautiful."
And, of course, there are the actual dead animals, another important theme in Wajer's collecting. She is fascinated by taxidermy and other images of animals, seemingly frozen in motion. Like the Victorian fishbowl with a life-size, terra-cotta cat poised above it, its paw ready to swipe. A giant moose head is positioned on the wall of the staircase landing. A swan sits atop a cupboard in the dining room. (It's a court cupboard from the 15th century, Wajer notes.) There are even dioramas of otters living in miniature habitats tucked into a corner of a sitting room, and a fox is curled on a chair in the hallway, captured in eternal sleep.
And, no, she didn't stalk the now-motionless animals herself, a la Sarah Palin.
Wajer, who has owned three houses in Guilford and one in Roland Park—this one for 12 years—was once looking at a Roland Park house she was interested in buying. It was filled with animal heads, hunting trophies accumulated by the owner's husband. "I told her I wasn't going to buy her house," Wajer recalls, "but I offered to buy her heads." Much of the collection was sent to the Maryland Club, but Wajer took what remained.
Peggy Mullan Greenman's home on Northway achieved notoriety some years ago when her father, Joseph Mullan, posted a six-foot sign in the front yard advertising for a wife. The professionally executed advertisement, which read "Wanted: A WIFE!" with the instructions "apply within," attracted women of all ages, recalls Greenman. "People were lined up to get in the door."
Her mother, Getty, had recently died, and while her father "met a few women," as a result of the stunt, he did not remarry. "It was more to keep him entertained," his daughter says. Mullan died the following year. "Dad had a great sense of humor, and he was always doing something," says Greenman. "He had a collection of antique cars, and we'd go out driving around the neighborhood."
Greenman, whose family bought the stucco house when she was five years old, says that while the three-story home is built to the scale of the neighborhood (read: large), with nine children in the family, she never felt like she grew up in a big house. "I didn't have a room of my own until I was in my 20s," she says.
Built as a wedding gift to a young bride from her father in 1927, the house was purchased by Greenman's parents in 1948, and three additions were subsequently built—a garden room, a library, a second-floor sitting room and deck, as well as an expanded basement. But Greenman has not done much to the place since her parents passed away.
Greenman, who is married to Donald Greenman, a maritime attorney with Ober/Kaler, inherited the house and its furnishings from her father. For a while after her parents died, she said, she would have dreams in which her mother chastised her for moving furniture or changing the drapes.
Along with taking over the house, Greenman took over the family business. She manages a 400-unit apartment building that her father built. Greenman's grandfather, Thomas Mullan, was founder of the Mullan Contracting Co. and a part owner of the Baltimore Colts.
Along with his passion for cars, Joseph Mullan was devoted to woodworking and photography, and evidence is all over the house. He completed scores of pieces of furniture in a span of just 13 years, beginning in the 1970s until he suffered a stroke in 1986, Greenman says. She points out examples of his work: dining room chairs with carved backs that reveal swirled monograms, inlaid tables, and reproduction Chippendale chests. There are miniature desks and reproductions of spice cabinets used to store silverware. In the living room, a burled walnut secretary with a myrtlewood drop front has dozens of drawers and cubbyholes. The desk is a blend of ideas he found in books on antique furniture. "My parents would draw the plans together," she says.
On a stairwell that leads to the third floor are a series of calligraphy charts that document Greenman's mother's history. The family trees date to the late 1700s, when Francis Getty came to the U.S. from Armagh in Northern Ireland. The Mullan family came from the same place, even earlier, Greenman says. Her family has lived in the area since the 1800s—her great-grandparents owned a property on Old York Road, and there's a small park in the Pen Lucy neighborhood named for the Mullan family.
"I always felt very secure growing up, knowing this house was here," she says. "It's important for me to pass it along to my own daughter."
Laurence Hall Fowler designed several homes in Guilford, no two in the same style. Which is why Barbara Brody likes to joke with a good friend—who lives in a Spanish-style Fowler house—about the international mish-mash that defines the neighborhood. "You've got your English, your Italian, and your Spanish," Brody says. Barbara, who is a clinical instructor at the University of Maryland School of Social Work, and her husband Edward, CEO of Brody Transportation Co., live in a Spanish-style pink stucco Fowler house built in 1925.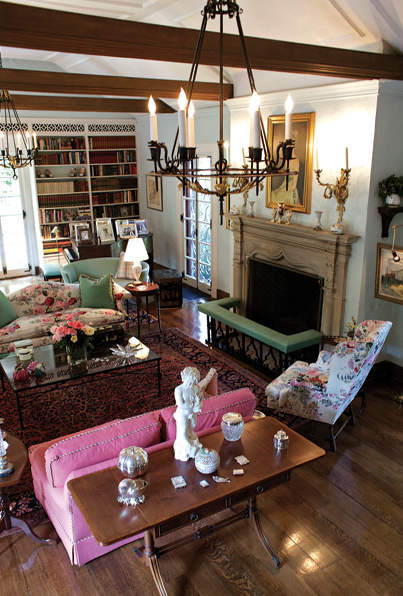 Despite its grandeur, the house has only two bedrooms. The Brodys moved here more than 20 years ago, after their three sons had grown and moved out of their home on nearby Northway.
"I guess you could call it an empty-nester home," Brody says. She would walk past the house from time to time and always admired the gardens, she says. And when she learned that it was for sale, she and her husband decided to buy it.
Aside from light paint in its large and gracious rooms, the Brodys haven't done much to change the place.
"Our kids are always telling us we should redo the kitchen," Brody says. "But I don't really care about granite countertops. We like it the way it is."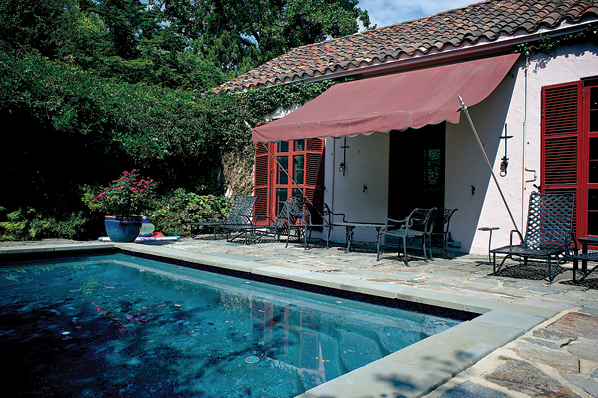 One alteration they have made is outside. "We were out here one day, and I said, 'Edward, we have this big yard, almost half an acre, but there's nowhere to sit,'" Brody recalls. Adjacent to the house, in a space previously dominated by a random series of boxwood bushes, the couple built a small swimming pool with a tile border. On one side is a pergola wrapped with wisteria, and on the other, a peaceful terrace with comfortable chairs.
And through a gate at the side of the pool is the garden that Brody saw many years ago. It's largely as it was, though Brody, who is a certified master gardener through the state Department of Agriculture, added rows of rose bushes around a fountain and installed an arbor that billows with blossoms in the late spring.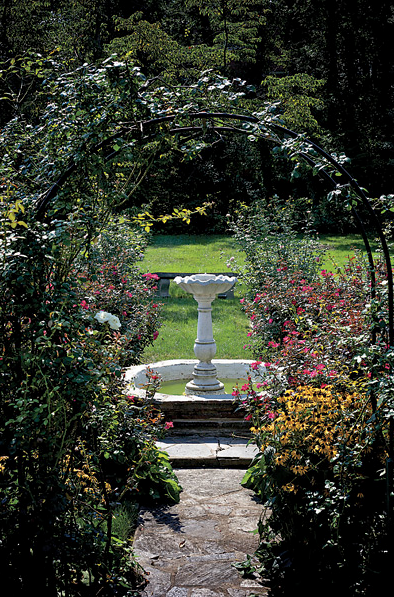 One of Brody's favorite possessions is a photograph of the rose arbor, taken by one of her sons and hanging in a place of honor in the living room. The large room is about four steps below the entry hall, and has a high vaulted ceiling. Oversized, arched windows keep the room bright during the day. At one end is a grand piano, which Brody says her husband occasionally plays, and on a nearby wall is a charcoal drawing of her uncle playing the violin. Brody studied violin at the Peabody Preparatory School and a large black-and-white photo of her playing the instrument as a child hangs in her husband's study.
With the exception of this forest green office with its traditional dark wood and leather tufted furniture, the color palette in the Brody's home is mostly pastels. The dining room is a light pink, the walls adorned with Barbara's collection of Royal Crown Darby china, and a print of a pink pelican, which hangs above the fireplace. "A decorator friend of mine said these rooms are too large to be dark colors," Brody says.
On a peaceful afternoon, the house feels far removed from Baltimore—even as the rumble of traffic on nearby St. Paul Street is ever-present. According to Brody, the house was designed for a couple who wanted a copy of a villa they had seen in the Mediterranean. And though the Spanish villa is smack in the middle of Guilford, the architect seems to have fulfilled their wish.