Labor of Love
The 12-year journey to revive a Bolton Hill Victorian yields a showpiece.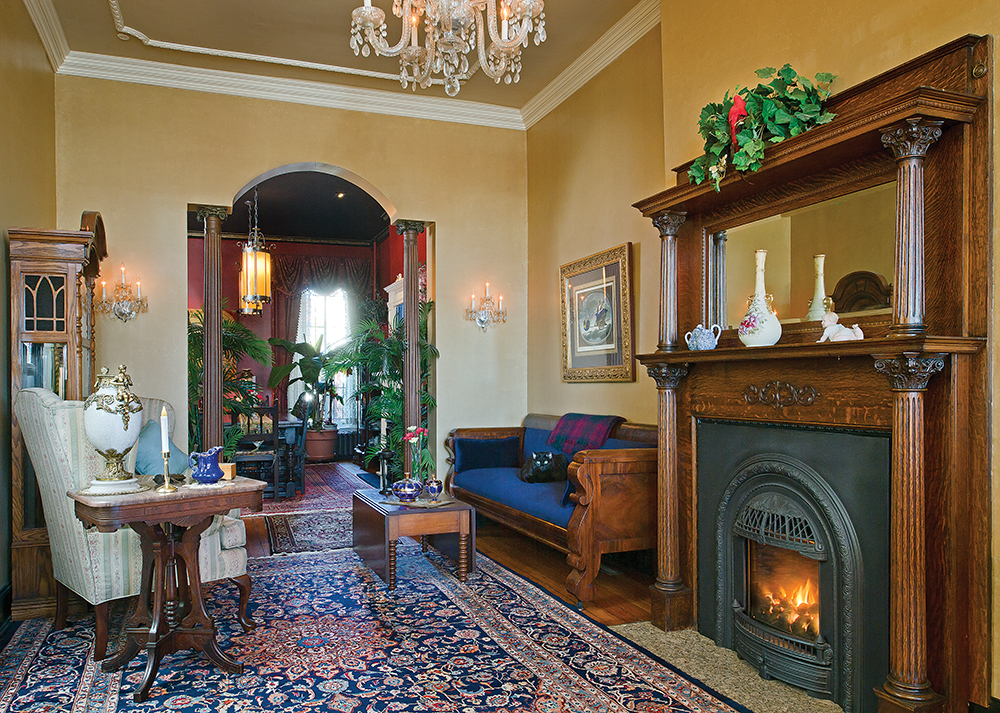 If homes could talk, a certain gray stonefront Victorian on a tree-lined block of West Mount Royal Avenue in Bolton Hill would have 135 years worth of stories to tell. After the three-story home was built in the early 1880s, it most likely housed a large, upper-middle-class family. Sometime around World War II—as families decreased in size and moved to the suburbs—it was split into apartment units. And in the 1980s, it became home to students attending the nearby Maryland Institute College of Art (MICA).
On a Sunday morning in the summer of 2000, Thomas Shipley and Christopher Taylor saw a for-sale photo of the beautiful 3,700-square-foot home in The Baltimore Sun. The couple was looking to trade in their rowhouse in Butcher's Hill for something with more space.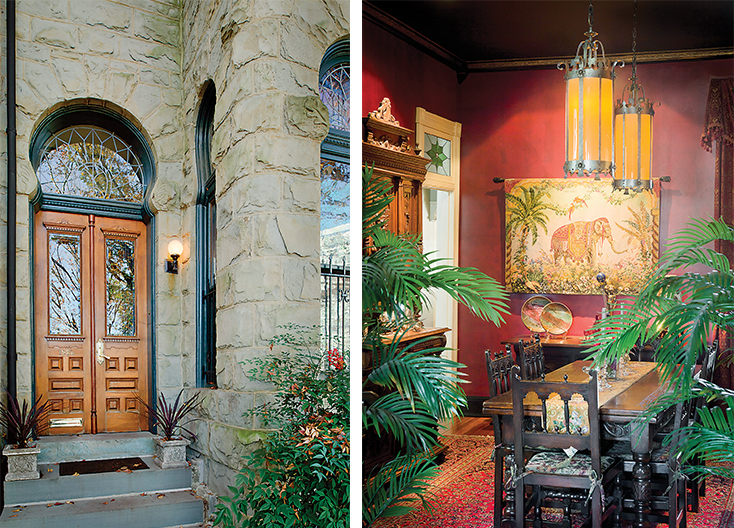 "When we met the Realtor here and opened the front door, our hearts just fell," remembers Shipley. "It was a disgusting mess." Years of neglect had left an abused shell of a home, with little left of its original beauty. Tape held together cracked windowpanes, painted-over nails were hammered into woodwork, and carved initials covered the bright purple bannister. But original details that did remain—among them, dramatic keyhole-shaped Moorish windows and Palladian weight-and-pulley windows leading to the third-floor balcony—charmed the two into taking the plunge. Although they hadn't planned on a renovation, they purchased the property from MICA in August of 2000 and moved in two months later to embark on what would be a 12-year "labor of love," Shipley says.
There's no trendy exposed brick or open-floor plans to be found in the home, which was restored as closely as possible to its original 1880 design. With few historic photographs or records to guide them (even the construction date of "early 1880s" is an informed guess), Shipley and Taylor used neighboring properties and magazines such as Victorian Homes and This Old House to guide their DIY project.
Original fixtures like radiators and transom window openers were repaired and saved whenever possible, or replaced with materials dating from the same era. When the kitchen's sagging foundation forced the homeowners to replace and reinforce the floors, beams from the old Calvert Distilling Company dating from the turn of the last century were milled into pine flooring.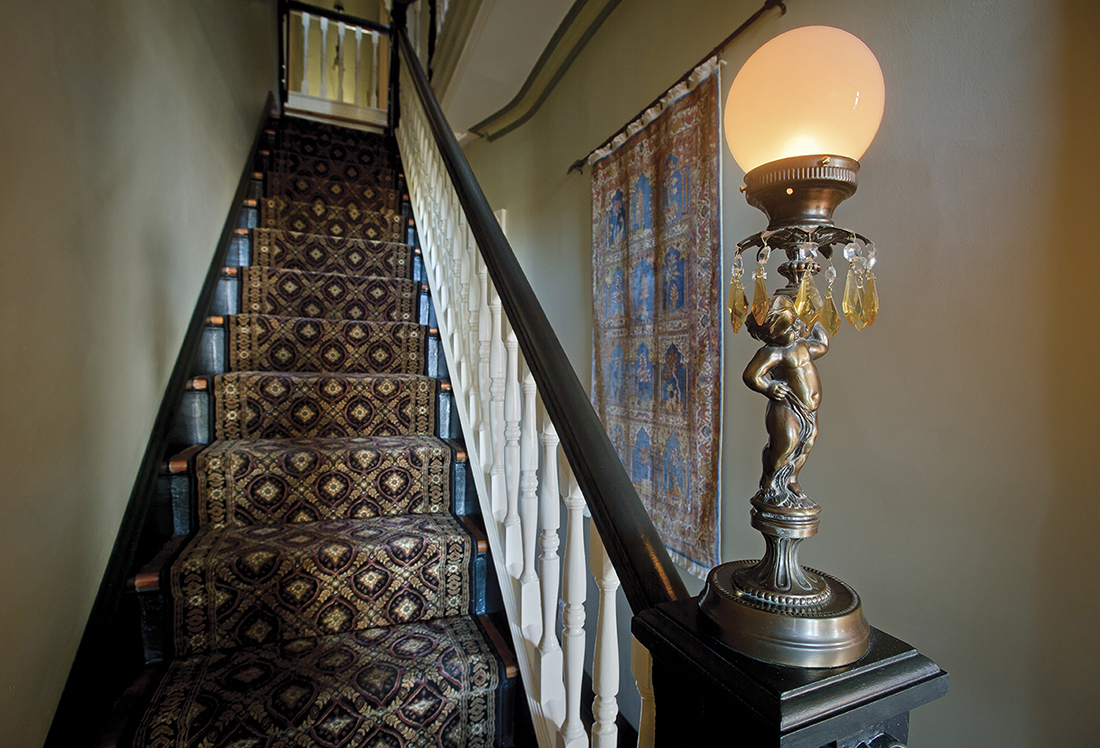 To reconstruct the original double vestibule front doors—which, along with the transom window, had been stolen—Shipley, a carpenter and former contractor, looked at doors on a nearby home's entrance as a model. "I did a scale drawing of the doors and then Chesapeake Woodworking and I built those and put them back," he says, "so they're actually replicas of the doors that were there when the house was built."
The rescued home's traditional décor flowed naturally from the historic design. Often, a family heirloom or item discovered on an antiquing trip set a room's tone. "When we found a great piece, we would put it in a box and store it," Shipley says. "We [didn't always know] where we were going to use it."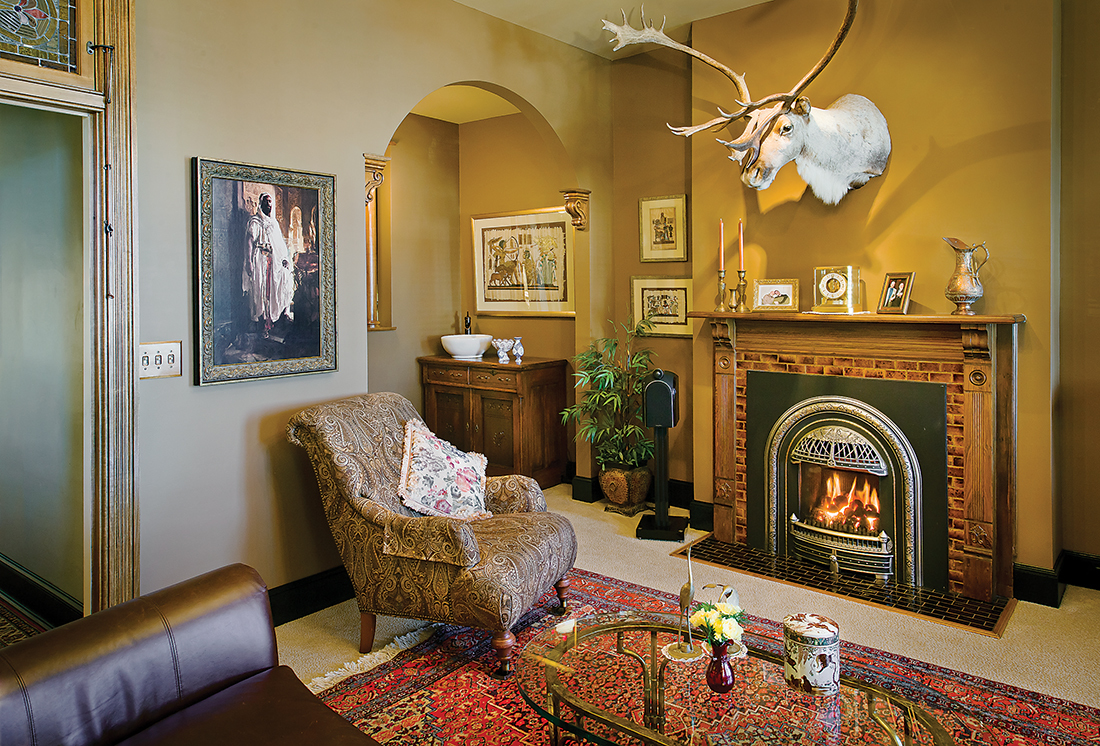 The 18-foot-wide rowhouse welcomes visitors into a parlor in the front, which leads into a dining room, half bath, and kitchen before opening to the back patio. Twelve-foot ceilings, two fireplaces, and a columned archway set a traditional tone. The dining room's medieval-era décor began with a table and chairs purchased from a shop in Ellicott City and extends to the accompanying carved wooden furniture, dark red walls, and Persian rug. The lantern chandeliers over the table were discovered by chance, peeking out of a pile of rubbish outside an old church that was to be torn down.
"As we drove by, I saw a trash pile and spotted a chandelier," remembers Shipley. "We stopped and I bought these. There were only two that didn't have the glass broken."
Each item sparks a remarkable memory for the homeowners, who have a knack for sourcing vintage décor. The Estey organ in the parlor, which dates to the 1880s, was given to Shipley in 10 to 15 boxes to settle a $50 debt, and he painstakingly assembled it by hand over many months. Two crystal sconce lights discovered in an Eastern Shore junk shop turned out to be a match to the parlor chandelier they had purchased there years earlier. The mantle was discovered in an Eastern Avenue antique shop. And the rugs in the first-floor hallway were haggled for at the Grand Bazaar in Turkey and carried home in duffle bags. "Everything in the house has a story," says Shipley. "It's fun."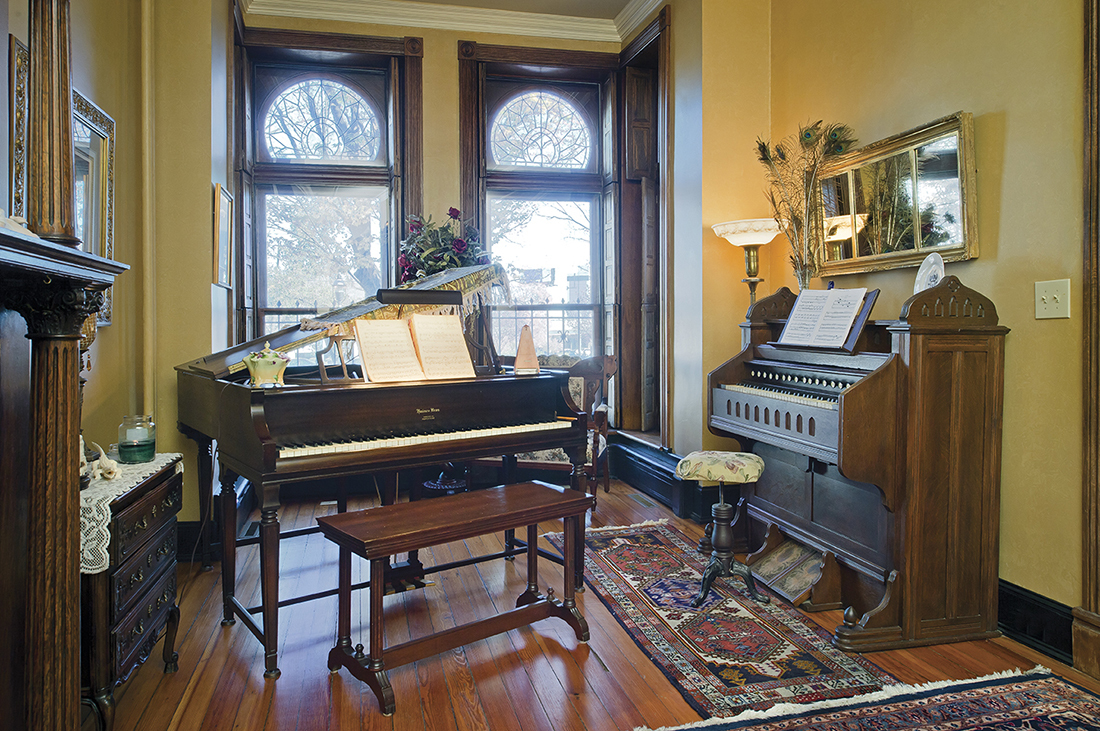 From a seat on a leather couch in the warm and cozy second-floor den (the couch faces the wall-mounted caribou head brought back from a trip to Montana), Shipley and Taylor look through a photo album documenting the decade of work that went into restoring the home to single-family use and era-appropriate design.
"We were living out of plastic bags for years," says Taylor.
"We would go to work in a three-piece suit and a diamond stickpin and someone would say, 'What's that on your shoulder?' and we'd have plaster on there," recalls Shipley with a laugh. "It was a mess."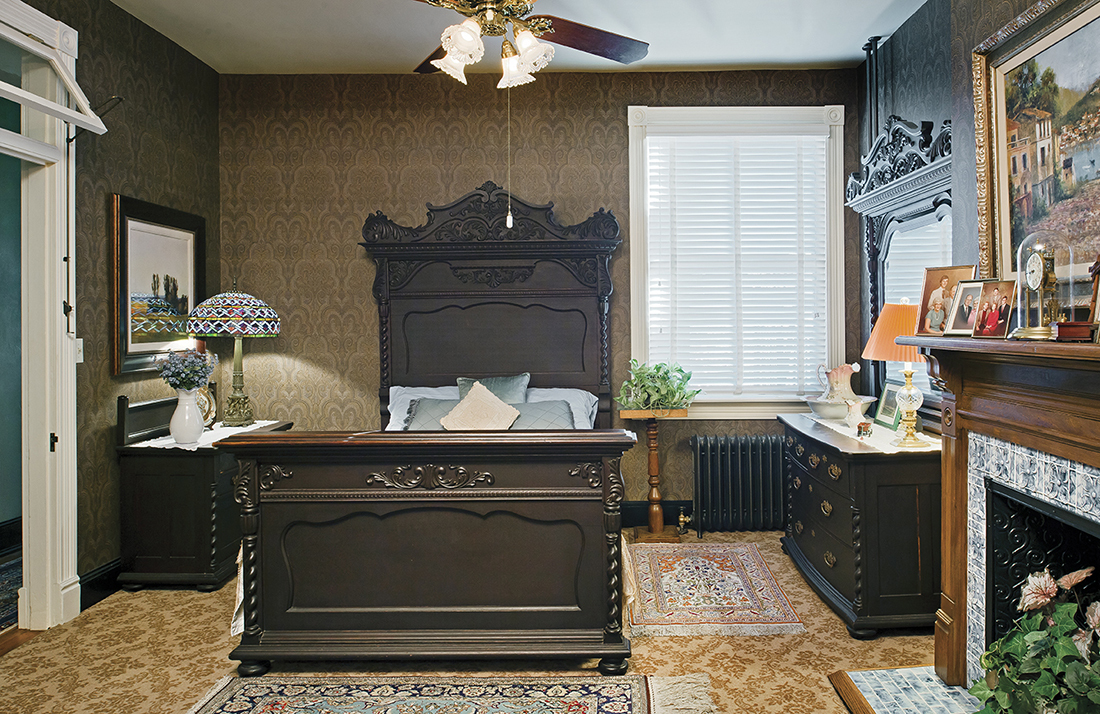 When asked why they wanted to take on such a daunting project, the couple didn't have an immediate answer, as if renovating the home was more of a calling than a decision. After thinking for a moment, Taylor replies, "Because it's got character. It looks like something."
But Shipley admits it's not for everyone. "It scares some people. But we saw it finished," he says, likening the journey to Michelangelo's process of seeing a finished statue within a block of marble, and then removing the unnecessary pieces to set it free.
"I always talk to the house and say, 'Do you appreciate all we've done for you?'" says Shipley. "She and I have a good relationship. I know her every nook and cranny."