For Work and Play
This health guru, father, and nature-lover built a home to meet every need.
When Dr. Wayne Scott Andersen built his new home, he envisioned it as more than just a place to hang his hat. For The New York Times best-selling author, and co-founder of Medifast weight-loss program Take Shape for Life, it was to be an expression of Andersen's philosophies of healthy living.
"We designed this to be a focal place where we could bring leaders from all over the country, as well as for the corporation," he says.
While the home—which Andersen shares with his wife, Lori, their two teenage daughters, and two Labradors—needed to be expansive enough to host as many as 200 event guests, as well as accommodate Andersen's business activities (such as filming live broadcasts), it also needed to be intimate enough that their daughters could feel comfortable bringing friends over to hang out.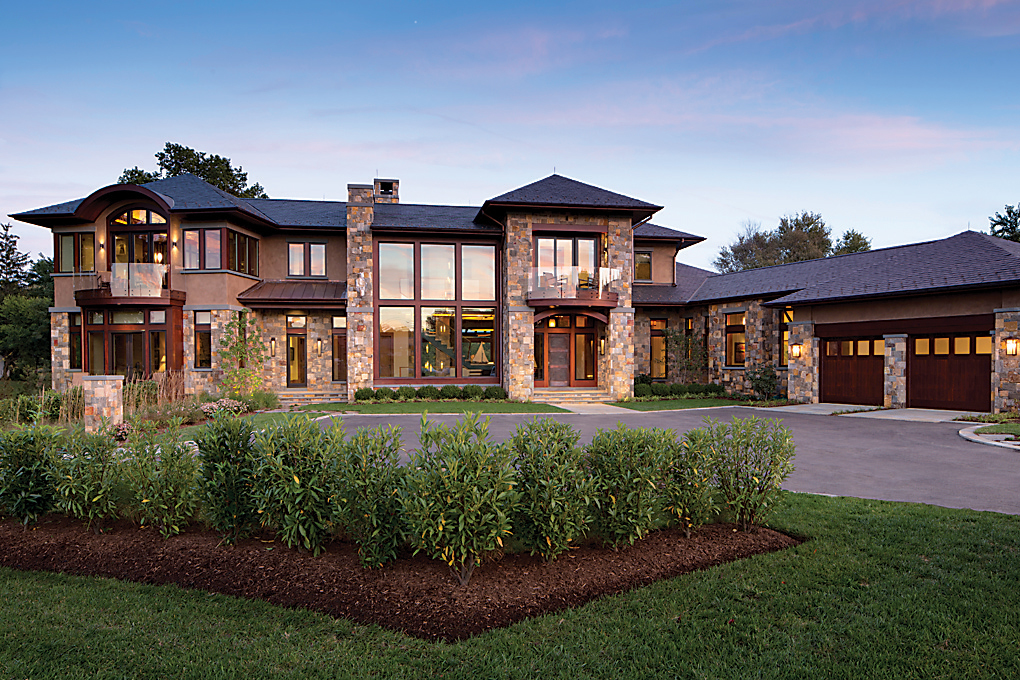 He knew he wanted waterfront, and looked for two years to find the right piece of property, a private place with deep enough water that he could keep his ocean-going sailboat docked at the house. It was architect Cathy Purple Cherry, principal at Purple Cherry Architects in Annapolis, who alerted him to what turned out to be an ideal three-acre parcel. (She didn't make that company name up—her maiden name was Purple and she married a guy named Cherry.)
Located between Harness Creek and Great Frogs Winery, the property has both water and vineyard views. And capitalizing on those views was paramount to Andersen.
"I love the water, I love nature," he says. "One of the requirements was that the house be like a Frank Lloyd Wright design, that it would erupt out of the ground and look like it belonged there."
Purple Cherry says the siting, or positioning, of the 10,000-square-foot home was very important. "First and foremost, he wanted to be living in a home that always felt connected to the outside," she says. In the design stage, each angle of the house was measured to ensure every window was perfectly aligned to let in views, while shielding the house from neighboring homes and docks. Calculated siting means it also captures breezes—Andersen says they rarely use their air conditioning, preferring the house to be open and directly connected to nature.
An outdoor patio and fireplace fusing the indoors with the outside.
A hallway's unique lighting
To create the Lloyd Wright feeling that the home grew up from the landscape, Purple Cherry relied on natural exterior materials of mixed stone and stucco, paired with Spanish mahogany trim and a slate roof with copper trim. Gently grading the exterior grounds, which are complemented by natural plantings by landscape architect Kevin Campion, added to the structure's sense of belonging to the land. In addition to placing two rain gardens on the property to mitigate storm water, about 100 trees were planted to help combat erosion, as well as more than 3,000 native grasses and perennials.
A custom-designed hammered-copper front door ushers people inside, where volumes of glass are used to bring the outside in. Nowhere is this more striking than in the three-story, cantilevered stairway that floats in a column of windows. It is adorned with an equally magnificent 30-foot light custom made by the New York-based glass collective Shakùff, and features more than 25 handblown LED glass fixtures.
"It is the centerpiece," says Purple Cherry, who designed the staircase and worked with Gutierrez Studios on its execution. "The stair is stunning and a very complicated mathematical and structural element."
A custom-designed hammered-copper front door.
The three-story, cantilevered stairway is adorned with 30-foot custom-made lighting.
The home's interior is equally rich, with natural materials including hand-rubbed walnut floors and Douglas fir built-ins designed by the architect.
Andersen loves the natural ambience of wood-burning fireplaces—there are five in all, each featuring striking stone surrounds—and they're in use nearly every day all winter. While the fireplaces may look flush against the walls in each room, the architect cantilevered each slightly, so they can be seen to best advantage.
Not surprisingly, considering his line of work, Andersen and his family eat a healthy, mostly plant-based diet, and the kitchen design reflects that. It has lots of preparation areas and a sink designated for vegetables that has its own disposal, so vegetables aren't washed in the cleanup sink where bacteria could cause cross-contamination. There's a built-in pot filler, which is particularly useful for preparing soups. Even appliance selections were made with an eye for good health, from the ceramic-based infrared range to the two dishwashers—one always clean, one dirty—so there's always clean and sanitized dishware.
The five fireplaces each feature striking stone surrounds.
A view of the kitchen.
To give the home the expansive quality it needs for large events, much of the living area is an open plan, basically a large great room. While Andersen liked the idea of a media room, he did not want to go to a separate, dark place to plug in. So Purple Cherry built the television into the fireplace's stone mosaic surround and hid it behind a piece of art Andersen purchased in Colorado. The four panels, featuring three horses, retract to display the television. In nice weather, a 27-foot NanaWall can fold back to combine into one great room, dining-kitchen space, and the exterior porch.
So can a big home like this get too big? Not if you're careful about the statement each room makes, Anderson believes.
"Homes of this size can be intimidating," he says, "but this is designed to be a comfortable, soothing place."
For large events, much of the living area is an open plan, basically a large great room.
Purple Cherry built the television into the fireplace's stone mosaic surround and hid it behind a piece of art Andersen purchased in Colorado.
Architect
Purple Cherry Architects
Construction
Pyramid Builders

Interior Design
Interior Concepts/Arlene Critzos
Landscape Design
Campion Hruby Landscape Architects

Pool Design
Sunset Group

Lighting
Jones Lighting Specialists
Metalwork/Furnishings
Gutierrez Studios