Pop, Clink, Fizz
With the New Year rapidly approaching, you'll have plenty to toast. Here's how to get your bar cart in the holiday spirit.
Marquis Bar Cart ($1,896) at The House Downtown. Zebra cocktail napkins ($30) at Becket Hitch. Dauville platter in gold with white trim ($27) at Trohv. Punch bowl courtesy of Brendan Dorr. Coasters ($24) at Becket Hitch. Gold leaf dish ($20) at Becket Hitch. St. Germain ($29.99) and large Freixenet brut champagne ($12.99) at The Wine Source. Presidio ice bucket ($99) at Williams-Sonoma. Short mixed cut goblets ($79/set) at Williams-Sonoma. Champagne flutes ($12/each) at Williams-Sonoma. Split Freixenet champagne ($3.99/each) at The Wine Source. Chevron straws ($7.50) at Trohv. White cake stand ($39.95) at Williams-Sonoma. Sarah's Stands Sweet & Low Black Tie Affair 10-inch cake stand ($65) at sarahsstands.com. Gold urchin ($36) at Curiosity. Shot on location at Church & Co. Flowers courtesy of Local Color Flowers. Cupcakes courtesy of La Cakerie.
---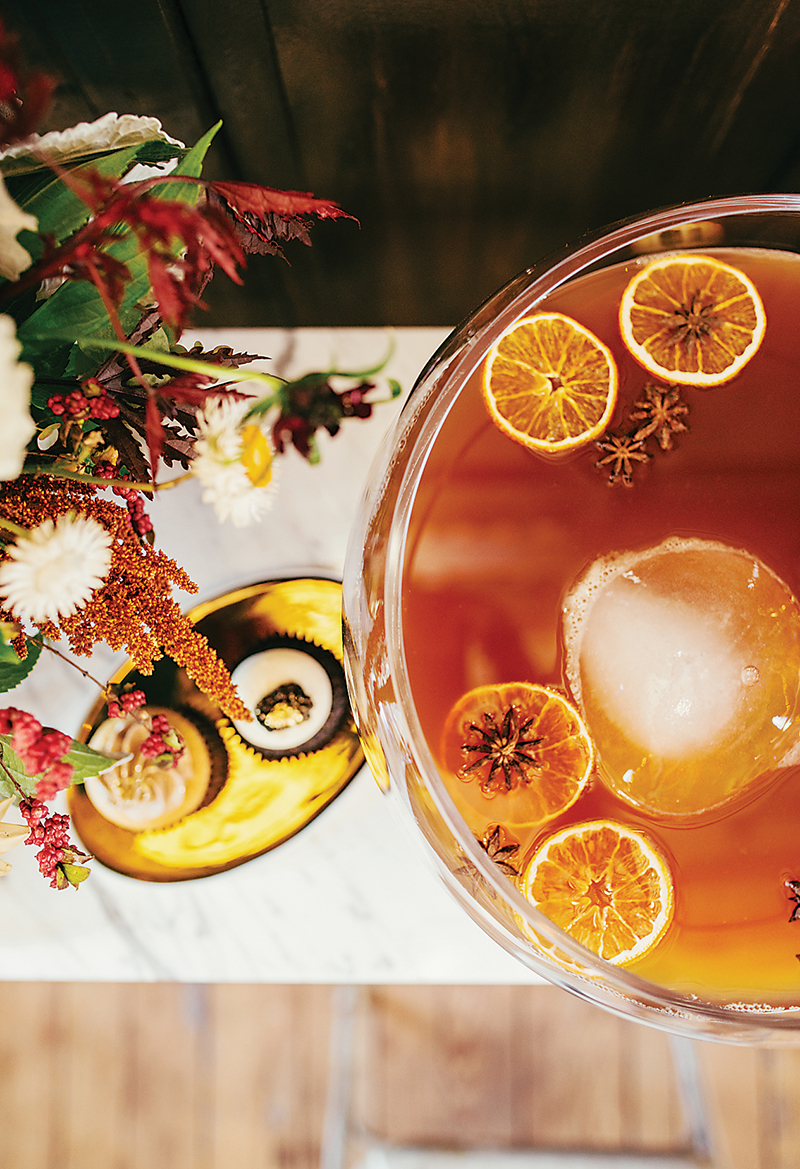 An Autumn Nocturne
1 750 ml bottle Pierre Ferrand
Cognac
1 cup Averna amaro
1 cup St. George Pear Brandy
1 oz. Angostura bitters
2 cups simple syrup
2 cups fresh lemon juice
9 cups cold-brew Earl Grey tea
Dehydrated orange wheels
Star anise pods
For best results, prep Earl Grey tea four hours beforehand. Combine all ingredients (except garnishes) in a punch bowl. Add a few scoops of chipped ice to chill and dilute. Add large block ice mold to keep cool. Garnish with orange wheels and anise. Serve. Recipe from B&O American Brasserie's Brendan Dorr.
---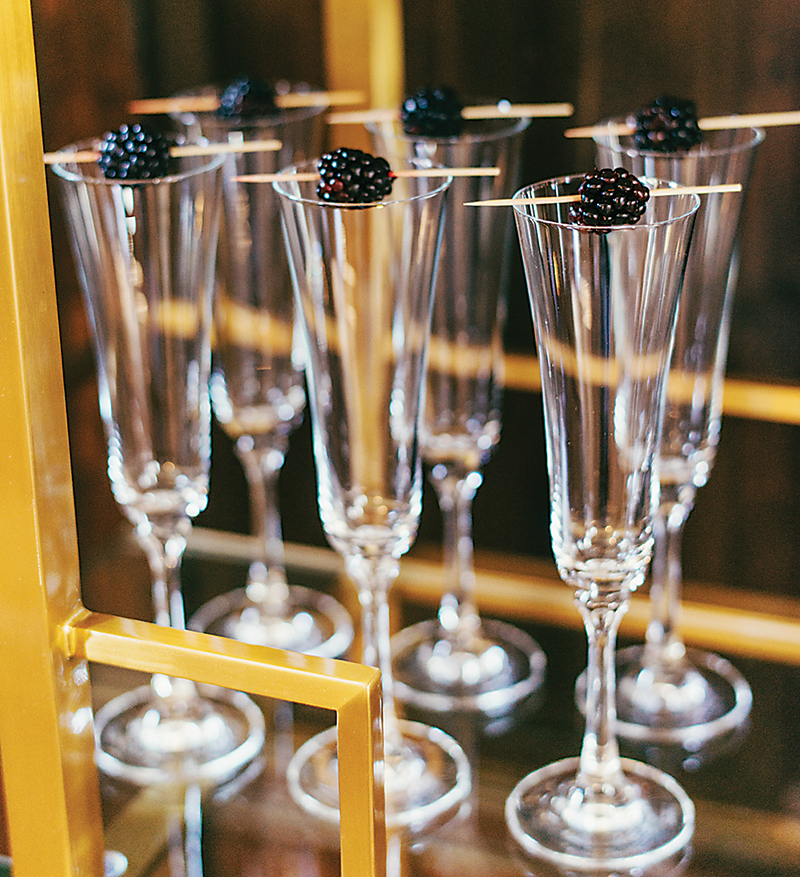 In the Details: Using toothpicks, dress up your champagne flutes with a simple fruit garnish.
---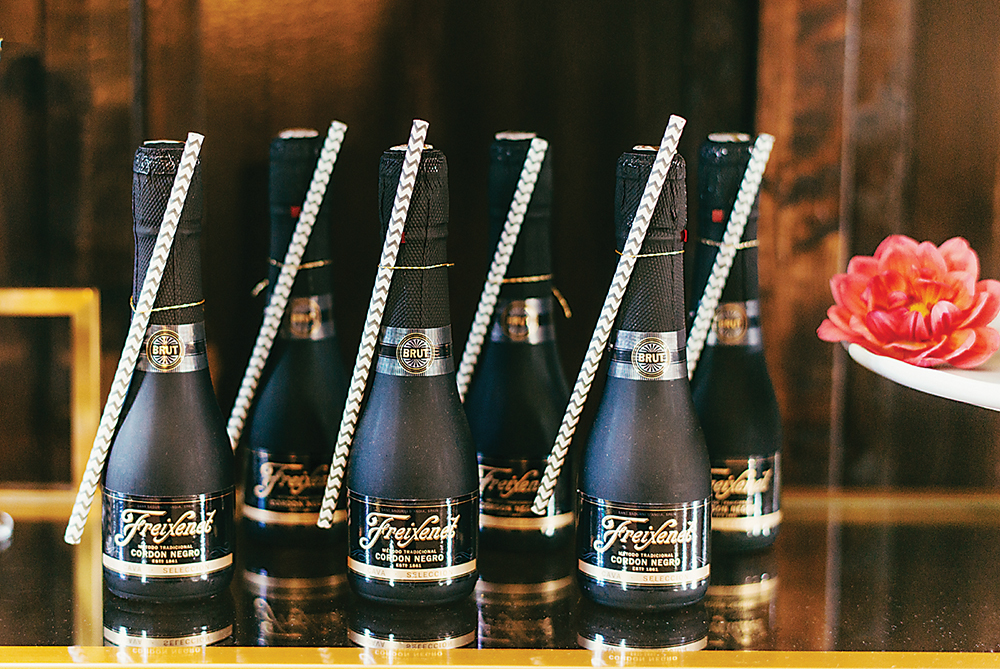 Striped Straws: Attach patterned straws to mini bottles of champagne with gold thread for a festive look.
---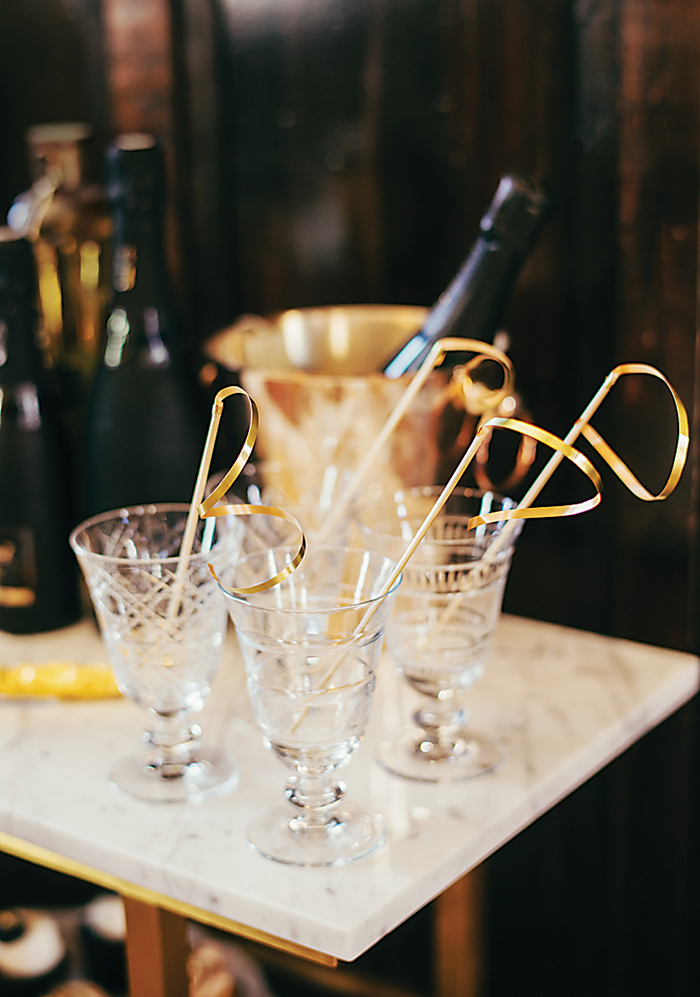 Ribbon Rundown: Curl a piece of ribbon and tape it to the end of your garnish stick to add a fun flair to your punch cups.