Home & Living
Out of Africa
Far from her roots, classical radio host Judith Krummeck revels in a recent renovation—and in her two cultural identities.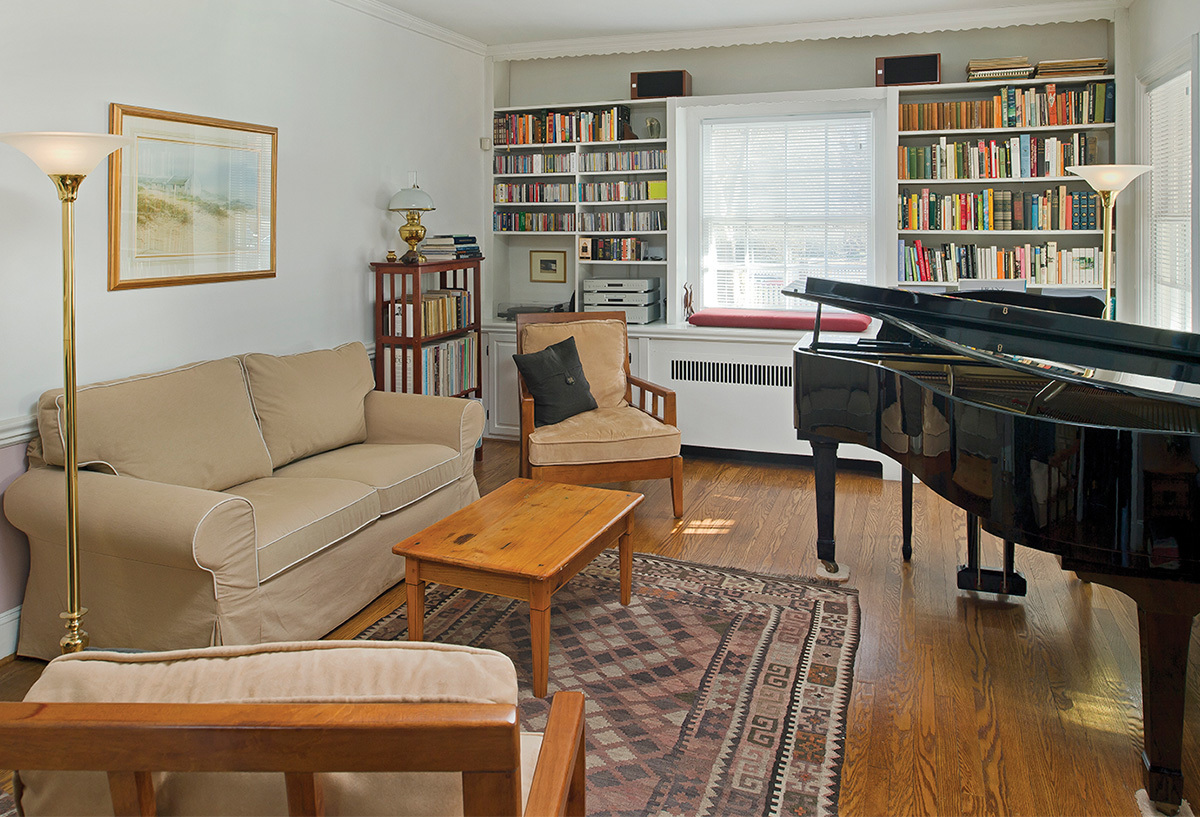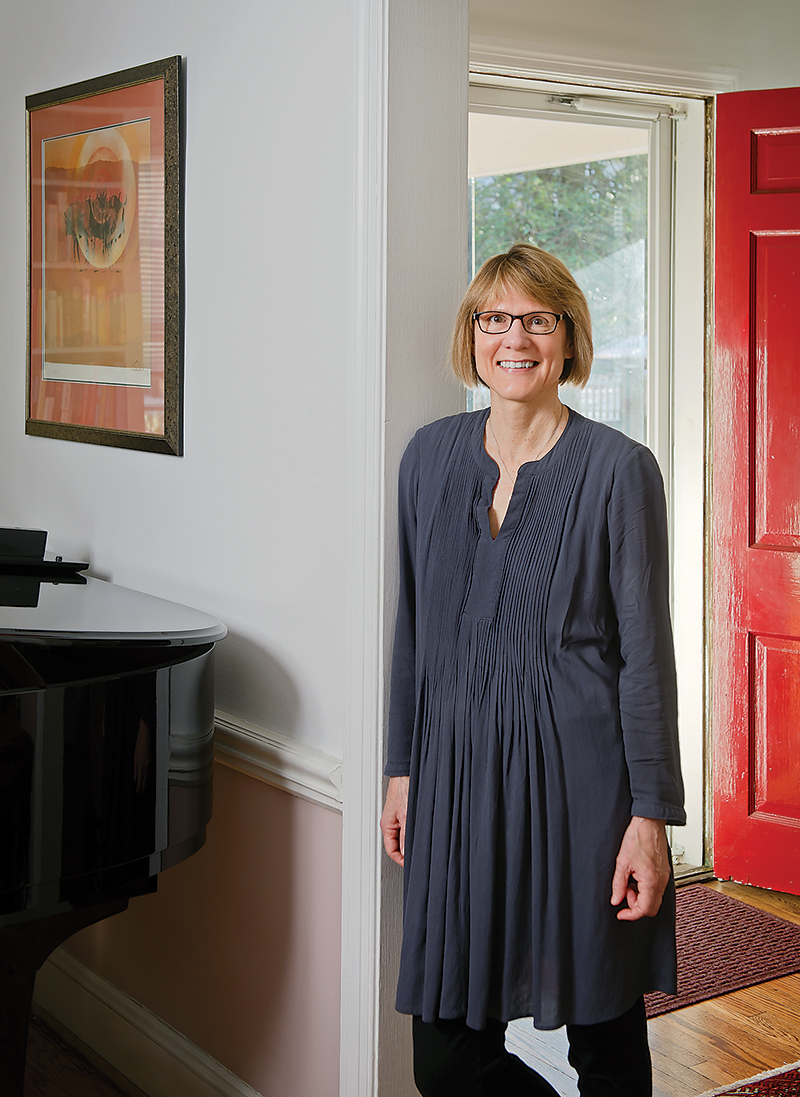 Classical radio host Judith Krummeck blends her two cultural backgrounds inside her home.
She's about 8,000 miles from the city of her birth and 20 years into a solidly successful Baltimore life, but in the "deliciously Northern Hemisphere" Homeland duplex she calls home, classical radio host and author Judith Krummeck is never far from her roots.
Gliding through the first-floor rooms just a few weeks after contractors wrapped up a renovation last fall, Krummeck details some of the touches that tie into her life in South Africa, where she was born and reared (save a childhood stint in Namibia) and where she met American husband Douglas Blackstone, who was then manager of the National Symphony Orchestra in Johannesburg. 
In the living room, there's the watercolor of a beach on the southern coast of South Africa, and not far away, over the grand piano the couple shipped from Johannesburg—it survived the journey without a scratch—is a dreamy print of wildebeest by South African artist Gordon Vorster.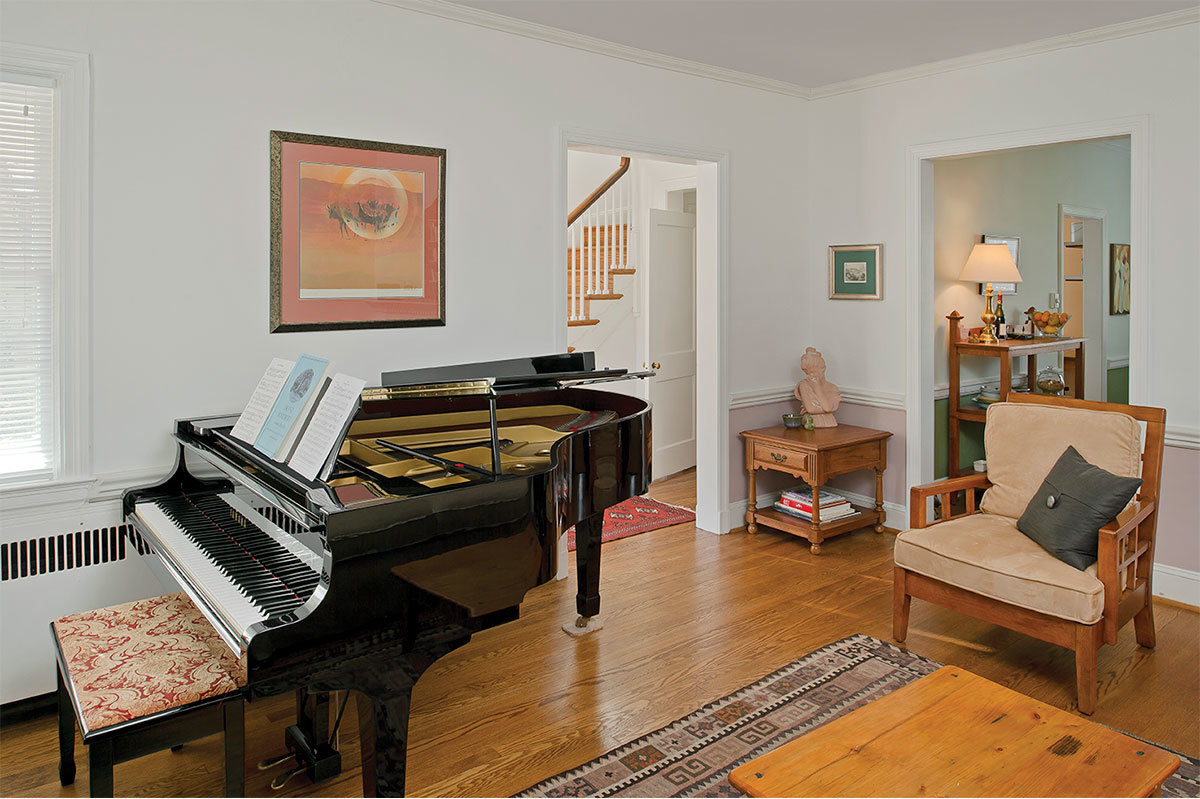 The living room is home to a host of items from the couple's lives in South Africa, from the grand piano, to a pine coffee table, to their book collection.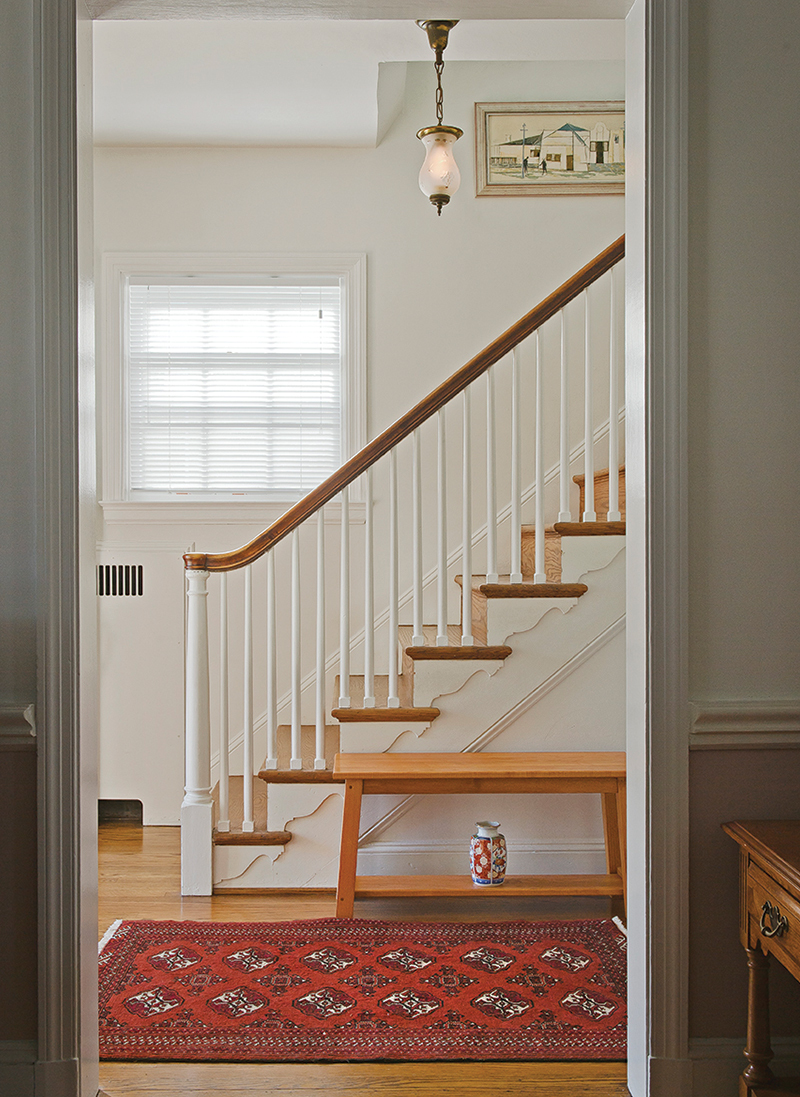 in the home's front hallway, newly refinished hardwood flooring matches the adjacent rooms and a painting by Krummeck's mother hangs in the stairwell.
In the hallway, Krummeck, a youthful 60-something, points to a framed painting by her mother—a tribute to the slaves once housed in Cape Town's District 6. In the kitchen, there's the rustic pine table that is both functional and intriguing. After buying it, she discovered two surprises: the beautifully distressed wood hiding under an enamel covering, and, on the underside of the drawer, the words "BOK polish" and "SAP" burned into the wood in block letters. She guesses the drawer was made from an old crate used for boot polish belonging to the South African Police.
There's more, from artwork to knickknacks to the silver butter cooler passed down by her paternal grandmother. They're reminders of "this whole other history" from a country that's had its share of negative times—apartheid is on that list—but that also has great beauty. "For a while, I felt as if I didn't belong anywhere, and that was a bit disconcerting," says Krummeck, who most closely identifies as a Capetonian. "But more and more, I feel the privilege of being able to lay claim to two countries and cultures, and I love that."
In her office there are more ties to family, including the bookcase made by her grandfather and a set of inkwells given to the aspiring writer by her brother, actor and author Peter Krummeck, who died in 2013.
Renovations to the basement created a warm and welcoming guest room/entertainment room and freed an upstairs space for Krummeck's office.
That she's in Baltimore at all is a bit of a fluke. "We sort of put a pin in the map," Krummeck says of the couple's decision in 1997 to move to the States. That pin brought them first to the D.C. area and then to Wheeling, West Virginia, where Blackstone managed an orchestra. "But there was really nothing for me to do," laments Krummeck. A quick look at her resume might explain the mismatch: Her career had included stints as an actress, work in both TV and radio, and as the arts editor for SAfm at the South African Broadcasting Corp.
Then she stumbled across a listing for an on-air position at WBJC, Baltimore's classical radio station. She landed the job (hers is the gorgeously accented voice that delights evening drive-time listeners) and was soon Charm City-bound.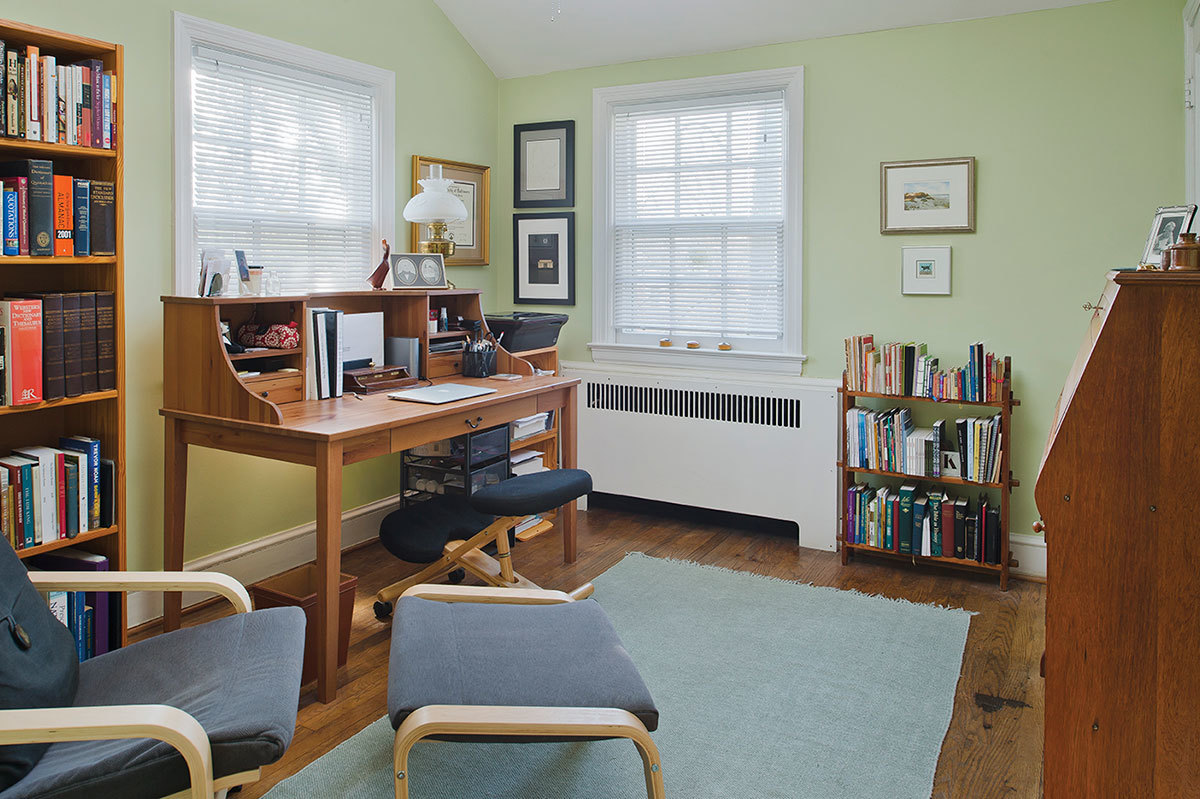 The office includes a bookcase made by Krummeck's grandfather and a set of inkwells given to the aspiring writer by her brother.
Blackstone finished his contract in Wheeling "and then he generously followed me," says Krummeck. (He's now director of the continuing-education Odyssey Program at The Johns Hopkins University.) They moved first to an apartment in The Ambassador, and though they loved it, the couple was soon looking to set down roots. "I just felt it was not only the sensible thing to own property, but that I needed to do that in terms of belonging," says Krummeck. "I felt I wanted to have some sort of footprint."
It was a real-estate agent who first alerted her to a duplex home built in 1936 on a quiet cul-de-sac in Homeland, but Krummeck quickly shifted her attention to the attached home, which was also for sale. "This one was even cheaper because it was such a wreck," says Krummeck. "The ceilings had sagged on the upper level, the floors were in very bad shape, and there was linoleum in the entrance hall and the kitchen that all had to come up." Throw in some scuffed walls plus "grime in every nook and crevice" and you have what might have looked to some like a daunting prospect.
Not to Krummeck, who says that "as disgusting as it was when we walked in, I could just see the bones. I knew that I could make it a home."
The couple got to work clearing "festoons of cobwebs" and dealing with mystery gunk—"I won't even tell you what was in the bottom of the basement fridge," Krummeck says with a laugh. Out came the oddball additions, including plastic faux bricks in the kitchen, some "very haphazard quasi-Tudor beams," and the inch-and-a-half-thick layer of linoleum. A host of small projects followed, spread out over the years (Blackstone credits Krummeck with much of that handiwork). But it started to get exhausting: "We got the place as far as we could and then really just ran out of energy," Krummeck says.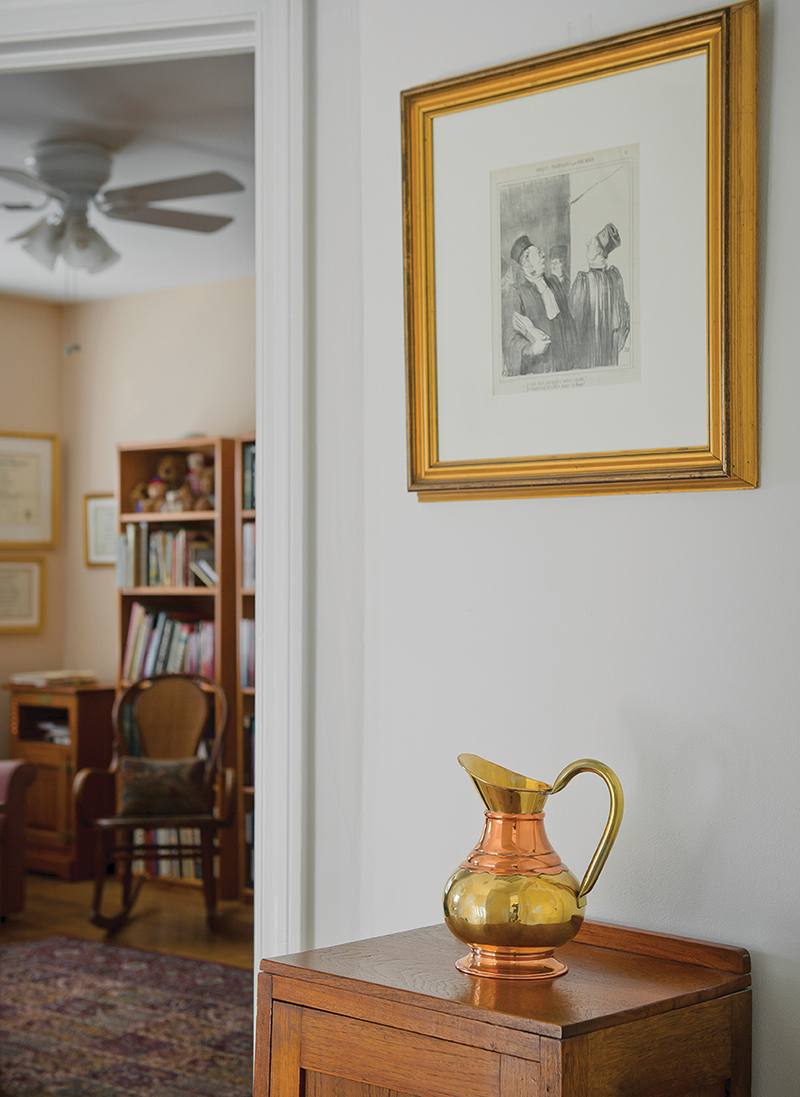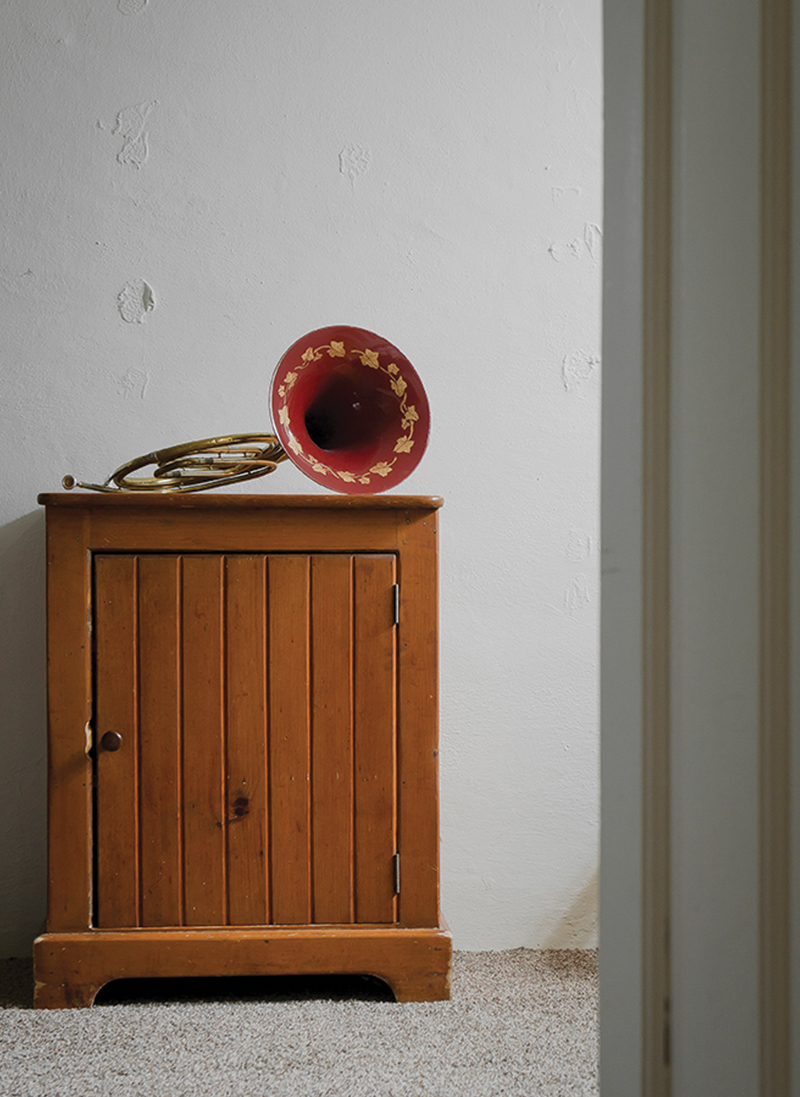 The walls in the master bedroom/library suite are coated in Benjamin Moore Midsummer Night, a dramatic shade of brown-gray-black that allows for Moorish design elements to pop.
Enter the experts: "Most renovation stories are absolute horror stories, but ours, with a company called C&H Restoration and Renovation, just could not be better," says Krummeck. "What was wonderful is how well they listened. I would say something and then they would come up with an idea that would match or improve it." The renovation involved more than the usual level of trust—Krummeck and Blackstone were out of town for the initial three weeks of the renovation. Over the next two-and-a-half months, the contractor transformed the first floor and basement.
In the dining room, that meant dealing with layers of wallpaper, replacing the crown moulding and a built-in cupboard, and finally ditching the "horrible wainscoting," a previous owner's do-it-yourself project, says Blackstone.
In the kitchen, a new hardwood floor replaced the cork flooring Krummeck had painstakingly installed after moving in. The small-but-cozy kitchen now features a handsome farmhouse sink, recovered-wood shelves, a new countertop, and cabinets from Ikea that complement existing cabinetry.
The renovation also meant making full use of the home's three floors by upgrading the basement, previously a dry but decidedly unwelcoming space. "I don't like living in a house where I don't feel like I can use every bit of it, so the biggest part of the work was down there," Krummeck says of the basement, which now features a television room that doubles as a guest suite. "The transformation was indescribable," she says. The new space, with a working fireplace and rustic look—including a faux-painted floor in the utility room—is now "probably our most popular space," says Blackstone.
One bonus to the renovation was that it freed up an upstairs guest room, which now serves as Krummeck's office. It's here that she does the bulk of her writing (Krummeck earned an MFA in creative writing and publishing arts from University of Baltimore and in 2014 published Beyond the Baobab, a book of essays reflecting on themes tied to immigration, identity, and home).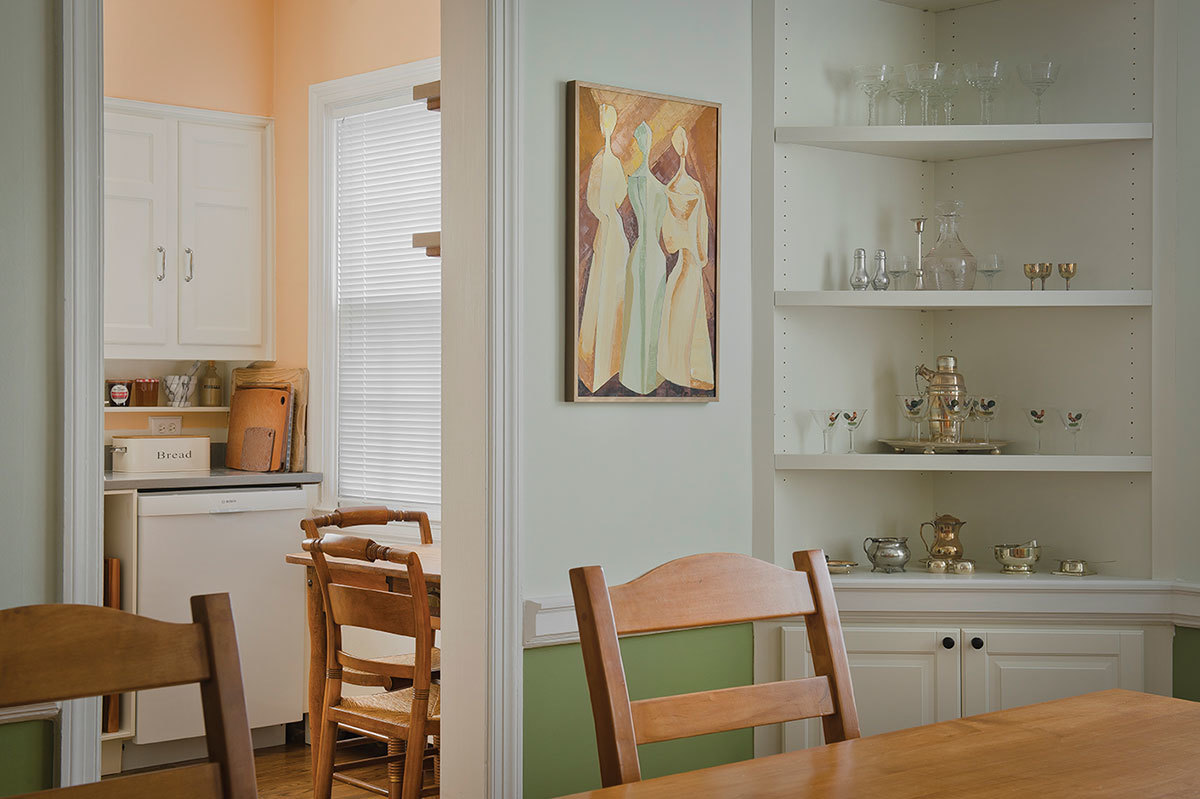 The dining room was one of the rooms most transformed in a recent renovation.
She's now about two-thirds of the way through her next book, the story of her great-great-grandmother, Sarah Barker, who immigrated from England to Africa in 1815. Though she'd long heard about her great-great-grandfather, a well-documented missionary, Krummeck dug deep into the life of his lesser-known wife, who "seems by all accounts to be the most remarkable woman."
She has other book projects in mind for the future, but radio fans shouldn't worry about her abandoning the microphone. Though she's clocked 20 years at WBJC, she still revels in the work. "It's such a huge repertoire that you're constantly learning, so it's a wonderful mix of that newness and also the familiarity of the framework that is a radio station," she says. And her vocal work pairs nicely with her written work, making them fine companions for a double career, she says.
What she won't likely tackle any time soon are more renovations. "I actually think we've finally put the full stop on it," she says with a smile. "For the moment, we certainly feel that we're done."