Rustic Remix
A Severna Park couple writes their home's next chapter.
Tucked away between towering pine trees, Victoria and Hunter Selman's rustic A-frame home looks like something plucked from the Swiss Alps.
The waterfront chalet stands apart from neighboring properties in Severna Park. Thanks to the quirks of its prior owner, the original 1940s fishing cottage—one of many in the area used by Baltimore and Annapolis families as a summer residence—was given a mountain makeover by a Swiss woman in the early '90s who added a second floor and the property's signature roofline.
And it was this quirkiness that initially drew the Selmans to the property.
After a more than yearlong home search, the then-newlyweds immediately fell in love with the home's rustic charm and waterfront location. A dramatic price cut and detached studio with potential for a rental unit put the property within the young couple's reach. Coming from a 300-square-foot above-garage apartment, the Selmans were eager to move in with their 14-year-old ragdoll cat, Keo.
After purchasing the property in July 2016, they set to work updating the home's interior, which had been relatively untouched for decades. The blank slate allowed the couple to highlight their favorite existing features while personalizing it to fit their own style—a curated, natural aesthetic grounded in rustic wood and earth tones with accents of black and gold.
"We really enjoy doing projects together," says Victoria of their choice to buy a fixer-upper. "So I think the ability to personalize it and work together were two big priorities when we were searching for a home."
The couple is used to working closely in Victoria's wedding and destination photography business, where Hunter makes up the other half of the creative duo as a photographer and videographer. They approach their home projects in the same way—collaboratively working toward a shared vision.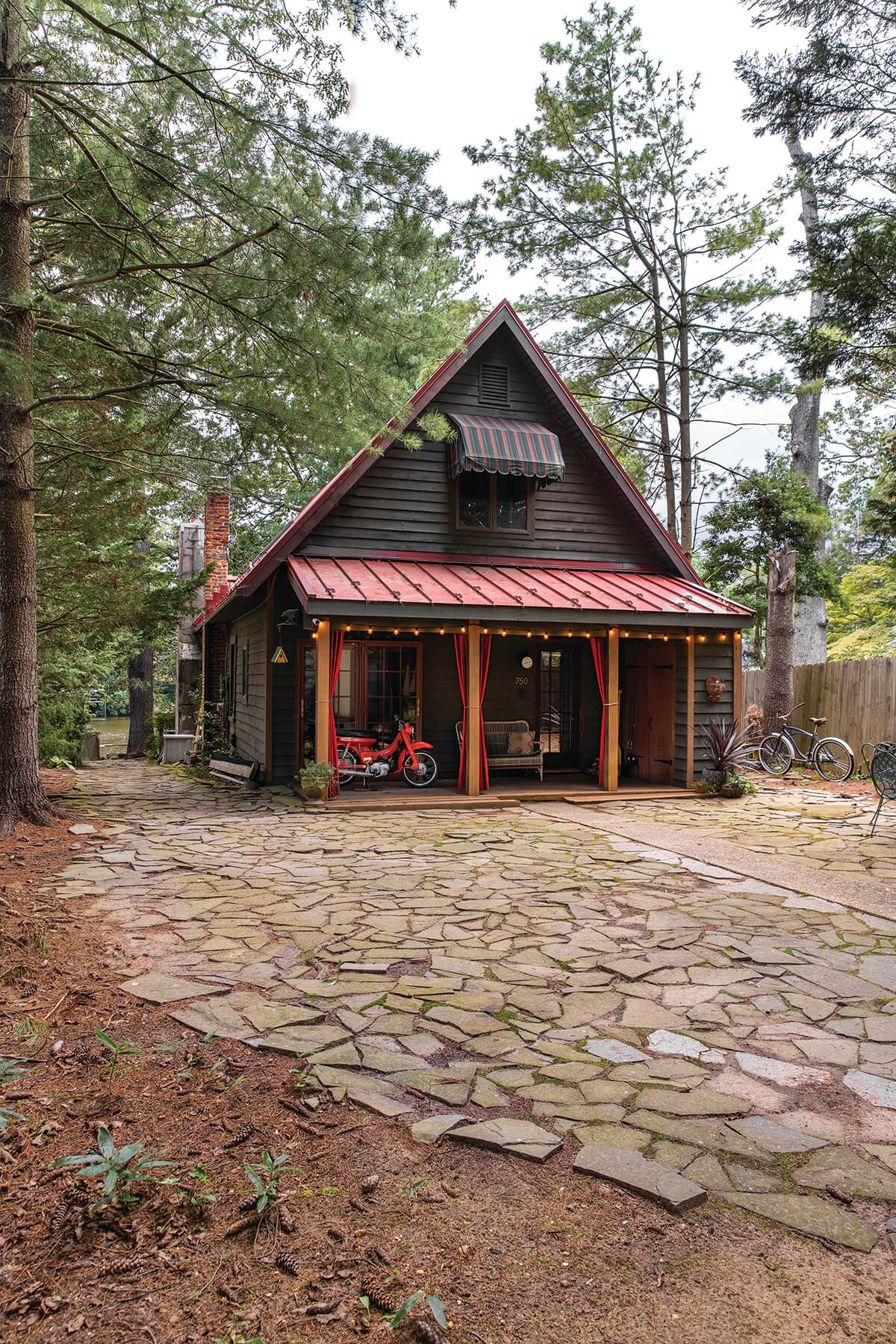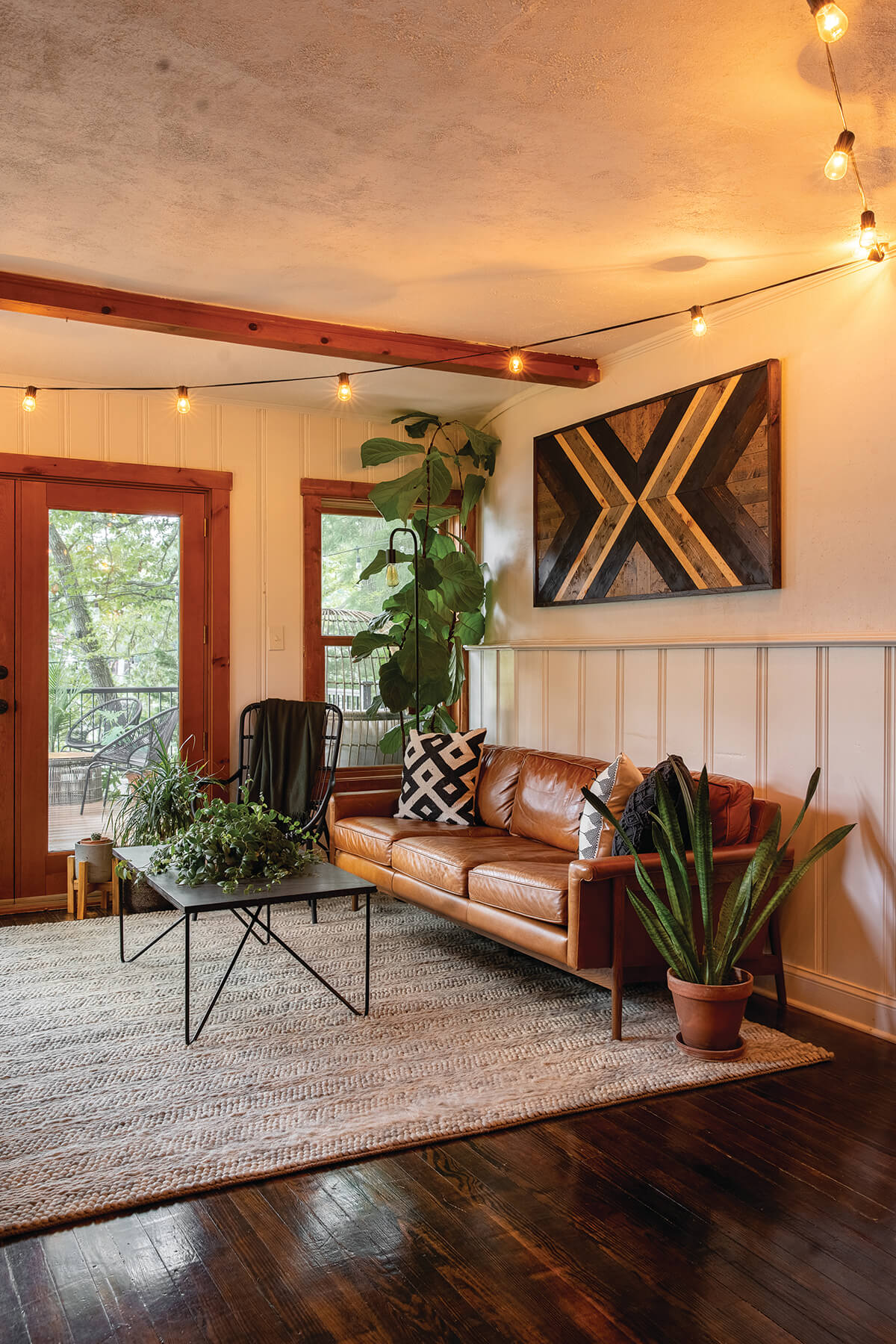 As creative professionals, their goal was curating a living space that feels both calm and inspiring, says Victoria, who works from a home office with views of Cypress Creek when she's not out on location. "Being inspired visually by our surroundings is very important to us," she says.
After gutting and renovating the rental apartment, the Selmans tackled project after project in their home, ripping out carpet to expose hardwoods and painting the interior, where knotty pine paneling on the walls and ceilings created a heavy cabin-in-the-woods vibe. To brighten the space without losing the rustic charm, the Selmans selectively painted walls white, allowing the remaining natural wood elements to pop.
In the kitchen, a farmhouse sink inspired a thoughtful renovation, where the original upper cabinets were traded for open shelves and new countertops were sourced from concrete remnants and cut to fit the space. Like much of the Selmans' home, the kitchen embodies a natural, DIY aesthetic designed to create a welcoming place for guests.
"A lot of what we design or pick out is for other people to enjoy and feel comfortable here, as well," Victoria says from the kitchen, pointing to the neat rows of glassware lined up on the open shelves, which they made with wood sourced at Exotic Lumber in Annapolis. "When we have guests over, they don't have to ask where to get a glass for water, they can just help themselves."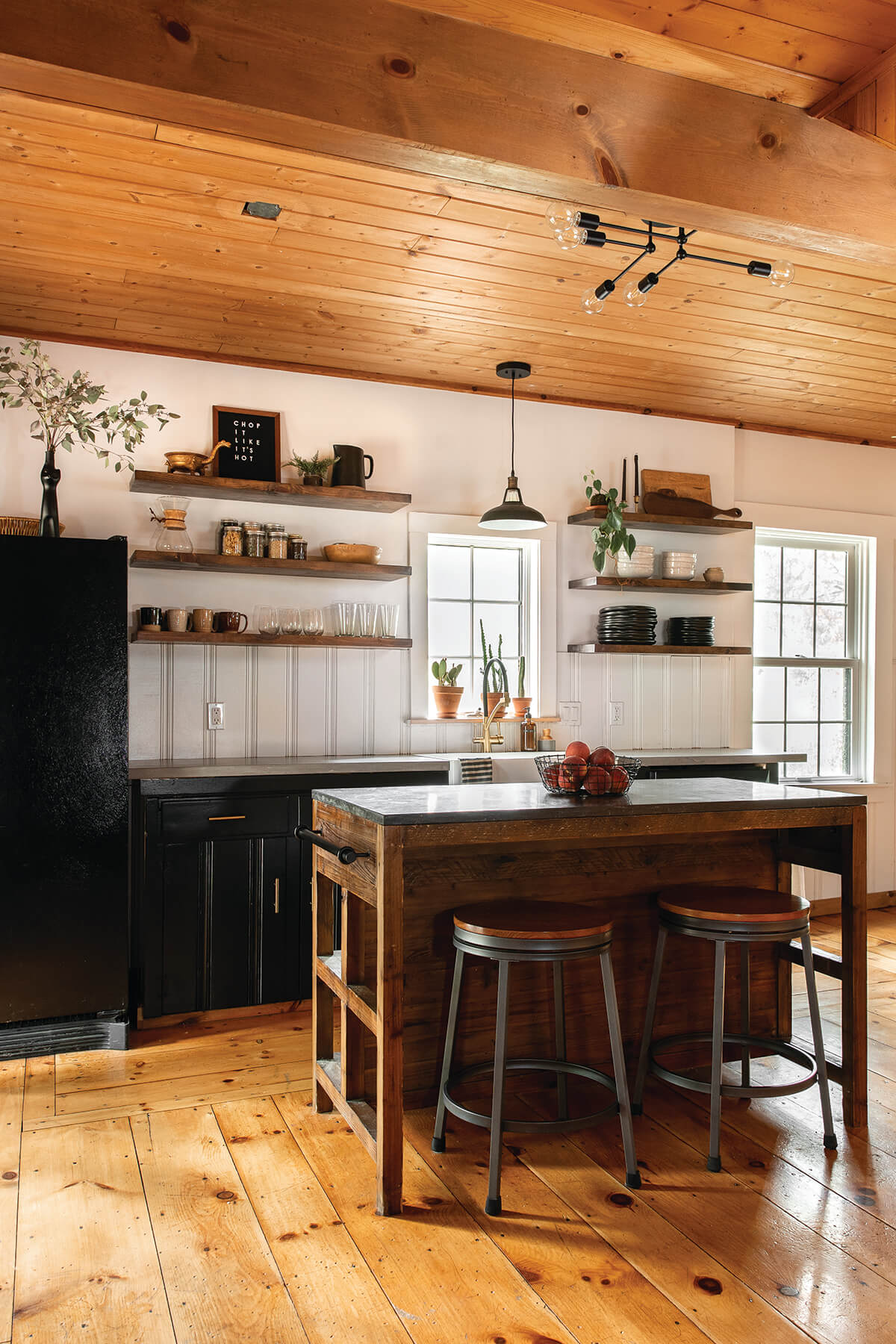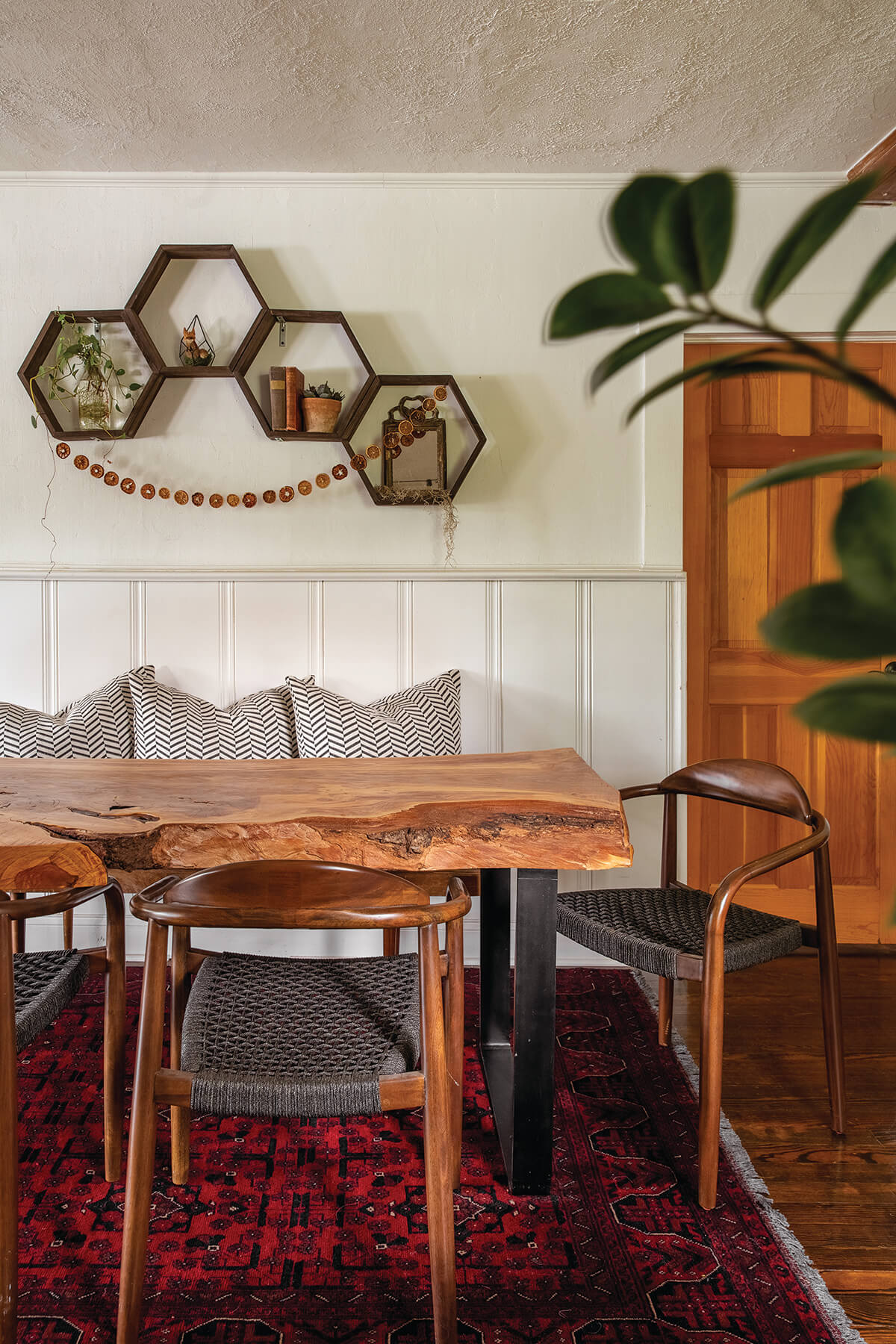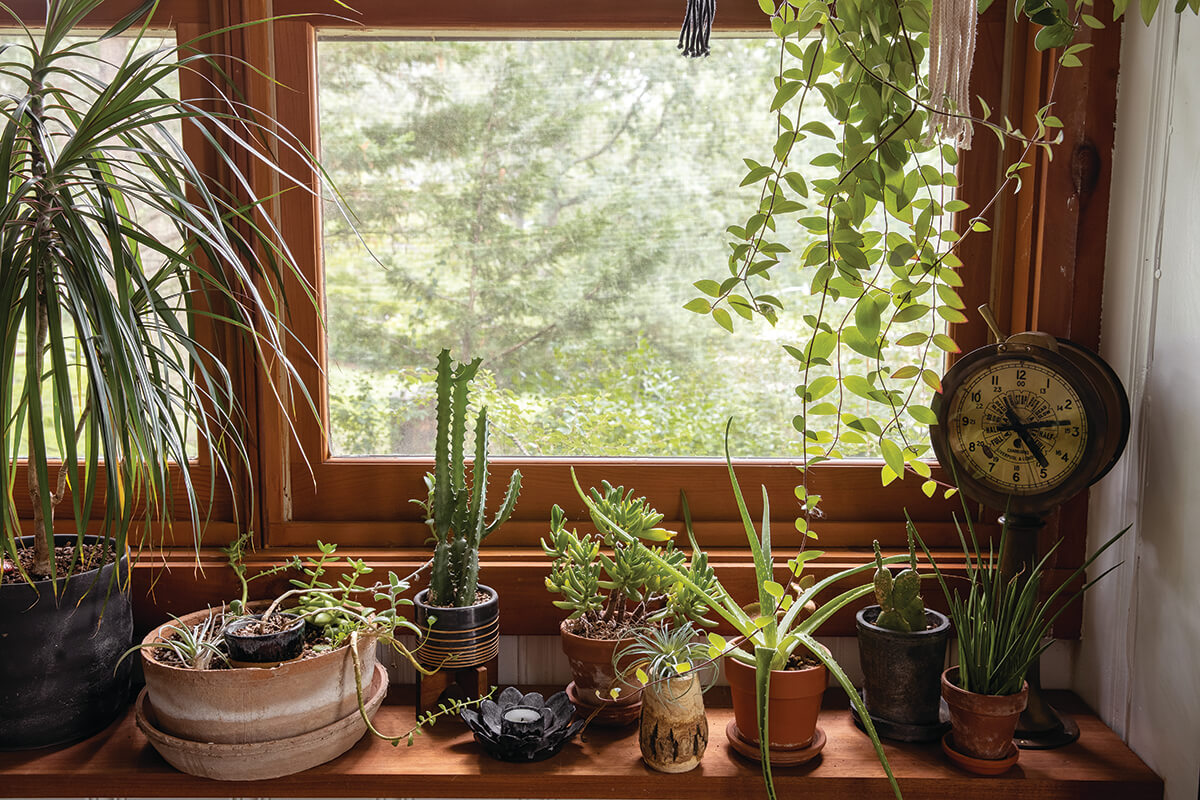 Longing for natural pottery dinnerware to grace their open kitchen shelving, but unable to find exactly what she wanted at an affordable price point, Victoria became handy on a potter's wheel through a course at Baltimore Clayworks. After several eight-hour days in the studio, she walked away with a one-of-a-kind set of 12 bowls and 12 mugs.
It's a typical example of how the Selmans get creative to bring their vision to life.
"We choose things that we love, and if we can't find something that we love that's already made, we love to make it ourselves," Victoria says.
Admittedly, it's not a fast approach. More than four years into their fixer- upper journey, the couple continues to methodically upgrade spaces and source furniture and décor that fits their aesthetic. They keep a running list of "wants" in mind when browsing Facebook Marketplace or stopping at antique shops and flea markets on trips.
On their way to photograph a wedding, for instance, the couple popped into an antique shop on Maryland's Eastern Shore. After falling in love with weathered planks salvaged from a fishing boat, Victoria and Hunter found themselves rummaging through barrels of the old wood, picking their favorite boards, and loading them into their car, careful not to dirty their formal wear. Later on, the planks found a second life as shelving in Victoria's office.
"It's a slow burn to design," Hunter says of the process. "We're not going to buy something unless it checks the particular box that we've been waiting for. If it takes too long to find or is too expensive, we'll make it."
The wall above their couch, for instance, remained empty for more than two years. Victoria had an idea of what she wanted there, something bold and eye catching, but never found the perfect item.
"One morning, Victoria comes up to me and is like, 'Where's your miter saw?'" Hunter recalls with a chuckle. "She built the whole thing and stained it, using a blowtorch to finish the darker pieces of wood, and made this cool statement piece." The resulting artwork, with strips of wood in different stains creating a geometric pattern, was designed to fit the empty space and holds additional meaning for the couple as a do-it-yourself project.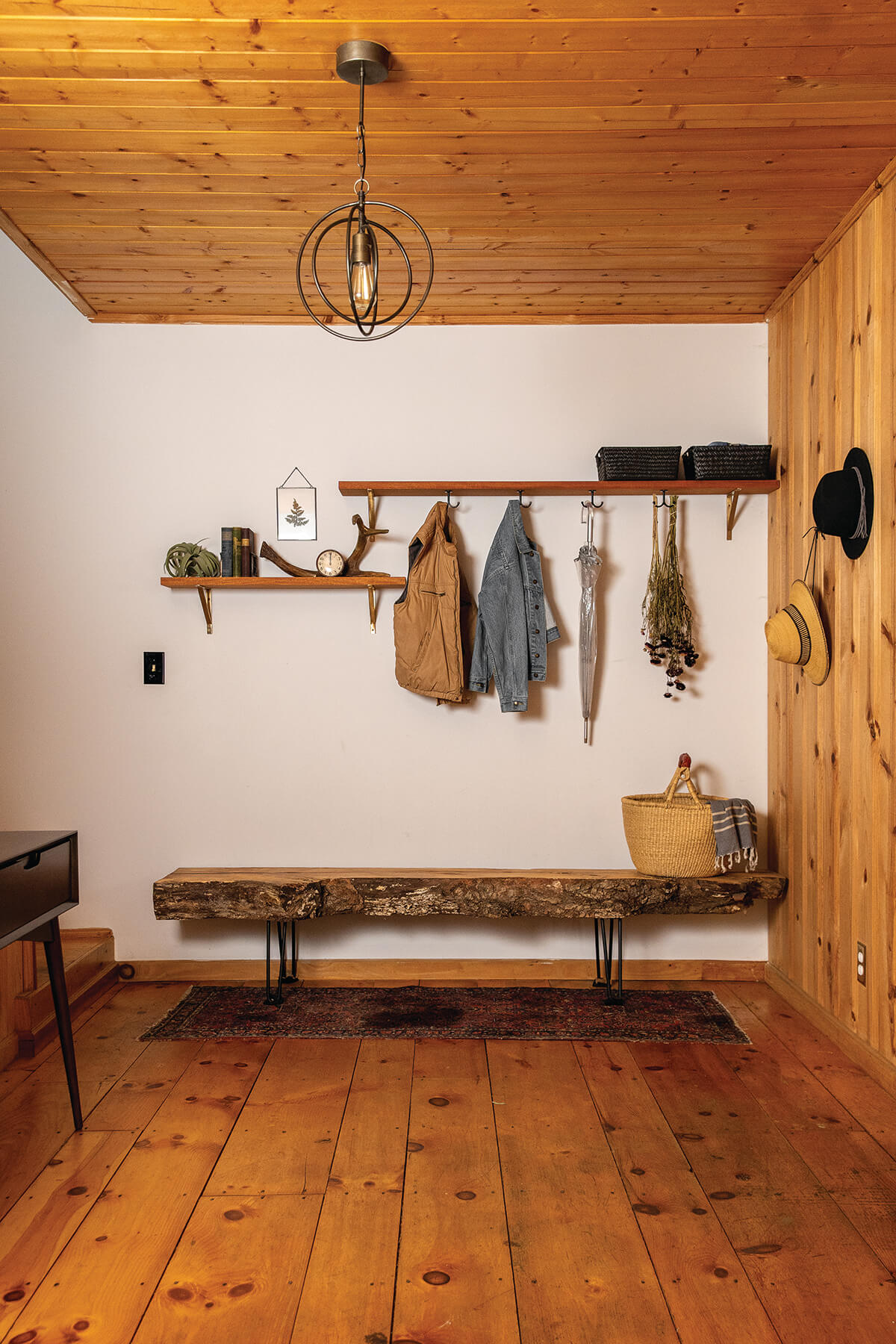 While sheltering at home during the coronavirus outbreak, the couple embarked on one of their most ambitious projects: rebuilding the rear deck, dock, and seawall.
The home's aesthetic grows out of the couple's personal artistic style. "Victoria calls herself a nature-inspired wedding photographer, which is really true for her work and also flows into the way she conceptualizes design," Hunter explains. "She wants to decorate with plants and other natural materials."
He gestures to the dining area, which serves as a transition from the open kitchen to the living room. The eye-catching dining table was crafted from a live-edge slab of wood the couple sourced at Exotic Lumber. They added industrial U-shaped metal legs from a seller on Etsy, and paired the table with new chairs from World Market and a vintage bench from a Facebook Marketplace seller. Black-and- white geometric patterned cushions Victoria sewed by hand top the bench, and an antique Persian rug pulls the space together. The mix of new, old, and hand- made elements embodies the couple's approach to decorating.
Upward of 60 house plants bring the outdoors in, as do the zig-zagging bistro lights on the porch that continue through double doors into the living room, where they stand in for ceiling lights (the original cottage was never wired for overhead lights) and add a whimsical touch. Even these have a meaningful story behind them: Victoria and Hunter shared their first dance beneath the same strands during their wedding reception in the Poconos.
Hunter, who works in marketing and social media for Paul Reed Smith Guitars across the Bay Bridge in Stevensville, often uses the machine shop at work for home projects. His coworkers set aside excess wood, knowing that he'll likely have a use for it. One of the couple's first DIY projects, Victoria's office desk is made from the same mahogany used to manufacture PRS guitars and is finished with hairpin legs from Etsy.
The couple manage to effortlessly incorporate meaningful family heirlooms into their décor while maintaining their own style. A nook across from the dining table features a vintage rug, side table, and duck figurine that belonged to Hunter's grand- mother. A wooden stool is the same one he spent hours sitting on while practicing violin as a child.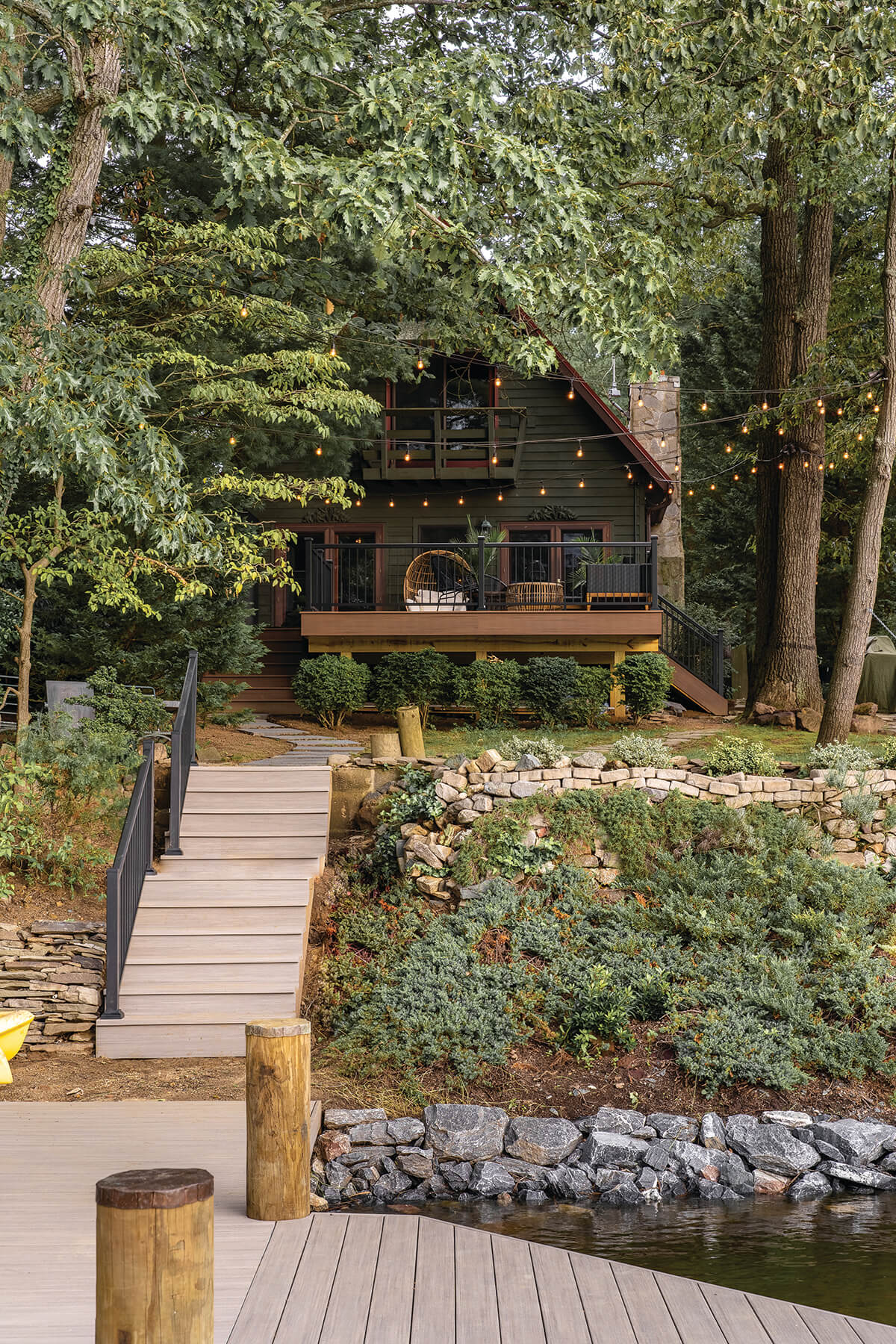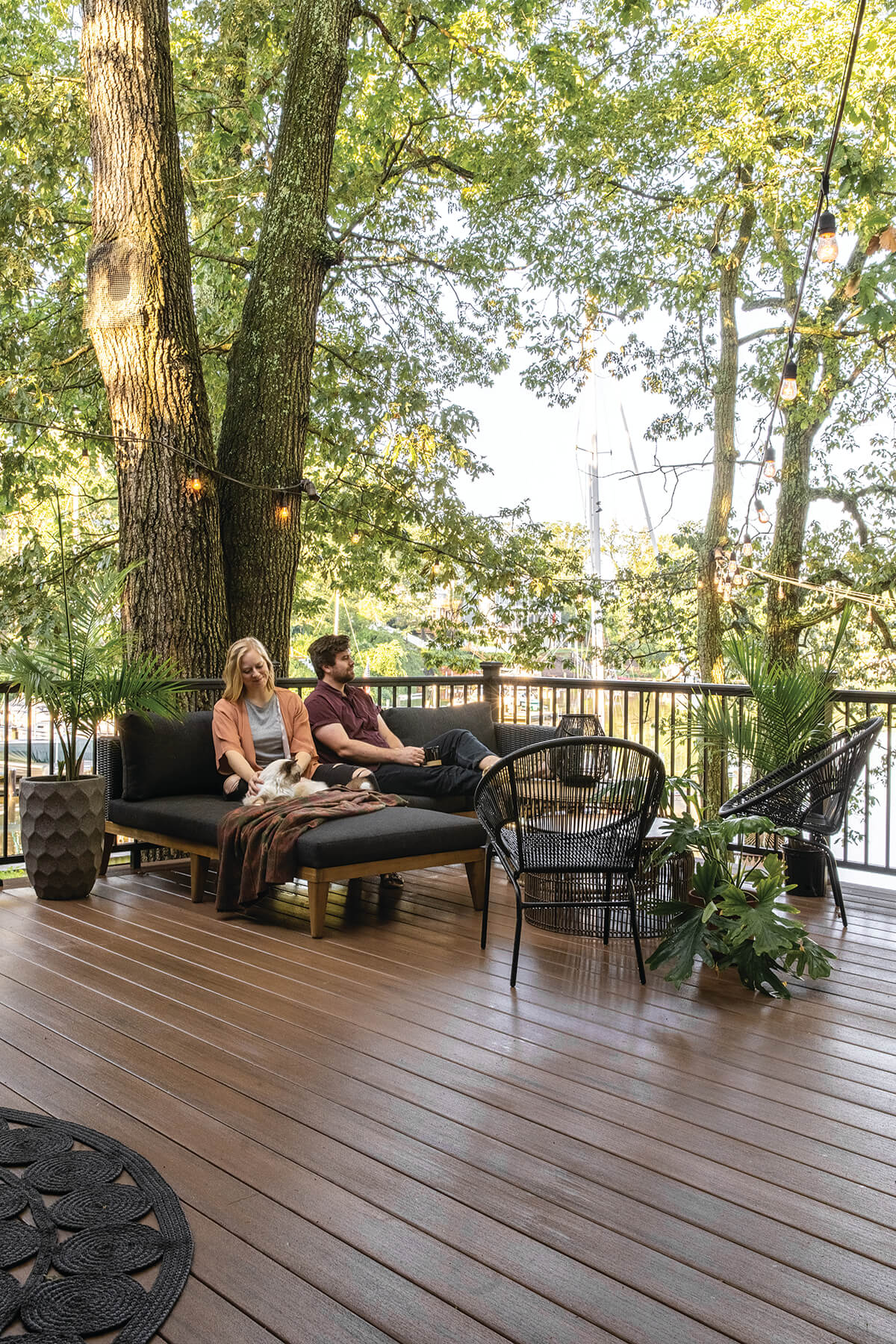 While they fit the couple's aesthetic, these types of objects also serve to infuse the home with a sense of legacy, community, and history. Walking through the house brings back memories of projects, trips, and family members.
The Selmans have an open-door policy with friends, who come over to hang out or even use the dock to kayak when the couple is out of town. They have also put up friends in the guest room when they needed a place to stay.
"We want our home to be a haven for people to come in and feel comfortable and relaxed," Hunter says. "We love having people over."
Creating a space for community motivates the couple throughout the renovation process, too.
"We definitely don't feel like it's ours to keep," Victoria says of their home. "We want to share it. When we do renovations, we have that in mind. We tell each other, 'Our friends are going to love this, we're going to have so much fun with this.'"