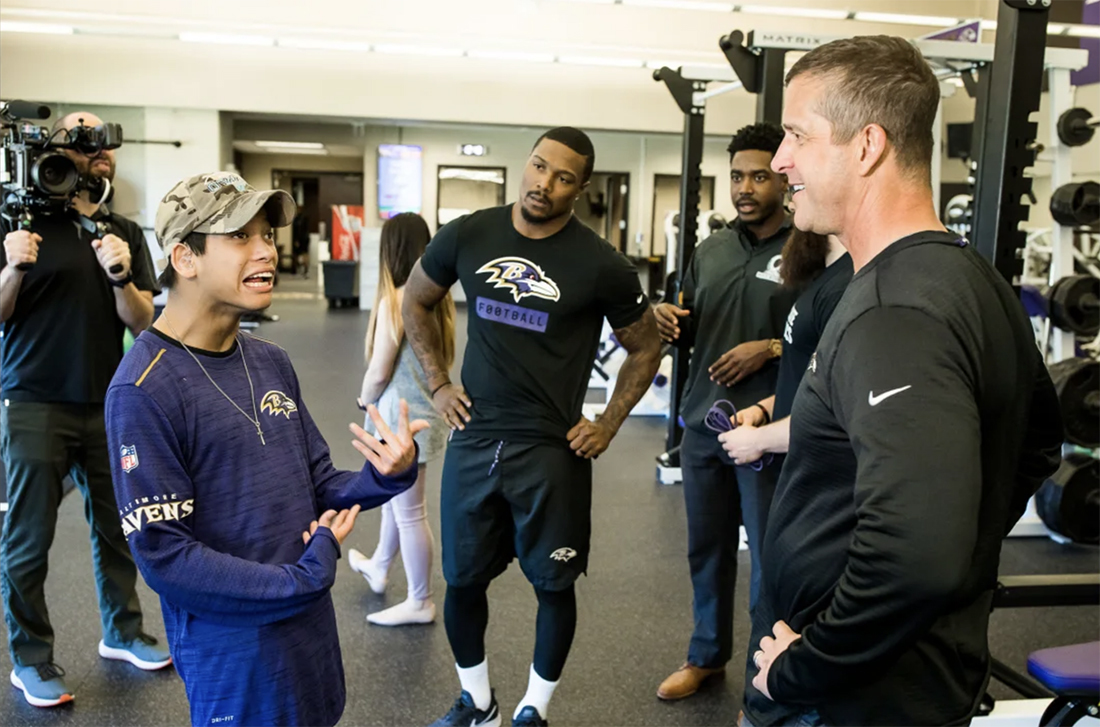 Shawn Hubbard / Baltimore Ravens
There are still two days, six rounds, and 222 more picks to be made in this year's NFL Draft—and you can't fairly grade how any team does until years from now, after the college kids selected pan out like Jonathan Ogden, Ray Lewis, and Ed Reed or flop, so to speak in pro football terms, like Kyle Boller.
But through the first night of what's really an annual nationally televised administrative spectacle, it's hard to say that the Ravens haven't already won.
And not just because of the promise and skills that new general manager Eric DeCosta's first ever pick—speedy 5-foot-10, 170-pound Oklahoma wide receiver Marquise "Hollywood" Brown, selected 25th overall in last night's first round—brings to the roster.
Brown feels like a valuable addition, and at least Ravens quarterback Lamar Jackson agrees, given the child-like joy in his live reaction on social media last night, close to 11 p.m. (In the video, "Hollywood," refers to the rookie's nickname, and where he grew up, 40 miles from where Jackson did in Boynton Beach, Florida. You'll also hear a mention of Brown's diamond neck chain, which actually features a likeness of himself.)
That's all charming and makes us want to be 21 years old again—and have a few million dollars headed our way—but just wait for the real heart-warming stuff to come when it's the Ravens turn to make headlines again the next two days.
Some time tonight, when they're ready to make their third-round pick, Westminster native Miles Taylor will step onto the stage in Nashville and announce the team's selection. Taylor was born with cerebral palsy and went viral a few months ago for a video of him deadlifting 200 pounds. Among other reactions, Arnold Schwarzenegger proclaimed Taylor his "new hero."
Taylor, 24, recently visited the Ravens headquarters in Owings Mills with his personal trainer, a high school friend who got him into lifting. He impressed coaches and players in the workout room, learned he'd be part of the draft festivities, and shared his story with the team's public relations group. It's worth a watch.
"Cerebral palsy doesn't define who I am," Taylor said. "I just want to be a better version of myself. It's so cool to be able to inspire people."
"I have cerebral palsy. Cerebral palsy doesn't have me."

Meet Miles Taylor, who will announce our third-round pick.

Cerebral palsy doesn't define who Miles Taylor is. What defines him is his competitive drive, which made him a viral dead-lifting sensation. pic.twitter.com/aTxHlhu959

— Baltimore Ravens (@Ravens) April 25, 2019
If that's not enough motivation to catch some of the draft broadcast, maybe this is. On Saturday afternoon at the Ravens' Draft Fest at the Inner Harbor, with players like Jackson and Ravens second-year tight end Hayden Hurst on hand, superfan Mo Gaba, who was born blind and at age 13 is fighting cancer for the fourth time, will become the first person to read off an NFL Draft selection from a Braille card.
Gaba is from Glen Burnie and has attended Johns Hopkins Children's Hospital for multiple rounds of chemo and surgeries. He's been a fixture on local sports-talk radio in recent years, and struck up a unique relationship with an Anne Arundel County police officer that works in his school. It's easy to love him.
This interview of the Orioles' Trey Mancini interviewing him last year is precious. "Every day when I wake up in the morning, I always feel like I'm going to achieve something that's pretty cool," Gaba said then, sitting in his wheelchair on the field at Camden Yards. "I just think positive."
Coach John Harbaugh surprised the kid live on the radio earlier this week to say he'd be reading the Ravens fourth-round pick, No. 123 overall, to the nation . . .
After all that, there's not much left to say. Except for a few more names to be announced, along with Ravens hats to be put on draftees, and future contracts to be signed. Because, for now, the Ravens certainly have inspiration covered for us all.