We all want to be Mark Watts.

In contention to win $1 million on a sporting event, and not even know it. And, moreover, be betting against yourself, and not even know that. And be carelessly asleep while the outcome is unfolding. Then find out you won the million the next day.
It's a true story.
Watts, a 60-year-old U.S. Air Force veteran and fire-alarm technician from Baltimore, beat out 1,196,756 people who submitted their brackets to Yahoo Sports' Best Bracket Millionaire Contest to win $1 million.
He was just completely oblivious to his chances, and didn't know he won until multiple Yahoo employees told him that he did. It took several emails and a few phone calls for him to believe it. "This still feels surreal!" he wrote back to one in a text.
Plus, while Watts actually needed Virginia to beat Texas Tech to win the challenge two Monday nights ago, he had a $50 side bet going with a longtime friend, who picked Virginia.
"So I'm actually not pulling for Virginia to win," Watts told Yahoo! Sports in an interview this week, now aware of how absurd that fact sounds in retrospect.
Watts—like most people, a casual basketball fan at best—hadn't checked how his free 68-team bracket entry was doing since the early rounds, when he saw he missed a few picks. Turns out Watts had one of the best brackets of any in Yahoo's March Madness competition as it neared its end.
He missed seven picks total, but correctly nailed the final four teams, the title game and the champion, finishing with 179 out of 192 possible points. By then, between work and family time (with his wife, 14-year-old son, and 22-year-old stepdaughter), Watts had completely forgotten about his bracket.
He was in bed. He gets up around 4 a.m. each morning for his job with Baltimore County public schools, and heads to sleep by 8:30 p.m. The title game tipped off after 9:20 Eastern (Yeah, that was late) and went to overtime.
Of course, Watts barely researched any of the teams too. He also didn't bother to name his digital entry; instead it was labeled the default "My Bracket."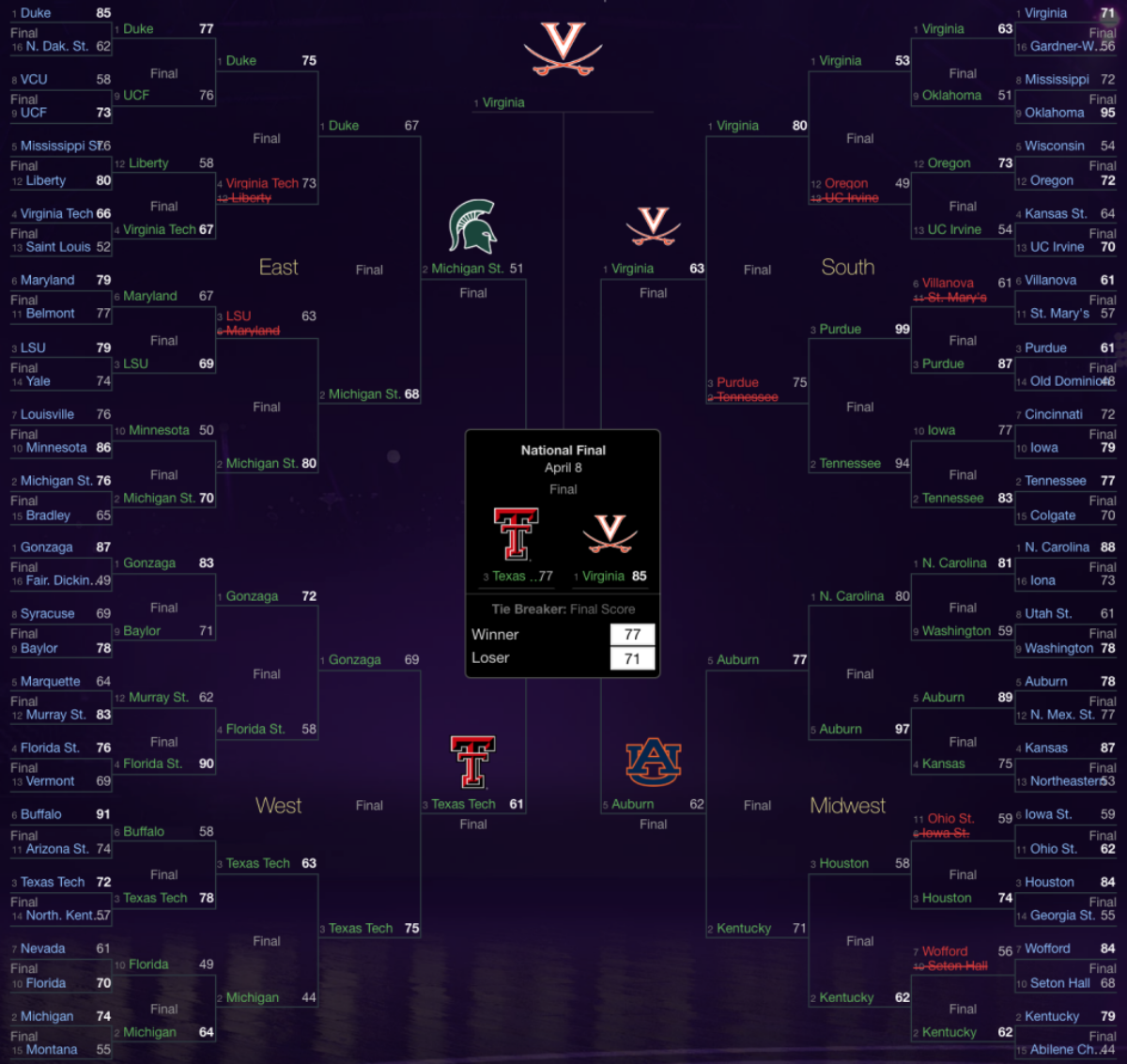 In the interview with Yahoo, Watts struggled to explain any method to his madness. Asked why he picked Auburn to get to the final four, he said, "That's just one of the teams I guess I got lucky with."
And why he picked Virginia?
"I remember hearing a lot about their defensive prowess," he said. "How strong they were on defense. And how they were able to limit teams' scoring."
This is a win for the regular guy.
Born in New Bern, North Carolina, Watts enlisted in the Air Force as a young adult, and served as a technician in Alexandria, Louisiana; in England; and at Fort Meade, and ultimately settled here. He likes golf and football more than basketball.
Winning the cool million is "definitely life-changing," he said. He plans to invest some of it (smart) and take care of some bills, then put some toward his wife's 50th birthday (also smart), coming up in the fall, most likely a trip to somewhere with a beach. "This will definitely make it possible," he said.
But he isn't planning anything reckless. "It isn't like winning the lottery," he told Yahoo.
In this case, it sort of is.
---
---