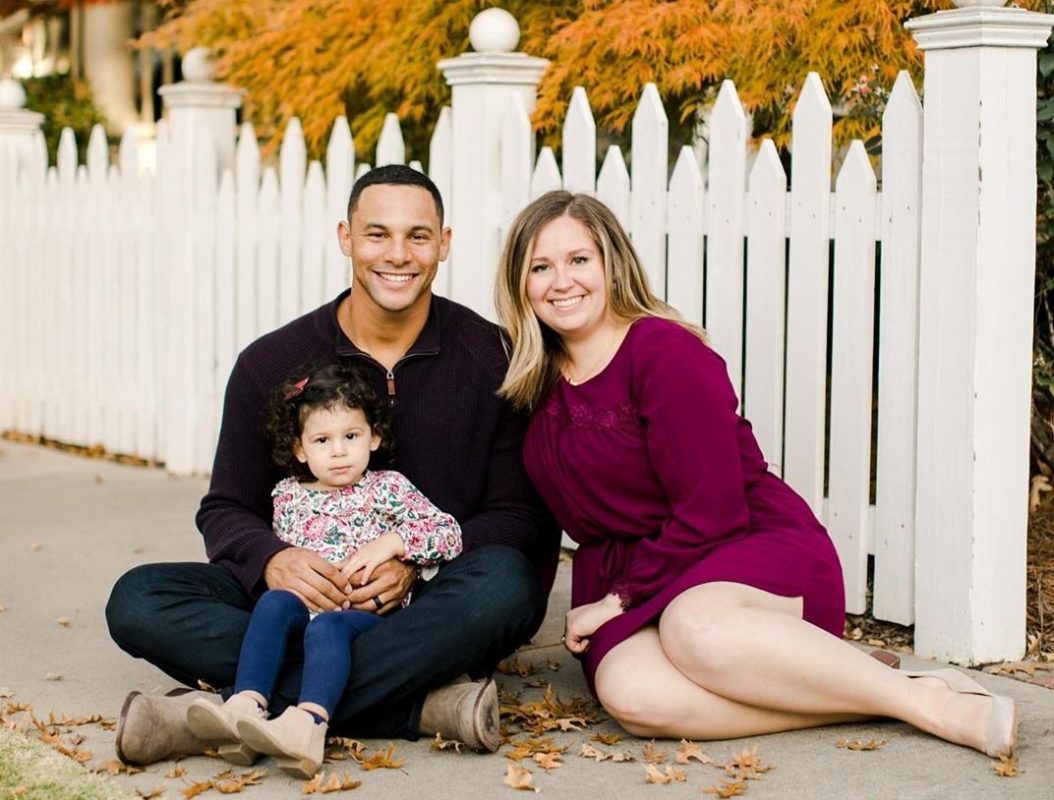 Branden Kline
The day he heard that the NBA was shutting down, Orioles pitcher Branden Kline knew that coronavirus lockdowns were catching up to professional sports, but he didn't realize just how quickly they would come for spring training.
"That day we had a game," he remembers. "We were on the bus going to Fort Myers to play the Twins. About 10 minutes later they turned the bus around to go back. That's when it sunk in: Oh crap, this is real."
Major League Baseball had also shut down. Kline hung around the Sarasota facilities for a week or so and then realized there was no point in staying. He went home to Augusta, Georgia, to be with his wife, Sarah, and almost 3-year-old daughter, Adalyn (or Addy).
Kline has relished the time with his "girls," as he calls them—the greatest silver lining of this whole pandemic. He's been cooking more—learning marinades, Instant Pot recipes, and mastering his best dish, a chicken thigh wrapped in bacon with sweet potato—and cleaning, too. He's also been amazed at how much destruction a little 2-year-old girl can do.
Kline calls himself a coffee connoisseur—"or coffee snob, if you prefer"—and has been learning more about different kinds of beans, from different roasteries and regions. He's also getting into wine, learning about how factors like sun, temperature, and time of harvest can affect the taste.
"That's the kind of thing that fascinates me, in a nerdy way," he says.
Despite living in Augusta, home of the Masters, he says he's not a great golfer—yet.
"If you saw me play right now you would throw up," he cracks. But he's determined to get good. It's the competitor in him (his father and brother-in-law are both pretty decent golfers).
For entertainment, he and Sarah just finished Netflix's The English Game, about the early days of soccer, which he recommends. And they've taken on a massive undertaking: rewatching every Marvel film, from the beginning.
"That's been time consuming," he admits.
Mostly, he's been hanging out with Addy, whom he says is always sunny and happy, and lifts his spirits "except for when she's tired or hungry," he chuckles. "Then she can be a little bit of a monster."
Addy even became something of an online sensation when she was featured in the Orioles "Story Time" video series. The mop-topped cutie, dressed in dinosaur jammies, sat on her father's lap us he started to read Lizzie the Lioness.
"Mama's gonna read book!" she announced.
"Mama's going to read book later," Kline replied.
He subsequently got to the bottom of it:
"We found out that my wife would also sing her a couple of lullabies [after story time]," he says. "So I looked up the lyrics to some of her favorite lullabies [and sang them to her]. Ever since then, she's had no problem saying Daddy Reads Books!"
Kline, who stays in touch with his teammates through video calls, has even managed to find some creative ways to stay in shape while cooped up at home.
"I've used Addy herself as gym equipment," he says. "I'll put her on my back to do some squats and pushups, just some core stuff. She has a field day with it."
He's also incorporated his lab-shepherd mix, Zoey, into the routine. In one video that he posted to Instagram, Kline does squats while holding the large, heavy dog, who dangles gamely. (He even added the hashtag: #NoGymNoProblem.) Kline says he was lucky to capture that moment on film.
"Ever since then, I can't hold her for more than 20 seconds without her going ballistic on me," he says.
As Kline waits to hear when MLB will start back up, he has been thinking a lot about his teammate Trey Mancini, who is undergoing treatment for colon cancer.
"I love the guy," says Kline. "I always will. The biggest thing that [his teammates are] expressing to Trey is that we're always with him. He's not in this fight alone. He's such a high-spirited young man. It's incredible. Even with this devastating news, he's still looking at the positives. I look forward to being able to see him again. Hopefully, when this is all said and done, we can be back to talking about Trey Mancini on the baseball field."