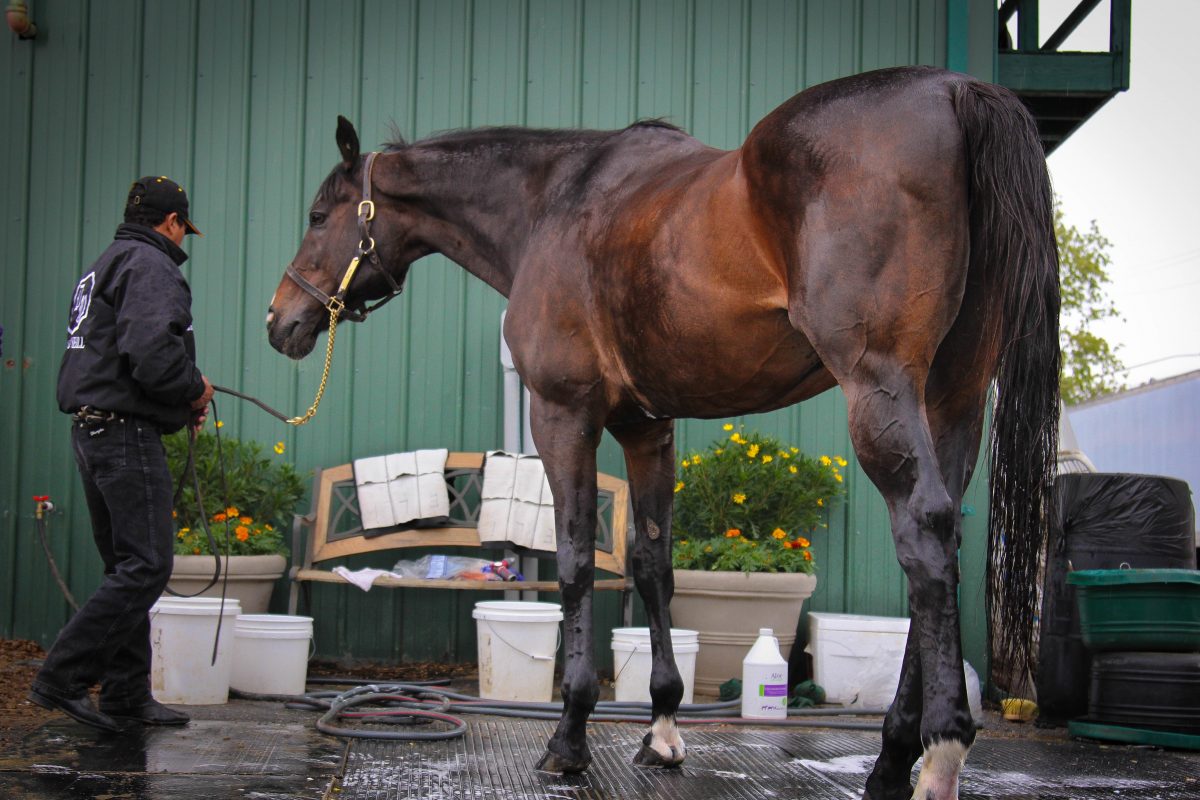 Photography by Meredith Herzing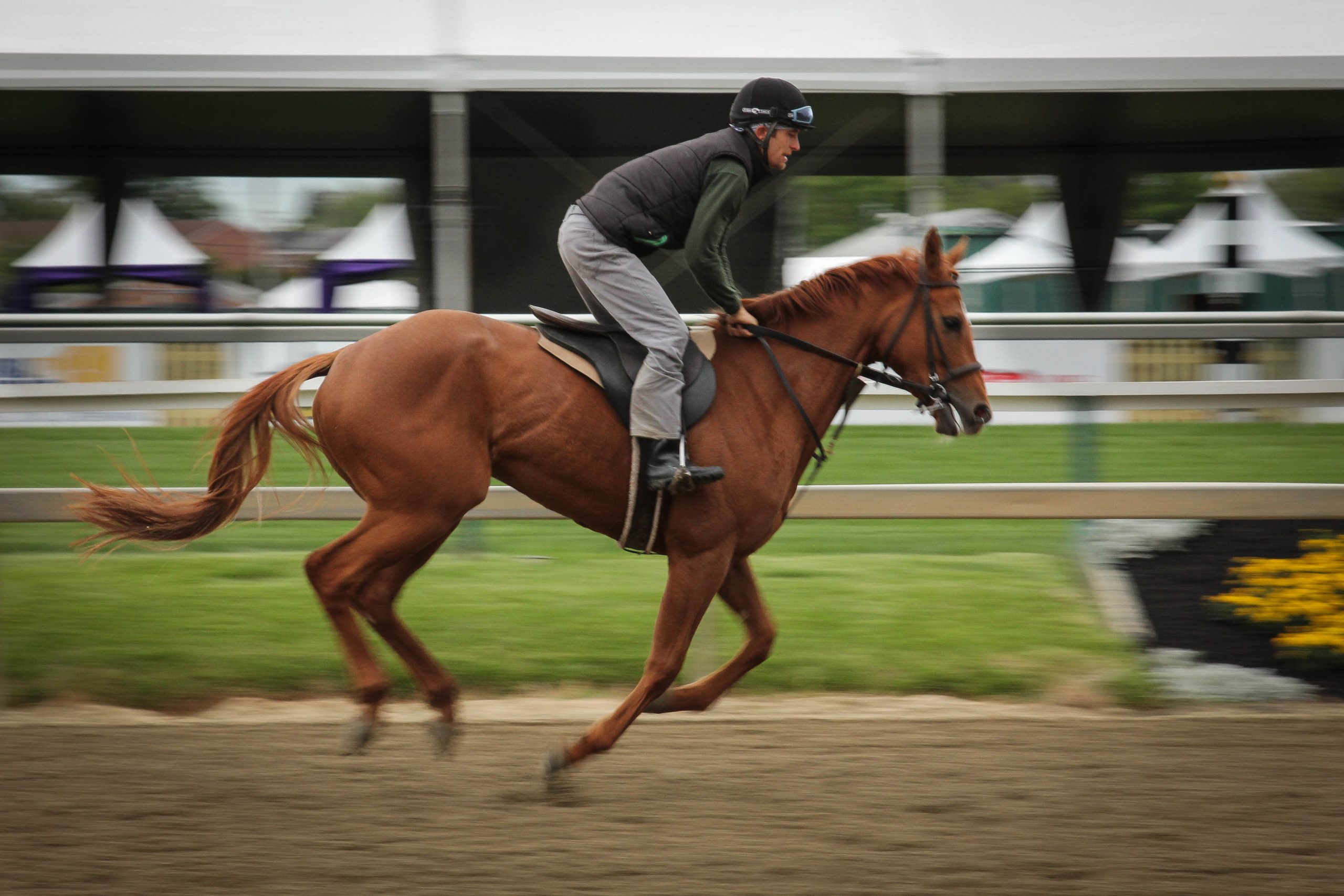 After inhaling some free Kind bars and juice—Pimlico wisely assumes you probably haven't had time to eat breakfast yet—we set off in our group with Anita, a 25-year veteran of the Maryland horse racing industry, leading the way. We started inside the empty grandstand, the shades drawn on the betting windows, the linoleum floors gleaming under the pallid light. Overall, it felt like being in a high school cafeteria after hours, eerily peaceful and sterilely atmospheric. Of course, Pimlico's aging facilities have long been a source of frustration for racing officials, who say they need to offer more VIP accommodations if they are to keep the race economically viable. Though it may not happen soon, Pimlico will hopefully see some sort renovation in the future. That's probably for the greater good, but there is something appealingly barebones—and so very, very Baltimore—about the spartan facilities as they stand now—an almost defiant unfussiness that we'd miss, even as we'd rejoice at the prospect of reliably functioning restrooms.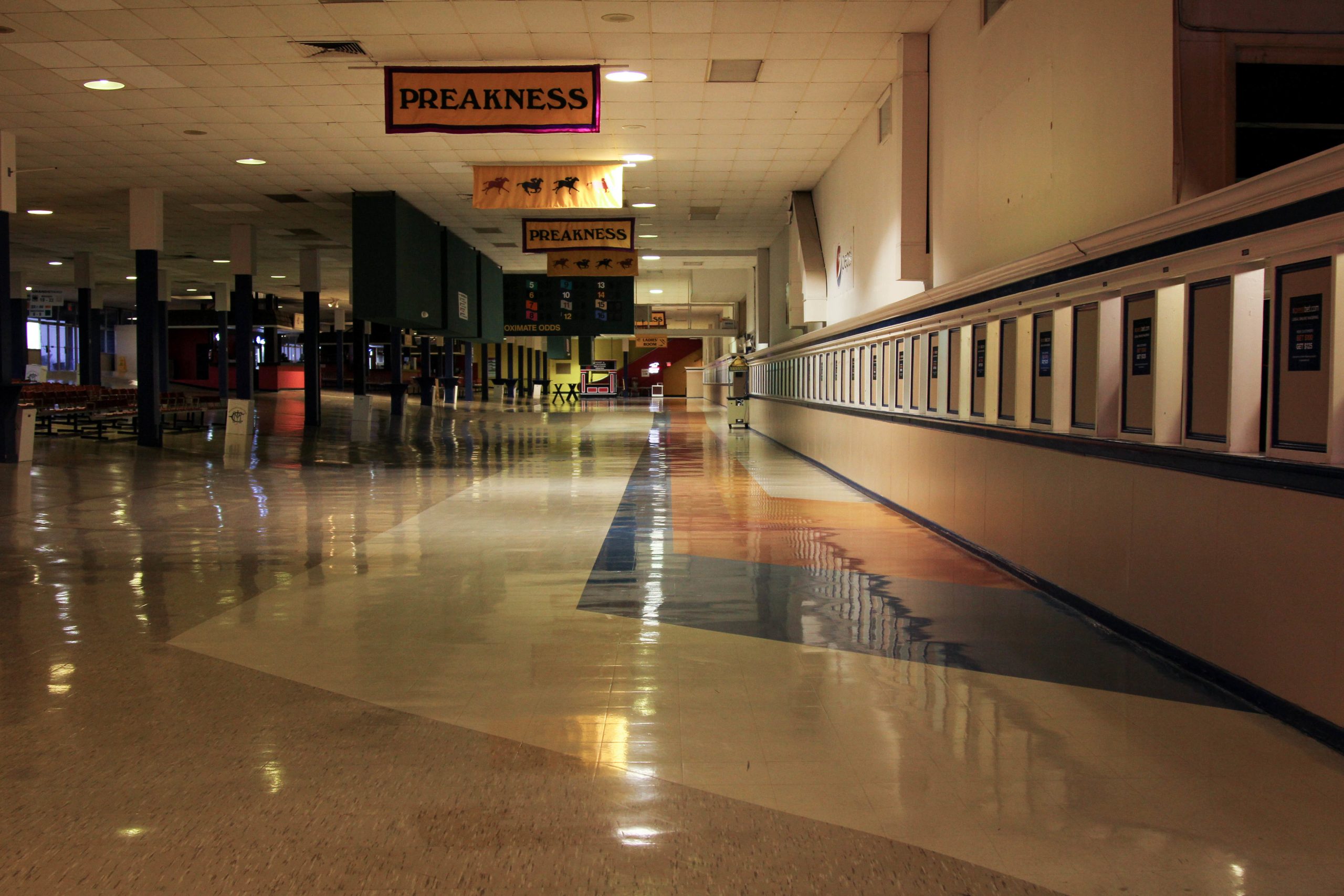 The first stop on our tour was a chat with Bobby, a former jockey who displayed equipment ranging from feather-light silks to a racing saddle that was about as substantial as a leather belt. He regaled us with tidbits about jockey life ("I now have an office in the corner there with a desk and a phone. It's a lot safer."), showed us the vests jockeys wear to prevent cracked ribs in the event they get trampled, and passed out pairs of goggles to the kids in the group. (Jockeys often wear goggles to keep the dirt out of their faces.)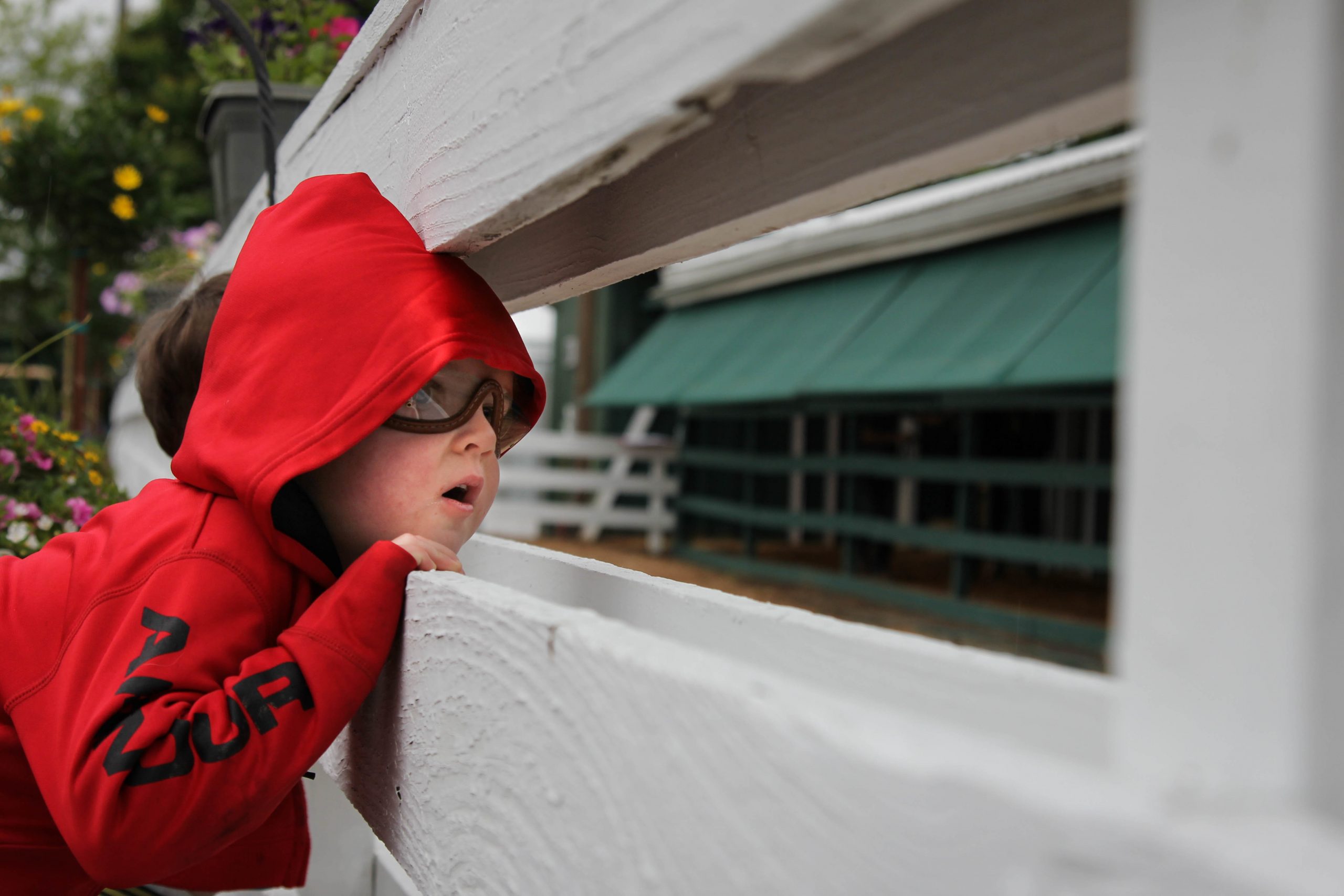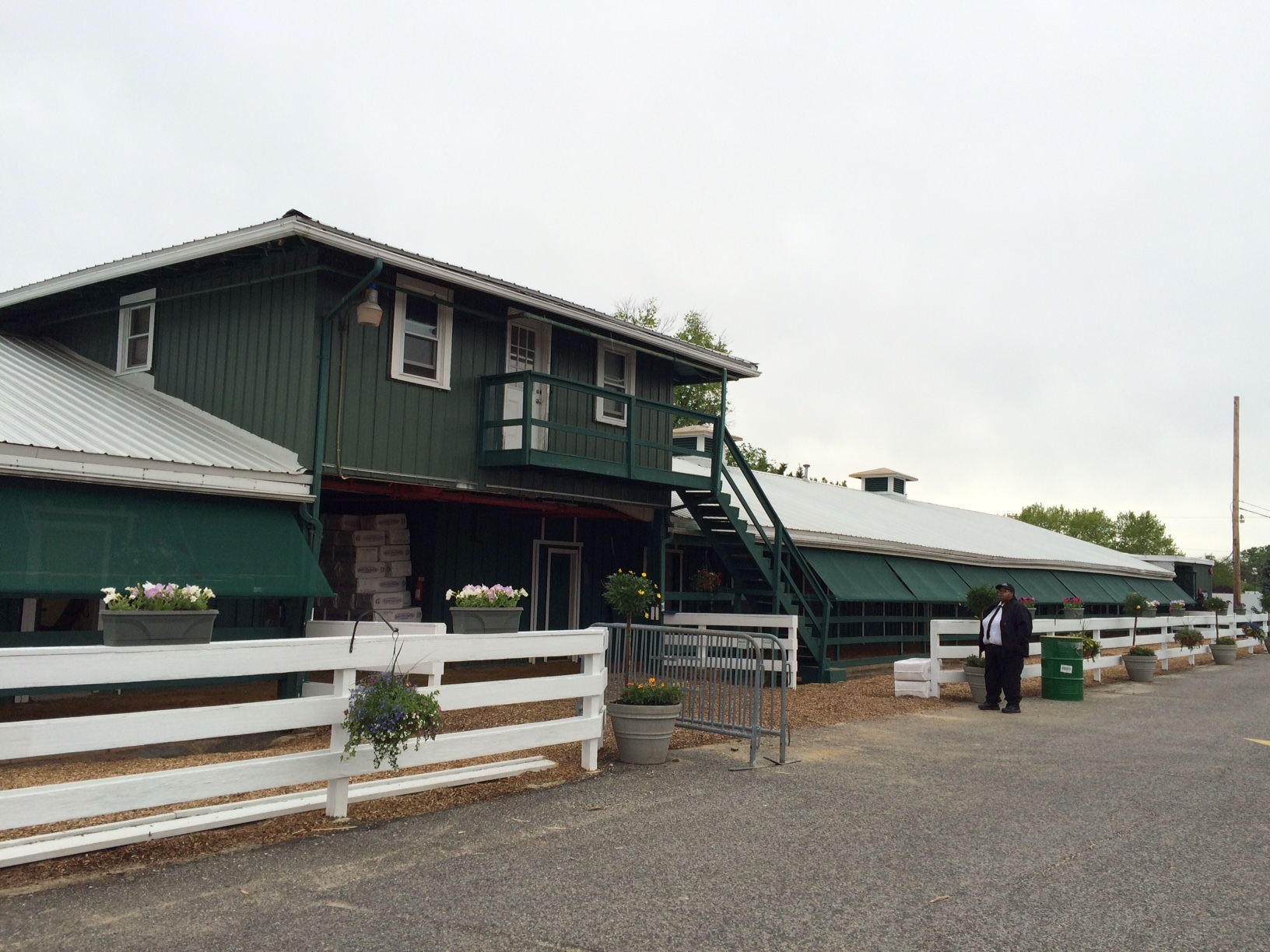 Then it was outside to the four "back lot" barns, including the Preakness Barn" from which Exaggerator emerged, all tacked up and heading to the track for his exercise. We watched forlornly as he disappeared in the other direction but perked up when we spied Satire, Nyquist's "lead pony," who travels and works out alongside him, providing stability and companionship. Satire, a former racehorse himself, was getting hosed down after the morning's workout and his handler took some time to answer our questions about the horses' bond.
"Would Nyquist notice if Satire wasn't there with him?" we wondered.
"Oh, yeah," came the emphatic reply.
So racehorses have besties, too.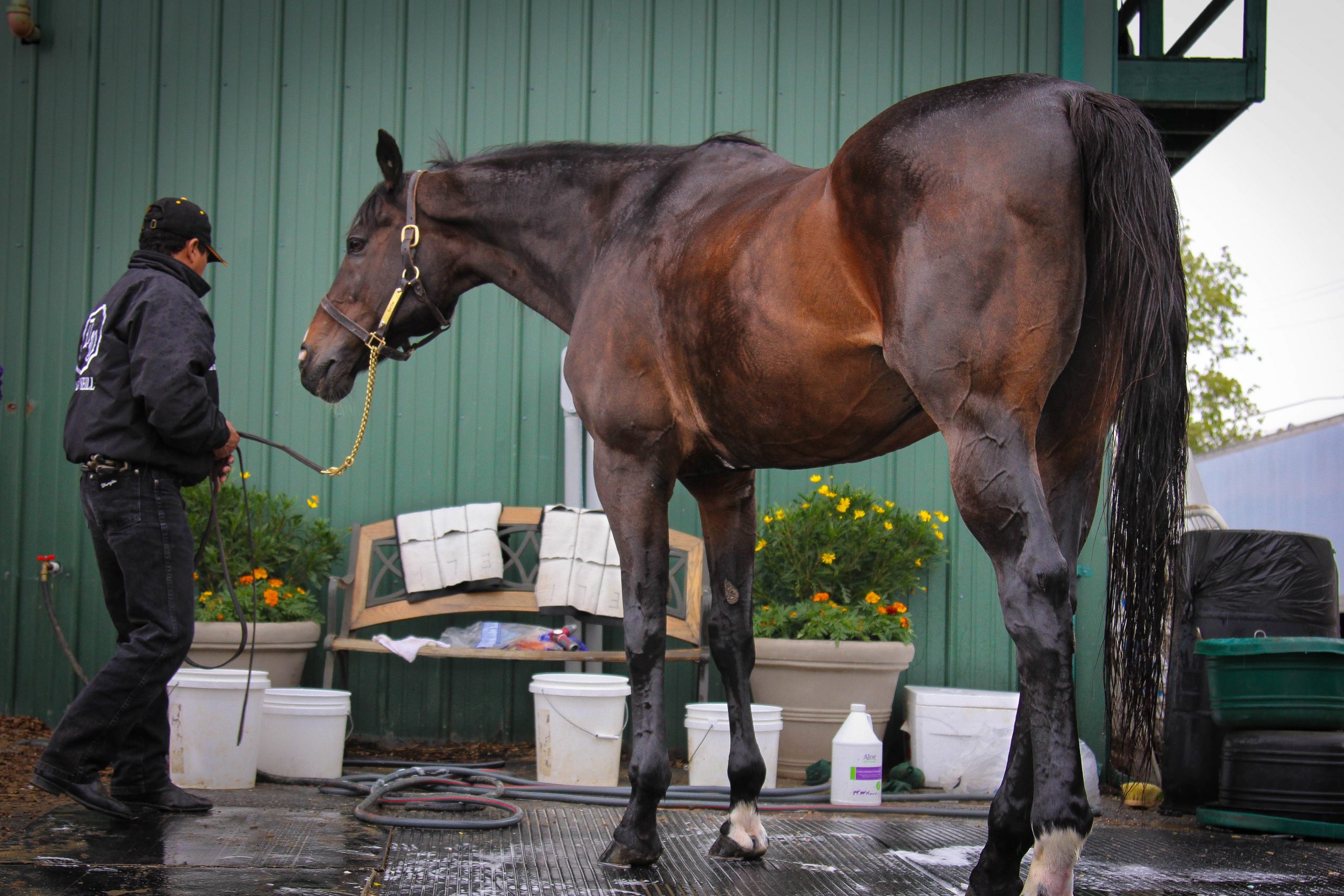 After that, it was around the corner for a visit with Mike, the state blacksmith, who handles shoeing needs at Pimlico. He showed the various types of horseshoes one can attach to a hoof and then demonstrated the size difference between a racehorse shoe and a draft horse shoe—it's a big one!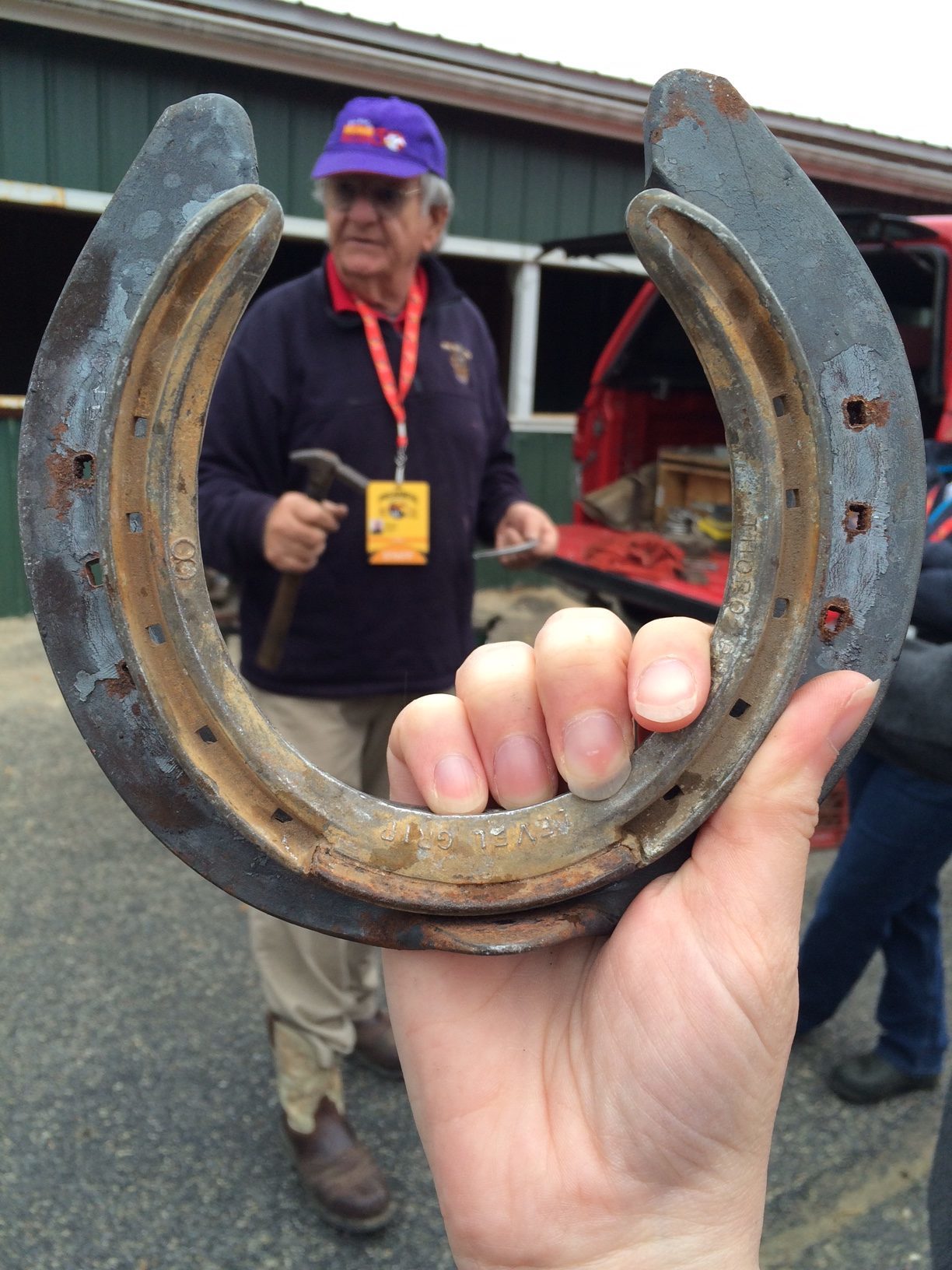 Speaking of draft horses, our next stop was the stalls of the Budweiser Clydesdales who are scheduled to appear at Preakness. Well, to be accurate, some of the Budweiser Clydesdales are in town. As we learned, Budweiser maintains several teams, plus a few horses who stay at the company's farms in Missouri and are taught special tricks for commercial and film appearances. Other trivia: Clydesdales weigh about 2,000 pounds and ingest about 30 gallons of water, 50 pounds of hay, and two to five quarts of feed per day.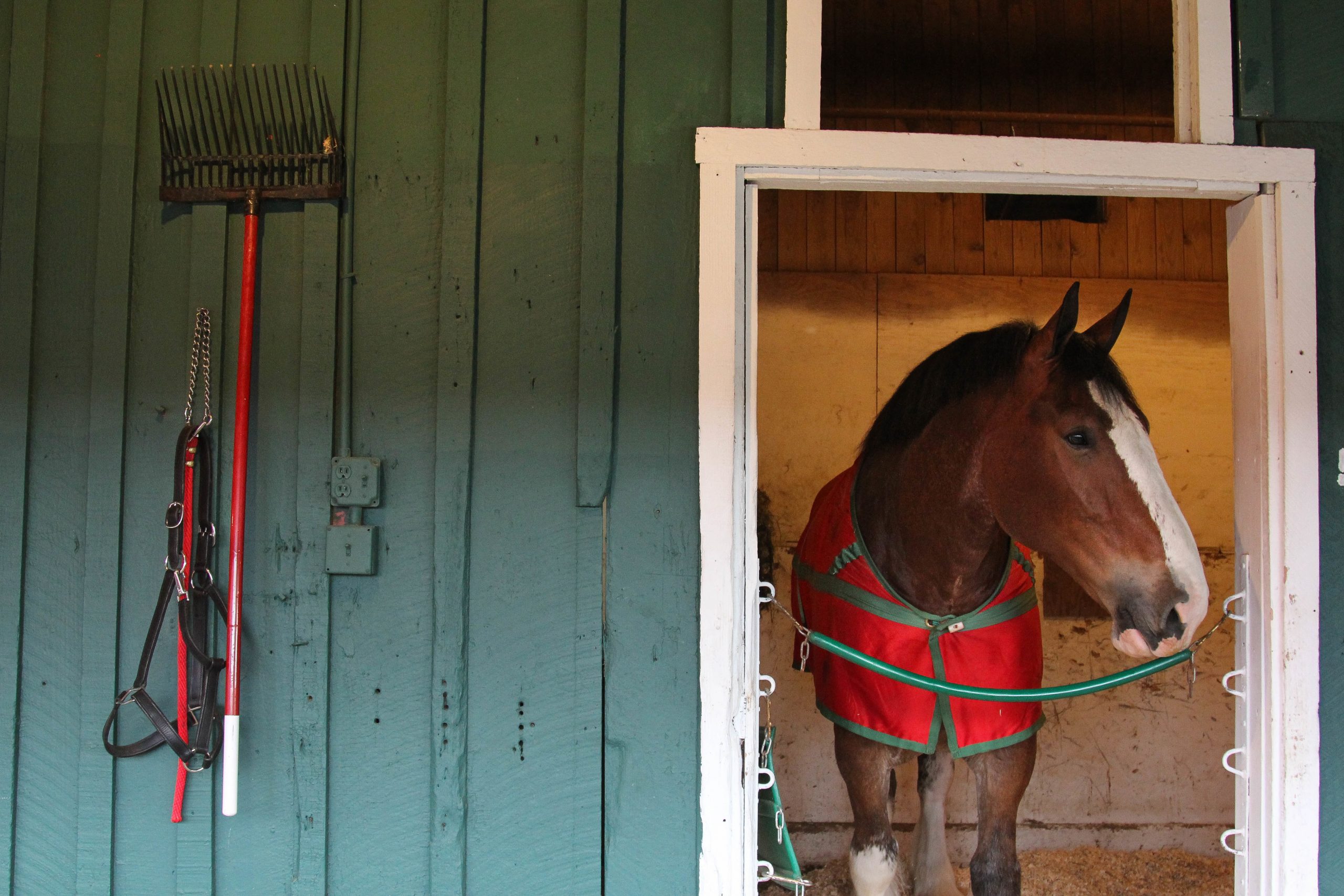 Once we finished gawking at the Clydesdales, we were lead into another of the "back lot" barns, this one housing racehorses that make up what Anita called, "the bread and butter of Maryland horse racing." In other words, you'll probably never know their names, but they're out there all the same, winning low-level stakes races and keeping the gears turning in Maryland's storied thoroughbred racing industry. A jockey named Marco allowed the kids in the group to feed peppermints to a dark bay colt named Grandiflora and a pretty chestnut filly named Sazerac Girl and then we departed, heading back to the grandstand.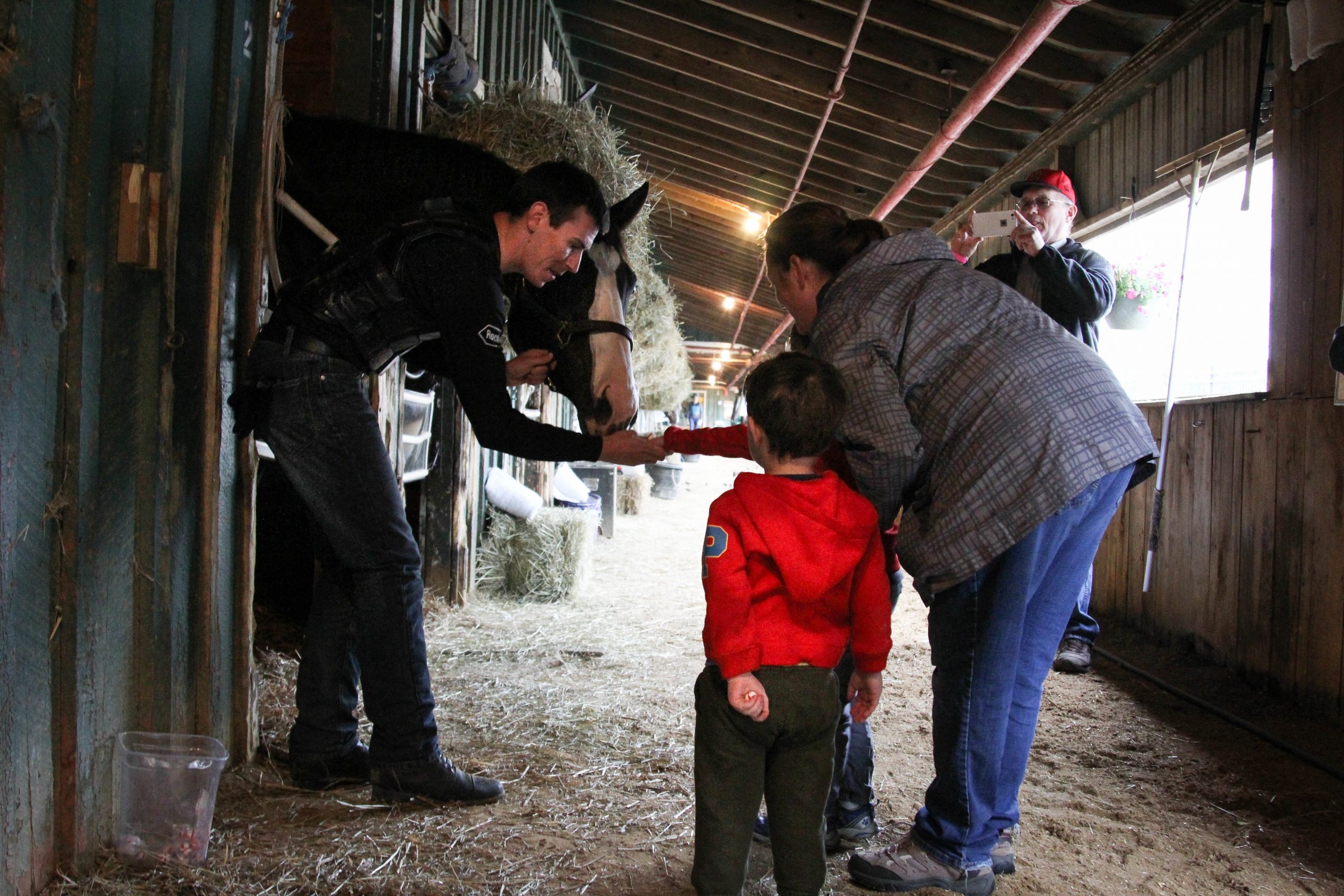 Back inside and out of the rain that was now gently but steadily falling, we visited the jockey's locker room and lounge where we saw racks upon racks of brightly colored racing silks, a scale for weighing in before the race (horses are assigned a weight limit and jockeys can not exceed it), and a and ping-pong table for blowing off steam.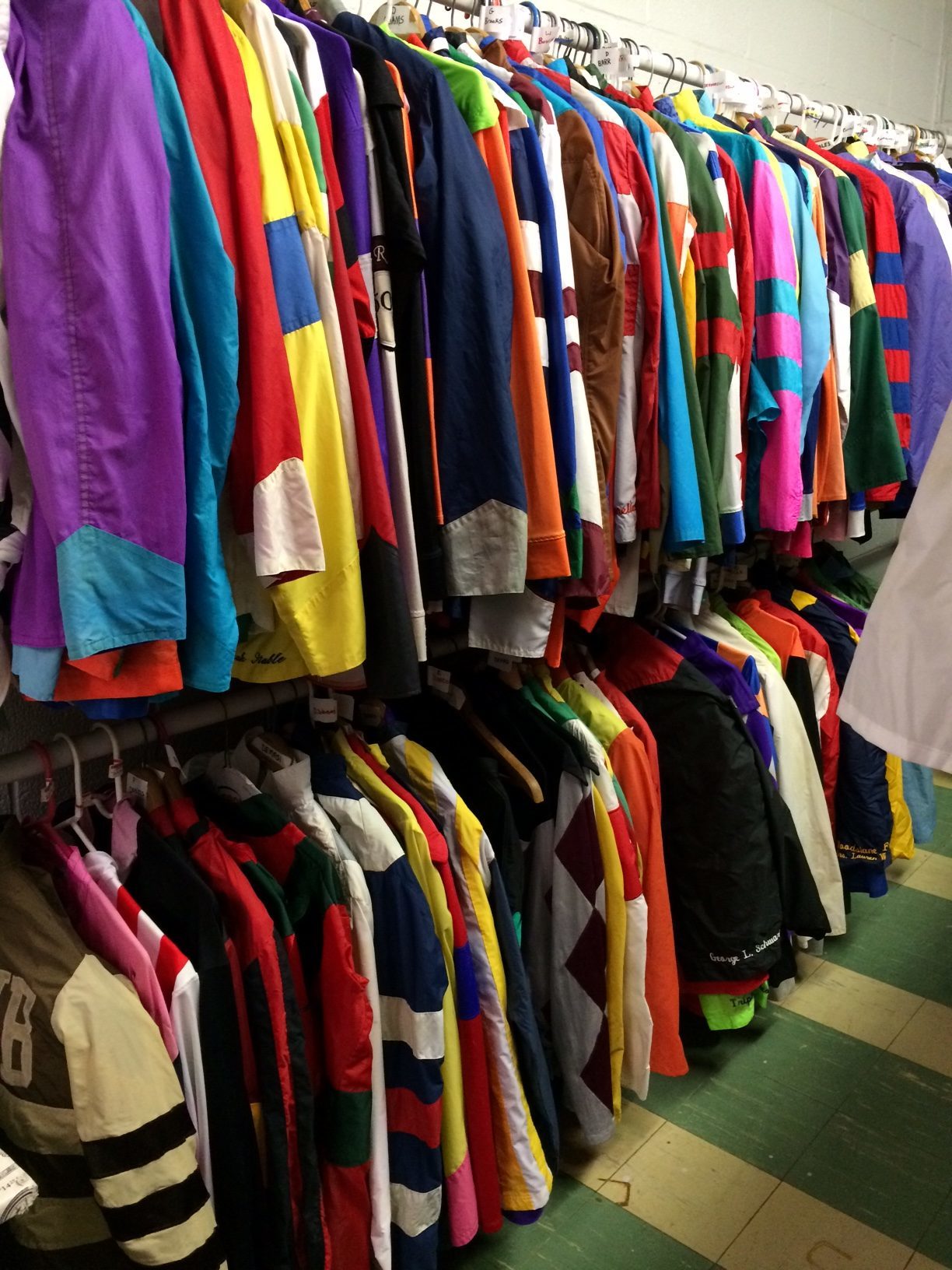 Then it was down to the paddock with its cushioned flooring and open stalls, where the horses wait before being called onto the track. "A hothouse environment," is how Anita described the space on race days. "Having done this, I can tell you that it's pretty nerve-wracking to be in here with a dancing 1,000-pound animal on the end of a shank," she noted.
Out of the paddock, we retraced our steps through the still empty grandstand back out to the apron overlooking the track where horses were still being exercised in the steady drizzle. In all, the tour took a little over an hour, though Anita said she usually does it faster.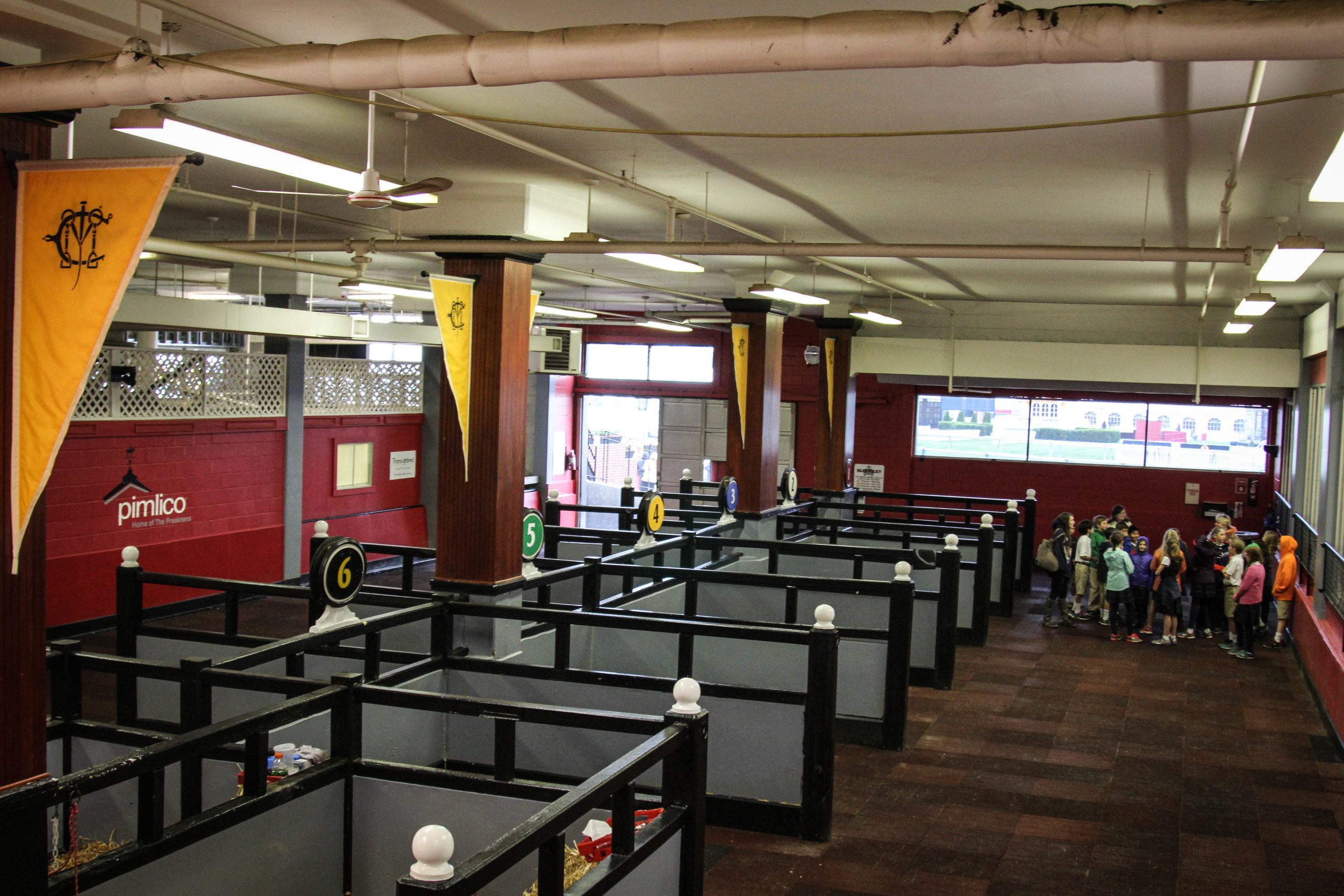 "I was talking a lot today," she said apologetically.
"No, don't apologize," said one older man with our group. "I didn't think we'd get to see this much!"
Sunrise at Old Hilltop tours are available from 6 a.m.-9 a.m. through Friday. The last tour departs at 8:45 a.m. Tours are free and on a first come, first served basis. Reservations are not accepted. More information is available on the official Preakness site.