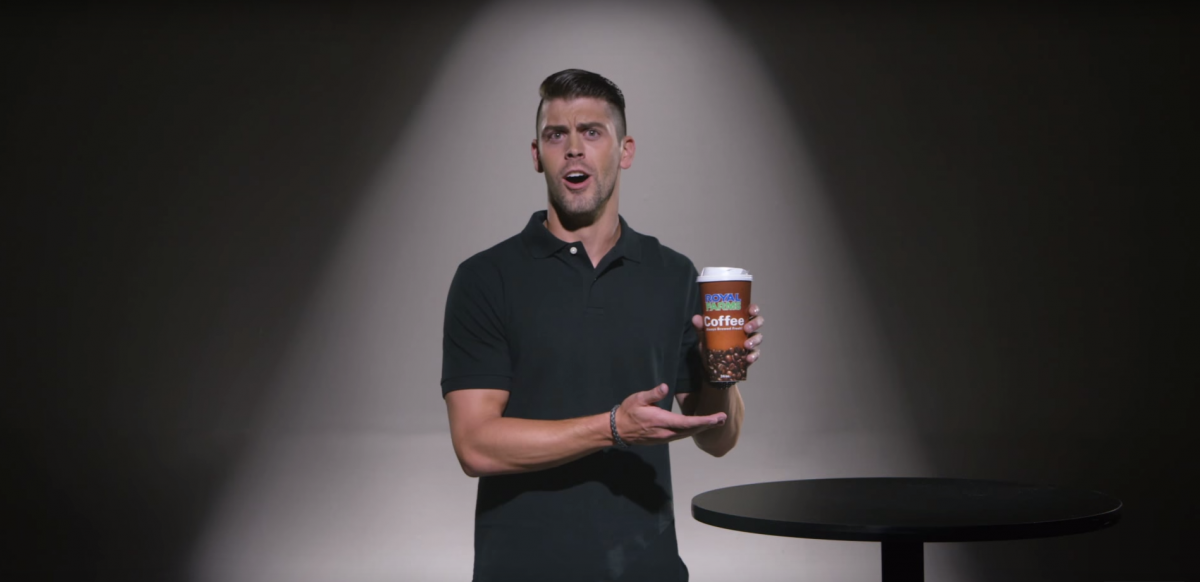 Courtesy of Royal Farms
1. Justin Tucker sings opera for Royal Farms.
In yet another example of a Ravens player being hilarious on TV (also see Flacco's recent one-liner on Jimmy Fallon), Justin Tucker is now the new spokesperson for Royal Farms. In the latest commercial, Tucker is seemingly so energized by RoFo's coffee that he bursts into an aria, showing off his signature operatic voice. I guess the company figured that the lean Tucker couldn't put away chicken boxes quite like former Ravens defensive tackle Haloti Ngata, so coffee was the next best thing.

2. Orioles hit two grand slams in one inning.
It's been an-ebb-and-flow type of week for the Orioles, (though, technically, we could still take an AL wild card spot) but a definitive highlight was Friday night's game when the O's hit two grand slams in one inning. The insane 10-run eighth inning saw both Nolan Reimold and Steve Clevenger hit their first career grand slams in the ultimate 14-8 win. To make things even crazier, that same inning included a solo homer from Manny Machado and manager Buck Showalter getting ejected after a hit-by-pitch. But, obviously, the real feat was the two grand slams, which made Baltimore the only franchise to have accomplished the multi-grand slam twice (also in 1986).
3. Suggs is out for season; Upshaw and Dumervil to fill the gap.
Sunday's game against the Broncos was frustrating for a lot of reasons—Denver still won despite the fact that Peyton Manning didn't throw for any touchdowns, we had multiple dropped passes, and, worst of all, Terrell Suggs tore his Achilles heel and will be out for the season. Of course, this isn't the first time. In fact, Suggs tore his (other) Achilles heel in 2012, the same year the Ravens ended up winning the Super Bowl. So, not all hope is lost. The Ravens have already signed veteran pass rusher Jason Babin, and the two men who have split the starting outside linebacker position for the past couple seasons, Elvis Dumervil and Courtney Upshaw, are also ready to take the reigns. "A guy like Terrell Suggs, what he brings to the table is hard to replace," Dumervil told BaltimoreRavens.com. "We have guys who have to step up, myself included, and we just have to get the job done." For his part, Suggs also seems pretty confident that his injury won't stop the Ravens from living up to Sports Illustrated's prediction.
Chin up Ravens Nation! We've been here before… This changes NOTHING!!! Our mission is still the same!
#2016SanFrancisco #RAVENSNATION
— T.S STARK (@untouchablejay4) September 14, 2015

4. Orioles pitcher helps fan change flat tire.
While O's rookie pitcher Mike Wright had a dismal start on Wednesday night, his skills as a car mechanic shined a few days earlier. After the Orioles 8-2 win over the Royals on Sunday, Wright saw a fan having some car trouble outside of Camden Yards. According to The Baltimore Sun, he stopped and helped the fan change the flat in 20 minutes, which sounds like record-time to us. As if that wasn't enough, Wright also gifted the stranded fan a pair of Orioles tickets for the following night. Wright's simple explanation as to why: "He was obviously having a bad day."
5. MASN cameraman comes this close to winning $1 million on American Ninja Warrior.
If you're a fan of America Ninja Warrior, you've been following the trajectory of Olney native Geoff Britten (and his cute blonde family), as he breezed his way into the finals. Nicknamed Popeye because of his massive forearms, Britten became the first American to complete the final course (climbing up a 75-foot rope in less than 30 seconds). But he didn't get the grand prize of $1 million because Colorado rock climber Issac Cladiero completed the course just 3 seconds faster. And, apparently, there is no prize for second place. Britten, a cameraman for MASN, got squat. If you think this seems massively unfair, you're not the only one. On Wednesday, a GoFundMe page was created because, according to the description, "As someone that works full-time to support his family, we feel that Geoff is just as deserving to receive the prize." As of Friday morning, the page was up to nearly $5,500 in donations. Plus, we don't think this is the last time we'll see Britten fly threw a ninja course on national TV.