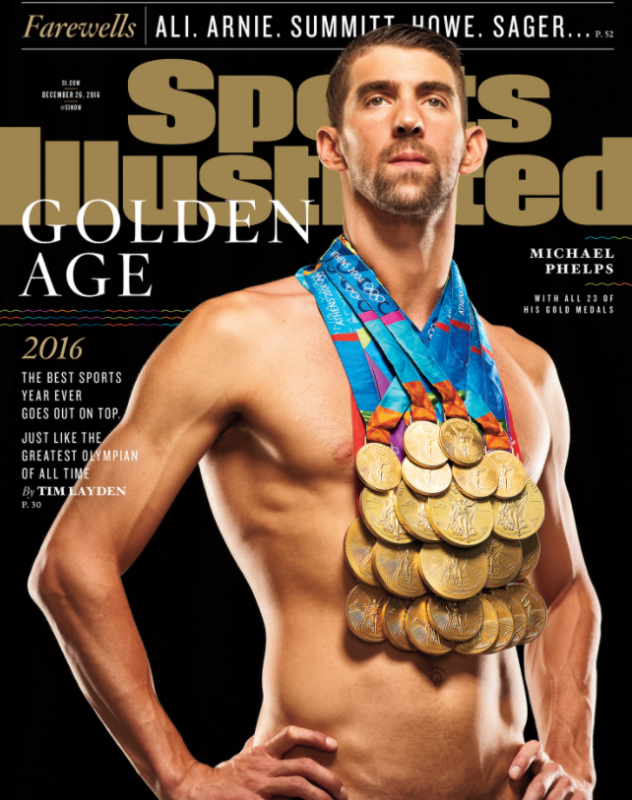 Courtesy of Sports Illustrated
Sports Illustrated names Michael Phelps "The Greatest Olympian of All Time."
And we're not going to argue with that. The Baltimore aquaman has 28 career medals, including 23 gold (see above photo). Number two on all-time medal list is former Soviet Union gymnast Union Larisa Latynina, who took home 18 medals, including nine, in the 1950s and 1960s. But is he done? Phelps said he's retired, but he has also said that before and he's been equivocating lately, too. Here's the what Under Armour CEO Kevin Plank, a friend and golfing partner of Phelps, told SI in their Dec. 26 issue (keeping in mind UA has Phelps signed to a long-term deal):
"I know what Michael is going to say about Tokyo: 'I'll be 35 years old, I can't stare at the black line anymore.' I understand. But Tokyo is going to be a great Olympics. He said he was retiring after London, when he was 27, with the lung capacity of a Great White Shark. You can bet I'm going to be nudging him as best I can for the next four years. I think he believes he is retired now. Three years is a long time to rest."
'Tis the season to be jolly. 'Tis also football season.
The Ravens travel to Heinz Field Christmas afternoon with nothing less than a division title and a playoff berth in the balance. We don't want to go around denigrating another city's football team this time of year, but we do expect the Ravens will deliver some well-deserved coal to all those Steeler stockings hanging in the Pittsburgh locker room.
Added to laundry list of questionable Steeler activities over the years—head coach Mike Tomlin attempting to trip Jacoby Jones on a kickoff, for example—Pittsburgh had its own hushed-up Deflate-gate scandal this season following a game with the New York Giants. Fortunately for the Steelers, however, NFL Commissioner Roger Goodell quickly moved to sweep the episode away, learning from the New England episode that cheating scandals are gigantic headache and not exactly good PR for the league. The fact that the family owners of Giants, the Maras, and the family owners of the Steelers, the Rooneys, are related (note actress Rooney Mara) may have also played a role in the nothing-to-see-here-folks approach by the NFL.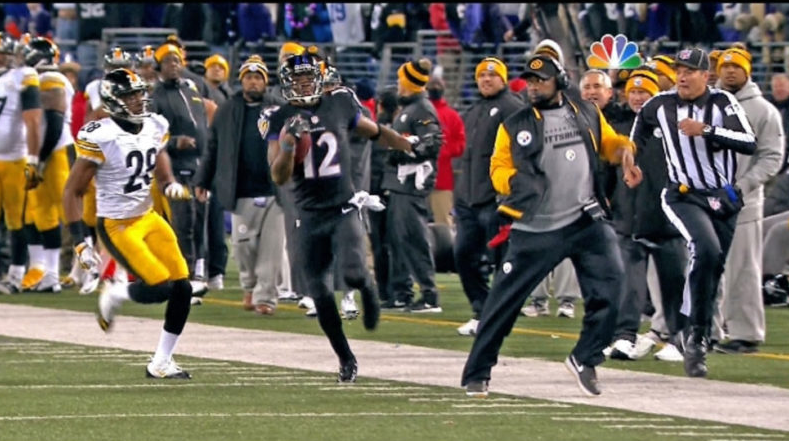 Matt Wieters may not be going that far away.
We knew there was little chance the free-agent O's catcher would stay in Baltimore. All things considered, the team's signing of Welington Castillo to hold down the receiving duties until highly touted minor league star Chance Sisco is ready for The Show looks like a good deal. That said, Wieters, a class act on and off the field, will be missed here. Recent rumors have him headed down I-95 to Washington. As painful as it would be see the big guy in a red cap with a "W" scrawled across the front, it would give us a chance to track his career and occasionally watch him play on MASN.
The man who stole the Colts from Baltimore died this week.
William Hudnut III often gets credit for revitalizing downtown Indianapolis. In the early 1980s, one of the things then-mayor Hudnut pushed for was the construction of the city's Hoosier Dome football stadium. As longtime Baltimoreans recall, before the stadium had even been completed, Hudnut had hooked easy mark Robert Irsay, persuading the Colts owner to steal the team away from Baltimore in the middle of the night in 1984. Hudnut, it turned out, moved to the Washington, D.C. area in the 1990s, even serving briefly as mayor of Chevy Chase in the mid-2000s. The 84-year-old Hudnut died this week of congestive heart failure while in a Rockville hospice center.
Remarkably, even Indianapolis TV stations refer to their city's theft of the Colts as "that scandalous night" when "Indianapolis stole the Colts unannounced."