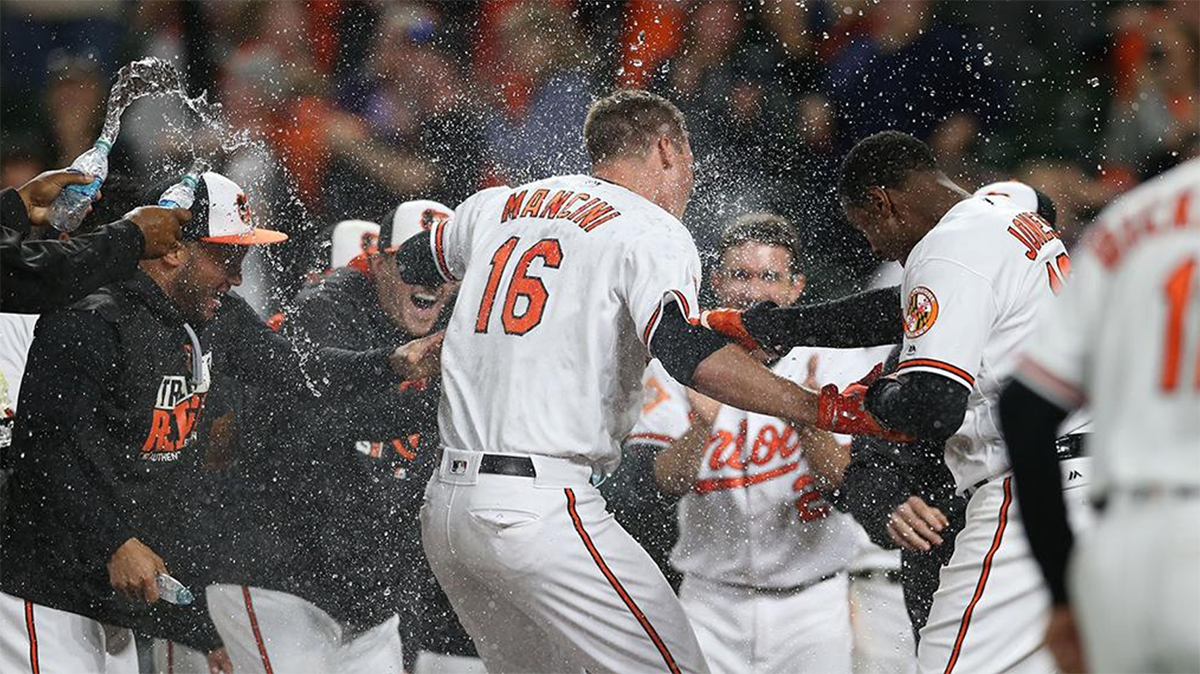 Baltimore Orioles
Trey Mancini has a magical night at Camden Yards. 
It's fitting that Trey Mancini sounds like the name of an old-timey magician—because he certainly knows how to put it on a show. On Wednesday night against the Pittsburgh Pirates, Orioles fans felt pretty deflated going into the ninth inning down 6-2. But the Orioles managed to put runners on the corners with no outs, causing the Pirates to bring in closer Tony Watson. A sac fly by Joey Rickard and double by J.J. Hardy cut the lead in half. Then Buck Showalter put in Mancini as a pitch-hitter, where he battled against Watson for eight pitches before hitting a two-run homer out of the park to tie the game.
As if that wasn't exciting enough, two innings later, Mancini delivered an extra-inning walk-off homer to give the Orioles a 9-6 victory in 11 innings. Because baseball nerds love numbers, Stats LLC reported that he is the first Oriole ever to accomplish the feat of pinch-hitting a game-tying homer and then hitting a walk-off in extra innings. In fact, there have only been two regular position players to ever do it: Boog Powell in 1966 and Eddie Murray in 1980. Pretty impressive company.

Ravens release Dennis Pitta after hip injury.
On the complete opposite end of the spectrum, Dennis Pitta was released Wednesday by the Baltimore Ravens after reinjuring his hip. Pitta is currently being hospitalized and undergoing procedures after he dislocated his hip for the third time in five years. This past Friday, he hurt his hip without any contact and merely stretching out for a catch. Previously, Pitta dislocated his hip during training camp in 2013 and early in the 2014 season. But in 2016 he returned to set team and career high records in catches.
"For him to get that year and to play so well was probably something beyond expectations and yet we hoped for me," Coach John Harbaugh told ESPN. "We thought we would get more—it was not meant to be." 
The latest injury for the tight end could be career-ending, and the release frees up $2.5 million in salary-cap room for the Ravens. "It's going to be a tough conversation," Harbaugh said. "But we're friends."
We will miss the on-field chemistry between real-life best friends Pitta and quarterback Joe Flacco. We wish Pitta and his family the best of luck as he recovers.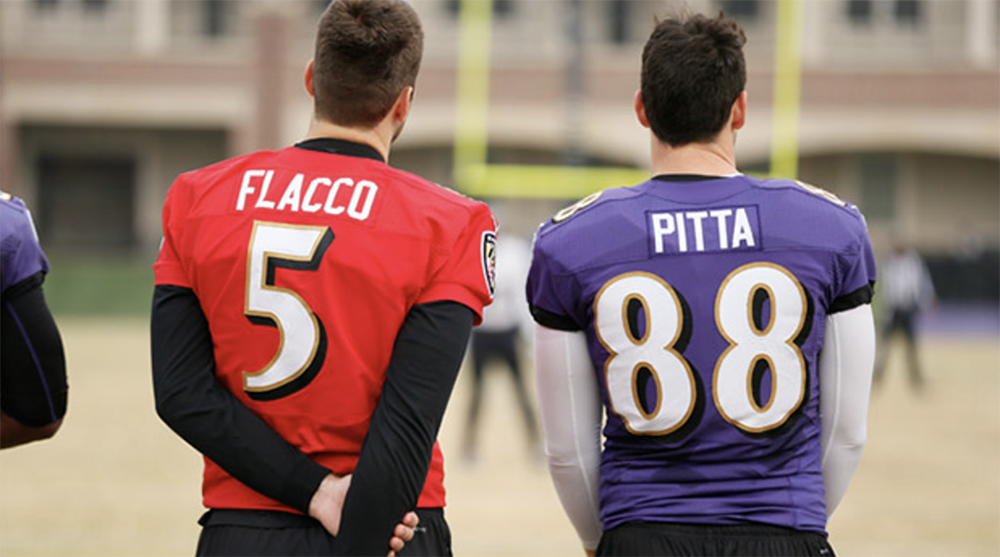 Manny Machado out with sprained left wrist.
In other injury news, one downside to Wednesday night's incredibly Orioles game was third baseman Manny Machado leaving it early due to a strained left wrist, puncture, and bruise. During an awkward stolen-base slide into third, Pirate outfielder Andrew McCutchen unintentionally spiked Machado's wrist as he tried to field the throw from the catcher.
As a result, Chris Davis got his first start at third base since 2014 against the Nationals on Thursday night. Though it's been a while, Davis has the most experience at the position.
"I think he's started over 300 games there, counting the minor leagues," Showalter told The Sun. "I'm not particularly happy about having to do it, but it's kind of where we are as a club."
Woman ends 444-mile solo kayak journey in Havre de Grace.
Cathy Mumford pulled her kayak, dubbed "Sparky" into Havre de Grace marina at 4:30 p.m. on Thursday after quite the trip. The New Jersey native paddled for 444 miles and 26 days by herself from Cooperstown, New York down the Susquehanna River. She started her journey on Mother's Day, May 14, paddling in her yellow, 9.5-foot kayak and camping along the way. 
"I see lots of fishermen, lots of Boy Scouts. I hardly ever see girls," she told The Sun. "I'd just like to encourage young women to get out there more."