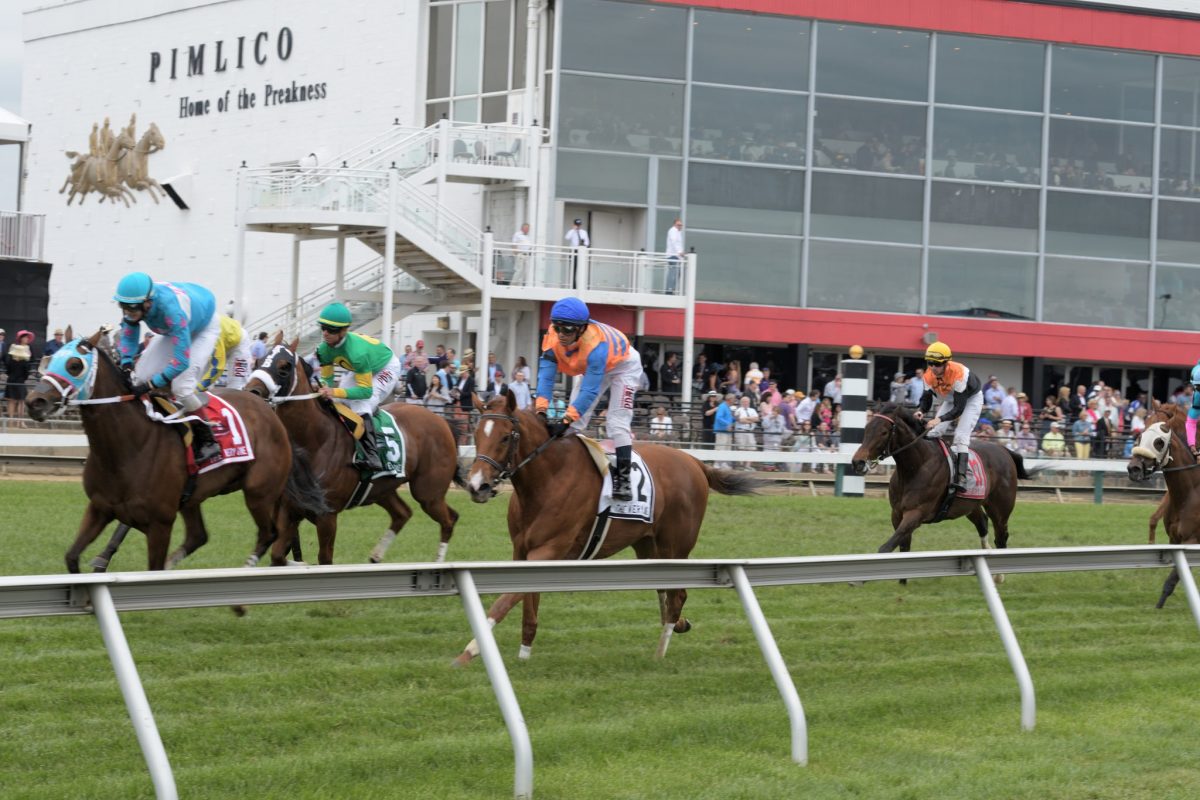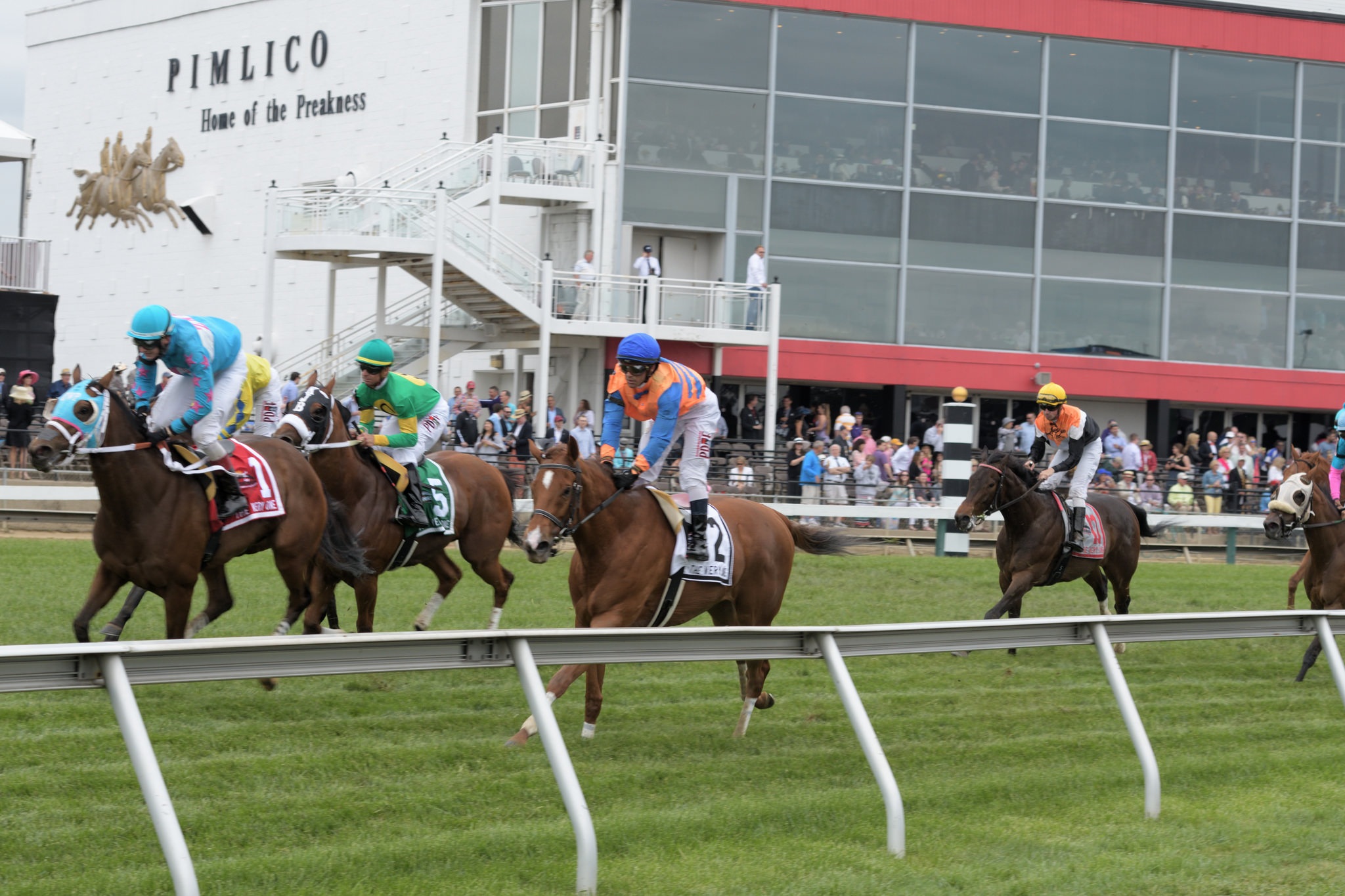 Flickr / Creative Commons
So the future of the iconic Preakness Stakes in Baltimore comes down to this: a political horse race.
In the red silks, from Canada and jockeying the betting favorite, is the Stronach Group. The entertainment and real estate conglomerate has long let it be known it's had eyes on moving the second jewel of the Triple Crown from the historic-yet-dilapidated, 149-year-old Pimlico Race Course—open just 12 days a year—to a new renovated home a 30-minute drive south at Laurel Park, a 300-acre property the company also owns.
And in the blue wares is the city, represented by Mayor Catherine Pugh. She is urging lawmakers in Annapolis to go with the seemingly longer shot, and vote for a pair of bills to create a plan to redevelop Pimlico—"Home of the Preakness" as the signage says in its Park Heights neighborhood—and in grand $424 million style, as the Maryland Stadium Authority suggested in a December report.
Goal: to avoid a psychological equivalent of The Colts and the Mayflower Vans Part II, if instead $120 million in fast-tracked state bond funding is green-lit for the Stronach's desired "supertrack" between Baltimore and Washington, D.C., and improvements to a training facility in Bowie, too.
State law says the Preakness can be moved to another track in the state "only as a result of a disaster or emergency." Some, especially those that have seen the bathrooms, might say Pimlico's condition already qualifies; it hasn't been widely renovated in decades. But simply bad condition is likely not what the law's writers had in mind.
Legislative action will be needed to move the area's splashiest sporting event, and its venue, from the 110-acre plot of land west of the Jones Falls, as should be required for a tradition as rich in meaning as the Preakness.
Hearings begin Friday in the Maryland House and continue Wednesday in the Senate. Pimlico or Laurel? The debate is about to enter its most public phase.
In the last few weeks, both camps have made their cases in letters to Gov. Larry Hogan and state legislature leadership. The mayor came out swinging, saying "allowing a wealthy family from another country to use Maryland tax money for a racetrack to have as their anchor for the development of their 300-acre site in Laurel would be a travesty."
She also inserted a commentary on the Stronach family's ongoing drama (billionaire patriarch Frank Stronach, 86, has sued his daughter, Belinda, whom we profiled last year, for more than $500 million) and that the D.C. economy would benefit most from a Preakness situated in Laurel, not Baltimore.
A week earlier, Stronach Group COO Tim Ritvo described in his letter why a supertrack was ideal, and why the company sought state funds to build a state-of-the-art, year-round home for Maryland horse racing. Pimlico "has reached the end of its useful life," he wrote. Ritvo reiterated the stance in an interview with Baltimore on Thursday.
"We think we can accomplish a lot of the same things at Laurel for a fraction of the cost, without using any state funding that isn't already earmarked for racing," Ritvo said, referring to money the Stronach Group currently receives annually from state slot machine revenue via Maryland's Racetrack Facilities Renewal Program. (Since 2013, that's totaled $22.5 million, which the company is required to match under state law, 90 percent of which it has spent on improvements at Laurel, not Pimlico, The Sun reported.) "From our perspective, we're looking to consolidate two businesses into one that makes sense, rather than operating two facilities."
That's the business case. But tradition and reverence—in the form of a world-recognized event held every May within city limits and the assorted attached memories, like maybe a foggy infield party day in college—is what means so much to so many others.
Laurel has its advantages: more space, train links, better parking, for a few. But it will be different in a new place, with smaller total crowd size—at about 75,000 to 80,000 instead of the 130,000-plus that Pimlico attracts—and a more corporate feel. Laurel's infield can't be used because it's a protected wetland, though the facility has plenty of room for an alternatively located "Clubhouse Fest" outside the track, as it does already for the Maryland Millions event.
We'll see if the court of public opinion holds any sway over elected officials in the next several days. That might be the only hope the Preakness of old has of staying in Baltimore. Pugh has begged for city residents to travel to Annapolis to have their voices heard. Park Heights leaders have offered to bus up to 600 people to the hearings, but will the turnout be powerful enough?
"We will fight this with every fiber of our being because we believe, as is in statute, that the Preakness belongs to Baltimore," Pugh said Wednesday.
We would love for the Preakness to stay right where it is, but it's hard to make an argument for the city or state to spend $424 million, or even close to it, on a new racetrack while schools don't have adequate heat, and while a police department could find an infinite number of uses for that kind of cash in a minute. The bills Pugh is lobbying for would create a working group to discuss financing for the Maryland Stadium Authority's recommendations.
Most reasonable, even if it hurts to say considering Frank Stronach bought Pimlico and Laurel Park in 2002 and theoretically could have proactively worked to improve the former many years ago, is that the race heads to Laurel and the Pimlico site is redeveloped with public entertainment space, shops, restaurants, and the like, while Sinai Hospital also expands its neighborhood footprint.
Ritvo said Thursday that the Stronach Group is open to funding some of that redevelopment. "We don't want to leave a barren land," he said. "We would contribute at Pimlico on a private-public venture on the property to figure out what we could do and help enhance the neighborhood."
As this debate enters its political homestretch, and as the circumstances are now, that might be the best-case scenario. But at least this isn't happening overnight, and in moving vans. It's public. Laurel needs significant improvements, too, hence the $120 million ask, if it is to host a Triple Crown race and a Breeders Cup and be open 200 days a year, as is the desire. The track wouldn't be ready for that until at least 2021, Ritvo said, and there's a lot of time between now and then.
Maybe this horse race is farther away from the finish line than it appears.