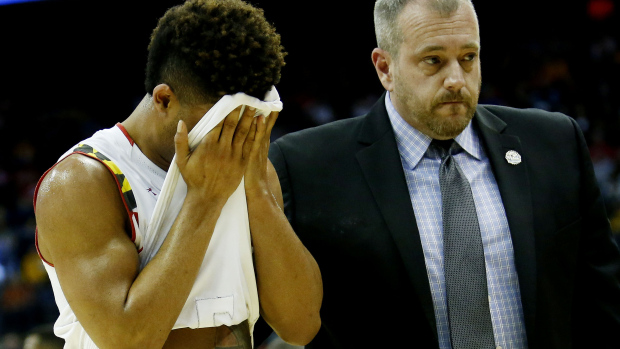 Kirk Irwin/Getty Images
NCAA tournament losses are always a special kind of bummer. What makes the tournament great—the "sudden death" match-ups—is also what makes the tournament painful, especially if you've fallen in love with a team, as this region has for the scrappy, overachieving, never-say-die Maryland Terps.
And last night's game was particularly ugly, with West Virginia's punishing style of full-court-press leaving the Terps out of sorts and exposing their greatest weakness—lack of depth at the point guard position. Except for their extraordinary freshman point guard Melo Trimble, the Terps don't really have any elite ball handlers, which is exactly what you need to break the press. So there was cause for concern—lots of it—when Trimble got flattened by a moving screen from WVU's Nathan Adrian (with no foul call, no less). He stayed on the ground for a few minutes, got up, rubbed his head and was later seen smiling on the bench. Whew! However, in the second half, Trimble and the Terps weren't so lucky. Trimble went for a steal, got tripped up by his own feet, fell, and was inadvertently kicked in the head by his own teammate, Damonte Dodd. This time he was much slower to get up. When he went to the bench, Terps medical staff immediately rushed to him. Soon, TNT cameras showed him crying. A few minutes later, we found out why: Trimble was officially out for the game.
Here's the thing: We know a lot more about the dangers of concussions than we used to, but many athletes have played with mild concussions over the years. Simply put: players want to play. And Trimble clearly wanted to get back in the game. The Terps staff could've turned a blind eye, put him back in, knowing the season would almost definitely be over without him. But they didn't. They protected the health of the player over the success of the team. And Twitter took notice.


The Terps went on to lose the game, 69 to 59. It's impossible to say what would've happened if Trimble had stayed in the game (in fairness, the Terps were already losing when he got hurt), but one thing was nearly certain—they had virtually no shot without him. There were lots of reasons to love these 2014-15 Terps: Trimble's ascendance, the big upset of Wisconsin, Mark Turgeon winning Big 10 Coach of the Year, all of Dez Well's thunderous dunks. But yet another reason to love them came during their darkest hour. They care about players first. And that makes them winners to us.