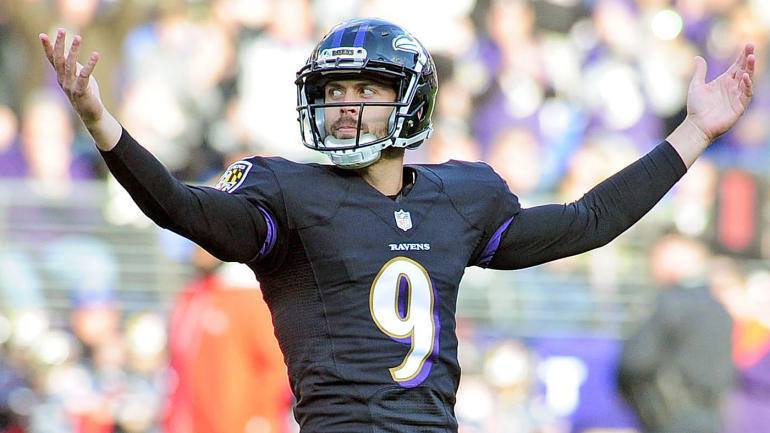 courtesy of Facebook
We're spoiled. Just about every time Ravens kicker Justin Tucker trots onto the field, we expect to see him kick that little brown football through those bright yellow uprights. And usually, he does.
As Tucker enters his eighth pro season, he's the most accurate kicker in NFL history, active or retired, booting pigskins through goalposts at a 90% rate. This preseason, he's at it again, going 7-for-7 on field goal tries, including a 49-yarder in the Ravens' 25-16 win Thursday night over the Philadelphia Eagles.
A few kicks in August don't mean much, but, importantly, we know that while other isolated end-of-the-bench kickers often wilt in the big moment— as in when an entire stadium of crazed fans, and millions more on television, are waiting to see whether you'll be a hero or a goat—Tucker seems immune to pressure, though he says he's not.
Just this week, in a story that aired on HBO's Real Sports Tucker said, "When I run out there on the field, I'm nervous, I'm scared." Sure he is.
The salient point, as the Ravens are about to embark onto a season of transition (including quarterback Lamar Jackson now officially taking the reins as QB1 as well as many other new parts on offense and defense), is that the closest thing that exists to an automatic kicking machine resides here in Baltimore. That's why, in one of his first orders of business when he officially took over as Ravens general manager at the start of the year, Eric DeCosta made Tucker the richest kicker in NFL history, signing him to a reported four-year, $23 million contract.
If you ask the gregarious, goofy, and multitalented Tucker, who will turn 30 in November and whom we profiled in 2014 for his kicking and, yes—who knew?—opera-singing ability (see: the Royal Farms commercials), it might not be his last big money deal here.
"I haven't even hit my prime yet," Tucker told reporters this week. "I'll leave it at that."
Wait one second, we'll pick that up here. Hasn't hit his prime yet?
This is a guy who, if he retired tomorrow, would probably be a Hall-of-Famer (especially rare for a kicker) and join the other Ravens greats in the Ring of Honor at M&T Bank Stadium. He's the clutchest of clutch (games against Pittsburgh and Denver are front of mind) and as dependable as a water main break in winter. He hasn't missed a field goal inside 50 yards since 2015. He has 13 game-winning kicks. Pro kicker wannabees come here in the preseason to get exposure to possibly play for another team and pick up a few tips, because they know no one is going to unseat Tucker from his position as Best Kicker Ever.
Plus, Tucker has endeared himself to the community by booting balls in places like Patterson Park and singing "Ave Maria" at a Catholic Charities benefit concert and later performing the same tune to win an NFL talent show. He donated the $50,000 prize to the Baltimore School of the Arts. It's easy to forget Tucker was a rookie out of the University of Texas, an undrafted free agent during the Ravens' Super Bowl winning season in 2012. It feels like he's worn his No. 9 jersey for much longer (and as if Matt Stover never left).
So, we haven't seen Tucker's best yet? That's a welcome bit of great news, and entirely realistic.
Unless you're someone like Tom Brady and have the means to employ a personal wellness apparatus to keep you spry despite your 40-plus years, kicker is the position most likely to allow for longevity in the violent world of professional football.
Tucker made his "prime" comment during a series of questions that included a query about if he was looking to play as long as, say, 46-year-old Indianapolis Colts and former New England Patriots kicker Adam Vinatieri. (That would mean Tucker would play through the year 2035.) It sure sounded like he had similar intentions.
"He ain't even hit his prime yet," Tucker said of Vinatieri. "The guy is incredible. He's one of my heroes in sports, in football. Any specialist who wants to get better, you have to watch the guys who have been doing it really, really well, or are currently doing it well, and who have done it well for a long time."
Tucker's already done that. And when he does miss, like during an extra-point try last season against the New Orleans Saints, it almost feels surreal. The fans always forgive him, but those rare misses serve as eye-popping provocations and gnawing reminders to him.
Case in point: Tucker keeps the very ball that he kicked wide right from 25 yards away—with the aid of a wind gust—in that one-point loss against the Saints on a shelf in his house, next to other commemorative balls he's received during his career, like one for his franchise record 61-yarder against the Detroit Lions in 2013. He's said it was as pivotal a moment in his career as any.
"I feel like I'm at a point in my career where it's more important to take stock each and every day and appreciate every moment for what it's worth," Tucker said after Tuesday's practice. "For me, that just means taking it one kick at a time. My goals for the season are as simple as coming out here and making whatever kicks I have lined up for me in practice. That might sound really elementary, but that is the truth. I just really try to take it one kick at a time."
Because, hey, even the great ones can be expendable. Tucker spoke to reporters in Philadelphia on an afternoon when, in a meeting arranged by Ravens assistant special teams coach Randy Brown (who also, weirdly, is the former mayor of Evesham, New Jersey), U.S. women's soccer national team member and Garden State native Carli Lloyd was present at the Ravens joint practice with the Eagles.
Tucker, a few others, and now at least 1.5 million on Twitter watched the two-time World Cup champ kick a 55-yard field goal, dead center, out of the hold of the Ravens' punter Sam Koch, after she made a handful from shorter distances. The performance caused one Hall of Famer to say a team should seriously consider giving Lloyd a tryout now.
"It was impressive," said Tucker, the authority on such matters. It was also a very Tucker-like thing to do.