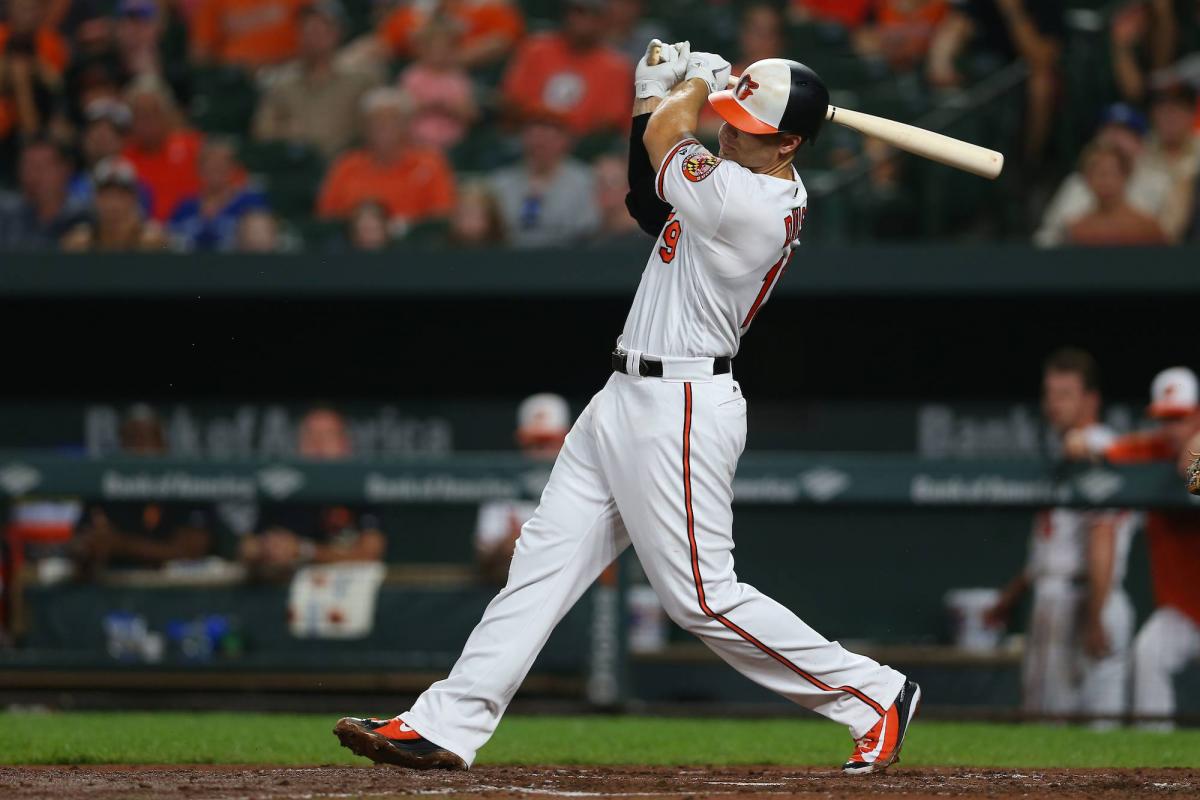 —Baltimore Orioles
In baseball, we are all Monday Morning General Managers. Lots of people mock and deride the seven-year, $161-million contract Chris Davis signed with the Orioles back in 2016—and rightfully so—but we conveniently forget that we were all clamoring for it at the time.
Davis had just come off a 47 home run, 117 RBI season. He was one of the most exciting players in baseball. His nickname was Crush. I mean, how cool was that? Every time he came to the plate, it seemed like he would either hit a home run or strike out. It was thrilling! And he played an above average first base, too—stretching that muscular body beyond all laws of physiology. Plus, he was a good guy—handsome, a community leader, a gentle giant, a man of God.
The idea of Chris jacking home runs for another team—God forbid, the New York Yankees—seemed unthinkable. So the fans held signs with "Sign Crush" on them, they chanted his name, they called talk radio shows whining about how ineffectual and cheap the O's front office was.
When he did sign, we celebrated. Never forget how much we celebrated. Sure, a few baseball sophisticates groaned that it was dangerous to sign a 30-year-old slugger to a massive seven-year deal. That we could trade him and reap the benefits in our farm system for years to come. That we could save money to sign the young superstar Manny Machado when the time came. But most fans were pumped. Baseball fans tend to have a "What have you done for me lately?" mindset.
That mindset would later come back to haunt Davis.
Today, Chris Davis announced his retirement from baseball. He'd missed all of this season with a hip injury, and lots of the previous season, too. But he really hadn't been Chris Davis—the guy we all cheered for, the superhero in cleats—for several years before that.
Right after he signed that giant deal he had a subpar year, for him at least: .221 batting average, 38 home runs, 84 RBI. Maybe he was nervous? Putting too much pressure on himself? Surely he'd be back to his old self in 2018.
Instead, his stats continued to go downhill. He wasn't just bad—he was historically bad. In 2018, he batted .168. That's abysmal, 32 points below the dreaded "Mendoza Line." In 2019, he batted .179 and hit 12 home runs, at one point staggering his way through an 0-54 slump. He was officially the worst regular player in the major league baseball. Little kids wrote him letters to cheer him up.
What happened?
Everyone's got a theory, of course. Some said it was the yips, a famous sports condition where an athlete gets so far in his own head, he can no longer rely on simple muscle memory. So a third baseman can no longer throw the ball to first. A pitcher can no longer toss the ball back to the catcher. A power hitter can no longer hit home runs. (Simone Biles' "twisties" that she experienced during the recent Summer Olympics is a variation of the yips—albeit a much more dangerous one, what with all the flying through the air and everything.)
Of course, there were whispers that he used performance enhancing drugs—that always happens when a guy has so much power. (Notably, he was suspended 25 games in 2014 for the use of Adderall, a drug he said treated his ADHD.)
Others thought it was sheer stubbornness on his part. Teams adjusted to Crush—the way they pitched him and, more importantly, the way they fielded him. (They put on something called the shift, where the infielders moved back into the outfield to field his hard-hit grounders and line drives.) But he never adjusted his approach. He didn't change his batting stance or his grip. He didn't try to pull the ball less. He didn't try to sneak in a bunt to counteract all those infielders milling about in the outfield. In a way, how could you blame the guy? He'd achieved so much success doing it the old way. But the old way simply wasn't working anymore.
So now, here we are, 2021 and it's official. After 10 years, Chris Davis is no longer an Oriole. He still has two years left on his contract. He is still owed $46 million by the team.
And the question is: How should we remember him? I think right now it's inevitable that people will talk about that massive contract, that albatross around the Orioles' neck. They'll talk about the money he is still owed, money that could been spent on better, more productive, younger players. People will remember the horrible slump, the wretched batting average, the pain of watching our superstar shrink down to decidedly human size.
Hopefully, though, in time, we'll focus more on the good times. For starters, the incredible charity work he and his wife, Jill, did with the University of Maryland Children's Hospital. And then, his heroics on the field. He gave us a lot of excitement for a while there—leading the league in home runs twice, coming third in voting for MVP in 2013. There was even that time he stepped in as a pitcher against Boston, threw two scoreless innings, struck out two Red Sox, and got the win. And you want to feel pumped up? Go to YouTube and search for "Chris Davis home runs." Or watch this beautiful tribute video the Os just posted to their social media accounts.
Man, how loud we cheered. How majestic those shots were. How much fun it was while it lasted.