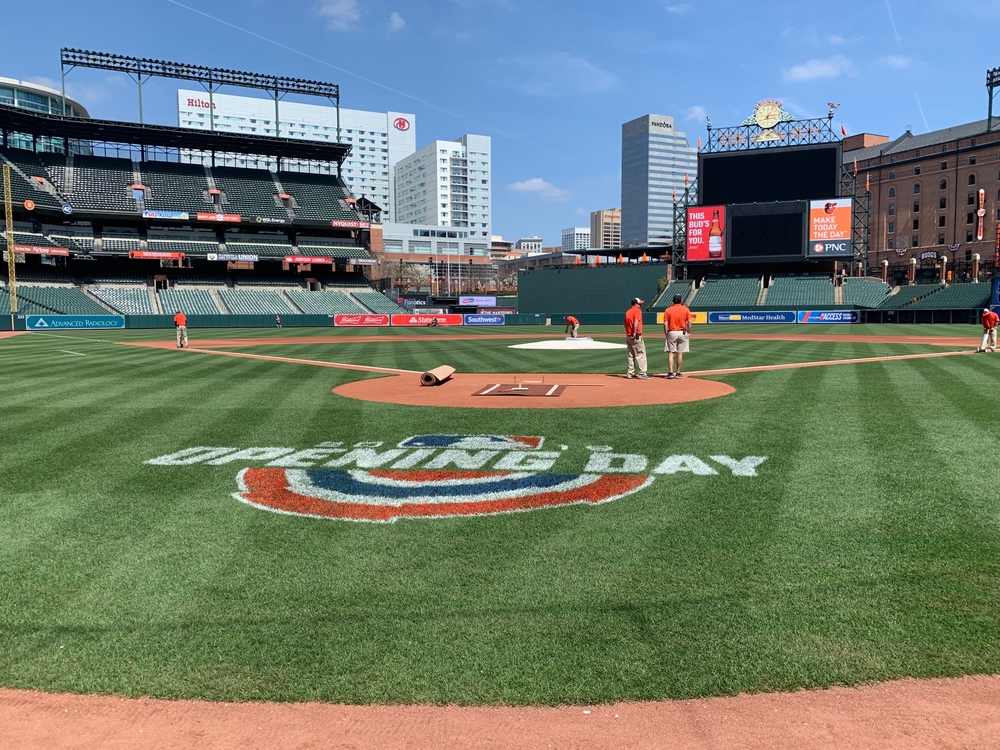 Shutterstock
He wasn't doing it intentionally, but something Orioles manager Brandon Hyde told reporters (via Zoom) this week perfectly illustrated just how different this baseball season—if it even happens as planned—is for everyone involved.
"We've done a nice job of staying apart," Hyde said, looking into a laptop computer on his office desk at Camden Yards, where 47 players, coaches, and other staff have gathered to prepare for an unprecedented, pandemic-shortened 60-game season.
Following an abbreviated three-week summer training camp, the O's season is scheduled to begin July 24 against the Red Sox in Boston in front of no fans—one of the many standard operating procedures in place to bring pro sports back to life while hopefully not causing a further spread of COVID-19.
Hyde, the Orioles second-year manager, spoke to the media each day this week from his office right near the O's locker room, which is kind of a sensitive area these days. Those inside must wear masks and keep social distance.
Out on the field, the stay-six-feet-away protocol is a bit easier to manage given the environment. As outfielder Austin Hays put it, "The great thing about baseball is it's a very big field." But even outdoors, on Camden Yards' typical beautifully manicured green grass, scenes are different than they ever have been before.
Handwashing stations have been placed near the dugouts, and leather-bound baseballs are being cleaned and recycled. Staying apart—and clean—has become the new team bonding experience. When third baseman Renato Nunez hit a home run during an intra-squad game Wednesday night, he air-handshook teammate Rio Ruiz as he rounded the bases. "It was kind of weird," Nunez said. "But it's great to be here and playing the game we love."
Indeed, after longer-than-expected negotiations between Major League Baseball's owners and its players union throughout the last few months—the fine details of an appropriate paycheck in a shortened season being the unfortunate primary sticking point—baseball is back, for now.
The question of whether all the safety protocols will work well enough to prevent what's proven to be a highly contagious, invisible, airborne virus from invading an entire team—and thus likely ending the entire league's season—is still a legitimate one. But O's staff, coaches, and players seem to be doing everything that can be practically and logistically done so that they're not the ones to make any headlines.
Upon their return to Baltimore last week, all players started to get tested for COVID-19 every other day—though results have been slow to arrive, a common problem, pro baseball or not. Temperature screens are routine. Every piece of team apparel has been personalized so there aren't any mix-ups. Players have rotated through day-long practices in smaller groups. On the first day of camp, position players sat in one dugout and pitchers in the other.
"The sport is making an effort to get going," Orioles general manager Mike Elias said. "It's tough circumstances. There's a lot of challenges involved, but I think we're doing a great job."
Here are five things you should know about this unique attempt at a baseball season.
1. It's a busy schedule (and a lot of games are against the Yankees and Red Sox…)
The Orioles are scheduled to play 60 games in 66 days starting with the season opener on July 24 in Boston, the first of 20 games the O's will play against either the Red Sox or the Yankees.
That's by design by Major League Baseball. In this shortened pandemic season, teams will mostly play division opponents, so the bulk of the schedule is against division opponents in the A.L. East.
In interleague games, the O's will play the N.L. East, including games against the Washington Nationals. It might be one of the toughest schedules ever faced.
2. There will be no fans (yet)
The O's new home opener is scheduled for July 29 against the Miami Marlins, but for fans, the designation is sort of an unfortunate footnote. Only players, coaches, team staff, and media (we think, we hope) will be allowed in Camden Yards.
Though all of the green seats in the stadium will be empty for now, it will still be nice to see the Warehouse in the background of games on TV. And, in general, live competition and commentary from MASN's Gary Thorne and Jim Palmer will be welcome entertainment for us all watching at home and on our phones.
"It's going to be weird," says All-Star pitcher John Means, "but the weirdest part is all these games count more than they ever have, and you're not going to feel the energy of these games coming from the fans. It might take some getting used to."
When the O's announced their new schedule on Monday, they left open the possibility that fans will be allowed in person at some point this year, but whether that happens—and in what form (half capacity, or a quarter, for example) depends on the decisions of state government officials, the Maryland Stadium Authority, and pro baseball leadership.
3. A short season might work in the O's favor
From a competitive standpoint, a shorter than normal schedule—rather than the usual 162 games—makes the outcome of every game even more significant in the standings and playoff positioning.
Say one underdog team (cough, the Orioles) goes on a brief winning streak against a few division opponents (like the Blue Jays and Rays). Suddenly that team could be in contention for a spot in the 10-team postseason.
"It's going to be a season like no other," Means said. "We feel like we're in it. We feel like we have a chance."
On the flip side, something like a 10-game losing streak could end a team's motivation pretty quickly. Either way, it's never been better to be a team with low expectations, mathematically speaking.
"This is a sprint. Anything can happen in 60 games," Hyde says. "We've talked about going out and shocking people and winning some games."
4. We'll get a nice look at the Baby Birds
While Major League Baseball is back, Minor League Baseball is not. That is certainly a blow to the O's long-term rebuilding plans—which are focused on developing talent within the farm system in places like Bowie, Aberdeen, and Frederick, and funneling it to the big leagues.
As a result, we might see a huge sampling of players this year, and at the very least, playing time for a lot of Baby Birds. Rosters have been expanded, and the O's currently have 47 players in their player pool (of a maximum 60).
Top prospects such as 2019 No. 1 overall draft pick Adley Rutschman, 2020 first-round pick Heston Kjerstad, and others could be added in the coming weeks. And at the start of the season, look for all kinds of relief pitchers to get time as starters work back into game shape.
Potential Opening Day starter Means, for instance, is working on getting comfortable throwing four and five innings during this abbreviated summer training camp, and most of all the possible starting pitchers are in the same situation.
5. Change can be good
Few things about this baseball season will be normal. But strange times can also lighten things up for a lot of people. Take Davis, a former home run champ who—after putting on 25 pounds of muscle since the end of last season—looked good during spring training in Florida before COVID-19 hit.
Davis said earlier this year that he was "physically and mentally" drained after last season, during which he took all kinds of criticism and notably expressed frustrations in the dugout. This week, he spoke to reporters via Zoom wearing a green camouflage mask. He mentioned how he kept in shape with the home gym he set up in the winter even before the pandemic ("I guess that was a good move," he said), and he seemed content.
On the field, Hyde said Davis has been launching balls onto Eutaw Street during batting practice. We'll see if that continues, and what happens with everything else, once (fingers crossed) the games begin.