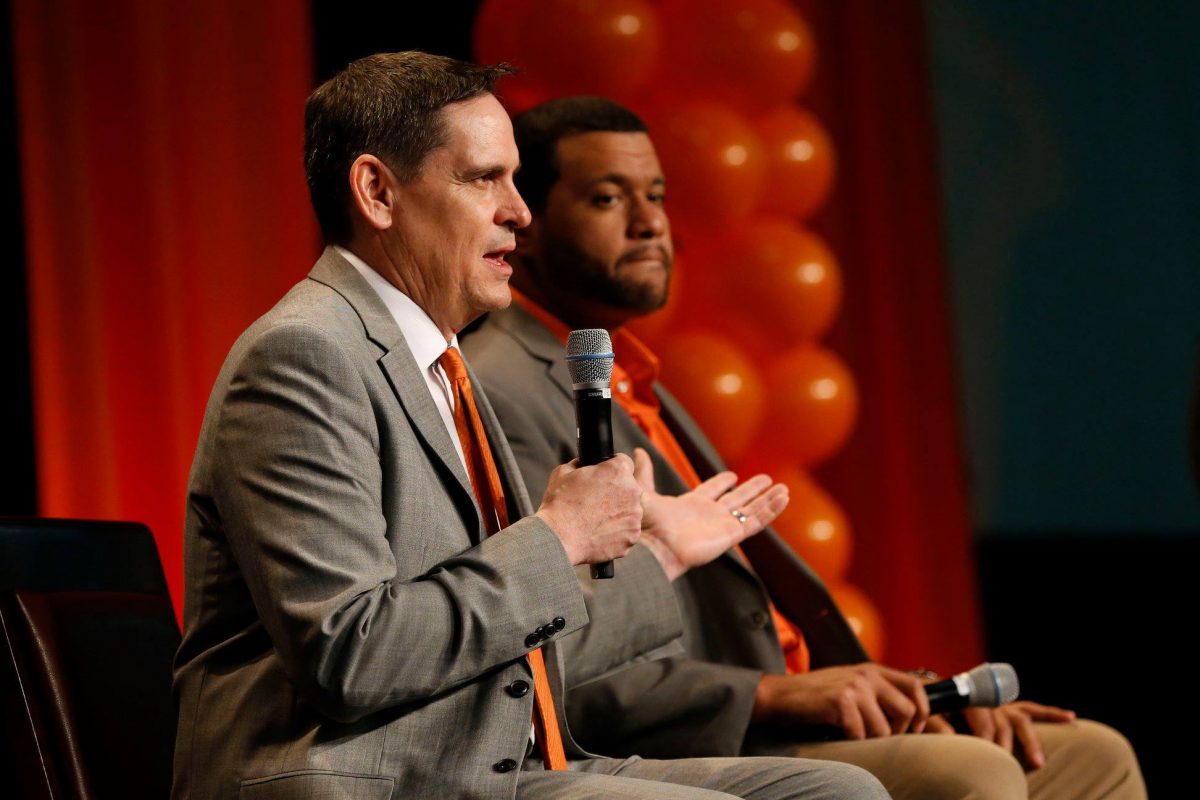 Baltimore Orioles
For all the many mentions and questions about analytics, player development, and the Orioles' new data-driven era on Saturday afternoon at the Baltimore Convention Center, there was one moment that stuck out. And it was when recently hired Orioles assistant general manager Sig Mejdal, a former NASA engineer turned baseball front-office pioneer, took to the stage in front of hundreds of fans as part of a question-and-answer session titled, "Using Analytics Across Baseball Ops."
For 35 minutes at the team's annual preseason FanFest, the 53-year-old Mejdal (pronounced my-dell) sat on a brown wooden stool, the same one from which his boss and longtime co-worker, the O's GM Mike Elias had earlier described the broad, long-term vision for the organization's rebuild. Now Mejdal was in the spotlight, wearing a gray suit with a bright orange tie and black shoes, and he articulated details of what the presence of this new Ivy League and computer science-trained leadership regime means here and now—how blending numbers-based facts and analysis with the human nature of America's pastime can work.
And Mejdal described the approach as only a true believer in the scientific method and the power of technology could do. He's a guy who worked as a blackjack dealer in college, graduated with a bachelor's degree in aeronautical and mechanical engineering, and earned two master's degrees—one in mathematical modeling and another in human-factors engineering (whatever that is). As he spoke, the day felt more like a Big Data business conference than a celebration and promotion of spring training kicking off in a few weeks.
"A lot of things that were just below the human's ability to sense have now been revealed," Mejdal said, as he detailed how it's possible to use high-resolution video and radar to record things like velocity, location, and spin rate of a baseball thrown by a pitcher. "What you see as an exceptional slider, or a wonderful fastball, can be quantified. Instead of saying, 'He just has good stuff,' we're able to describe the stuff to three decimal points and begin to see the specific idiosyncratic behaviors of the different hitters, and how they succeed or struggle against pitches that aren't just called 'a slider,' but instead a pitch of 83 miles per hour with 18 inches of horizontal movement, and 1.5 inches of depth."
Got all that? Mejdal said it without a pause. He's been doing this sort of quantitative analysis, and finding data-driven ways to give teams an edge, almost as long as anybody in professional baseball, save for the early 2000s staff of the Oakland Athletics, who were featured in the book and movie Moneyball. That tale inspired Mejdal to consider his current career path and ultimately quit his job engineering for astronauts.
As was written in the 2005 book Fantasyland by Sam Walker, in which Mejdal was featured, he once worked in a windowless office on an U.S. Air Force base in California called the Blue Cube, a communications nerve center from which all satellite transmissions are routed and a security clearance is needed for entry.
That was 15 years ago, long before the numbers guys became fashionable hires in baseball, if not no-brainers to small-market owners like John and Louis Angelos looking to build sustainable winners. At the time, Mejdal, who grew up in San Jose the son of a career Army officer, and his wife, a nurse from Colombia, worked a hotel lobby in New Orleans during MLB's winter meetings. He handed out packets of information to general managers about why teams should hire him. On the laptop in his backpack, he carried with him data of every player who wore a uniform since the Korean War, and promised he could provide previously unrealized truths with his analysis and ideas. He didn't mention he hadn't played baseball since Little League.
Mejdal landed with the St. Louis Cardinals 18 months later, a hire that not only gave him a dream job but also his first professional baseball lesson: "Even if it doesn't seem broke, you fix it."
"The owner of the Cardinals, at a time when they were winning 100 games, at a time when they weren't persons like myself in baseball, brought in Jeff Luhnow [as general manager]," an MBA from Northwestern who hadn't played baseball since high school. He hired Mejdal, and Elias, a former Yale pitcher, as a 24-year-old scout. Along with implementing an international scouting operation (just like the O's are currently trying to do), they were key in developing several players on a team that won 2011 World Series.
"From day one of our incoming draft classes, they were taught and shown how we're going to fix them," Mejdal said. "Human factors are involved, there's a sensitivity to it, but the underlying goal is to fix everything we can, because we have a good idea the opposition is trying to do that too."
In seven years in St. Louis, Mejdal was credited with developing an analytics model that helped the team draft more future major leaguers than any other organization during that span. In 2012, he followed Luhnow to the Houston Astros, where Mejdal became the inventively named Director of Decision Sciences. There, as the right-hand man to Elias, Mejdal was instrumental in the development on the Astros farm system and turnaround from three straight seasons of at least 106 losses to a World Series championship in 2017.
Next stop on the success train? Hopefully Baltimore, where Elias took over leadership of O's personnel two months ago, and brought the guts, ideas, and ethos of those previous stat-driven revolutions with him.
"Over the years, as we add some things to our draft and scouting process, as we bring in a lot of the analytics that Sig and I have really developed together for the draft, across two different organizations, the depth in our system will benefit greatly," Elias said Saturday. "You'll see the product of that the next couple years."
That's right, this may take a while. Elias and new manager Brandon Hyde are preaching patience. But in the immediate was Saturday's stage scene, where Mejdal, sitting next to recently hired director of international scouting Koby Perez, fielded questions from the most dedicated fans on a variety of topics. And they gave insightful, honest answers and lessons that could be applied to a business or classroom as much as they will be to the Orioles clubhouse.
A few current and past players, like pitcher Paul Fry and Hall of Famer Jim Palmer, were even listening on Mejdal. He spoke about everything from how to start learning about analytics (go to baseball-reference.com—that's what we use, too) to advice for college students interested in the field (you can't go wrong with a computer science education), to the nuances of gathering, analyzing, and sharing usable statistical information to players and coaches.
On how the O's analytics department is developing, Mejdal said:
"When we came here seven weeks ago, the analytics department consisted of zero analysts. I don't know what the ideal number is but I'm pretty confident it's not zero."
On whose responsibility it is that players or coaches use the information provided to them:
"It's the analyst's responsibility to ensure that whoever the customer is—whether it's the coach, the scouting director, the GM, the director of international, or a player—that they understand what the insight is and that you've done all you can to present it and to them. You're asking them to change and that doesn't just come with a printout from the computer saying, 'Here, go change.'"
On what information analysts can provide to a player:
"We can provide a general behavior. 'This is generally where you struggle. This is generally where the pitcher is going to throw at this point.' It's a model. It falls short of what's going to happen in real life. But it's still going to be useful."
On how to keep the Orioles ahead of the analytics curve:
"We're going to fill our department with the most skilled and innovative analysts and developers we can find, and we're going to create a culture where a big chunk of their time is directed at, 'What is the next big thing?' Is it going to be computer vision, some artificial intelligence, something less sexy than that? We're going to do our best to position ourselves to be better than any other club out there."
On if the Orioles will have a better season than last year's franchise-worst 47-115 record:
"I'm not going to make that prediction sitting up here in front of all of you, but what I can tell you is there in an amazing amount of young talent not just at the major league level, but throughout the system, and the future of the Orioles is right in front of you."
It's a new era, indeed. Could you imagine former manager Buck Showalter or GM Dan Duquette discussing artificial intelligence? At FanFest over the last several years, all they did was talk about playoffs. But for all the seemingly programmatic talk about customers, models, and data sets from the new leadership, there's also a very interesting, human part of Mejdal's story that blends the traditional and new-age ways of approaching team-building.
Two summers ago, Mejdal spent the season as an assistant coach for one of the Astros' minor league teams, the Tri-City ValleyCats of the New York-Penn League, based in Troy, New York. The idea was to interact with minor league players in the flesh, to see what they really needed, and how best to turn office concepts into baseball field realities. It was similar what Mejdal did in his previous life in engineering.
"We could go to lunch and come up with wonderful ideas about how to help the minor leagues, but we're ignorant to a large degree of really what it's like," he said. "There's no better way to see what it's like than be in a bus and bad hotels for 82 days."
And so he did, road-tripping to games against teams like the Vermont Lake Monsters, Lowell Spinners, and Aberdeen IronBirds. He learned things about the game he hadn't realized before, like how little one-on-one time players and coaches experience during the season. Then last year he roved among other minor league teams, doing the same. The New York Times chronicled the story, and accompanying photos showed Mejdal—wearing jersey No. 21, in honor of his college blackjack dealer career—in the dugout and on the field, where he coached first base.
"It was bizarre, but it was wonderful," Mejdal said, "and a great learning experience."
That's a statement that carries extra weight when spoken by a former rocket scientist. If Mejdal can still learn, so can we.