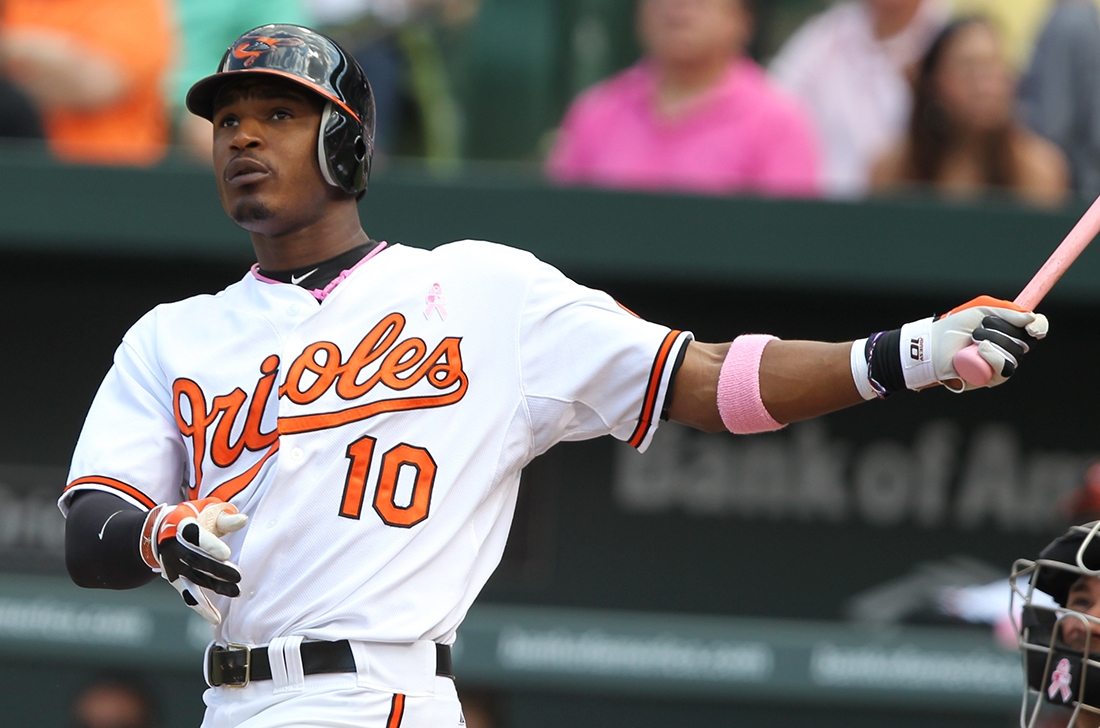 Keith Allison / Flickr
Opening Day is 20 days away, and—has anyone noticed?—Adam Jones is still a free agent. Yes, the beloved former pie-throwing, gum-chewing, sweet-swinging Orioles captain remains without a baseball home—and his actual home, the Lutherville estate he bought from Cal Ripken, Jr. about a year ago and renovated over the last several months, is on the market for $4 million, too.
It's a long shot, but now more than ever the idea is worth discussing. Is a Jones-Orioles reunion at all possible?
A piece of required O's fan reading might inform the chances. One of the more fascinating parts of Ben Reiter's book Astroball, which chronicles how the O's current front-office leadership regime of Mike Elias and Sig Mejdal helped turn the Houston Astros from rags (three straight 100-loss seasons) to riches (100 wins and a World Series title four years later in 2017), is the case of a veteran player and potential future Hall of Famer, Carlos Beltran. He's a guy not unlike Jones in stature and reverence.
Beltran was older in baseball years, 39, when the Astros signed him to a one-year, $16-million deal ahead of the 2017 season. And though he didn't get a hit in the World Series, he provided the organization's younger players with invaluable guidance and expertise, and the team probably wouldn't have a won a championship without him. The Puerto Rico native helped bridge the cultural gaps in the clubhouse between English and Spanish-speaking players. He shared tips he picked up while watching hitters' video, not just of himself but of teammates and opposing pitchers. And, in general, he was a sounding board and a trusted source, for anything.
The circumstances of the current O's are different. We're not talking championship hopes this year; in fact, quite the opposite. The Astros were already on the upswing in their rebuild when they signed Beltran. The O's are just starting theirs. But at the same time, Jones, at 33, is six years younger than Beltran was.
The salient point is about the valuable presence a respected and likeable veteran player can provide—even if it's admittedly difficult to quantify in the data-driven, video-capture era the O's are now practicing. Indeed, Reiter penned in Astroball about what Mejdal, the former NASA engineer turned baseball analytics guru, thought of the Astros signing Beltran: "Not only did Sig have zero predictive information related to chemistry, but he didn't even know what he might try to predict it."
Here's a recent piece of evidence that might fit a predictive chemistry model, if applied to the question of if bringing back Jones is worth it. Like the rest of us, he watched as his former teammate, Manny Machado, signed a lucrative contract—with Jones' hometown San Diego Padres, of all teams—then not long after in an interview delivered a few words that could be interpreted as bad-mouthing the O's. "The Orioles drafted me. I did a lot for that community, I did a lot for the state, and they didn't show me a little bit of love," Machado said. "It is what it is."
We really can't imagine Jones saying anything resembling those comments, or starting a debate as to what he really thinks about Baltimore. We know what he thinks. His wife, Audie, is from here. He played 11 years here and didn't want to leave (see, vetoing the Phillies trade last July). He was back to host a charity event a few weeks after the O's 2018 season ended. And those actions represented just a few reasons why so many fans want to see @SimplyAJ10 back in an O's uniform.
In late January at the Orioles' annual FanFest, Elias, the new general manager, fielded more questions from fans about Jones than any other topic during public question-and-answer sessions. At times, like after the third, or the fourth, you could infer Elias would rather talk about something else. He didn't rule out a possible reunion with Jones, but didn't exactly sound like he was dying to make it happen either.
He said the O's would monitor the free-agent market, that Jones was always welcome with the organization, and it was nice to hear great things about him. But he also mentioned giving young players time to grow and get major league experience, a more than reasonable argument. And, since then, spring training in Sarasota has revealed that Cedric Mullins, D.J. Stewart, and Austin Hays are in good position to start in the outfield this year and prospect Yusniel Díaz, the prize return in the Machado trade to the Los Angeles Dodgers last year, is on the radar, too. They've been team-building in Florida.
But there's room in the clubhouse and on the field for a guy as appreciated as Jones. First off, he can still play. Maybe he wouldn't play every day, but when he does, he would show how it's done. And, heck, Trey Mancini did his best impression of the old captain at the start of spring training when he ordered platters of Popeyes chicken for all after the team's first game. Could you imagine what it would be like if Jones was actually on the team?
If the losses pile up fast this season, which is possible, per the Vegas odds-makers, Jones' presence alone would give us something to root for, and a reason to show up for a steamy game in the middle of the summer. Because the good memories still linger and sports heroes like him don't come around all the time.
And, most relevant and practical, the free-agent market that Elias spoke of six weeks ago has broken in the O's favor. Jones' former teammate, Steve Pearce, the reigning World Series MVP, recently said he's surprised Jones is still available. There's three weeks left until the O's open the season March 28 at Yankee Stadium before a nationally televised audience, and Jones wants to be on a roster by then.
It's hard to know exactly what AJ's asking price is, but if it's not much more than the $4 million he's asking for his own house, the O's front office should again run the algorithms in their "Nerd Cave" (that's a label the Astros analytics department was known by) and consider taking a hard look at bringing back the sentimental favorite this year.
Because who cares if Jones already had his emotional sendoff last September at Camden Yards? We could do that again. There's time and space for this second act.