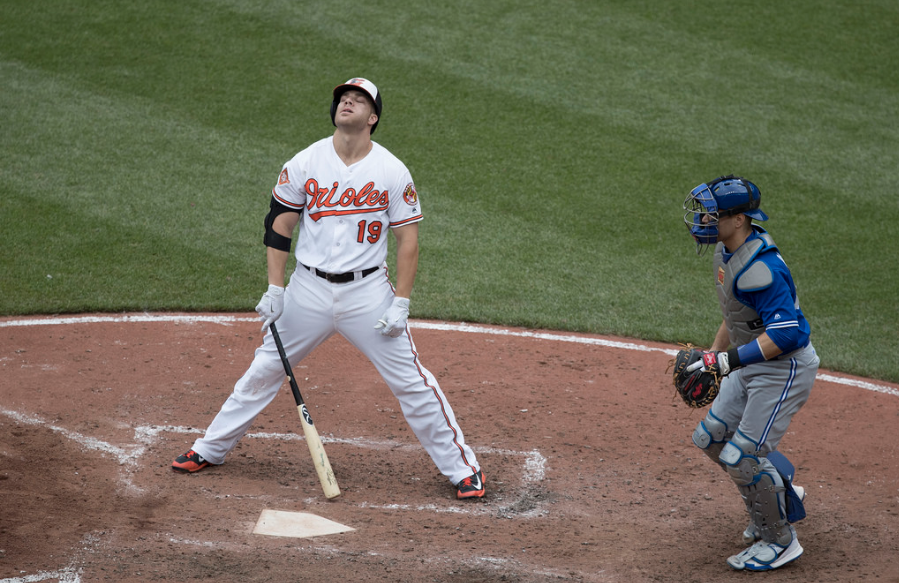 Keith Allison/Flickr
This isn't personal. Chris Davis is a nice guy. We featured the chiseled, handsome (um, former) slugger in our annual O's preview in 2014 and like everybody else desperately wanted the Orioles to lock him up with a long-term deal after his 47-HR, 117-RBI season in 2015.
But boy, yeah, be careful what you wish for.
As fans certainly realize by now, Davis is in the midst of an epically bad year. A year marked not by peaks and valleys, but valleys and ravines. Maybe the worst year ever in major league baseball history. We think ESPN analyst Dan Szymborski was the first to make the case, pointing out last week that Davis is on pace for an fWAR statistical season [Wins Above Replacement] that would rank him 81,892 out of 81,892 player-seasons since 1901. By a significant margin.
In fact, since Szymborski's deep dive into Davis' putrid performance—a MLB-low .150 batting average and just 15 RBIs—things have only gotten worse. He struck out three times Monday in an 0-5 outing against the Red Sox Monday and then got sat for the past two games.
It's pretty frightening to be on an "on-pace-for" the worst season of all-time by a large margin when you're nearing mid-June. Chris Davis's on-pace-for in fWAR would rank him 81892 out of 81892 player-seasons since 1901. By NEARLY A FULL WIN.

— Dan Szymborski (@DSzymborski) June 7, 2018
How bad have things gotten? Bartender's Pub in Canton has decided to give away free shots to the entire bar any time Davis gets a hit. Co-owner Danny Coker, a die-hard Orioles fan, says he wanted to do something to reward his regulars that take in these bleak baseball games night after night. The O's are on track for 116 losses and obviously Davis isn't the only problem—just the most glaring.
"Remember that 13-3 game against Toronto?" Coker said. "We literally turned it off in the bar to watch NCAA track and field. Just to watch anything else. That got us thinking, we've got all these great customers and I'm a nut baseball fan, we've gotta do something to make it easier to go through this crap."
Coker's solution was that any time Davis gets a hit, each patron will get a free Dr. Pepper shot, or what he calls "an old Highlandtown treat," a mix of amaretto and Miller High Life. Though the promotion technically started Monday, Davis hasn't yet been in the starting lineup.
"Do I hope he goes 4-4? Hell yeah!" says Coker, who owns the bar with his wife Dana. "It might not be great for business, but anything to keep Orioles fans happy. This makes it a little easier to digest. And maybe we can all catch a good buzz for god's sake."
You certainly don't have to be Jim Palmer—who called out Davis for his failure to work during the offseason with hitting coach Scott Coolbaugh—to recognize that Davis is tying himself into knots at the plate, letting good pitches go by while chasing balls way out of the strike zone at bat after at bat.
"[Davis] is so wound up psychologically, you can see it in his swing. Hopefully he hears about this, laughs a bit, and loosens up," Coker said.
The worst of it is that the O's still owe Davis something akin to $92 million over next four years. His deal is complicated; with deferred payments, the team will pay Davis until 2037, at which point he'll be 51. And hopefully out of this slump.
Additional reporting was contributed by digital editor Jess Mayhugh.