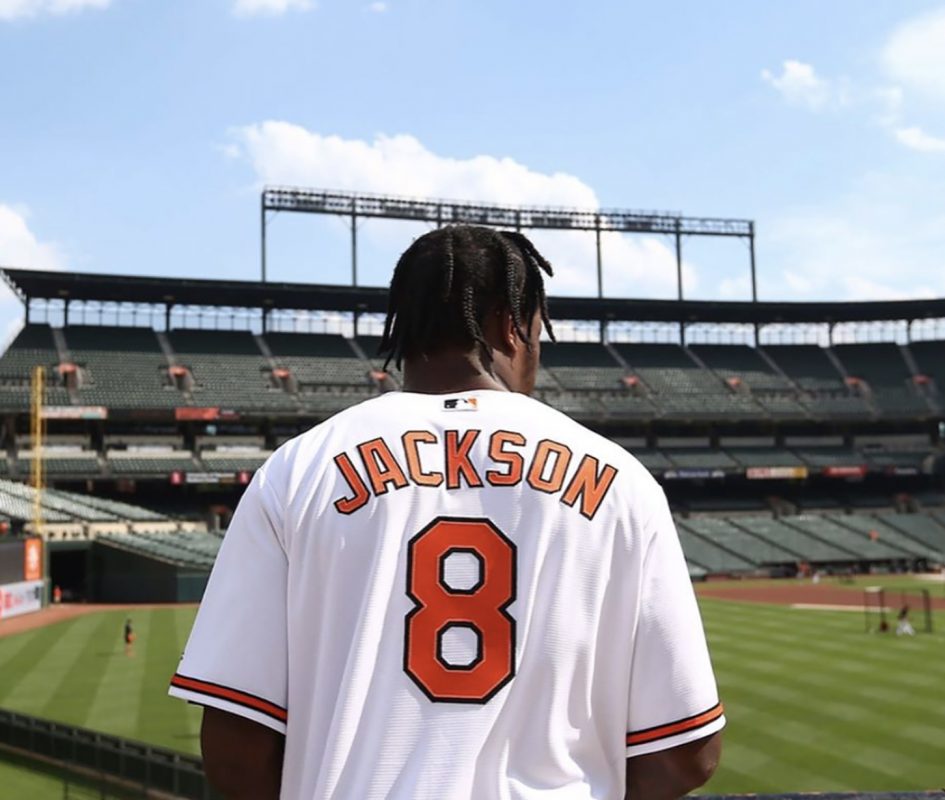 Courtesy of the Baltimore Orioles
The gesture was small in the grand scheme of things, and a ceremonial and promotional stunt all wrapped into one: Lamar Jackson throwing out the first pitch at an Orioles game, on the eve of the start of Ravens' training camp. But the mash-up did what it was supposed to do, and caused us to wonder about Baltimore's 22-year-old quarterback of the present and future.
Maybe it was because of the charm of Jackson's boyish mannerisms as he bounced around Camden Yards on his first trip to the stadium, wearing an Orioles jersey with his—and Cal's, of course—number eight ("Legendary," Jackson said in respect), while doing stuff like eating a Boog's turkey sandwich and meeting guys like Trey Mancini and Chris Davis in the Orioles clubhouse.
Or maybe it was how Jackson, like a good student, appeared to quickly pick up the whole pitching concept. He took instructions from outfielder Dwight Smith, Jr. (lower your shoulder, this isn't football; but use the threads on a baseball for grip like laces on a pigskin), and practiced a few throws in the batting cage beneath the stands while waiting out a 90-minute pregame rain delay on Wednesday night.
Finally, after the skies cleared around 8:30 p.m., Jackson, now the guy, trotted out toward the pitcher's mound, and waved his arms to excite those of the announced 20,786 paying fans still in attendance. When it was time to throw, he pretended to shake off a few signs from Smith, his stand-in catcher, then cocked his right arm, and tossed a hard, fast strike. It was just what everyone, we presume, wanted to see.
Jackson flexed and smiled as he walked from the field. "I loved it," he said. "I had to show up and show out." The outcome was exactly what he wanted, too, which was to not embarrass himself throwing a baseball—like rapper 50 Cent once did. (Just a bit outside!)
Cue the jokes about the Orioles needing a pitcher. . .
But O's manager Brandon Hyde said he'd first try out Jackson somewhere else, like centerfield, shortstop, or second base given his speed and baseball teams' premium on strength at those "up the middle" positions.
Jackson agreed. "Probably," he said about playing centerfield, when he met with the media before the O's played the Nationals, "but I'm a Ravens quarterback right now, so I'm good."
Yes, he is. That might be the biggest takeaway of this week's football-baseball crossover act. In just his second pro season, Jackson begins the year as the undisputed starting quarterback of his Ravens—the first time in a decade that anybody besides Joe Flacco can say that.
That's why this Ravens QB—one who's endearing, yet still maturing (aren't we all?) and is as relatively unproven as a pro quarterback (yes, despite his 6-2 record as a rookie starter) as his skills are unconventional—was asked to come to Camden Yards in the first place thanks to our two pro sports teams getting along. And it's why he stood in front of reporters and answered questions, covering a variety of topics and touching on his development as a billboard-status face of the franchise.
He addressed his disappointment with his Madden video game rating, 24th-best among NFL quarterbacks, and low on passing ability. But his speed and agility? No. 1. "I don't make Madden," he said. "It's them." He talked about how he's spent the offseason (he worked out some, throwing footballs with Ravens backup quarterback Robert Griffin III and wide receivers like Willie Snead, which should be a positive signal to fans who want to see improvement there). On the Baltimore summer heat, he said being a Florida native is no solace. "I'm one of those people complaining I was sweating a lot," he said. And he even discussed how he prefers to top his hot dog.
Because in addition to Jackson's pregame appearance reminding us that Ravens training camp starts next week, National Hot Dog Day was observed at Orioles Park on this night, too. In a season of many fantastic fan giveaways, the O's had one of their best, offering ketchup, mustard, and relish t-shirts—a creative nod to the famous and kid-friendly between-innings hot dog scoreboard race.
"I don't really eat mustard," Jackson said about his preference, "so ketchup and relish. I go from there. Pretty standard." Like we said, charming.