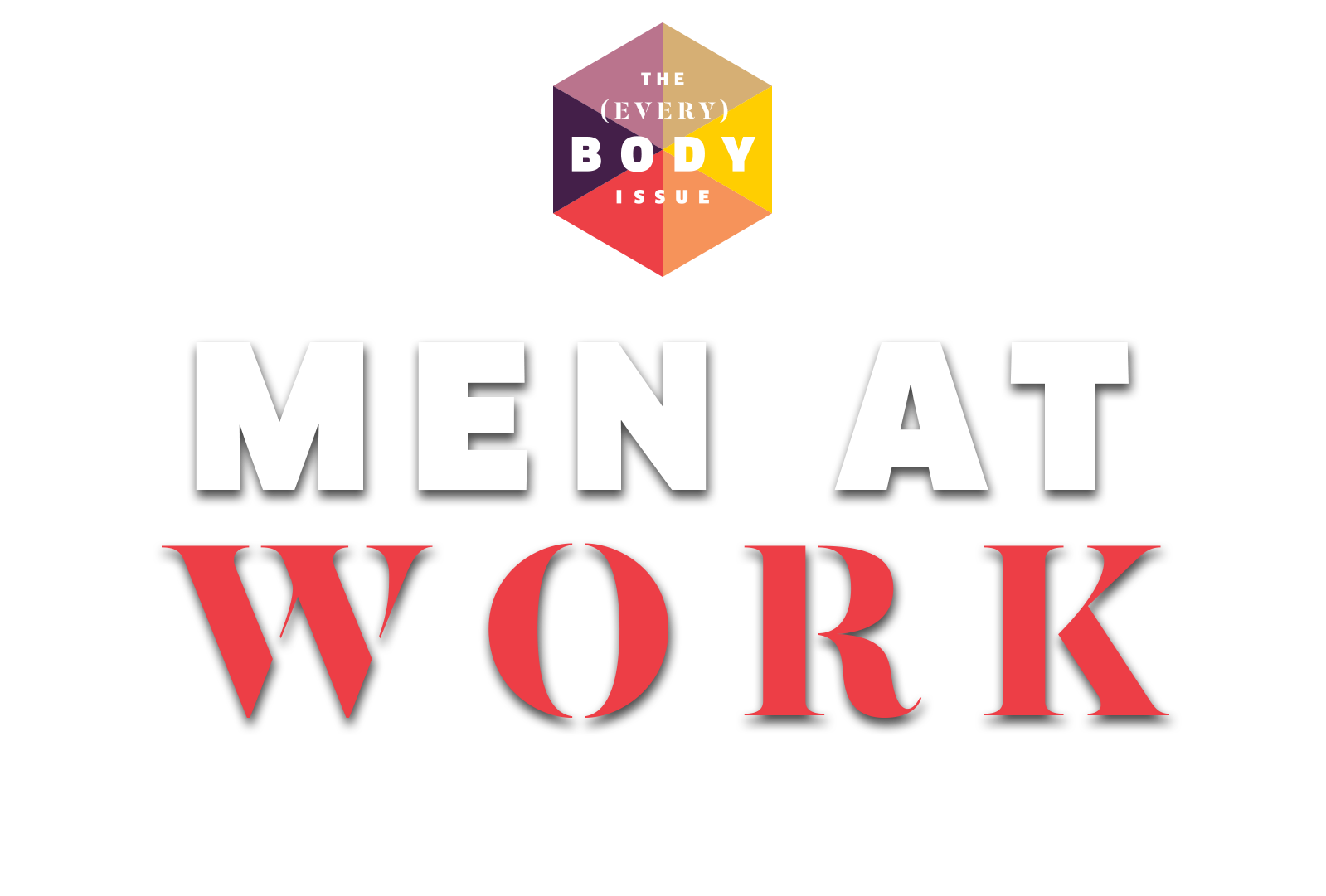 Sports
Men At Work
The Ravens male cheerleaders—the only ones in the National Football League—elevate their sport, and their female counterparts, to new heights.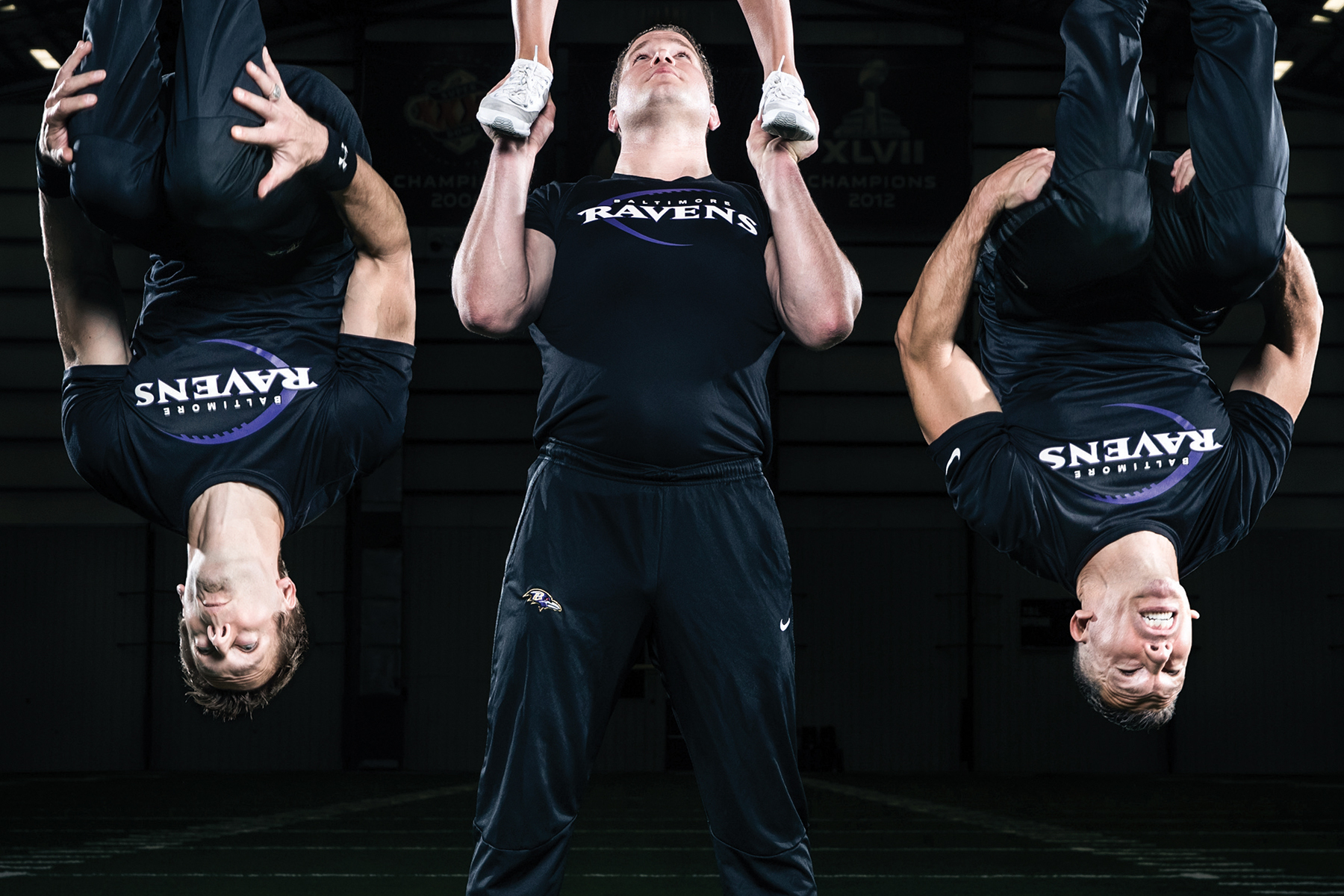 yan's biceps are bulging, but his arms hold strong and steady. This is somewhat remarkable considering he's using them to hoist an adult over his head. The soles of his teammate's Varsity brand shoes are snug in the palms of his hands, which extend high over his six-foot frame. To improve his grip, his fingers are taped in the style of a weight lifter, which, when you think about it, is what he is. As the pair hold this position, they look positively statuesque—four yards of mass, muscle, spirit, and smiles jutting straight into the blue sky.
Seconds later, Ryan bends his elbows ever so slightly and pushes his partner into the air with just enough force to allow himself to shift position so he can grab her hips to slow her descent to M&T Bank Stadium's green turf.
It's five hours prior to the Ravens' third pre-season game in August, and a bunch of big dudes are already on the field practicing. But this isn't the group that will be taking on the Buffalo Bills—these are the guys who will be cheering for them. Baltimore is the only one of the NFL's 32 franchises with a coed cheerleading stunt team, and the men who flip, hold, twirl, catch, cradle, and toss their female teammates up to 30 feet off the ground take their jobs no less seriously than the offensive linemen who block for Joe Flacco.
"When I tell people I'm a professional athlete with the Ravens, at first they're shocked when I say I'm a cheerleader."
Some of them are almost as strong. Consider Ryan. (Unlike football players, cheerleaders toil largely in anonymity: The Ravens release only their first names to ensure their privacy and safety.) A 31 year old in his third season on the squad, he can deadlift 600 pounds and shoulder press 275 pounds "a couple of times."
"The fact that you've got girls flying at you 30 miles per hour, it's a full-contact sport," says Sean, a 12-year veteran. "When I tell people I'm a professional athlete with the Ravens, at first they're shocked when I say I'm a cheerleader. But you look at male cheerleaders, and they have to be pretty stocky and strong to do what we do."
As it's hours before kickoff, the stadium is still empty save for a handful of game-day operations people laying cable and testing the pregame pyrotechnics. It's largely quiet aside from the voice of stunt team coach Will Stokes, himself a former Ravens cheerleader, who barks a constant litany of instructions.
"High straddle!"
"Toe touch baskets!"
"Let's do it again!"
Suddenly, a pyramid implodes. No women fall, but one of the men anchoring it, Melvin, takes a female foot to the head. He crumples to the ground in pain and remains there for a minute or so before slowly climbing back to his feet.
"Drops happen," Stokes says later, before quickly adding, "Always at practice, never during the game." Melvin later pops a few ibuprofen and, in a few hours, he will be ready for showtime. Like the rest of his teammates, he's a gamer.
ryan, sean, and anthony give their biceps a workout.
Four days earlier, Anthony, 43, arrives for practice at a cheerleading gym the size of an aircraft hangar near (appropriately enough) BWI Thurgood Marshall Airport. It's 6 p.m., and he's already put in a long day as a Spanish teacher in Baltimore City, but he's not drained or dreading what lies ahead.
"For me, this is an outlet," says the team's oldest member. "When I come here, I let everything out and go home completely differently than when I arrive. I'd much rather be here than go to a gym and work out. Here, you're weightlifting, getting the cardio endurance, but you're around people who are uplifting."
The guys on the team (in the world of cheerleading, men are "guys" and women are "girls") cite the camaraderie with their teammates as a major reason they participate. It's certainly not the money. While they are paid by the hour, it's no one's full-time job. (Among them, there's a software engineer, a sales and finance recruiter, and a manager for a construction supply company.)
Practice is held for three hours in the evening twice a week. It often starts with a timed mile run around warehouses in a parking lot adjacent to the gym, no matter how hot and sticky the weather. Home games can make for a 10-hour day. The team attends up to 200 community events each year. It's a part-time gig with a major time commitment. So what is it that enticed 40 guys to try out for the 20 male slots this year?
Cheering is a labor of love men discover in a number of, often random, ways. When he was at James Madison University, one of Sean's fraternity brothers clued him in to a little-known campus fact: If he joined the cheerleading squad, he could register for classes ahead of other students. Ryan's friends dared him to join the Virginia Wesleyan squad.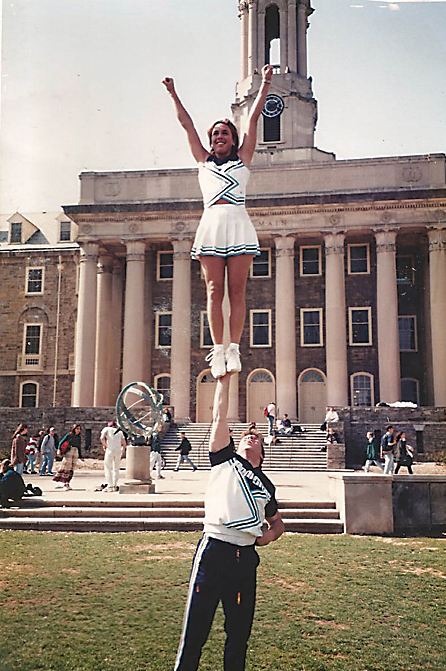 Three glimpses at aNTHONY BACK IN THE DAY at penn state
"Next thing I know, 10 years later I'm still doing it," Ryan says.
Pete and Anthony cheered in high school, but they're the exceptions, says Bill Seely, president of Memphis-based Varsity Spirit, which runs summer cheerleading camps, clinics, and competitions. It's the largest organization of its kind in the country. He estimates that between 6,000 and 7,000 men are cheering in college, with fewer participating in high school.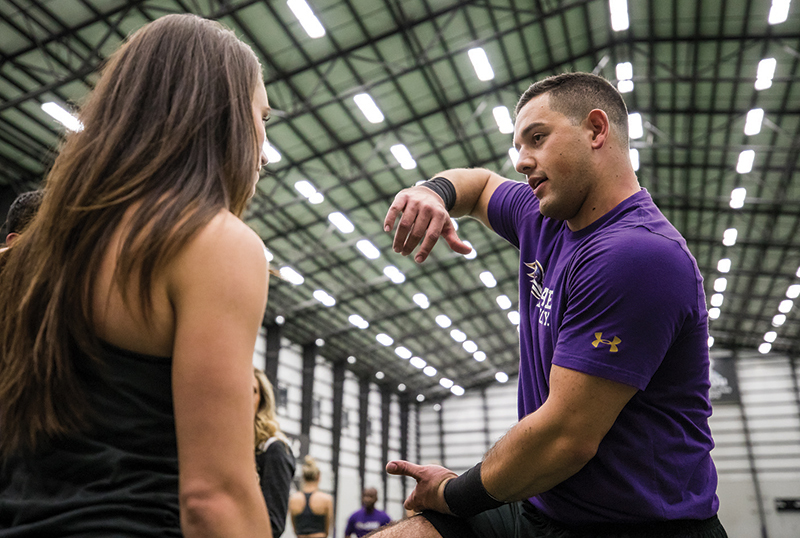 pete reviews some moves at the baltimore ravens training facility.
It was the collegiate atmosphere, with its engaged fans, pep bands, and perky girl and buff guy cheerleaders that original Ravens owner Art Modell was trying to replicate when he moved his Cleveland Browns to Baltimore in 1996, says Rob Tune, the team's entertainment and events coordinator.
"That's why we have the full marching band, the stunt team with male cheerleaders," he says. "It allows a different dynamic. Girls are flying through the air. We can do a bunch of things that teams that don't have male cheerleaders aren't able to do. It seems to go over well with the fans."
And with the women on the squad. Julieanne, 25, is in her fourth year on the team. She's been a competitive cheerleader since she was 4, but didn't start working with men until she joined the Ravens. "It was definitely a big change," she says. "When it's all-girl, it's up, down, quick movements. The guys throw you way higher. It's exciting, but I have to think about the skill I'm doing while 30 feet in the air."
What goes up must come down, and when the women finally give in to earth's gravitational pull, they're not traveling slowly. The men need to be in top physical shape, a charge they take extremely seriously.
What goes up must come down, and when the women give in to earth's gravitational pull, they're not traveling slowly.
A former cross-country runner in high school, Sean stands at 6 foot 2 and weighs 210 pounds. He works out four times a week, alternating between upper and lower body. During his 90-minute sessions, he focuses on eight different lifts, increasing the intensity as the workout progresses.
"Shoulders are very important for stability," he says. "The legs are important for power, and to be able to lock out your joints."
Pete, 24, cheered for four years at the University of Central Florida, so he's used to the lifestyle discipline it takes to participate in the sport. He's active at least five times a week, and he concentrates on Olympic-style lifts such as snatches and power cleans, which he says are most effective for increasing explosiveness. His legs are his strongest asset—he can squat 430 pounds five times.
Will Ferrell on Saturday Night Live these guys ain't.
"I'm a shorter, meatball-shaped guy, so they put me underneath pyramids," says the five-foot-nine, 215-pound Pete.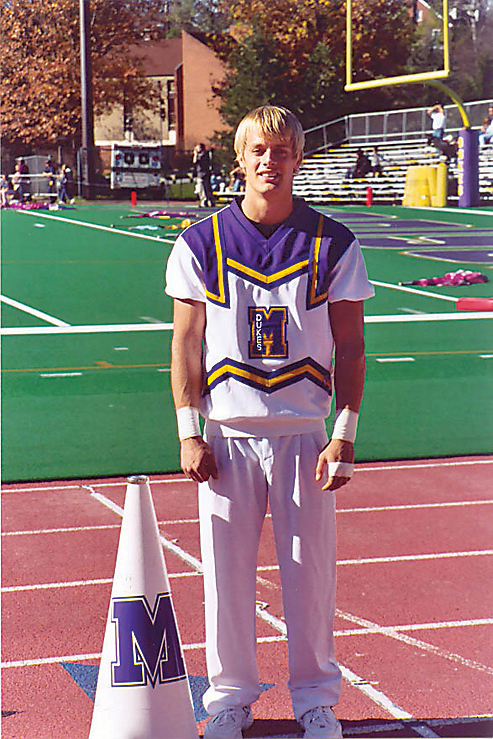 sean in his college days.
Cardio endurance plays a big role in the success of cheerleaders, as well. Anthony takes two classes a week to improve his. Three hours of basically nonstop tumbling, flipping, and lifting women who weigh anywhere from 98 to 135 pounds, not to mention running around the field with a 10-by-15 foot Ravens flag that weighs 30 pounds, takes a toll.
"They're a struggle," Anthony says of the flags. "I'd rather throw the girls around."
As the squad's senior member, Anthony is meticulous about the food he eats (unlike many of the younger guys, who seem to subsist on a Chipotle-only diet). Luckily for him, his husband loves to cook, so they enjoy fish, grilled chicken, and salad most nights. Fridays are cheat night, with pizza or Chinese food on the menu.
But it takes more than just raw strength and a sturdy set of lungs to be a cheerleader.
"Technique is probably most important, and understanding biomechanics and how to hold the feet to make sure the stunts are solid," Seely says. "You've got to have good core muscle groups. Your legs need to be really strong to toss the girls. In terms of tumbling, you have to understand how to drive through shoulders and keep your bodyline straight. You have to be an athlete to do this; until you do it, you don't understand how true that is."
Most guys have suffered injuries. Sprained wrists, contusions, and bumps and bruises to the extremities are most common.
"We have to be assured that the girl is going to do her part and not hurt us, because it is possible," Ryan says. "I've gotten my nose broken a couple of times from a girl opening up too early in a basket [maneuver]. But she also understands that, no matter what happens, she's not going to hit that floor. This is legitimately a team sport. "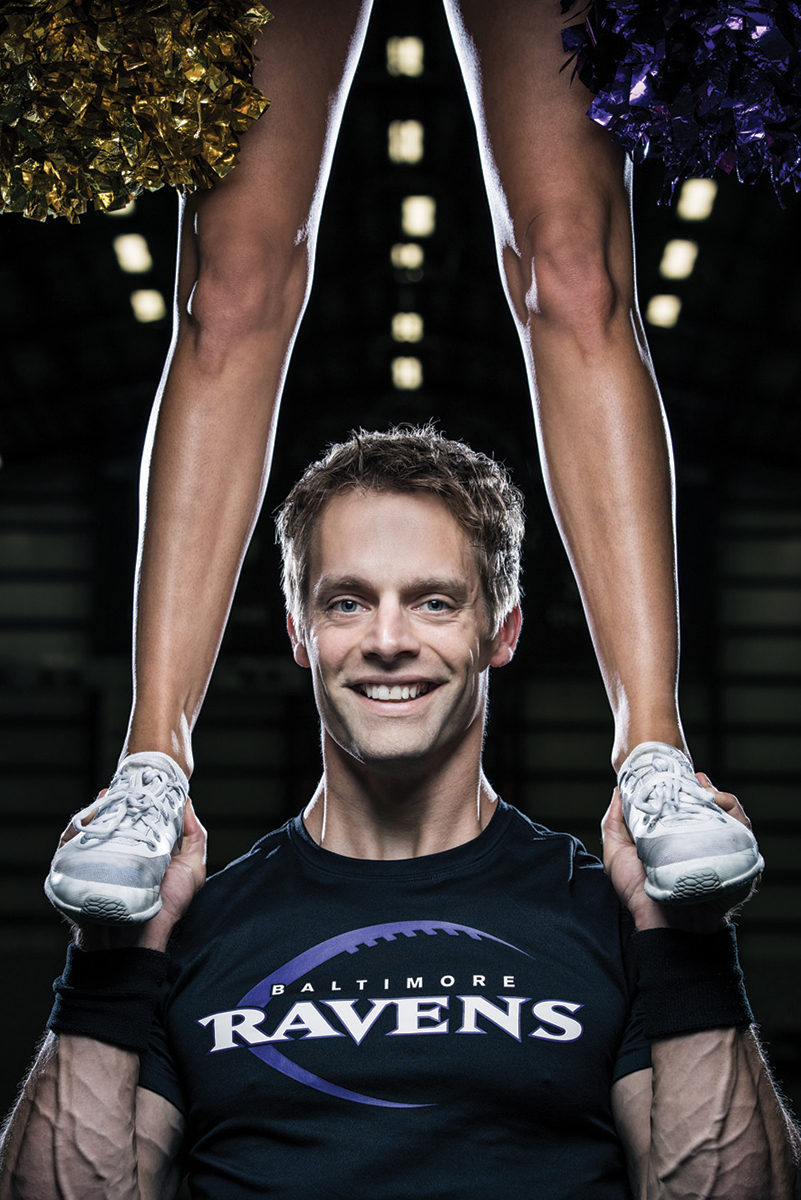 sean flexes his muscles with the ravens.
Those are more than just words, they're a mantra for a squad that takes pride in its safety record.
"In all my experiences with male cheerleaders, I've never been injured," says Jaime, an 11-year veteran. She immediately looks for wood to knock on. "The aspect of trust is so huge. You're putting your life in somebody else's hands. I trust them with my life."
With the 90-minute pregame practice concluded, the team heads inside to grab a bite to eat, take a short breather, and make a uniform change. Next, small groups will set off to schmooze with bigwigs in hospitality tents and suites before the entire team reassembles near a tunnel in the bowels of the stadium. There, game faces go on as this team of Ravens leads the other, football-playing one onto the field to the roar of 70,000 delirious fans. These professional athletes are ready.