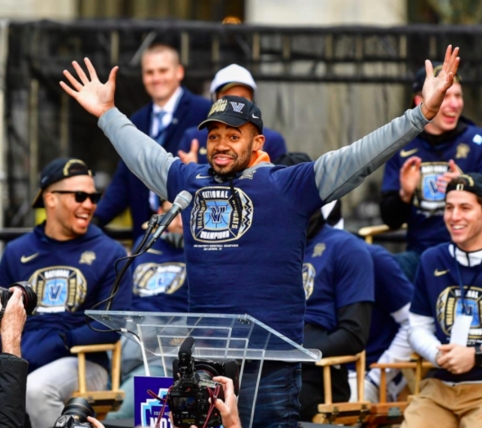 Eric Booth
No one from Baltimore can explain what it's like to play, and excel, in the NCAA men's basketball championship game better than Phil Booth. With Villanova's 79-62 win over Michigan last Monday night, in front of 67,000-plus fans in San Antonio and millions more watching on TV, the Mount Saint Joseph's alum became one of just 31 modern-era players to win multiple national titles, both of his coming in the last three years. And he's still got one college season to go.
So, what's it really like? All those people. All that attention. March Madness bracket winners depending on your every move. And even that weird elevated court, with the benches dug out along the sideline like a baseball stadium, designed so the well-paying fans in the first few rows can get a clear view of the action. 
"Yeah, you're afraid of falling off [the court]," Booth said with a laugh this week from Villanova's campus outside Philadelphia. "You just try to stay as focused as you can. There's a lot of stuff going on, playing on that type of court in front of that many people. There's a lot of media, a lot of questions every day about your team and yourself. A lot of people texting your phone when you're advancing. You really just have to try to focus on what you need to do to win the game." 
He's used to that. At Mount Saint Joseph's, Booth won more than 100 games, including 35 his senior season in 2014 en route to the Gaels' third straight Maryland Catholic League title and the Maryland Interscholastic Athletic Association A Conference championship.
At Villanova, the 6-foot-3 guard in 2016 came off the bench as a sophomore and scored a game-high 20 points in the Wildcats' title game win over North Carolina. This year, as a redshirt junior team captain, after sitting out last season recovering from a meniscus injury in his left knee and breaking his right (shooting) hand in the middle of this season, missing four weeks, he finished averaging 10 points, 3.2 rebounds and three assists in 33 games. 
"It's select company when you win two national championships in a three-year period," longtime Mount Saint Joseph's coach Pat Clatchey said. "Phil's been through some injuries. I think when you deal with some adversity and you continue to fight and come out on top, that makes the journey even a little bit more rewarding."
Indeed, Booth, the son of former Northeast High and Coppin State star Phil Booth Sr. and his wife, Robin, who played at Bowie State, now has ultimate bragging rights in the family and among the Gaels' alums that train in the offseason in at the school's new gym in Irvington. That group includes Ohio State senior Kam Williams and St. Bonaventure junior Jalen Adams, who each played in this year's edition of March Madness. "I guess I do," Booth said when asked about his status as top dog. And he probably even has the edge over Will Thomas, who in 2006 helped mid-major Cinderella George Mason to the final four, and Henry Sims, who played at Georgetown and four years in the NBA, though maybe not Jalen Smith, the Maryland commit who led the program to 31 wins this year and was the school's first McDonald's All-American, considered the highest individual honor you can get in high school basketball. 
After the last time Booth won a national championship (which is a nice thing to be able to say, isn't it?), Clatchey treated his former star to a BBQ lunch when he returned home. "How would you like to take a national champion to lunch?" Booth texted his coach then. This year, during his next break from school — he's on track to graduate with a communications degree this spring—Clatchey said he'll take Booth to dinner, "maybe a little bit more expensive restaurant this time. I might have to start saving my quarters."
"Upgrade to dinner?" Booth said when relayed the message. "That sounds good."
Booth has one more year of eligibility left, so he'll be back at Villanova next year. The defending champs are expected to be ranked in the preseason top-five. Booth will be a team leader once again, and has his sights set on a basketball career beyond college, too. "I want to play as long as I can," he said. That way he can tell us all what it's like to win wherever he ends up.