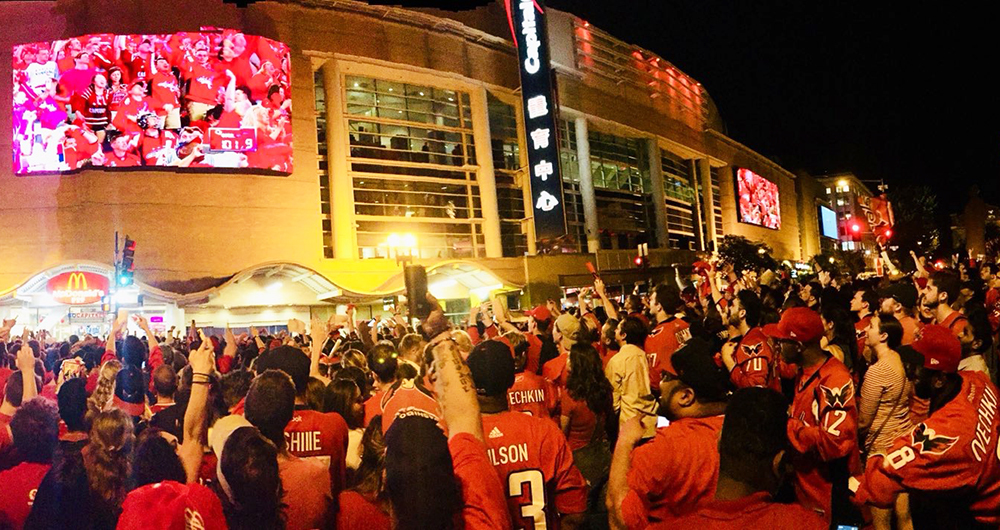 There was a feeling of certainty in Washington, D.C., last night.
From the basement bar below 7th street up to the high rise windows taped over with messages of support, the people of D.C. knew their boys weren't leaving Vegas without the Cup. You could just feel it. A group of friends down from Annapolis told their buddy not to jinx it when he said he couldn't wait to see the Stanley Cup come to town. He brushed them off with a quick, "You can't jinx this. It's ours." Down in that basement, a bartender said the last time she saw it this packed was Obama's first inauguration.
There are certain things D.C. is great at. Standing in line is one, and there was a lot of that around Chinatown last night. But another is showing up when there's history to be made. And show up they did. Some threw on Ovechkin and Holtby sweaters over office slacks. Others staked their claim along blocked-off streets with chairs and coolers. Many, like me, hopped on a train and made their way to Gallery Place from Maryland or Virginia.
We formed a hot, crowded sea of red that crushed together at 7th and G and spread in every direction. We yelled and screamed until we went hoarse, and then rasped out our cheers and officiating complaints. We hugged our friends and anyone else nearby. We bonded with strangers and stood our ground together as the crowd moved and pushed and pulsed. We passed cheap beer around while bemused police watched, and we didn't care about how much of it ended up in the air when a puck flew past Fleury and lit the lamp.
And as the seconds ticked down and it became clear that, yes, we would be the crowd celebrating in the streets, the first crowd of Caps fans to have that privilege, that benign lawlessness of a city of winners took over.
Poles were climbed (thanks for not greasing them, officers), drinks abandoned in the excitement rained over the crowd, people stood on each other's shoulders, and copies of of the Express with "FINISH THEM!" emblazoned on the cover were grabbed from boxes and thrown into the air. All at once, shouts of "We want the cup!" switched to "WE GOT THE CUP!" and then, as the longtime hero finally hoisted the storied trophy overhead, just a deafening "OVI! OVI! OVI!"
We celebrated and high-fived and held each other up in the chaos. Natives and transplants alike basked in the feeling that they were there when the Caps finally got their Cup, that they jumped and chanted and maybe earned a bruise or two during this moment 44 years in the making. When I was living in D.C., the two questions I got asked most often were "Where are you from?" and "What do you do?" Last night, neither mattered. Plenty of natives were in that crowd outside the arena, but I'd venture to guess that just as many were raised in other places and sported other colors.
I stood with one of my best friends and cried and laughed and yelled in the streets of the city that brought both of us so far from home. As a Blackhawks fan from Wisconsin and a Blues fan from St. Louis, we raised fists in the air in triumph and yelled at refs hundreds of miles away as we have so many times before. I'm sure there were many others like us, far from home but feeling every possible emotion for the team we've adopted as our own. For once, we were all there to see the same team win—just like we knew they would.