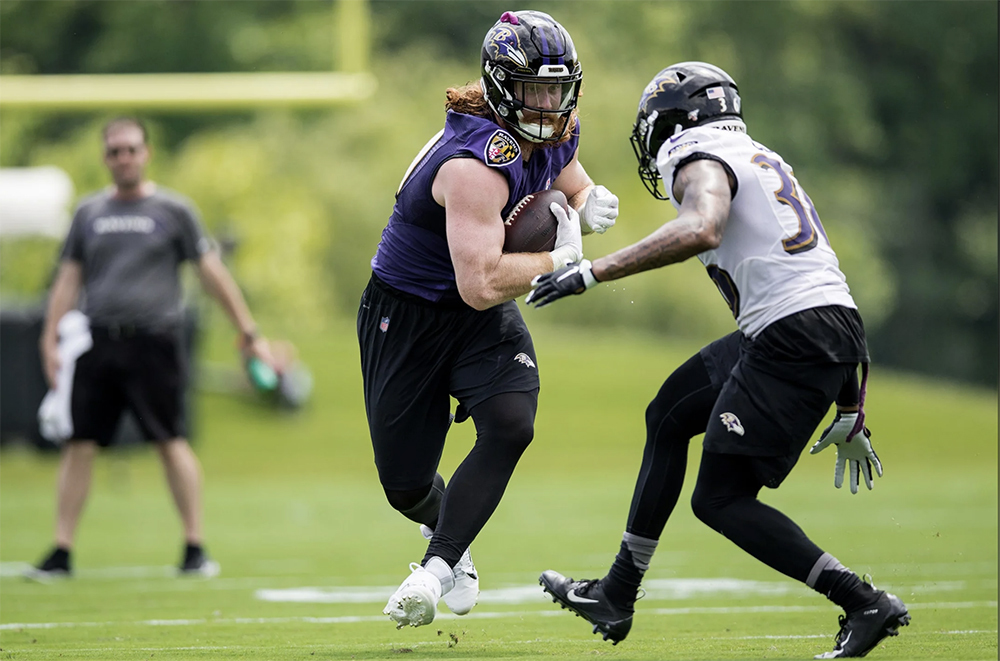 Shawn Hubbard / Baltimore Ravens
Standing before a group of reporters after one of the Ravens' offseason practices yesterday, Hayden Hurst laughed and briefly looked to the sky when he heard the question. Any update on "the one that got away?"
"Haven't heard anything back," said the 25-year-old tight end, who will begin his second pro season this fall. Then the guy known as "Thor," for obvious size and red-haired reasons, shrugged his big shoulders, part of a body to which he's added 20 pounds of muscle the last few months. "Unfortunately, that's the way of the road."
He was referring of course to the seemingly innocuous but eventually viral tweet he thumbed last Sunday:
To the gorgeous tall brunette on my flight to Baltimore. You walk incredibly fast and I couldn't catch up but here's hoping you have Twitter #theonethatgotaway :pray::skin-tone-3:

— Hayden Hurst (@haydenrhurst) May 20, 2019
It's a message that, if you or I shared it, would likely have traveled only as far as our close friends' phones, and elicited a few jokes. For Hurst, that happened, too, but being an NFL player in a media world obsessed with clicks, his "missed connection" on a flight from his hometown of Jacksonville to Baltimore on Spirit Airlines (man of the people!) also attracted more attention than he ever imagined. The story ended up in places as far away as Good Morning America and Fox News.
A dropped ball, the headlines read. Teammates, current and former (like Terrell Suggs), ribbed him: "Shoot your shot," they said. Strangers on the internet sent an assortment of funny memes, and others questioned the situation: "Hold on . . . NFL [player] can't catch up with tall brunette . . . did the Ravens sign the wrong person?"
Hurst playfully responded with some details (he was busy taking a picture with a fan near a security line at BWI), as did the guy who asked for the picture. "Relax," Hurst wrote back, summing up his reaction to the reaction.
In reality, he's got bigger fish to fry.
For one, the reason Hurst was on a plane to Baltimore in the first place was to get here for the Ravens' organized team activities (OTAs in NFL parlance), 10 days of voluntary practices. One of the Ravens' two first-round picks last spring (along with quarterback Lamar Jackson), Hurst is fired up to kick off what he hopes is a rebound year from a season derailed by a stress fracture in his foot at the end of training camp last August.
He finished last season with 13 catches for 163 yards and a touchdown—stuff any person on the street would dream about doing. But it wasn't the kind of production Hurst was looking for as a highly-touted rookie. The added weight he's put on is intended to protect his body, so injuries like the one he sustained last season (which required a metal screw be surgically inserted in his foot) don't happen.
"I'm kind of on a mission this year," he said Thursday. "I've got a lot to prove."
And, moreover—and unfortunately what none of the stories about his tweet said—Hurst is continuing to do great work off the field with the start of charitable foundation in his name, which focuses on helping teens with their mental health.
Hurst, as we documented last year, has struggled with anxiety and depression, like millions of Americans. And, given his platform, he's resolved to speak openly about his experiences, to help others who might not know how to seek help or even be aware of their problems.
"In sports, you hear, 'We have to be tough men, we can't talk about mental health.' Or 'If you seek help, it's weakness.'" Hurst told Baltimore last season. "I think that's a load of crap now. It's incredible that it affects so many people, and in so many different ways. It needs to be talked about."
The Hayden Hurst Family Foundation, which officially launched in April, held a charity golf tournament this month to raise money to fund the 81 therapy sessions (Hurst's jersey number) it will provide to 20 local student-athletes through the Better Tomorrow's Start Today organization.
Hurst and his mother, Cathy, who runs the foundation, visited three Baltimore schools—St. Frances Academy, Poly, and Coppin State University—and one in Hagerstown to speak, take questions, and provide forms for mental health services.
"We're trying to help kids realize it's OK to say you're not OK," Cathy said. "I'm glad to see that the foundation is starting to get some traction, and people are really excited to hear that Hayden is not just a football player. He really cares."
That's really the moral of this whole story, tweet included. Pro football players are people, too.