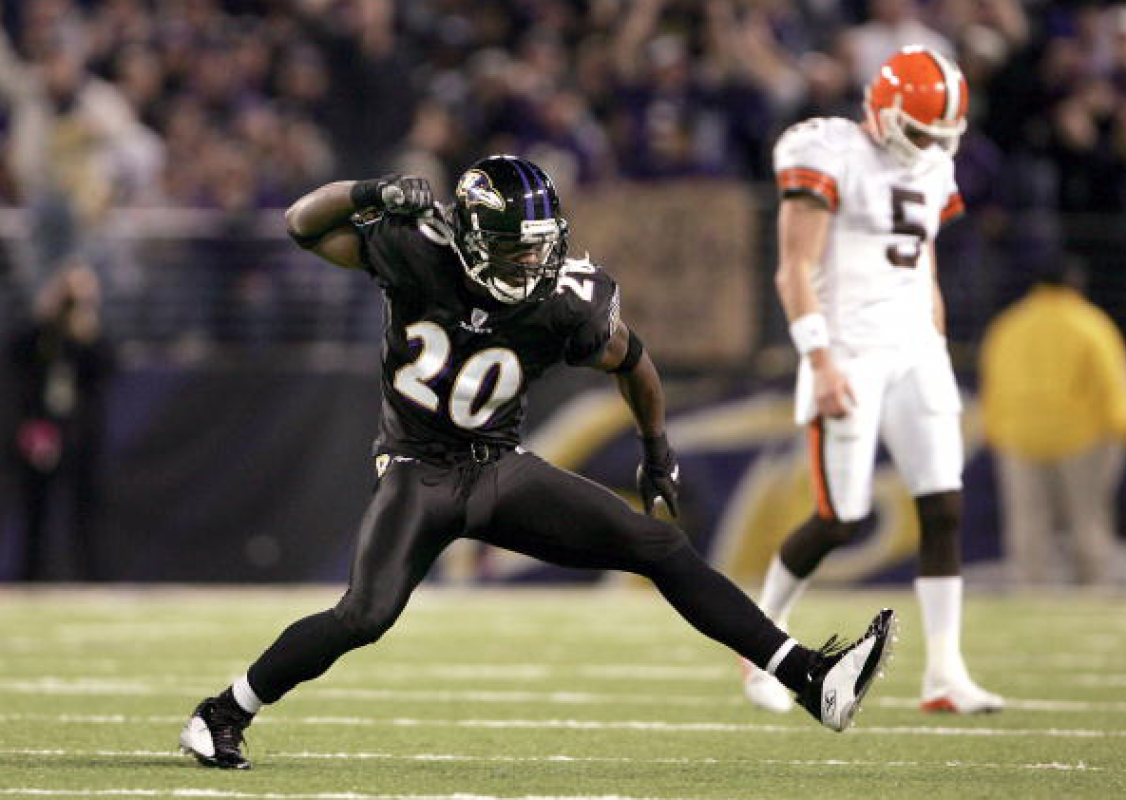 Photo by Doug Pensinger/Getty Images
#10: Ed Reed's 106-yard interception return against the Browns
November 7, 2004
The other day, just out of the blue, I blurted out, "I miss Ed Reed." It's not just because our secondary has been, shall we say, less than impressive this season. I miss the excitement of knowing that every single time safety Reed was on the field, something electric could happen—a dazzling interception, a tip-toeing-down-the-sidelines kick-off return, a lateral pass that shouldn't have worked but somehow did. The man was the most exciting defensive player I—or any of us really—have ever seen. But perhaps his greatest moment came on November 7, 2004 in a game against the Cleveland Browns.
How It Happened: With the Ravens ahead 20-13 and a minute to go in the fourth quarter, the game hardly felt secure as Browns QB Jeff Garcia was methodically driving his team down the field. Ravens coach Brian Billick was already wondering if the Browns would be nervy enough to go for the two-point conversation and the win if they scored a touchdown. Garcia threw his ball to wide receiver Aaron Shea deep in the end zone. None other than linebacker Ray Lewis hit Shea just as the ball arrived and it popped up and landed in Reed's extended hands. A lesser player would taken a knee, happy to regain possession, but Reed had other ideas: He sprinted out of the end zone and skipped down the sidelines . . . and just kept going and going and going. Final score, Ravens 27, Browns 13. At the time, Reed's 106-yard, game-clinching interception return set an NFL record.
"He seems to always be around when you need it," Coach Billick told ESPN after the play.
Of course, the nine-time pro bowler wasn't done. Four years later, he broke his own record with a 107-yard interception return against the Eagles.
---
All season long, we'll be counting down the Ravens top moments in franchise history to celebrate the team's 20th season in Baltimore. Take a look back at what moments we've chronicled so far.
#20: Naming the Team
#19: Testaverde Throws for 429 Yards
#18: Ring of Honor
#17: Terrell Suggs Becomes Thigh Master
#16: The Insane Final Minutes of the Vikings Snow Game
#15: Torrey Smith's Emotional Win Over Patriots
#14: Peter Boulware Gets Four Sacks in a Single Game
#13: Justin Tucker Nails a 61-Yard Field Goal to Beat Detroit
#12: Flacco Connects With Ray Rice on Fourth and 29