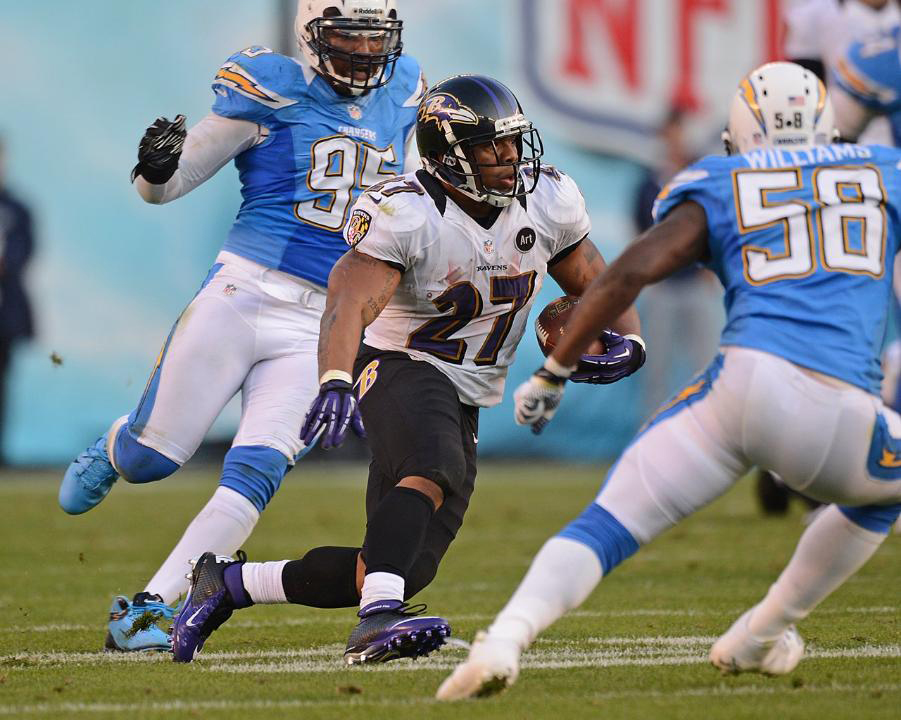 Photography by Phil Hoffmann / Baltimore Ravens
#12: Flacco Connects
With Ray Rice on Fourth and 29
November 25, 2012
How It Happened: If
the Ravens weren't yet buried, they had one foot in the grave. With less than
two minutes left, they trailed the San Diego Chargers by three, and faced a
nearly impossible fourth down and 29 yards to go.
If you think fourth-and-29 sounds like a mile (it's almost
a third of the entire field!), check out CBS's replay of it.
From cameras near the top of Qualcomm Stadium it looks unfathomably far to the
naked eye.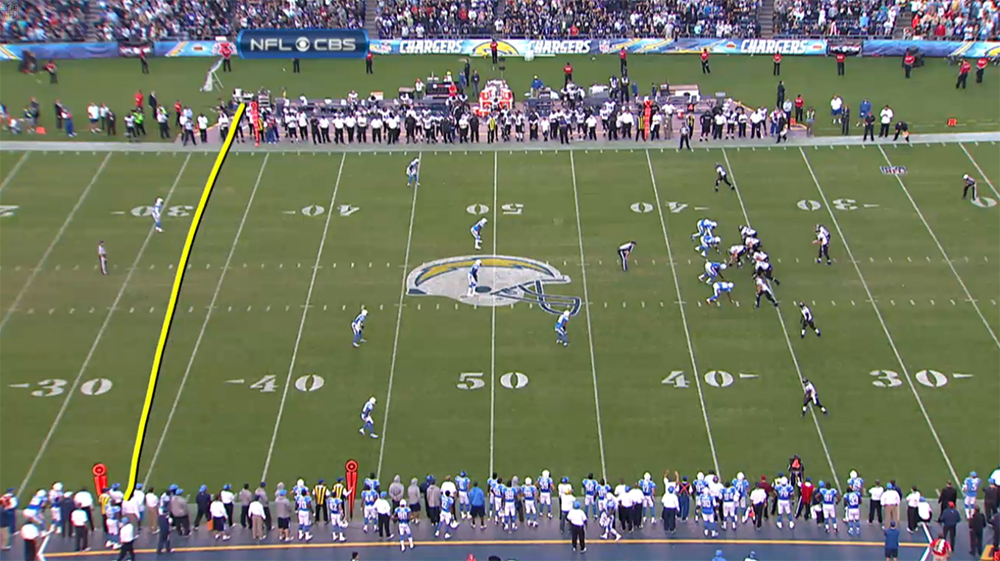 But not to Ray Rice's, thankfully.
After receiving the snap, quarterback Joe Flacco had plenty
of time to find a receiver downfield. Only none were open. So at the last
moment he flipped a little one-yard pass to little Ray Rice, who used every
ounce of his leverage, speed, and power to elude seemingly the entire Chargers
defense for a 30-yard gain.
The Ravens benefitted from a generous spot, and after a lengthy
official replay review, the first down call was upheld. Six plays later kicker
Justin Tucker knocked in the tying field goal, and he went on to win it in
overtime. The victory was an important one for Baltimore, which, of course, was
destined to take home its second Super Bowl title.
Just how miraculous was this play? According to ESPN Stats
& Info, at the time it was the longest fourth-down conversion since 2001,
when the Buffalo Bills converted a fourth-and-34 against the Indianapolis
Colts.
It's just a shame that after the running back's off-field behavior, this spectacular play is no longer the first thing Ravens fans think of when they hear Ray Rice's name.
---
All season long, we'll be counting down the Ravens top moments in
franchise history to celebrate the team's 20th season in Baltimore. Take a look
back at what moments we've chronicled so far.
#20: Naming
the Team
#19: Testaverde
Throws for 429 Yards
#18: Ring
of Honor
#17: Terrell
Suggs Becomes Thigh Master
#16: The
Insane Final Minutes of the Vikings Snow Game
#15: Torrey
Smith's Emotional Win Over Patriots
#14: Peter Boulware Gets Four Sacks in a Single Game
#13: Justin Tucker Nails a 61-Yard Field Goal to Beat Detroit