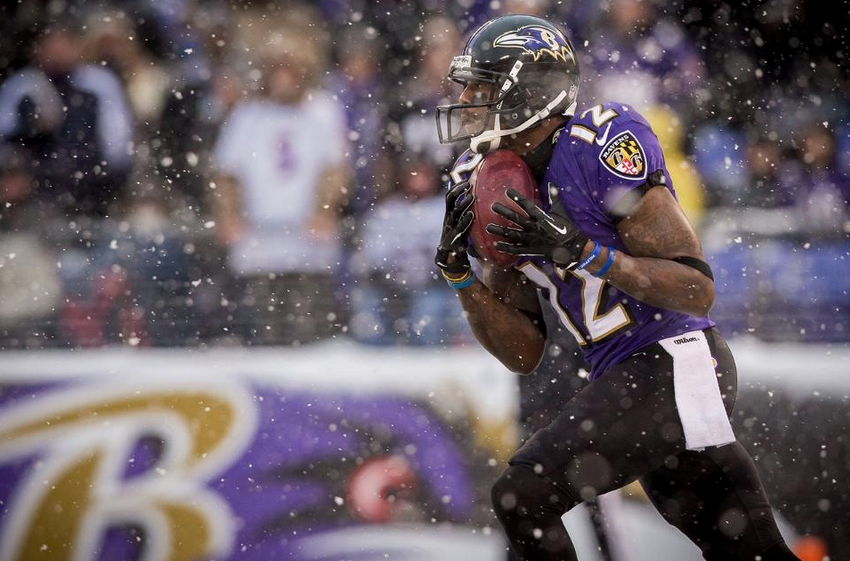 Photography by Shawn Hubbard / Baltimore Ravens
#16: The Insane Final Minutes of the
Vikings Snow Game
December 8, 2013
How it happened: The bundled-up fans that
braved the snow to cheer on the Ravens at M&T Bank Stadium on December 8, 2013,
were treated to 58 minutes of ho-hum, mediocre football—and, then, to 125 of
the most thrilling seconds in NFL history.
"Will we ever see another game like
that again?" John Harbaugh asked
rhetorically after it was all over. "That was about the best team win a
team could ever have."
With just 2:05 remaining in the
fourth quarter, Baltimore took the lead when Joe Flacco hit tight end Dennis
Pitta for a one-yard touchdown pass. Ravens' fans were confident: Minnesota got
the ball back with just two minutes left, and the Vikings were without their
injured star running back, Adrian Peterson. But the Vikes struck quickly as
Peterson's backup, Tony Gerhart, rumbled 41 yards straight up the middle for a
touchdown that put Minnesota back on top with 1:27 left.
A hush fell over the crowd as snow
continued to fall and Minnesota kicked off. Would Flacco have enough time to
lead the Ravens back? Turns out we wouldn't need to find out—yet. Jacoby Jones
returned the kick 77 yards for a touchdown, once again giving Baltimore the
lead. With just 1:16 left, the vaunted Ravens defense would hold this time,
right?
Wrong. Somehow Vikings quarterback
Matt Cassel was able to connect with Cordarrelle Patterson for a 79-yard score
to put Minnesota up by four with just 45 seconds left. It was a defensive
collapse Ravens' fans weren't used to seeing, but on the sideline Flacco didn't
mope or pout. He knew he had one more shot.
In the last 45 seconds—an eternity in
this game—Flacco methodically marched his team down the field, and with 10
seconds left, he hit rookie Marlon Brown for the game-winning touchdown. Even
on this historic day, Minnesota didn't have enough time for another comeback.
In the end, the Ravens and Vikings
combined for five touchdowns in the last 2:05 of game time—a new NFL record.
The Ravens came out on top 29-26.
"Besides the Super Bowl," Terrell Suggs says,
"that's probably the most special win I've ever been a part of."
The frozen but delirious fans of
Ravens Nation, who stayed to the beautiful-then bitter-then beautiful end,
agreed.