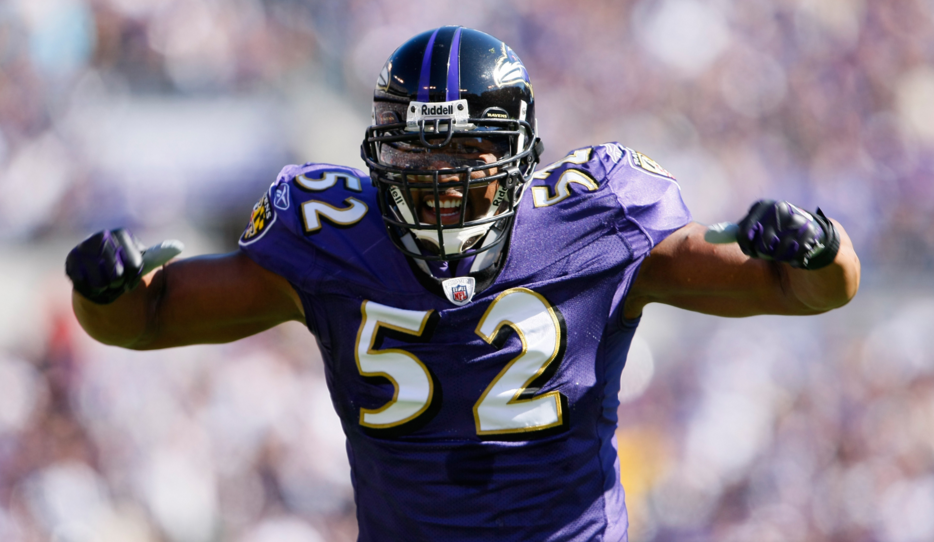 Baltimore Ravens
On Tuesday, the Pro Football Hall of Fame announced 27 semifinalists for induction in 2018, with former Ravens middle linebacker Ray Lewis and former Viking and Patriot wide receiver Randy Moss topping the list.
Lewis, of course, who already has a statue outside M&T Bank Stadium, led the Ravens to two Super Bowl titles while earning selection to 13 Pro Bowl squads. If he makes it into Canton this year, as expected, he'll join Jonathan Ogden (HOF Class of 2013) as the second Ravens star named to the Hall. Ogden and Lewis, as any serious Ravens fan knows, were the fledging team's first two draft picks ever in 1996. 
Also making the list in their first year of eligibility are former Bears linebacker Brian Urlacher, former Seahawk and Viking guard Steve Hutchinson, former Tampa Bay cornerback Ronde Barber, and former Patriot and Raider defensive tackle Richard Seymour.
The often-controversial Lewis was in the news for other reasons as well this week. He was sued recently, according to multiple reports, for allegedly failing to come though with promised cash and bourbon after a marketing deal struck with the owner of the Kentucky Derby-winning racehorse California Chrome. Lewis is involved with a bourbon label called Ray's Reserve. 
Earlier this year, Lewis also generated some controversy when he said the Ravens were ready to sign activist/quarterback Colin Kaepernick until a pointed tweet by the former 49er quarterback's girlfriend involving Lewis hugging Ravens owner Steve Bisciotti. He also received some negative fan reaction after kneeling—albeit on two knees in prayer—during the national anthem before a game with a number of Baltimore Ravens this season.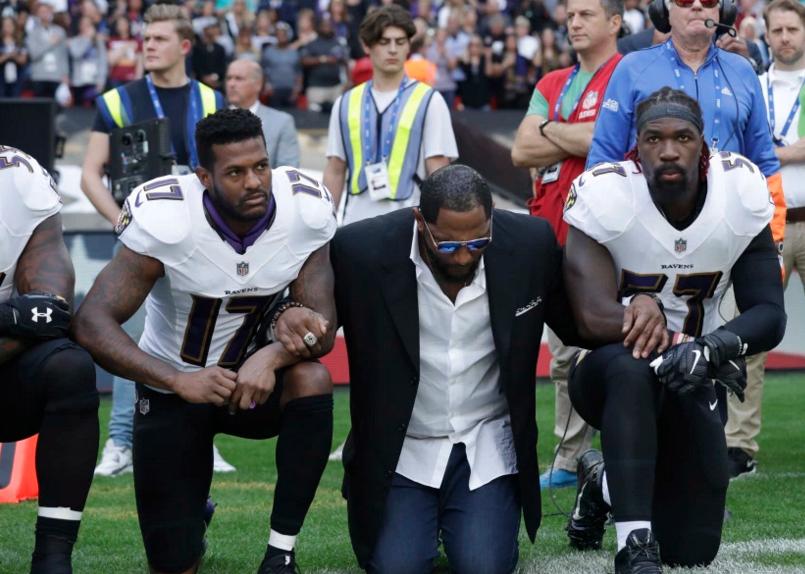 Lewis infamously pled guilty to obstruction of justice in the death of two men who were allegedly stabbed to death by two of his friends during a fight after the 2000 Super Bowl in Atlanta.
The minimum criteria for nominating a player is pretty simple: he has to have played at least five seasons, got named to at least one Pro Bowl or All-Pro roster, and has been out of the game for five seasons. 
It is interesting that anyone—yes, even a fan—can nominate a qualified ex-ballplayer. It is also worth noting perhaps that the Pro Football Hall of Fame—unlike the National Baseball Hall of Fame and Museum—has no character clause in its rules.