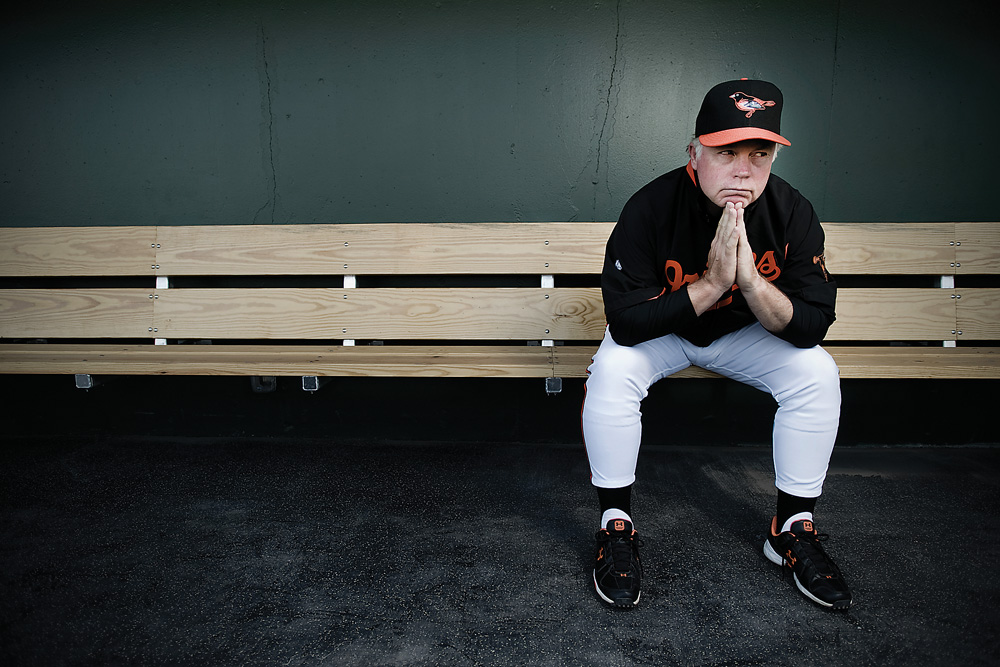 Michael Short
Buck Showalter, though he wouldn't admit it, even as late as Sunday afternoon, could guess like the rest of us that he was on his way out. So in what might ultimately prove a parting gift, about a week ago he showed a new generation of Orioles' players a reminder of what's possible when things go right at Camden Yards.
In the team's film room, he played the video of Delmon's Young's three-run, down-the-left-field-line double from, it's hard to believe, four years ago in the playoffs against the Detroit Tigers. The sea of orange-clad fans went bonkers, decibels rose, TV cameras shook, and all was right with the franchise and the city for a few moments in time.
"He wanted to show us how this place could be," first baseman Trey Mancini told Baltimore on Sunday. "It took a while for Baltimore to get back from the dark ages, if you want to call it that. He wanted to show us what we could work towards."
"I wanted them to know that's why you're doing certain things," Showalter said. "And I played it for me, too, not just them."
I don't know who the next Orioles manager will be, but save for Cal Ripken Jr. or Jim Palmer, it's hard to imagine that it will be somebody who can bring an air of respectability or leadership to the manager's office of the wayward franchise like Showalter did upon arrival in the summer of 2010.
For whatever reasons, the team had burned through six managers in the previous 12 years, and hadn't made the playoffs since 1997. Showalter, he confirmed to the Associated Press today, is out after eight full seasons, in which the O's made the postseason three times.
Clearly, management—brothers John and Louis Angelos met with Showalter on Wednesday to make the decision official—wants to move forward, after imploding the core of players of successful seasons past, into whatever this new era is with a different voice in charge. There was some speculation that Showalter may end up with a front-office position, but that won't be the case.
Maybe the next manager is somebody younger or more polished. Showalter is 62, and his slight Southern drawl is legendary. Or, maybe, as Showalter subtly alluded to during a media session Sunday, it's somebody who fits more with the statistical analytics trend that teams across baseball have adopted over the last decade.
Whoever it is, we wish them well, but it's hard to imagine another Buck in our lives. This is somebody who single-handedly increased MASN's ratings 45 percent in the first two months of his tenure here. "It would be extremely awkward not to see him in the clubhouse," catcher Caleb Joseph said Sunday. "He wants to win every single day."
This was, by wins (47) and losses (115), the worst season in Orioles history and worst of any team in Major League Baseball this year, but it's hard to pin the results all on Buck. Hope for a fruitful season was essentially dashed before it started. The parts, even, of a possible starting pitching rotation weren't established until weeks before opening day. At the same time the team's homegrown elite star and pending free agent, Manny Machado, was already assumed to be a goner at some point this year.
That proved correct. General manager Dan Duquette—who was also let go from the team today—sent Machado and all other usable humans on the roster, including closer Zach Britton, to other teams in exchange for prospects between the All-Star break and trading deadline—except for captain Adam Jones, who only didn't leave because he had the rights to decline a trade. (But he's likely gone, too. On Sunday, Jones said he was excited to test free agency come November.) It was as complete of a teardown as one could imagine.
Showalter's departure was a while in the making, perhaps dating to the night of October 4, 2016 when he elected not to use Britton in the closing innings of the American League wild card game in Toronto. The pain of Ubaldo entering from the bullpen still haunts many. It sure felt like something we'd seen at Showalter's other managerial stops: getting teams (the Yankees, Arizona Diamondbacks, and Texas Rangers) close to postseason glory, but not all the way.
Still, this change is hard to accept. Showalter embraced the character of our city. "I love getting things that other people don't get, and if you don't get Baltimore . . . it's just people that are very passionate about the Orioles doing well," he said.
And he always had reverence for the franchise's history, often citing Hall of Fame manager Earl Weaver. And he consistently shared sage perspective and reflections that we could personally listen to for hours. "It's almost a trait I wish I didn't have sometimes," Showalter said. "I've always been able to take in a moment while everyone else is caught up in the celebration. I know these things are fleeting. I've been doing that since I've been 35 years old, or 28 in Albany, or wherever I was managing."
And the O's won, more than they had before.
A few hours before what's now known as his final game leading the team, in a room beneath the Camden Yards stands behind home plate, Showalter held court with reporters, as managers regularly do before games. It was hard not to sit there and feel sad, as he fielded questions about his future, almost nine years after his arrival. He revived Orioles Magic.
Showalter spoke fondly of Sunday's opponent, the defending champion Houston Astros, who were preparing for another October ("I'd trade with them") and of starting Jones in centerfield one last time ("Treat people how you want to be treated, for the most part"). Then MLB reporter Rich Dubroff asked Buck if he thought he'd be back next year.
"I don't know," Showalter said. "To say I haven't given it some thought would be crazy, and would really insult your intelligence . . . But that's the industry, that's the way it is. Do you know for sure you're going to be doing the exact same thing next year? What's the old expression? 'You want to make God laugh, tell him about your plans.'
" . . . Mr. Angelos and his family have been great to me and mine. So whatever direction they decide to go, I'm at peace with it."
Does he want to manage again? "Who knows where life is going to take you?" he said, and mentioned he'd evaluate that possibility the next few weeks.
Then he joked about getting fined by MLB for questioning a call from the previous night's game, and asked to turn the MASN cameras off before saying, "You know what? Leave it on. I don't care."
After the game, Showalter's wife, Angela, and kids were present in the same room as their husband and father addressed the media for a final time. His eyes welled up when asked if he heard the many fans in the crowd who stood watching after last pitch of the 4-0 win, who wanted him to acknowledge them for a post-game ovation—like they had given Jones on an orchestrated and emotional farewell day.
"What do you think?" Showalter said. "I'm not going to go there, thanks. You know how much it means to me."
After most everyone left, Buck chatted with his family, sharing in part a piece of trivial baseball history from his past (just like he's done so many times in public), then he started to walk back toward his office. "I got things to do," he said.
But before he got there, another family of five, with one child in a wheelchair wearing a Yankees shirt, came down the hallway. "Who brought the Yankee fan?" Showalter joked, before offering: "You want to take a picture?"
"Sure," the boy's father said, stunned with a smile coming across his face. "Thank you."
Yes, indeed. Thank you, Buck, for everything.