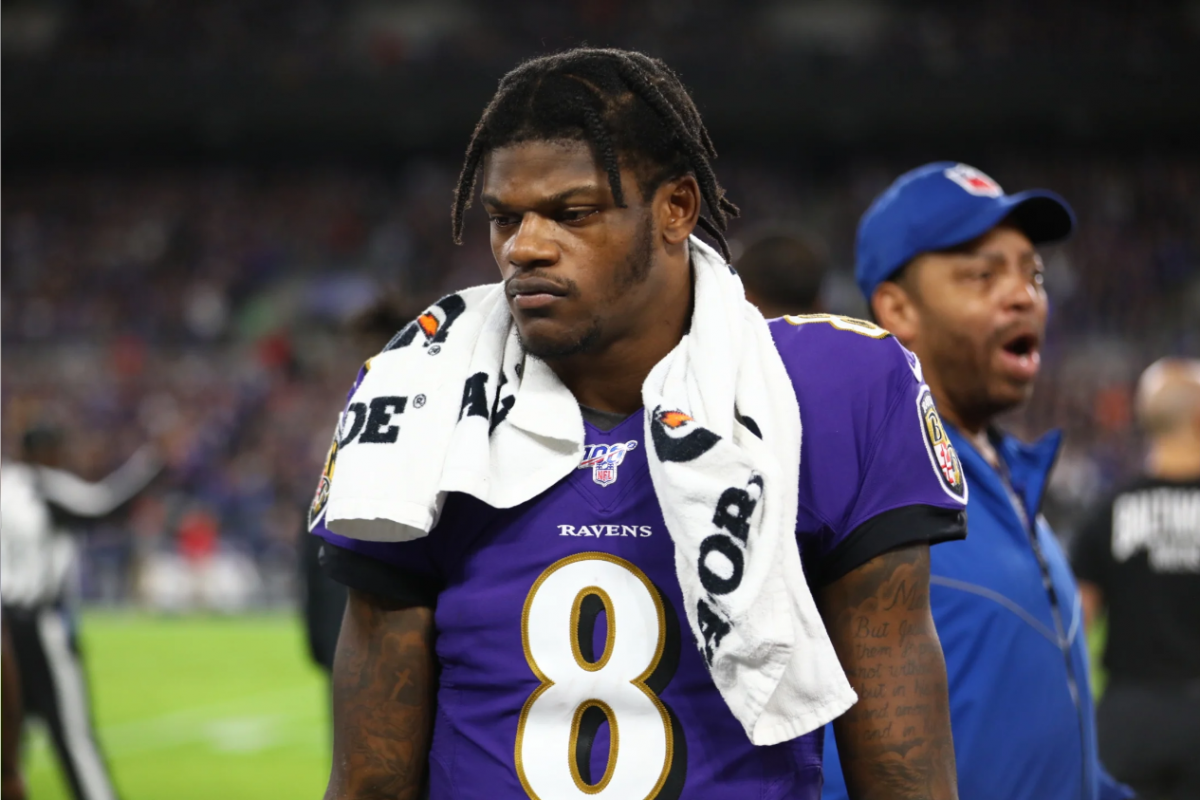 This was supposed to be a coronation of sorts. You could easily see it: Lamar Jackson gliding across the pristine green turf and throwing a few touchdown passes in front of a keyed up, sold-out crowd. Those fancy LED lights atop M&T Bank Stadium would flick on and off in celebration, Justin Tucker would do some new kind of dance after a field goal, and in general we'd see what we saw all year. "The Revolution," as the hype video put it this week.
When all was said and done a few hours later, we'd see more video clips with talk of a Super Bowl run, more Big Truss references, more smiles.
Instead, what happened on Saturday, January 11, 2020—a day that anyone wearing purple will want to remove from their memory—was more like a bad dream.
It was said in many ways and analogies afterward, but linebacker Matthew Judon put it best, speaking to a group of reporters in an otherwise empty locker room a half hour past midnight. "You don't expect to get into a car crash," he said, "until you get into a car crash."
Indeed, what had been a spectacular Ravens season jolted to a hard stop, ending with a shocking, deflating 28-12 loss to the visiting Tennessee Titans—the sixth seed in the AFC playoffs. In a performance unfortunately reminiscent of his first playoff appearance last year as a rookie (we incorrectly thought that loss was dead, buried, and gone), Jackson threw two interceptions and fumbled once—though he also totaled 365 passing and 143 rushing yards.
And the Ravens—this super-exciting, super-likable, super-good edition that brought us joy, Marie Kondo-style—fell behind early, a rare occurrence. They failed to convert on a pair of usually aggressive 4th-down-and-short tries. And despite running twice as many offensive plays at their opponent, the team watched the Titans play "winning football," as Ravens coach John Harbaugh said—when odds-makers and everyone around town expected the opposite to happen.
In the locker room, you could hear an echoey noise coming from the showers where players clean up. A few in there were yelling afterward, one in particular about the sudden offseason and next season's training camp that's months away.
Meanwhile, others struggled to explain the performance with equal parts befuddlement and candor. "Is this really happening?" cornerback Marlon Humphrey recalled thinking as the game clock ticked to zero, while also saying, "I think this team's identity right now is get in the playoffs and choke. That is just the hard truth." (Asked about the comment a day later on Sunday, he said he stands by it.)
That might be a bit harsh. One smelly dud of a game where a team has big expectations to win does not make a full identity—and this is the first such playoff game for this era of Ravens. This wasn't exactly like their pre-Revolution loss to the Los Angeles Chargers last playoffs when Jackson couldn't hit water throwing a football from a boat. Nonetheless, losses like these—in which "we got our ass whipped," as running back Mark Ingram said—do leave scars.
You hope this isn't the start of a "best team to never win a [fill in a blank]" discussion or "best player never to win a [fill in the blank]" discussion when it comes to the super-likable Jackson in particular. But dubious narratives are downright impossible to shake until you, well, win whatever is missing. And the questions already started flowing in Jackson's direction as soon as 15 minutes after the game ended Saturday night.
At age 23, he's now 19-2 as a starting quarterback in two pro seasons, and 0-2 in the playoffs with a 63.2 postseason quarterback rating (out of a 158.3 maximum). To his credit, dear Lamar, still wearing his game pants, along with a pair of Nike flip-flops and a gray Baltimore dri-fit t-shirt, stood at the podium in a humid interview room and answered more than a dozen questions in front of 11 television cameras and about 50 reporters. He said he made too many mistakes, promised to work harder, and come back stronger next season.
If last season indicated to the quarterback that he needed to work on his passing mechanics, the jolting end to this year may suggest: "I need to improve on everything," he said. "Whether it's running, throwing the ball, pocket poise, everything."
One reporter asked the question of the day for fans, whether it will be painful to hear people talking about him not winning a playoff game over the next year. "I don't really care about what they say," Jackson said. "This is my second year in the league. Many people [aren't] able to bring it to the playoffs. We're just going to keep going, like I said, [and] get ready for next year."
The thing is, nobody wanted to be talking about next year so soon. Big Truss meant Big Goals. Not just the final image of a few players, like backup quarterback Robert Griffin III and tight end Hayden Hurst, tossing equipment into the crowd after a stunning playoff loss at home as the conference's top seed.
Judon, as he did late Saturday, didn't want to be talking in the locker room about if he would stay with the team or not. Neither did defensive tackle Michael Pierce. Both, whose contracts expire in May, said they want to return. Tackle Ronnie Stanley would rather have not been exchanging goodbyes with rookie center Patrick Mekari and suggesting they meet up in California in the offseason. (Related, Mekari said, "We could have won this game. We should have won this game.")
And for sure, a few minutes earlier in a largely silent locker room, nobody wanted to hear Harbaugh tell everyone to be at the team's facility in Owings Mills at around 10 a.m. Sunday for a meeting and to clean out their lockers—instead of maybe an announcement of a day off from practice as a playoff push continued. And I certainly didn't want to see "Flacco" trending on Twitter after getting back to the press box from post-game interviews in the locker room.
Jackson, typically active on social media, was notably quiet until late Sunday morning, when he shared a message of support from a fan on Instagram. It was almost the same response as last year when he told us, "It's all good," in a look ahead to what was a better-than-good second season for him. We wrote then that he was clearly the Ravens' future. That's still the case.
But this time, this loss sounded harder to stomach. "I don't know how difficult it's going to be or how long it's going to be in my mind," Jackson said. "I hate losing. I really do. We've just got to move on."
In other words, if Saturday night was a car crash, now comes the damage assessment.