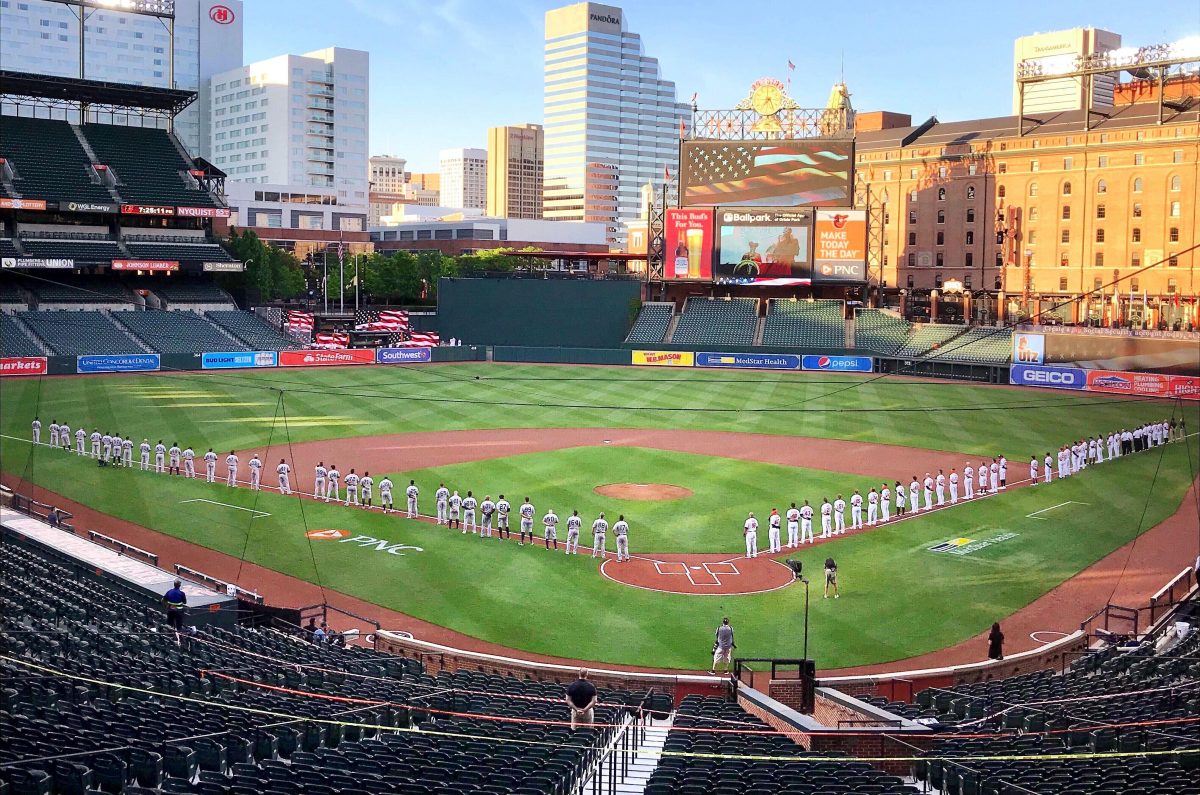 Corey McLaughlin
Orioles public address announcer Ryan Wagner kept saying what he always has: "Ladies and gentlemen, please welcome…" We couldn't blame him, or anyone else, for wanting Opening Day to be the same joyful scene it has always has been for so many different people.
But on Wednesday night at Camden Yards, Wagner's words fell on no ears.
As Orioles manager Brandon Hyde exited the dugout along the first-base line and players followed behind him around 7:22 p.m., the fans that Wagner was addressing weren't there. Not in the green seats. Not on Eutaw Street grabbing a pre-game Boog's BBQ sandwich. Not in a downtown parking garage trying to rush to see the first pitch. Not anywhere, except maybe listening on the radio or watching at home.
Officially, it was the Orioles 2020 home opener against the visiting New York Yankees, but the only thing about this one that resembled any of the past openers was the players on both teams wearing fancy pro uniforms—and maybe that those damn Yankees hit a few home runs early and often.
When the Orioles' Asher Wojciechowski threw the game's first pitch, it was hard to know anything significant happened. And when, on the second pitch, the Yankees' second baseman DJ LeMahieu connected for a home run over the right field scoreboard, from the press box, all that was heard were a few echoes of cheers from the visitor's dugout.
Later, when a lazy foul ball went into the seats, all I heard was the crack of the baseball against the concrete walkway as it landed. We also heard fake crowd noise after the Orioles scored a run, and saw Major League Baseball staff cleaning baseballs. At one point, I realized, shouldn't the Oriole Bird be here somewhere?
But only the players from the two teams, the umpires, roughly two dozen reporters like me, a handful of photographers and MASN camera operators, and team staff and security guards were actually there. Maybe a few hundred people in all, each having their temperature taken before entering the stadium and wearing masks if they weren't on the field playing before an empty stadium on a warm summer night.
"It's just different," Wojciechowski said of the environment after the Orioles lost 9-3, via a Zoom video call with reporters. "It's just weird."
From what we've seen from televised games so far, it might have felt less strange watching at home, with announcers talking over the action, ambient crowd noise, and some teams even placing cardboard cutouts of season-ticket holders behind home plate, a very cool idea.
But there's a hollowness to being there in person. There's no such thing as home field advantage. You can hear ambulances driving outside. It's like a vampire sucked the energy from the place. A lot of players have always thanked the fans for being there, and now you can really see why. "There's no energy," Hyde said. "You really have to create the energy in your dugout, at a distance."
Unfortunately, as we know, the fanless scene had happened here before (and will again this year so long as the Orioles play home games this season). The last time was during the height of the unrest following the death of Freddie Gray at the hands of police five years ago, a moment that was revisited during pregame ceremonies, along with a special tribute to team and fan favorite Mo Gaba, who passed away at age 14 after a lifelong battle with cancer on Tuesday.
Today, the backdrop is different. The COVID-19 pandemic has thrown normal life upside down in many ways. Despite that, Major League Baseball and the other major professional sports league are attempting to put on seasons, for entertainment if nothing else. And baseball's effort—with teams traveling to different cities like everything is normal—has already come with challenges officials hoped wouldn't arrive this soon.
Originally, the Orioles were supposed to open their abbreviated home season against the Miami Marlins on Wednesday night (after playing them twice in Miami following their season-opening series in Boston), but earlier this week, more than a dozen Marlins players and staff tested positive for COVID-19 after being in Philadelphia, forcing a last-minute scheduling change that put the Yankees in Baltimore for two games.
The Orioles, after flying from Boston to Miami, spent an entire day in the Four Seasons hotel (Hyde recommends the room-service cheeseburger there) while awaiting word on if and when they would play next. They flew back to Baltimore on Monday night and got word Tuesday about playing the Yankees instead. "It's 2020," Hyde said. "We're constantly adjusting."
Take the story of often-beleaguered slugger Chris Davis, for instance. He spoke to the media on Tuesday about how, despite all the safety protocols—like staying apart in the clubhouse—and just arriving back home after the 24-hour roundtrip to Miami, attempting a season was still worth all the trouble.
"Honestly, the baseball aspect is really what gives you a release," Davis said. "To be around the guys, to play the game you love, to be out on a baseball field, it takes you a little bit away from everything that's going on around you—even when you have handwashing stations at the end of dugout and the trainers are spraying hand sanitizer everywhere. There's enough of a break in between the white lines to give you peace of mind, and allows you to sleep a little better at night, at least there is for me."
Then the next afternoon, Hyde announced that Davis would be "unavailable" for the home opener, and he hasn't been around the team the last two days. As per the Orioles policy, you can make your own assumptions on why that is, but a COVID-19 positive test is reasonable. Davis worked out with the team Tuesday night and was penciled in the lineup as designated hitter until sometime Wednesday.
"It's definitely an unusual year, in every way," Hyde said. "There's a lot of things that are really important outside of baseball right now. We're happy to be playing, but we do know what's going on outside of our bubble."
I looked at a picture I took of Opening Day at Camden Yards last year. Fans sat in just about every green seat on a sunny day. The orange carpet lay through centerfield. You could imagine the pomp and circumstance. It felt like I was looking into a time capsule.
It will all come back. We don't know when, but it will eventually. Until then, though, we're left with strange scenes that force us to make sense of what we're seeing.
We think of a few words Hyde uttered the other night from his office at Camden Yards. Someone asked about reports suggesting that Major League Baseball would start playing shorter seven-inning doubleheaders instead of the usual nine-inning game once a day, given the scheduling re-shuffling that was already happening with a COVID-19 outbreak among one team, less than a week into the season.
"This year…" Hyde said, his voice trailing off before he sighed.
And that's really all that was needed to be said.