Style & Shopping
Fashion Sense
How designer and BSA alum Christian Siriano made a name for himself in the fashion world.
arly September in Manhattan, the streets suddenly seem more flooded than usual with trend chasers and style icons. The temperatures are still warm and the air in the subway is heavy as crowds flock from line to line and show to show, hoping to snag a good seat or at least find a reflective surface to ensure their makeup hasn't melted off.
It's New York Fashion Week and celebrities, socialites, and writers are all vying for that premium seat or backstage interview.
But a reprieve can be found inside ArtBeam studios in Chelsea, a large open space with tropical umbrellas hanging from the high ceiling. Even from a tiny seat on the bleachers, there is a clear view of the celebrity-filled front row—Neve Campbell, Coco Rocha, and Kelly Osbourne—their faces lit by constant flashbulbs.
As the lights dim, a soundtrack of female power vocals fills the room. We've just entered Christian Siriano's world and all the outside chaos fades away. The theme of his collection is the "Isle of Capri," inspired by vintage photos of Jackie Kennedy Onassis' vacations there in the late '60s and '70s. As the models begin to strut down the runway, the audience is whisked away to that era, with bold colors paying homage to the turquoise water of the Tyrrhenian Sea and those striped, citrus-colored beach umbrellas adding to the mood.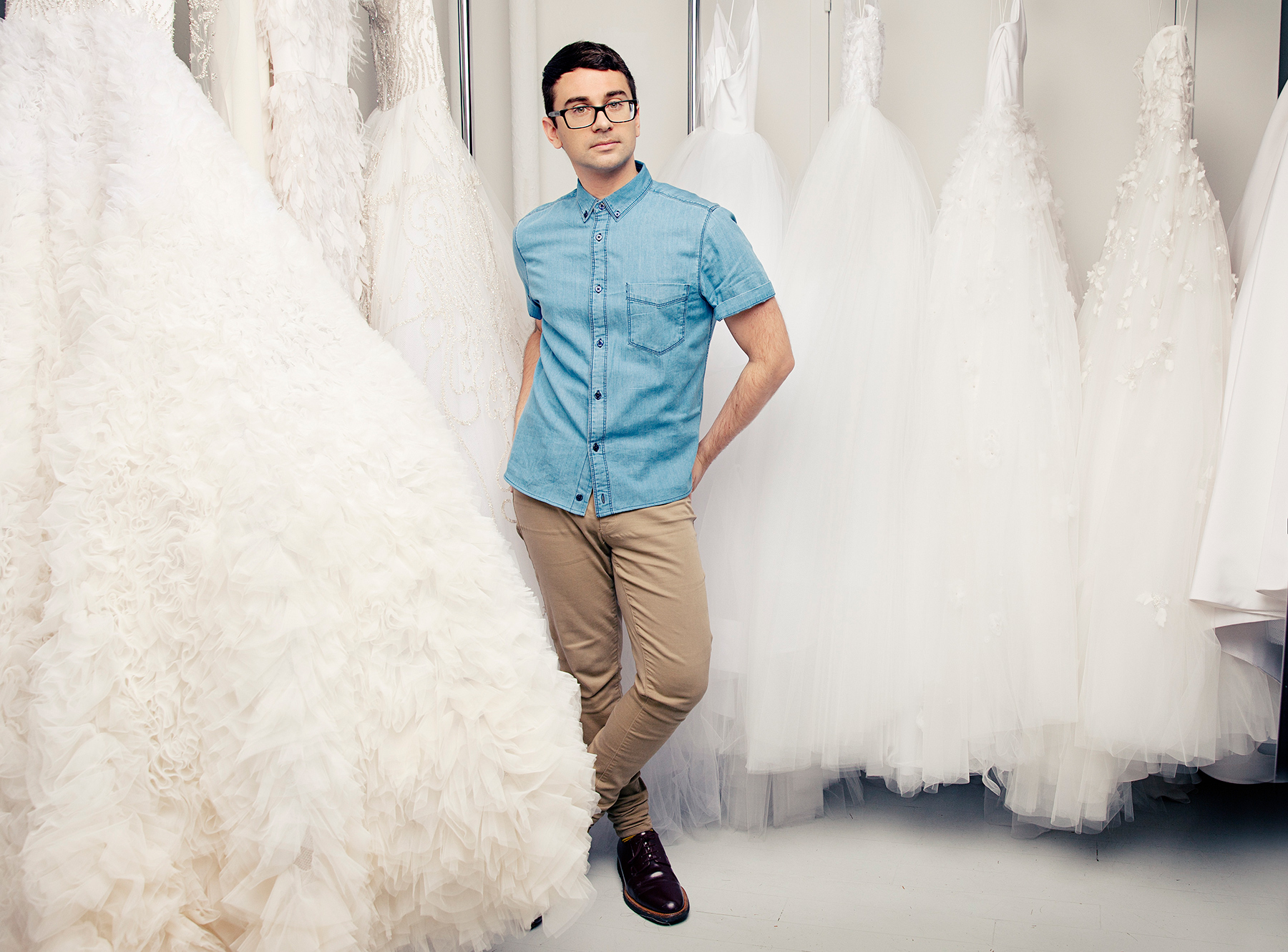 Christian Siriano poses inside his Chelsea studio.
"I wanted something on a bigger scale, not only being a bigger brand, but changing people's idea of fashion and women."
Even more notable is the variety of models Siriano has presenting his line—women of all different shapes, sizes, and colors, allowing onlookers to find at least one model who looks like them. Less than 15 minutes later, the show comes to a close and Siriano emerges to receive acknowledgment for his new collection. But unlike most designers who walk the entire runway to bask in their glory, he flashes a quick smile and waves before ducking backstage.
The conclusion is fitting for a fashion designer who has never taken the traditional route. For starters, he didn't grow up in a fashion mecca like New York or Los Angeles. He grew up in the Annapolis area and went to school at Baltimore School for the Arts, carving a path for himself in the fashion industry and as a businessman by relying on instinct, innovation, and inclusivity.
"Growing up, I knew I wasn't meant to stay in one place," Siriano says from his Midtown studio. "I wanted something on a bigger scale, not only being a bigger brand, but changing people's idea of fashion and women."
Most people know the name Christian Siriano from season four of Project Runway, which he won, and which gave him, at age 21, a reputation as a fashion prodigy. But fashion and the arts were calling long before the then-hit Bravo TV show.
Siriano grew up in the suburbs of Annapolis where he had what he describes as an idyllic childhood. Living near the water, he remembers always being on the nearby beaches or on a boat—even owning a pair of dreaded boat shoes to fit in with the local nautical lovers.
"Annapolis was a great place to grow up," he says. "You get a very suburban life, but because it is so close to Baltimore and D.C., there is a metropolitan feel, so you don't feel closed off from the world."
An early Siriano family photo.
The son of two Anne Arundel County schoolteachers, Siriano was drawn to the arts at an early age. His older sister, Shannon, was a ballet dancer at the Ballet Theatre of Annapolis—now the Ballet Theatre of Maryland—which is where he first had exposure to fashion. When he was just 5 or 6 years old, his mother, Joye, would bring him to the theater with paper and pencils to stay busy, and he would sketch the costumes—his first memorable sketch being the Sugar Plum Fairy outfit from a performance of The Nutcracker.
"I had people along the way tell me that he was very talented and had an eye for detail," says Joye. "At first I thought these are just relatives and friends being nice. Of course, I think he is wonderful—I'm his mom!"
Siriano attended Broadneck High School for his freshman year before applying to Baltimore School for the Arts (BSA). Stephen Kent, head of the school's visual arts department at the time, remembers Siriano coming in for his audition dressed in a black suit and showing his portfolio of fashion illustrations. "He stood out right away," says Kent. "Everything was coordinated and professional, and he presented his work in a very thoughtful way. He had no formal training, but he had this passion. I knew right away he needed to be at this school. Even at 14, he was convincing, and he knew what he wanted to do. I believed him."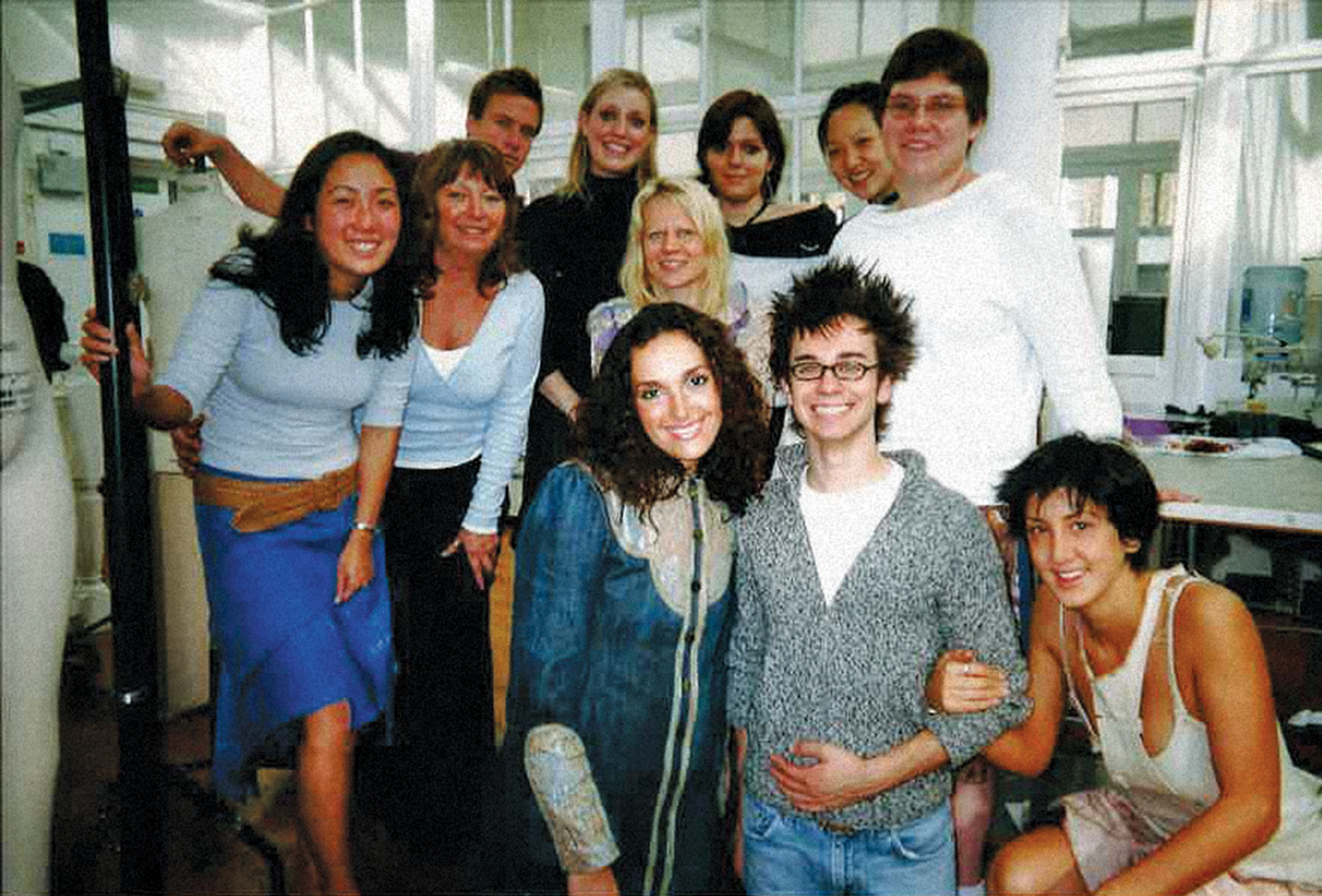 Siriano in the workroom of his London school with classmates.
Siriano completed the last three years of high school at BSA, where he developed his talent and even created his own assignments. Because his interest was in fashion, he was able to primarily focus on that instead of fine arts. "BSA is one of the most special places in the world," says Siriano. "You're thrown into this world with unbelievably creative people and you're given freedom and responsibility in your curated study."
While in Baltimore, Siriano spent time with friends at City Café and the old Donna's around the corner from the BSA on Charles Street.
"Donna's had, like, the worst coffee, because it was so strong," he says. "But the inside was just so cool and you felt like you were surrounded by artists. It was really special being young and going to a place like that. It was like something out of a movie."
Siriano has mastered the delicate sweet spot between design and functionality.
In the spring of 2004, it was time for Siriano's final jury at the BSA—that's art school speak for a final exam. He persuaded the school to let him hold two fashion shows in the school's exhibition gallery. Its blank white walls were typically used for hanging pieces of student artwork, but Siriano transformed the space into a makeshift runway. He brought in rows of chairs, arranged for models, and enlisted the help of his colleagues at Bubbles Salon—where he worked part-time shampooing hair—to do hair and makeup. The clothing was coherent and cool with a lot of frayed edges, which created an unfinished look.
"He was just learning to sew then," says Joye. "Some of the clothes were hand-sewn or sewn by machines, but some of it was just a glue gun. Somehow he got these dresses made, and it was amazing." At the second show, people couldn't even fit into the space and watched from outside of the door. "It was a lot of coordinating and a lot of detail," says Kent. "But that is what he has always been good at, and that is why he is successful."
Siriano applied to the prestigious Fashion Institute of Technology in New York City for college—he had completed a summer program there—but was not accepted. While it was a bit of an ego blow, it also spurred him on to do things his own way and to step out of his comfort zone, something he does not regret now.
"I'm glad it happened that way because it made me want to do something else, something that was totally different from anyone that I knew," he says. Ultimately, he decided to go international, attending the American InterContinental University in London. While there, he scored internships with iconic design houses Vivienne Westwood and Alexander McQueen.
"I knew nothing," he laughs. "But I was always good at pretending like I knew more than I did." He saw how both brands maintained smaller teams, making samples in-house, which Siriano says eventually inspired him to do the same with his own brand. After three years in London, he returned home to Annapolis briefly and then was off to New York City, where he moonlighted as a makeup artist for Stila Cosmetics while still designing custom pieces for clients. "New York was tough in the early years, but I loved it," he says. "When you are younger, you thrive off of the hustle and the challenge."
Siriano and his sketches in his Chelsea studio.
That was certainly the case when Siriano was a contestant on the well-known fashion design reality competition Project Runway. He was an early fan favorite, wowing viewers with his impressive designs and lively personality. "To see him on a TV show was very fun and exciting," says his mom. "Sometimes I would watch him and think, 'I don't know who that person is.' He was pretty comedic, and some of that is who he is, but some of it, I think, was him knowing he needed to bring the drama or he wasn't going to stay on the show."
Winning the competition was obviously a big moment for Siriano, but another life-changing event was on the horizon. He met freelance photographer Brad Walsh during a Gawker photoshoot in advance of the show's premiere. The two began dating two weeks later—and got married in 2016.
"He was doing commercials for his season of the show and I remember him being really animated," Walsh says. "But in person he was way more himself, which is very calm, smart, and business-oriented—not like the character you might have imagined if you only saw him on TV."
Winning Project Runway opened a lot of doors for Siriano. But lots of winners have been flashes in the pan. Siriano was determined to parlay his win into a sustained career. One way he did that was by seeking out opportunity—no matter what form it came in—and placing his trust in the right people. After the first collection of his label debuted in September of 2008, he signed a deal to design a low-cost line for Payless ShoeSource. His egalitarian approach to fashion got him attention. Celebrities like Heidi Klum, Victoria Beckham, and Rihanna began to take notice of his designs. "It's amazing as a young designer to see people wearing your clothes," he says. "Even now, it's a nice moment. It makes it feel a little bit worth it on the days that feel like they aren't."
Siriano's brand is strong and feminine, with shapes and styles created with real women in mind. Unlike some designers who send impractical looks down the runway, Siriano has mastered the delicate sweet spot between design and functionality, which is one reason why he was inducted into the prestigious Council of Fashion Designers of America in 2013. More importantly, he's not just designing for that sample size 2. And, as his reputation has grown through the years, he has almost single-handedly destroyed any stigma attached to making it from a reality television show.
"Christian Siriano is more than just a kid who got his start on Project Runway," says Elle senior fashion editor Nikki Ogunnaike. "He's a wildly talented designer who continues to push the conversation forward when it comes to size inclusivity on the runway and red carpet."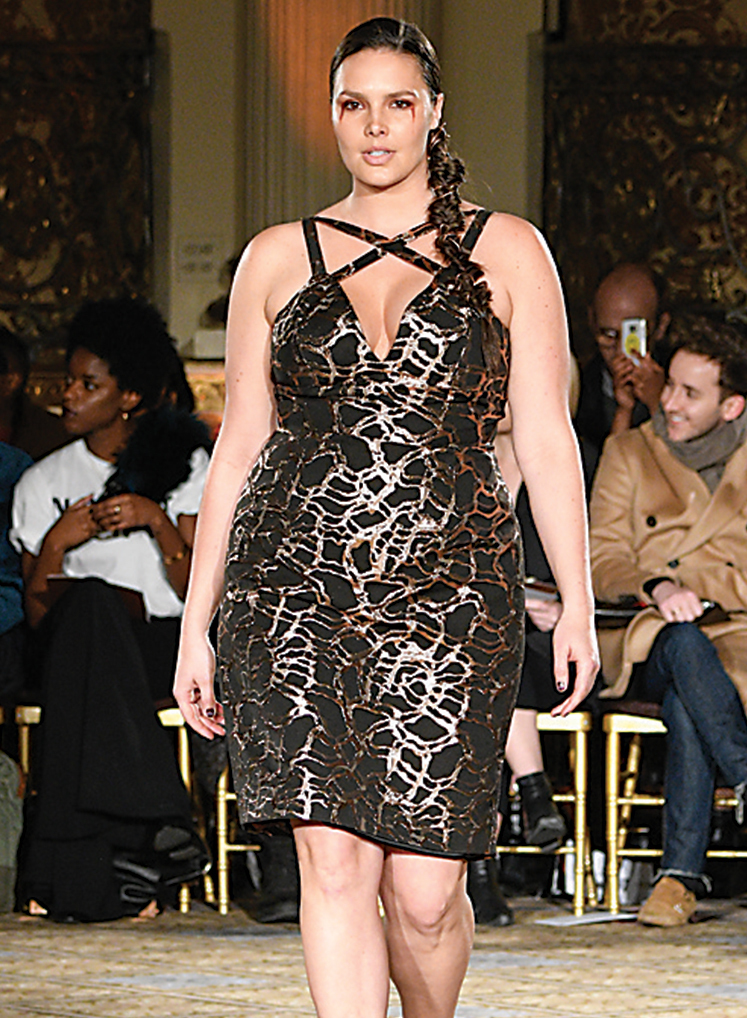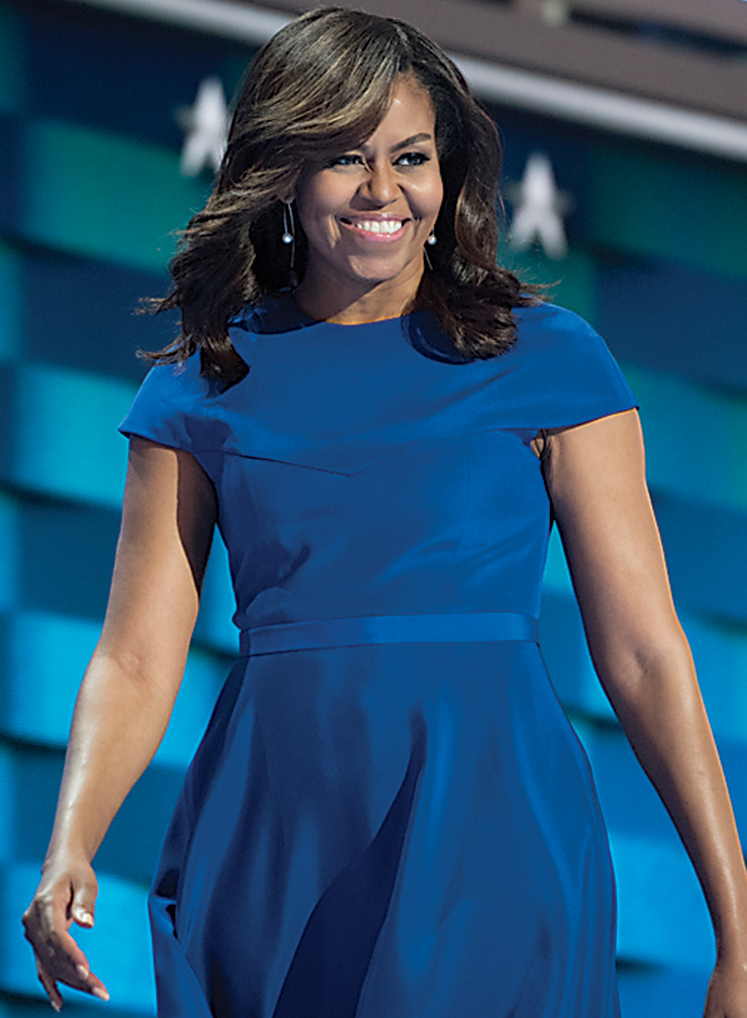 Candice Huffine at Siriano's Fall/winter '17 show; MICHELLE OBAMA AT THE 2016 DNC; Leslie Jones at the Ghostbusters Premiere. Siriano's New York Fashion Week collection.
Siriano credits his roots in Baltimore for opening his mind to people of different sizes and cultures. That's why he always insists on casting diverse models for his shows and why he was the perfect choice to provide Whoopi Goldberg with her entire wardrobe when she hosted the Tony Awards in 2008. "I've been dressing women who are bigger than a sample size since my first collection," Siriano says.
"You can tell he doesn't try to change the person he's dressing, instead celebrating her shape just how it is," says Elle's Ogunnaike. "He has always been a champion of the female form, and, because of that, women love to wear his designs."
For plus-sized model Candice Huffine, donning one of Siriano's dresses makes her feel invincible. "Wearing a Christian Siriano design is a celebration in clothing form," she says. "When I wear his dresses I feel like I'm saying, 'I'm here, I'm proud, I am a badass, and I am beautiful' all without saying a word." 
Siriano presents his spring/summer 2018 collection at Pier 59 during New York Fashion Week with Leslie Jones in attendance.
In fact, last year, when the all-female cast of Ghostbusters was ramping up for their big premiere, Leslie Jones, one of the stars of the film, sent out a tweet voicing frustration over her fashion options. "It's so funny how there are no designers wanting to help me with a premiere dress for [the] movie," she wrote. Within 30 minutes, Siriano responded with a hands-up emoji. Less than two weeks later, the 49-year-old actress would look sleek and sexy as she wore his bright red, off-the-shoulder gown on the red carpet at Grauman's Chinese Theatre in Los Angeles.
"Leslie definitely brought [awareness of size-ism in the industry] to a bigger spectrum of the world, which was good and bad," Siriano says. "It sucked that it had to happen to have this issue be relevant." Siriano's dress for Jones brought him a lot of attention and was a wonderful accomplishment, to be sure, but Walsh says that his husband doesn't think he has done anything special.
"He is a little uncomfortable being congratulated about that kind of thing," Walsh says. "To him, it shouldn't be remarkable to see every body."
"To him, it shouldn't be remarkable to see every body."
BRAD WALSH AND SIRIANO AT THE Veuve Clicquot Polo Classic, JUNE 2017.
With numerous collections under his belt, Siriano continues to work on his designs, crafting beautiful evening and wedding gowns in his airy studio. The walls are lined with racks of dresses with textured embroidery and intricate beading creating an almost dreamlike, whimsical atmosphere.
"They don't even look like dresses, they look like works of art," his mother gushes about some recent pieces. "You can tell that he studied the visual arts before he got into fashion, and you can see that in his clothes. Sometimes they look like paintings."
Both his mom and Walsh say their proudest moment was seeing then First Lady Michelle Obama in a Christian Siriano original at the Democratic National Convention in 2016. "We were watching live and she comes out in the dress waving and there is this huge standing ovation for her and she gives this incredible speech," says Walsh. "The whole time I was just like, 'Wow, my husband is dressing the First Lady.'"
It has been a heady, whirlwind of a decade, which is probably why Siriano takes his downtime so seriously. When not in the spotlight, he and Walsh (now a musician and successful music producer) prefer to spend time at their country house in Connecticut, which they both independently describe as their "favorite place in the world." A typical night for the couple includes a homemade meal by Walsh and a binge session of some of their favorite series like Game of Thrones and Orange Is the New Black.
"Both of our businesses are so unpredictable, so it's nice to have a constant," says Siriano. "I think that's why it has worked for us for so long. Because we can be predictable to each other."
Meanwhile, Siriano is excited to see his brand continue to grow, but the future holds no promises. "If I'm over this whole fashion thing in a few years," he cracks, "I'll just open a bed and breakfast and call it a day."