Frederick Shopping Guide
Ditch the mall and head west to Frederick for a plethora of unique shops and charming boutiques.​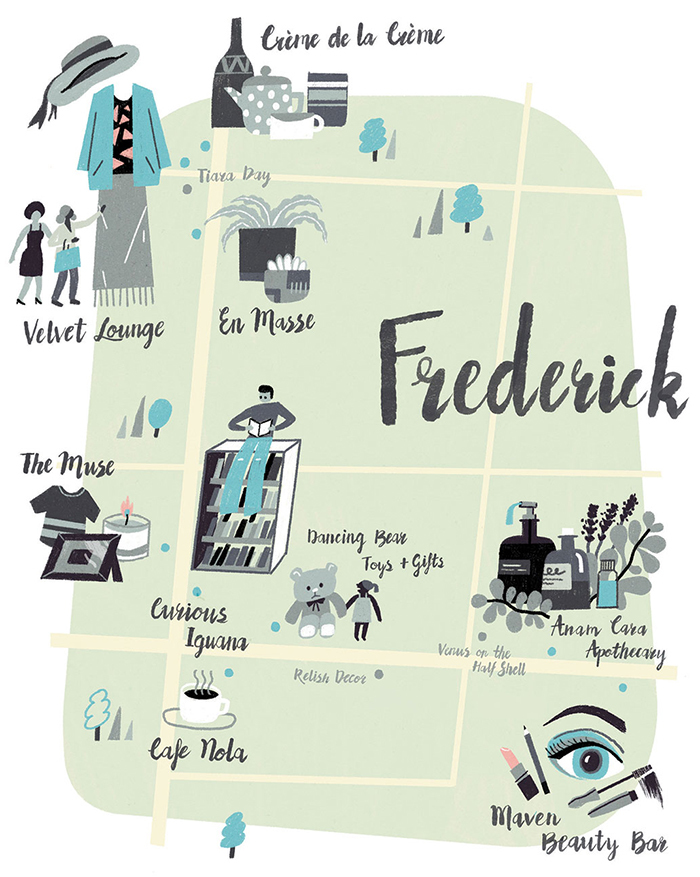 Crème de la Crème
Walls of lavish linens, kitchen accessories, and ornate conversation pieces await you in this Mediterranean-inspired home store. 207 N Market St., 240-651-1714.
Tiara Day
Unleash your inner Marie Antoinette in this ultra-femme, ultra-French boutique full of apparel, accessories, gifts, and jewels. 153 N Market St., 301-694-4911.
En Masse Luxe
Part florist, part gift shop, this self-care mecca carries swanky bath and beauty products, as well as gifts and accessories. 141 N Market St., 240-379-7100.
Velvet Lounge
You're guaranteed to find something you have to have in this women's contemporary boutique filled with popular brands such as Free People, Hudson, Wildfox, and Rebecca Minkoff. 203 N Market St., 301-695-5700.
The Muse
The Muse makes it easy to support artists locally and beyond with its carefully curated selection of handmade goods. 19 N Market St., 301-663-3632.
Curious Iguana
This independent bookstore is chock-full of newly released titles and globally diverse works. 12 N Market St., 301-695-2500.
Cafe Nola
With a vast selection of coffees and teas, this cozy café will fulfill all of your caffeine needs. You won't want to miss out on their signature lattes—try the delectable coconut and vanilla creation they call "Hot Betty White." 4 E Patrick St., 301-694-6652.
Dancing Bear Toys + Gifts
Children and adults alike will get a kick out of this shop full of battery-free toys and games. 15 E Patrick St., 301-631-9300.
Relish Decor
If Anthropologie's home selection had a little Frederick baby, this store would be it. It's loaded with pretty little things for your kitchen, table, or bar. 38 E Patrick St., 301-698-7360.
Venus on the Half Shell
Expertly curated, beautifully merchandised, and full of one-of-a-kind apparel and accessories, Venus on the Half Shell is vintage heaven. 101 E Patrick St., 301-662-6213.
Anam Cara Apothecary
The sign outside of Anam Cara Apothecary reads, "When science meets magic," and that is exactly what you'll find when you enter this bright shop with modern fixtures, an array of essential oils and herbal blends, holistic services, and one very friendly feline. 113 E Patrick St., 240-527-1627.
Maven Beauty Bar
Owned by a former cosmetic buyer for Nordstrom, this trendy beauty bar will make you feel like you just stepped off the streets of New York. Get your brows threaded, enjoy a makeup tutorial, and browse the great selection of organic skincare and beauty products, all in one trip. 118 E Patrick St., 240-578-4192.