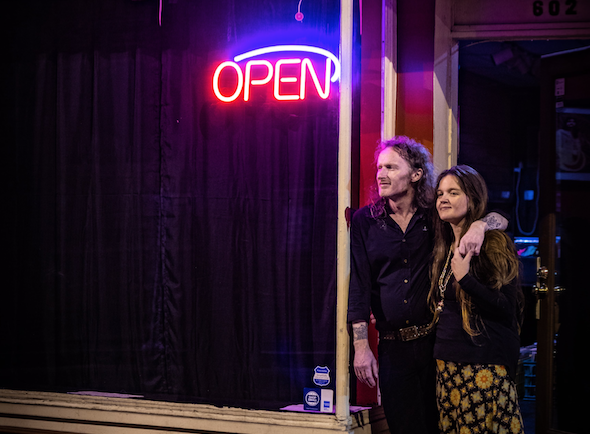 Todd Gardner
The former home of Killer Trash and Glitter Rat is no longer full of clothes, shoes, and accessories, but those interested in the rare and vintage may still want to browse the wares at 602 South Broadway. The black and yellow storefront's latest tenant is Hare's Breath Records, now open Wednesday through Sunday, and owners Matt and Kat Peach have swapped out the clothes racks for bins filled with hundreds of albums, some new and some gathered on the couple's trips up and down the East Coast.
While you can definitely find classic rock essentials among Hare's Breath's holdings, this is the kind of place you go to find something completely new. Offerings lean toward the odd and the interesting, with Matt and Kat's personal tastes for reggae, prog, folk, and industrial well represented.
As for the obvious question for a new record store in Fells Point, the Peaches know they've got some great neighbors in the vinyl business just blocks away, and they don't mind.
"We keep hearing that. But if it was another restaurant [in Fells] or a different store, it wouldn't make any difference," Matt says. "What makes us different I think is our stock and the feel of the shop. And we run our own record label as well."
That record label, also called Hare's Breath, features Matt and Kat's own music in addition to that of artists from Baltimore, New York, and Matt's native UK, and it focuses on "hauntology, psychedelic, folk, horror, ambient, electronic, noise, storytelling, and experimental" projects. (Ask the couple about The Stone Tapes for a truly wild tale of local lore and experimental sounds.)
"We're both really into not just the music, but knowledge about the music," Kat says. "We love odd, weird things, and we obsessively collect the stories behind the things."
Bring up a certain style or an artist and the couple is likely to start pulling records from behind the counter or a box on the floor and putting them on. With a smile and a "Now, this is really weird," the sounds of spooky children's songs or guided transcendental meditation fill the store. Jazz, Jane Fonda, radio plays, and horror soundtracks all have their place here, and Matt and Kat have an anecdote or fun fact for everything.
"A lot of record shops you go in, buy the record, and go home," Matt says. "People might not find out the stories. But we're just really passionate about what we're selling."
Kat says her goal is to know at least one thing about every artist in the shop, no small feat when the bins are full of rare finds and hardly any repeats. They are also happy to place orders for customers who can't find what they're looking for in the couple's eclectic collection, but our advice is to open your mind and browse awhile.
And that's part of the joy of it all. "I think the biggest challenge we have is not keeping stuff for ourselves," says Kat. "It's a battle," chimes in Matt. "But I do keep a stash under here that I'm taking home."