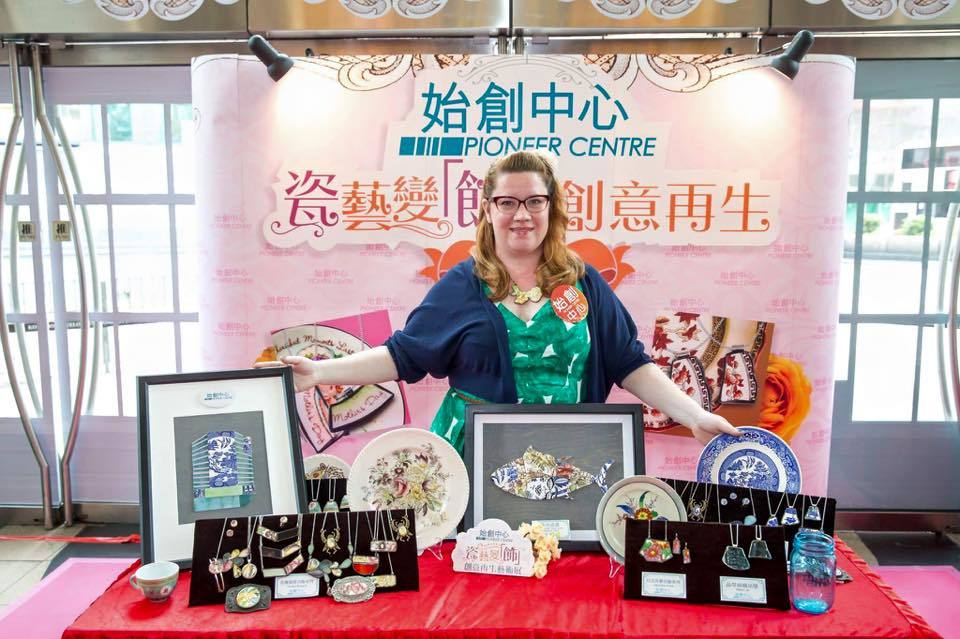 Courtesy of Juliet Ames
Juliet Ames breaks plates for a living. What started as a fun craft project turned into booming business The Broken Plate Pedant Company, where she creates anything from custom jewelry to China brass knuckles out of uniquely patterned plates or grandmother's old china. It's these one-of-a-kind pieces that caught the eye of some people overseas and led her on a trip of a lifetime. We chatted with Ames about her recent trip to Hong Kong, breaking plates on stage, and her favorite dim sum.
First off, can you explain what you do and the kind of art that you create?
Juliet Ames: I make all sorts of things out of recycled china. It started with
jewelry, but now I am experimenting with more 2D art. I do a lot of
custom work with my customers' sentimental China shards.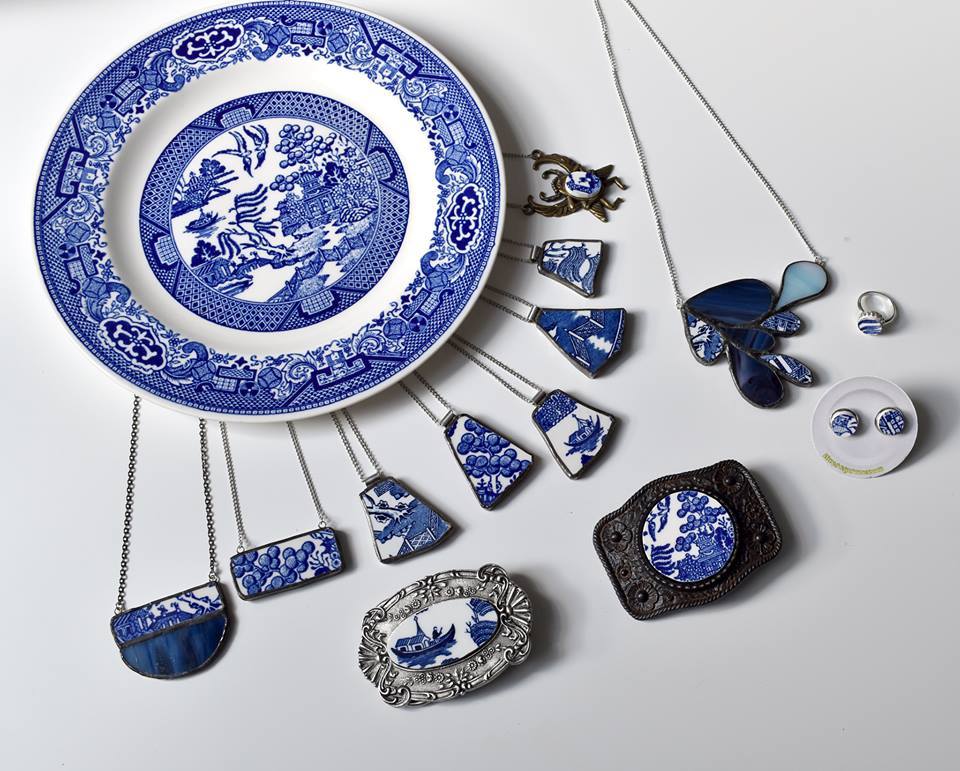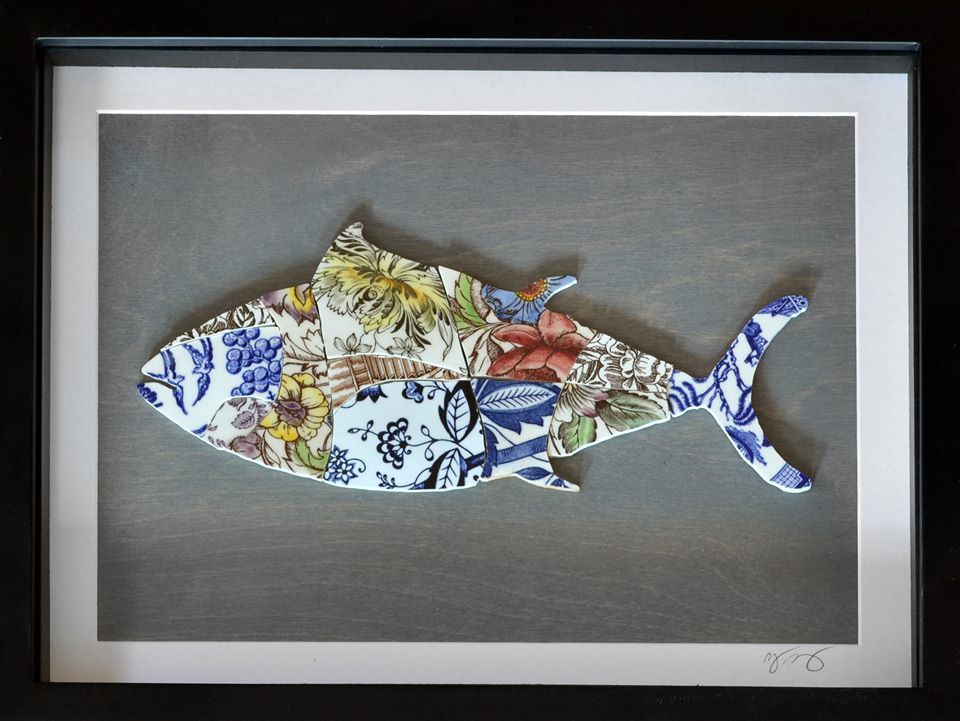 How did the trip to Hong Kong come about?
JA: I got an email just a few weeks ago inviting me to Hong Kong to have a solo exhibit. Of course, I assumed it was a joke or scam, but curiosity lead me to ask more questions. I'm sure glad I did! They found me on the internet and thought it would be fun to put on an beautiful, floral-themed exhibit featuring broken plates.
There are a ton of huge, beautiful high-end malls in Hong Kong—Armani, Gucci, Prada, and the like are all over. You know how we have
Walgreen's on every corner? Like that. These malls are all competing for
the same customers so they put on exhibits like
this to stand out from the crowd and attract visitors. The mall that I
exhibited in, Pioneer Centre, put so much thought and love into these
exhibits, and it shows to their customers. It also attracts press to
their mall.
It sounded too good to be true, but I sent off 20 complete sets of jewelry with matching plates for the show, as well as six framed art pieces and framed photos of past sets. Everything made it, intact in just a few days.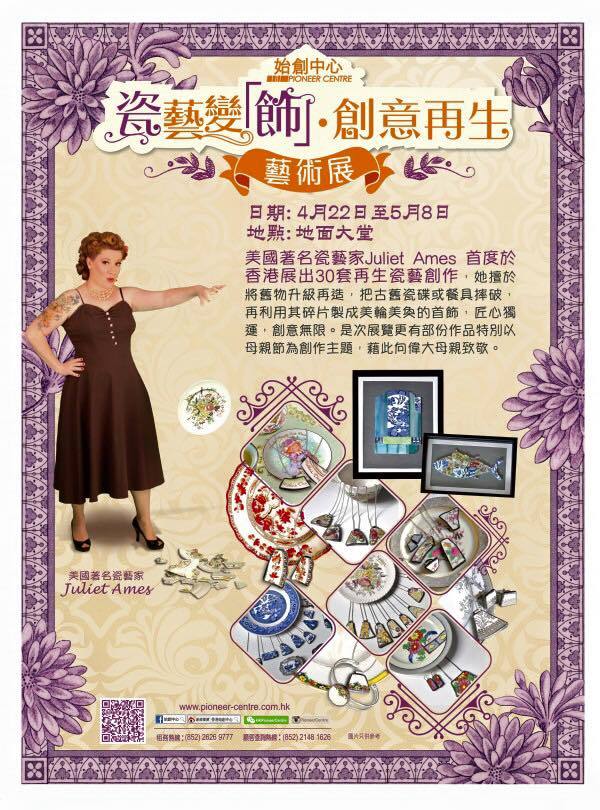 How long were you in Hong Kong?
JA: I was there from Sunday-Thursday. It was about a 20-hour flight, and my first thought upon landing was, 'Holy crap! This is REAL!'
Can you tell me about the art show you put on while you were there?
JA: It was incredible. There was an emcee who asked me some questions about my work and Mother's Day traditions with my family. She translated for the audience. Models were on hand to wear my work. I presented a framed China replica of the mall to the top management, then we did a plate breaking ceremony, complete with confetti cannons. Following that, I did a demo of my soldering process, did some newspaper interviews, and took a ton of photos. I felt like a total rockstar.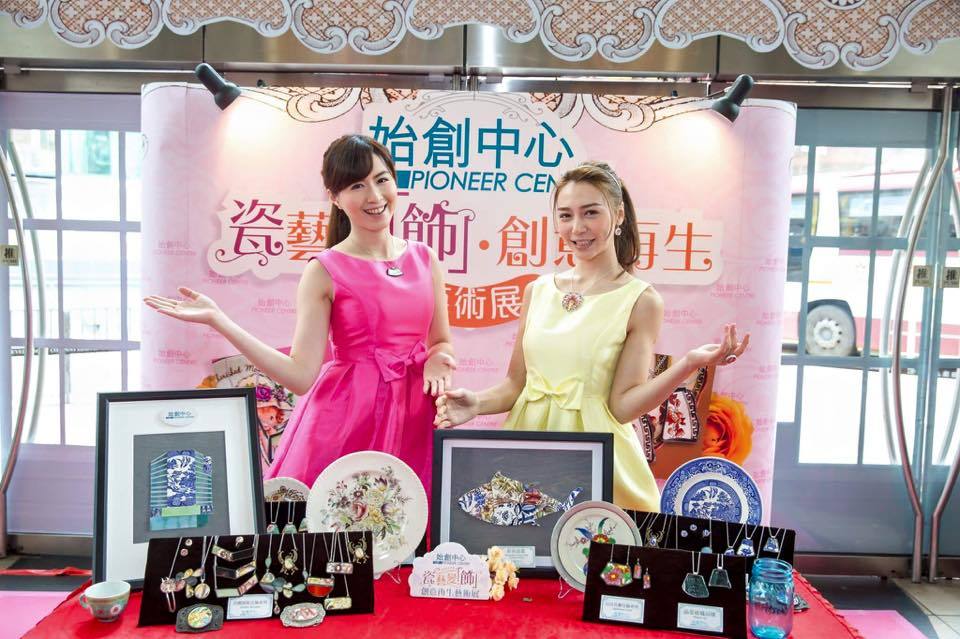 You posted a lot of food photos on your Instagram while on your trip. What was the best thing that you ate?
JA: There was so much great food, which is why I had to photograph it
all. They joked that I was great with chopsticks, but didn't eat enough. My host was incredible and took
me for as many traditional foods as time would
allow. We enjoyed dim sum at Tim Ho Wan, which is proud to be the world's
cheapest Michelin-rated restaurant. We also enjoyed dumpling and noodles
at Lau Sum Kee where they are known for making noodles in the
traditional way, with large bamboo poles. Another
great meal, where we celebrate that our big opening was over and successful, was
at Jing Hau. Plates just kept coming out of the kitchen, the last being
lobster on noodles. I will have to train for my next trip so I am
prepared to eat more.
A meal that wasn't incredible, but made me really happy, was on
the second morning when I got the guts to walk into a McDonalds with my
Hong Kong money, get a breakfast sandwich, and use their Wi-Fi. Seeing
the children in their adorable uniforms
sharing a breakfast before school was really fun.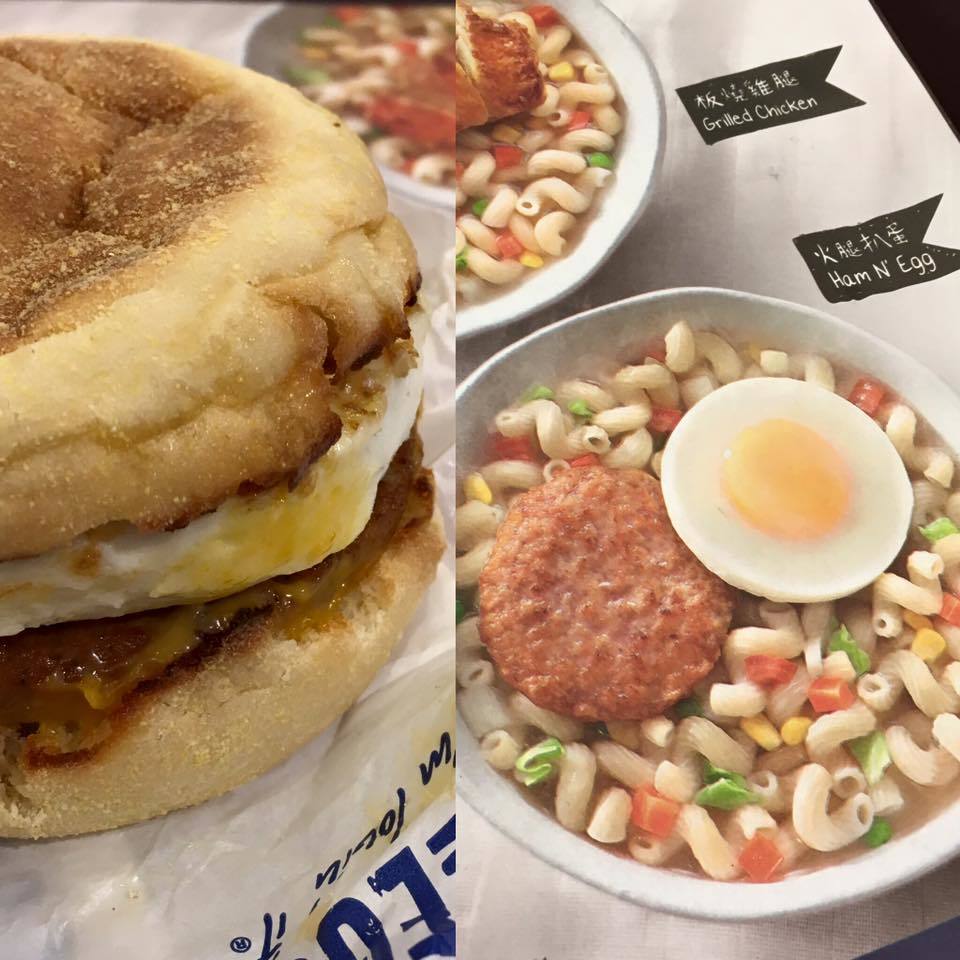 What was your most memorable moment from your trip?
JA: I am still processing the whole trip. We did about 10 miles of walking and sight-seeing every day. Visiting Victoria Peak and looking at the whole city at night was awesome. One of the coolest things I saw while sightseeing was a place called PMQ in central. It was an old police station converted into studio spaces for artists. Would love to see something like that here. But I will never forget that opening ceremony of the show. It was like a dream.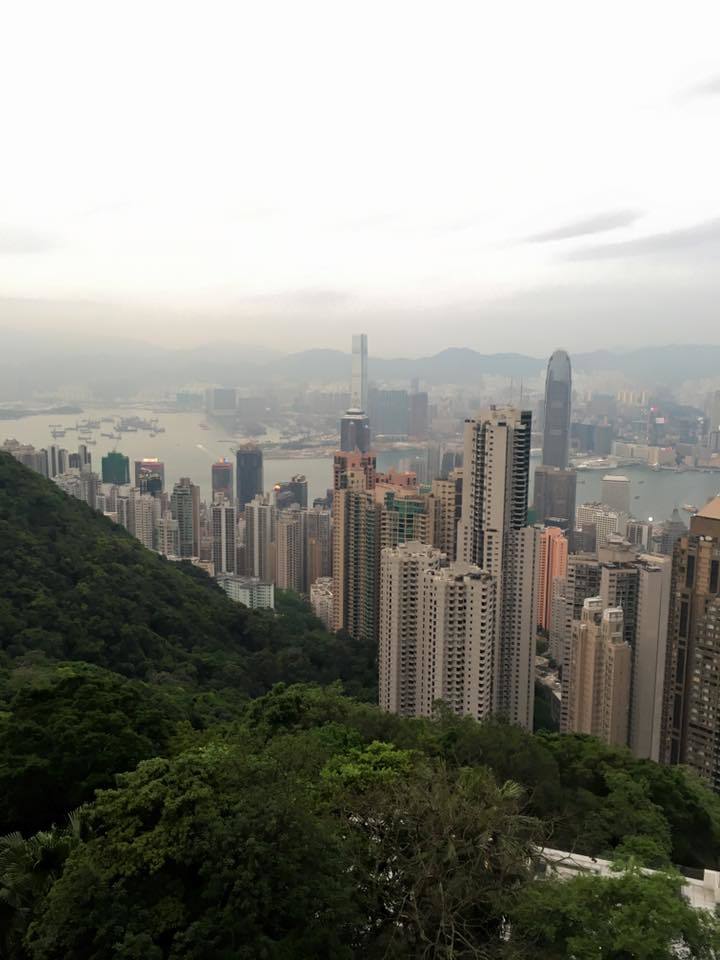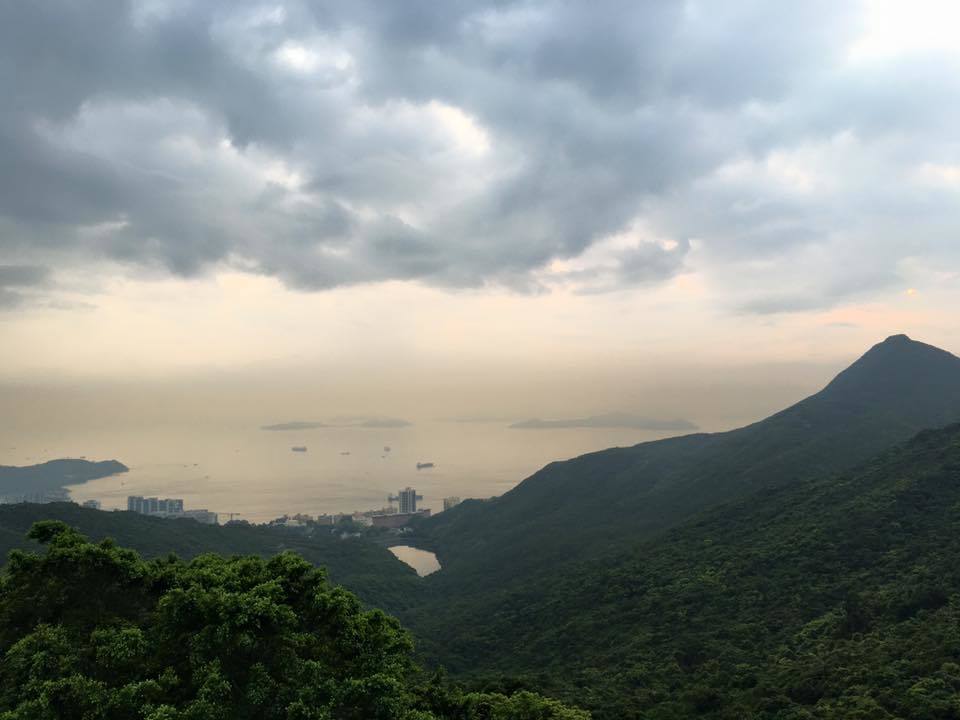 Are international trips something you hope to do more of in the future? Ideally, where would be your next destination?
JA: While I was there, there was a little talk of trying to take this show
to China, too. They were so excited about this idea and think that people
from other countries would really love to learn more about it. In a
dream world, I would love to visit Dubai, Japan, and India too.
Check out Juliet's Broken Plate Pendant Company work and grab some of her unique pieces, all on sale for $30, this Saturday at the Charm City Craft Mafia's Buzz market at Space 2640.