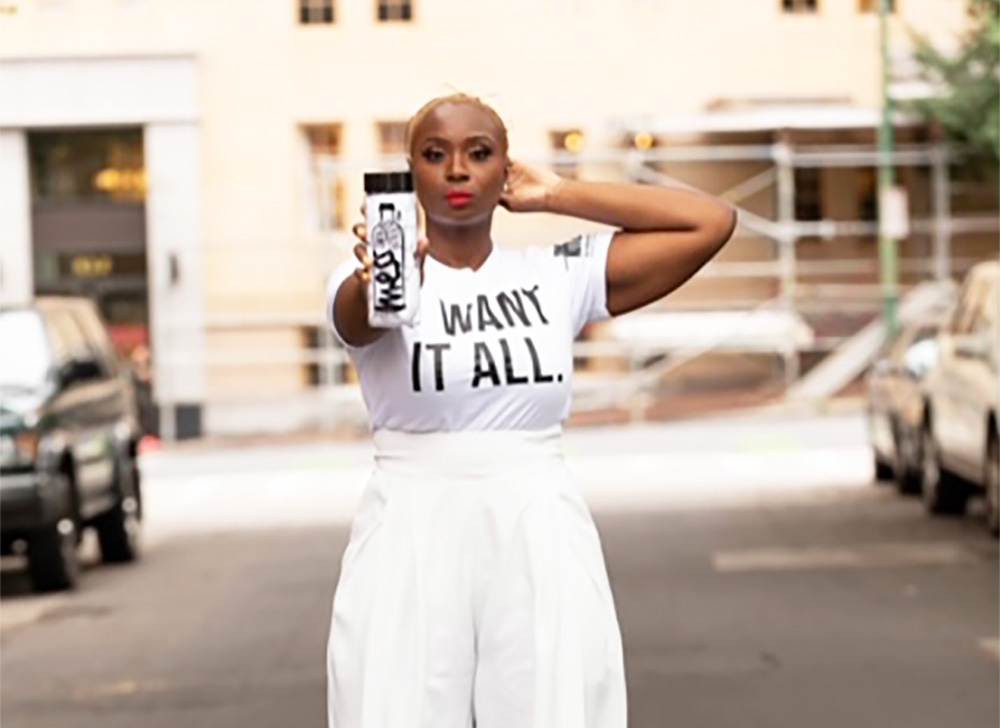 —Photography by Andrew Copeland
In the midst of such a tragic year, Baltimore-based entrepreneur Kalilah Wright was hit with personally devastating news earlier this month. Her mentor and friend, Cici Gunn, a fellow business woman and financial advisor known as "The Six Figure Chick," passed away on August 14.
The news hit Wright especially hard. Gunn had been her source of inspiration, and she was always there for Wright to turn to in times of need. (In a memorial post to Instagram, Wright recalls a time when Gunn gave her money to buy a new laptop after being robbed. "Your kindness and generosity never cease to amaze me," Wright said.)  
In addition to her friendship, Gunn's valuable lessons on social media management helped Wright grow her own apparel company, Mess In A Bottle. 
"She taught me how to teach others," says Wright, who uses some of Gunn's practices in what she calls "The Tee Class", a now-virtual learning platform where she teaches others how to launch their own T-shirt businesses. 
Now, she's channeling all of the inspiration from Gunn into continuing the growth of her company, which has come a long way since its inception in 2015.
Throughout the past five years, Mess in a Bottle has struck a chord on social media, amassing more than 140,000 Instagram followers. It's been featured on "Shark Tank" and celebrities like Serena Willams and Insecure's Yvonne Orji have donned the Baltimore brand that showcases empowering phrases such as "A Black woman created this" and "As strong as the woman next to me."
Suffice it to say, Wright is not afraid to speak her mind—or wear it, for that matter. It's something that she considers a form of activism.
The native of Jamaica moved to Baltimore from Brooklyn, New York to attend grad school at Morgan State University. Following graduation she worked for Under Armour, but after the Baltimore Uprising in the wake of the death of Freddie Gray, she felt a call to empower others through clothes. 
"I started Mess In A Bottle as a form of communication and as a conversation starter," says the 36-year-old business woman. And she's had no shortage of inspiration to spark some of those important conversations this year.  
Even in the midst of the coronavirus, the self-proclaimed fearless Black woman isn't slowing down. In August, Wright opened her first brick-and-mortar store on Howard Street boasting the brand's signature black-and-white aesthetic. Although she's currently only offering curbside pickup, Wright plans on an official grand opening in 2021.
As a woman who started the business on her own, she says that it's been "very rewarding to see this grow from a one-person company to now having employees and management." 
We talked with her about being a Black female business owner, keeping momentum in the middle of a pandemic, and how clothing can be used as a form of activism.  
You talk about how you were inspired to start your company after the Baltimore Uprising in 2015. What was going through your mind when you launched Mess in a Bottle?
I was an architect working for Under Armour, and I felt like the people needed a way to have a voice throughout the riots. So, I wanted to give a voice to the voiceless. People felt unheard and unseen. That was one of the reasons for the riots. I wasn't nervous about jumping into entrepreneurship because I had been dabbling in it. I was just ready. It felt like the right time for me to really explore my creativity.
What are some of the milestones you've reached since then?
We will be in a [yet to be revealed] mass retailer in 2021. We have hit more than a million dollars in sales. We've been on television with Mark Cuban. I've had celebrities wear my garments. We've also gained a very high traction within our community where we have almost 150,000 followers on social media.
How has COVID-19 impacted your businesses?
It didn't negatively impact the business per se. It really forced us to strengthen our foundation, as well as our processes. But we've done really well, and we've opened a storefront during the pandemic. We have managed to hire 16 Black women on our team and ninety percent of our production happens in our Baltimore facility. 
I recently read that you've been marching and peacefully protesting in support of Black Lives Matter, but some may call apparel a form of protest, too. What does activism look like for you?
I don't think there's one way to protest. There's a lot of silent protestors, people who may not want to be vocal, but they want to get their message into the world. Wearing your message is definitely a form of activism.
Tell me about one of your favorite pieces on sale right now? How did that go from being an idea to an actual product that people can buy?
Right now, we are putting up a shirt that says, "She Black," in support of Kamala Harris, who was recently selected as Joe Biden's running mate. The premise behind it is that we have a lot of people who are now questioning who she is and whether she is of African descent, and I'm like, "She Black, period." Sometimes I just go off of how I feel. It's mainly the words that I say that end up becoming a message. 
Describe your personal style.
I am a fan of a rip in a jean. I love a nice beautiful head wrap or scarf. I'm always with my round-frame glasses. I'm a good mix of classic with a little bit of art and punk rock. It's just my way of being very clean and chic.
Who are some people that you look up to?
I love Black culture. I'm a huge fan of Black creatives such as Lena Waithe, Yvonne Orji, and Bozoma Saint John. Those are all Black women who are pioneers in their industry who inspire me.
What are some challenges you've faced?
It's always difficult having a company and transitioning through inventory and figuring out startup capital. As a minority-owned and woman-owned business, we might not have as much access to capital. Those are things that get really difficult, but we have been able to strategically grow the business and the brand. 
Where do you see Mess in a Bottle—and yourself, for that matter—in the next five years?
I see myself and Mess in a Bottle being on the shelf of a mass retail company and continuing to expand and grow into a lifestyle brand.
Sometimes with increased popularity, you have to deal with the possibility of criticism. Have you had to deal with any major backlash?
You know, not really. People are very supportive of us being a Black-owned, woman-owned, immigrant-owned company. They support us having a voice and being able to lend our voice in whatever capacity.