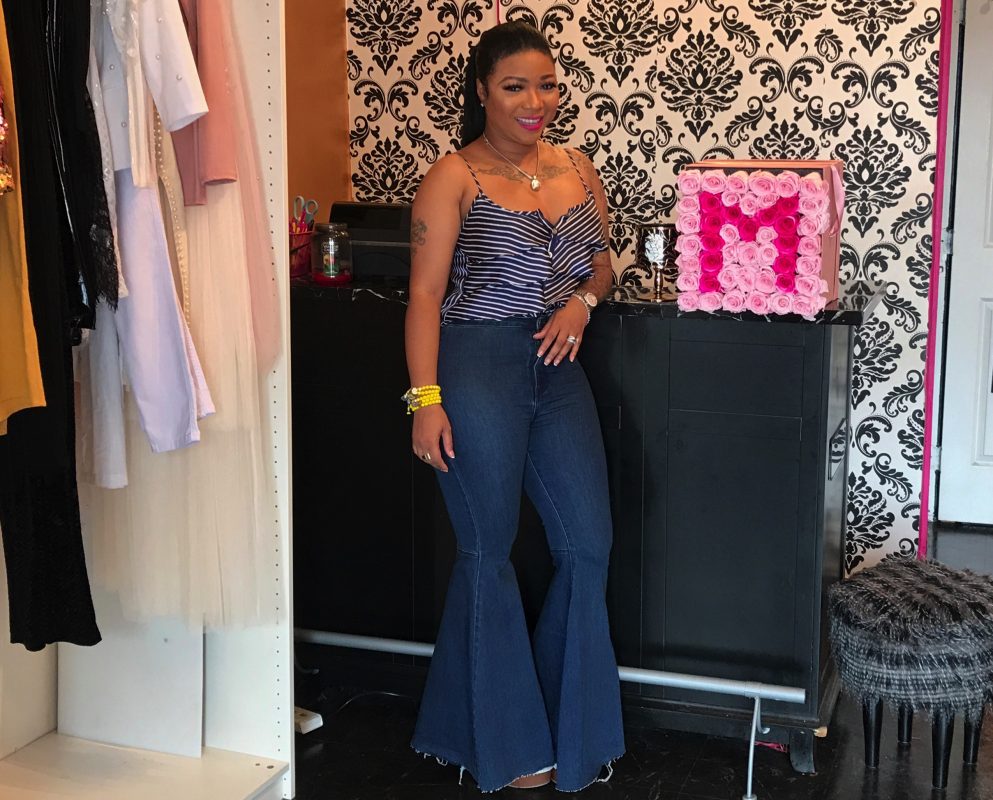 Paige Adams
It's Malacka in Charles Village is a one-stop-shop for fun, flirty, and bold fashion pieces that are sure to make a statement. Malacka Reed started her career as a makeup artist and has become motivational speaker, author, and style icon. We caught up with the Baltimore native in an exclusive interview to peak into her life as a boutique owner and a source of inspiration for her 200,000+ Instagram followers. Learn about her sense of style, her favorite trends, and how she inspires in-store and online customers.
How would you describe the style of your store?
My store is a boutique so it's not what I would call one-of-a-kind pieces, but very different pieces. I like to cater to women of all sizes and all ethnicities. Even women of the Muslim faith shop with us for our oversized dress collection, which is super dope. We're a boutique that's really into fun, effortless fashion.
What are your favorite fashion and makeup trends currently?
I love the oversized collection we carry and that women are feeling comfortable wearing oversized dresses, sundresses, and don't always need to have on something that's body-con to feel sexy. I also love that people are being a bit more free with their style of dress now. People are really dressing for themselves and not just following a trend.
We're kind of moving away from wearing eyeshadow. We're into the fresh dewy or matte face. I love that the eyebrows are coming down again, we're moving back into the natural brow.
What was your inspiration for opening up your own store?
I really needed to do it! I started as a makeup artist, then I came out with my own cosmetic line and I moved into the fashion industry. In the middle of all of that, I became an author and a motivational speaker. So it was important that I opened up my own space to be with my customers and make sure I inspire and uplift them from the inside out.
What do you love about having a store in Baltimore?
Baltimore has truly made me who am. I feel like if you can make it in Baltimore, you can make it anywhere. I love that we're raising the frequency here in our city, more positive women are opening businesses, and we're also giving back to our community.
What kinds of trends or styles can we find in your store?
A little bit of everything. You're gonna find bodysuits, rompers, sequins, feathers, pearls, ballroom skirts, high-waist pants, or even low-rise.
How has social media played a role in expanding your business?
I love my followers to the moon and back. Social media plays a big role because you get to put your clothes on and show how people can look in them! If it wasn't for social media, I could honestly say that my business would not be what it is.
Tell me about the makeup section of your store.
Skai Ryan cosmetics is the name of my makeup line and has been around for about 10 years now. Right now, we are re-launching our makeup because we kind of moved away from it when we opened the store. It was important to raise the fashion baby and let people take us seriously there.
How do you like to start your day before coming to the studio?
Well, I have a 10-year-old daughter, so I make sure she's ready then I go into a meditation. The most important thing is prayer and meditation. When I pray, I'm talking to God and when I meditate, I'm listening to God.
What is your go-to outfit and makeup look for everyday wear?
Leggings! For me, when I get to work, I have to put on the clothes and model them! I've found it crazy for me to get all dolled up, come into work, and then I've got to get undressed.
On another level, a cute off-the-shoulder blouse, oversized dress, or high-waist jeans and a bodysuit.
Our Top Picks: