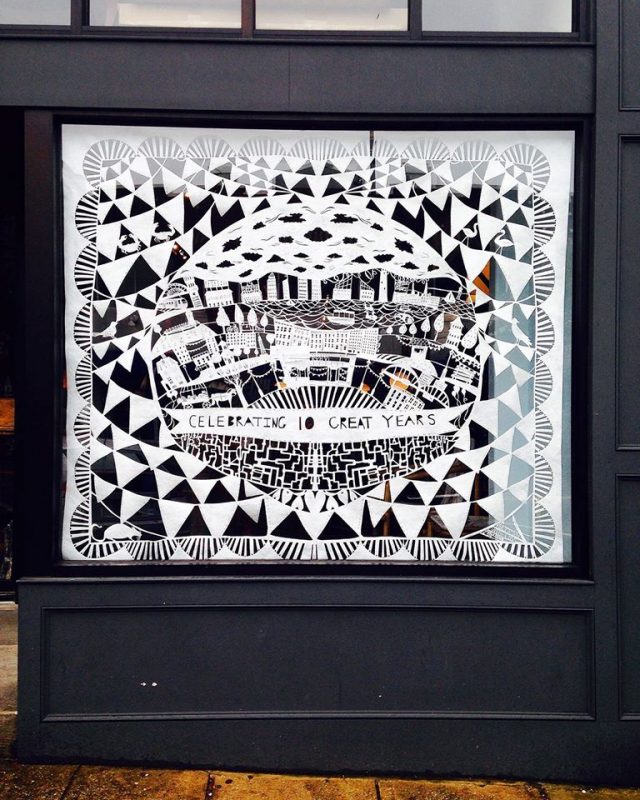 Courtesy of Trohv
When searching for a thoughtful, locally inspired gift, there is no doubt that Trohv has always been one of our first stops. From unique furniture and witty cards to modern home goods, books, and trinkets galore, there is truly is something for everyone at this Hampden haven. The store's spellbinding assortment of goods has the "shopping at Target" effect, as it is almost impossible to leave the store empty-handed.
Trohv opened 10 years ago with the intent to inspire by focusing on the work of local artists. Originally from a small town in Kentucky, owner Carmen Brock was determined to radiate that southern sensibility, as well as highlight Baltimore artists to all who walked through the door. Brock believes the direction of Trohv was immensely shaped by working closely with local artists over the past decade.
"Exposing and getting to know local artists has been a great inspiration for us," she says. "We want the community to know the great things artists are doing here in Baltimore. These artists have shaped and influenced the way that we choose products, the way we merchandise, and the way we exhibit their work."
One of the first artists at Trohv was Annie Howe. Known for her intricately detailed papercuts, Howe created an awe-inspiring window display. She gives much thanks to Trohv for being such a special place to showcase her work.
"Over the years I have connected with hundreds of clients that find my work through Trohv," Howe says. "It has been invaluable to have my work presented by such a wonderful and amazing shop."
Among the sea of featured artists at Trohv, B. Willow is one who values being a part of the community the store has created. Although opening a store of its own within the next few months, B. Willow was given the opportunity to try different approaches to plant design, sell new ideas, and see immediately how the public responds to them.
"Trohv has, in a sense, been a mini storefront for me—one that has undoubtedly shaped how I will approach my own store," says B. Willow owner Liz Vayda. "We will still have our plants for sale at Trohv, as I truly value being part of their shop and engaging with Carmen and all of the wonderful people who work there."
Over the years, Trohv has evolved into a destination that is constantly changing. It prides itself on finding new artistic talent to fill up its shelves.
"I don't know how to be a business in Baltimore and exist any other way," Brock says. "The relationships that we have created with our community
and our artists, our Hampden neighbors, and within our staff—those have been
the most rewarding relationships of my life. We are a family."
To celebrate 10 years of business, Trohv is hosting a party on Sunday, October 23, from 11 a.m.-3 p.m. Andrea Pippins will be signing her newest book Becoming Me, DJ Daniel Biltmore will be keeping things upbeat, and B. Doughnut will provide tasty snacks.