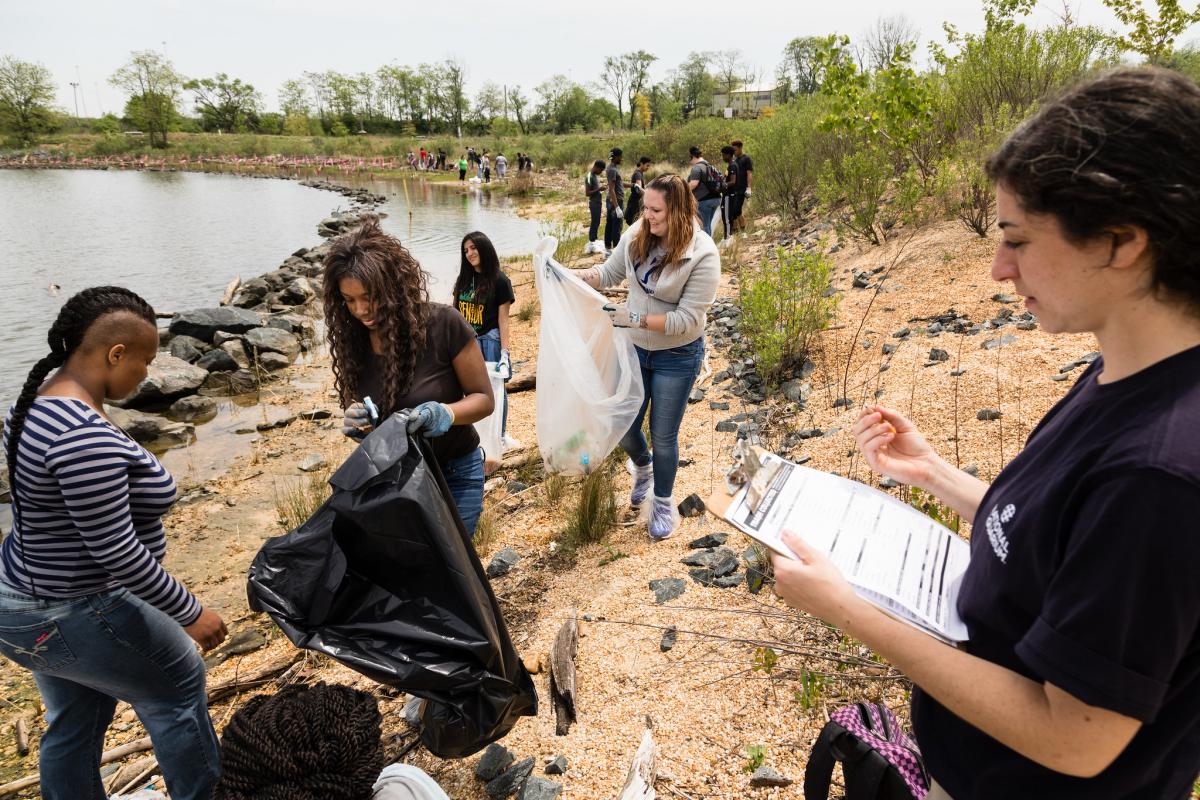 Volunteers work to clean up debris at Masonville Cove in South Baltimore. —Photo by Will Parson/Chesapeake Bay Program
Aside from our beloved blue crabs, the Inner Harbor is home to marine life like oysters, striped bass, and comb jellyfish. But Mr. Trash Wheel (and his family of sidekicks) aren't the only ones working to improve water quality for these species. In an effort to help community members take an active role in preserving the Patapsco, local environmental organizations have gotten to work planning outreach activities throughout the fall.
This weekend, for example, The National Aquarium's Conservation team is leading a community cleanup at Cox's Point Park in Essex on Saturday, Oct. 2nd from 10 a.m. to 1 p.m. The event is a partnership with Ocean Conservancy's International Coastal Cleanup program, which gathers volunteers to remove trash from shorelines all over the world to examine pollutants and inspire accountability for local waterways. 
"When we do work with the public, we want to engage them, and the best way to do that is to have them see the issue first-hand," says Charmaine Dahlenburg, Director of Field Conservation at the National Aquarium.
As the Maryland representative of the International Coastal Cleanup program, the aquarium seeks to inspire residents and restore the beauty of shorelines, while also educating the public on the impact of pollutants such as styrofoam and plastics. 
That mission is catching on. The aquarium recently participated in the global City Nature Challenge, a virtual and independent way for locals to identify species in their respective cities. After this year's competition in April, the aquarium reported more than 13,000 observations from the Baltimore area. 
"With other organizations that we work with, we're all collectively working towards finding solutions and education," Dahlenburg says. "The weight of the world doesn't fall on every individual, it's definitely a group effort." 
In that spirit, conservation professionals and community teams all over Baltimore are supporting the effort to uphold water quality standards, preserve biodiversity, and remove marine debris.
"Trash and its sources in Baltimore are a really complicated issue—there isn't one primary cause," says Leanna Powell, Blue Water Baltimore's Director of Development. "I will say a lot of the trash that we see that ends up in parks is a result of dumping. The city lacks accessible and affordable bulk waste disposal action."
Through its Deep Blue, One Water Partnership, Community Forestry, and several other water quality initiatives, Blue Water Baltimore has provided more than 10 years of watershed research to strengthen the environment and local economy. According to the organization's research, the plastics and other waste that have found their way into Baltimore's waters throughout the years may be linked to individual behaviors and an overflow of trash, which, in turn, impede clean waterways for surrounding communities.
"At Blue Water we often say, our streets are our streams," Powell says, "because anything that ends up in the streets can be washed into the storm drain by heavy rain." 
Suffice it to say, there's plenty of work to do. Community engagement events are taking place this fall at multiple parks, waterfronts, and coves across Baltimore. Whether you're a city native, or prefer the similar charm of Baltimore County's surrounding areas, these volunteer opportunities offer ways to make a significant difference in the community this fall. 
10/2: Miller Run Stream Clean Up
The Patapsco Heritage Greenway is seeking volunteers to eliminate trash and debris that flow directly into the Patapsco River. All you need is water, waterproof footwear, recommended bug spray, and to register online. 6601 Baltimore National Pike, Catonsville. 9 a.m.-12 p.m.  
10/2: SoBoGreen TreeUp
Join several South Baltimore community groups for a neighborhood tree planting event and cleanup to brighten and freshen up the South Baltimore Peninsula. 300 E Gittings St. 9 a.m.-12 p.m. [email protected] 
10/10: Hands On HIIT Cleanup Crew
At Canton Waterfront Park, residents can socialize and get active outdoors while collecting litter scattered around the community gathering space. Volunteers will warm up with live DJ tunes, partake in a 30-minute HIIT workout, and enjoy refreshments and product samples from local businesses before heading to happy hour at Raw & Refined. 3001 Boston St. 11 a.m. 
10/16: Masonville Cove Cleanup
The National Aquarium is hosting this community cleanup to reduce sources of land-based marine pollution. From 9-11 a.m., volunteers will witness environmental conservation first-hand at Masonville Cove in South Baltimore. Events and cleanups will continue into November. 
More ways to get involved: 
Join Blue Water Baltimore, which is passionate about eliminating plastic pollution and toxins in Baltimore's ecosystems, October 13 from 12:00-3:00 p.m. and 16th from 9:00 a.m. to 12:00 p.m. for community tree-plantings and more. 
Sign up for Gunpowder Valley Conservancy's Adopt a Stream Program to volunteer for a year of stream preservation beginning on Oct. 30th from 10 a.m. to 1p.m. The Baltimore County Game and Fish Protective Association is located at 3400 Northwind Road in Parkville.
Become an advocate for environmental restoration with the Waterfront Partnership of Baltimore's Green Stoop Challenge & Healthy Harbor program. Volunteers can find meaningful service opportunities and learn how to better protect the beauty of Baltimore's harbor.