Travel & Outdoors
Trail Mix
An all-points guide to autumn road trips.
By Marty Legrand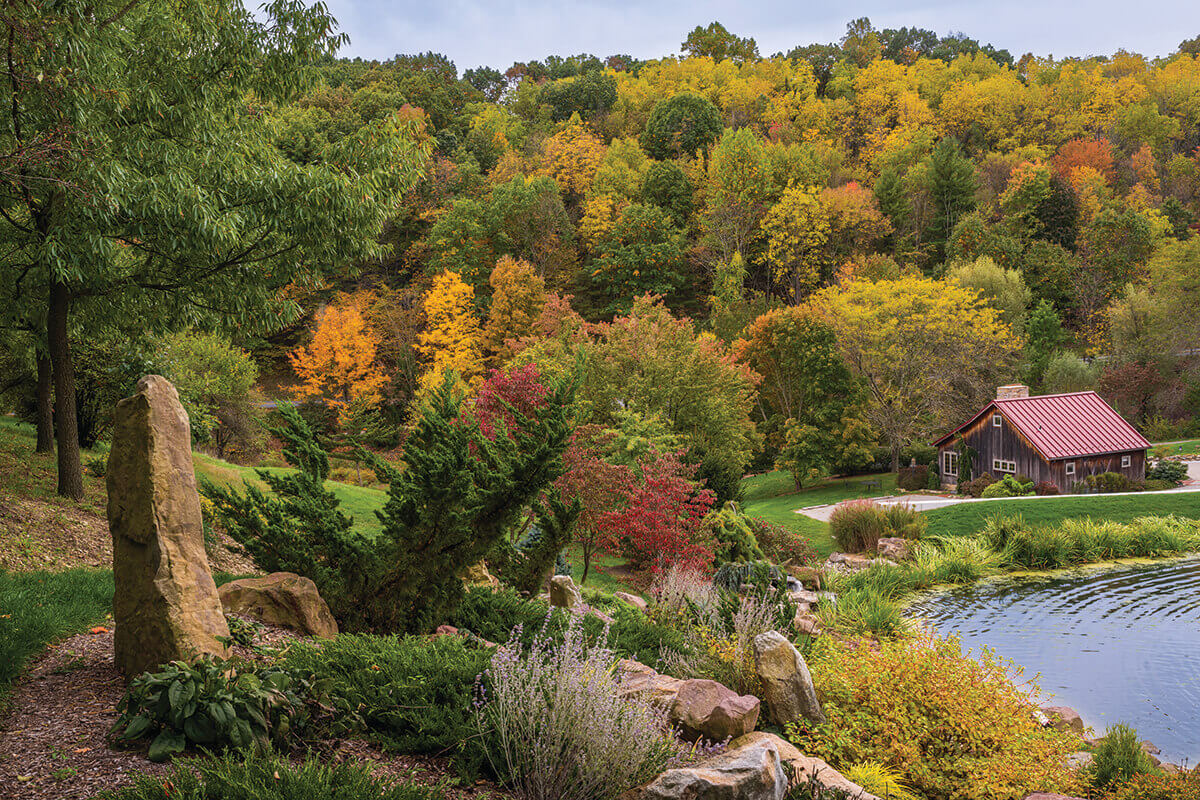 Opening Spread: The Glasberg Inn in Fogelsville. COURTESY OF WALSH FAMILY WINE
September 2023

n search of inspiration for my family's October road trip tradition, I found myself on the Pennsylvania Tourism Office's website, where I quickly stumbled upon "Chopped: A Charcuterie Trail," just one of many themed suggestions for visitors to the Keystone State. "Look no further for a three-day, non-stop, meat-inspired thrill ride," the promo gushed. And honestly, who could resist?
I printed the itinerary and planned a swing through Pennsylvania Dutch Country that would take us to Old World-y meat markets, quirky roadside stands, delicatessens selling local goodies like shoofly pie, soft pretzels, and scrapple, and last but not least, to Lancaster's iconic Central Market, the Grand Central Station of Amish sweet-and-savoriness.
Trails like this are trendy for tourists these days. In the beginning, there were wine trails, aka vineyard hops for oenophiles. Now, the options are boundless: barbecue, beer, ice cream, and oysters for foodies; outdoorsy itineraries for hikers, bikers, and paddlers; and routes for more esoteric tastes, from the agrarian art form of barn quilts to roots music and waterfalls.
With this in mind, we've assembled our own list of themed destinations throughout the Mid-Atlantic, all of which are ideal for sampling the sights, sounds, tastes, and invigoration of fall.
---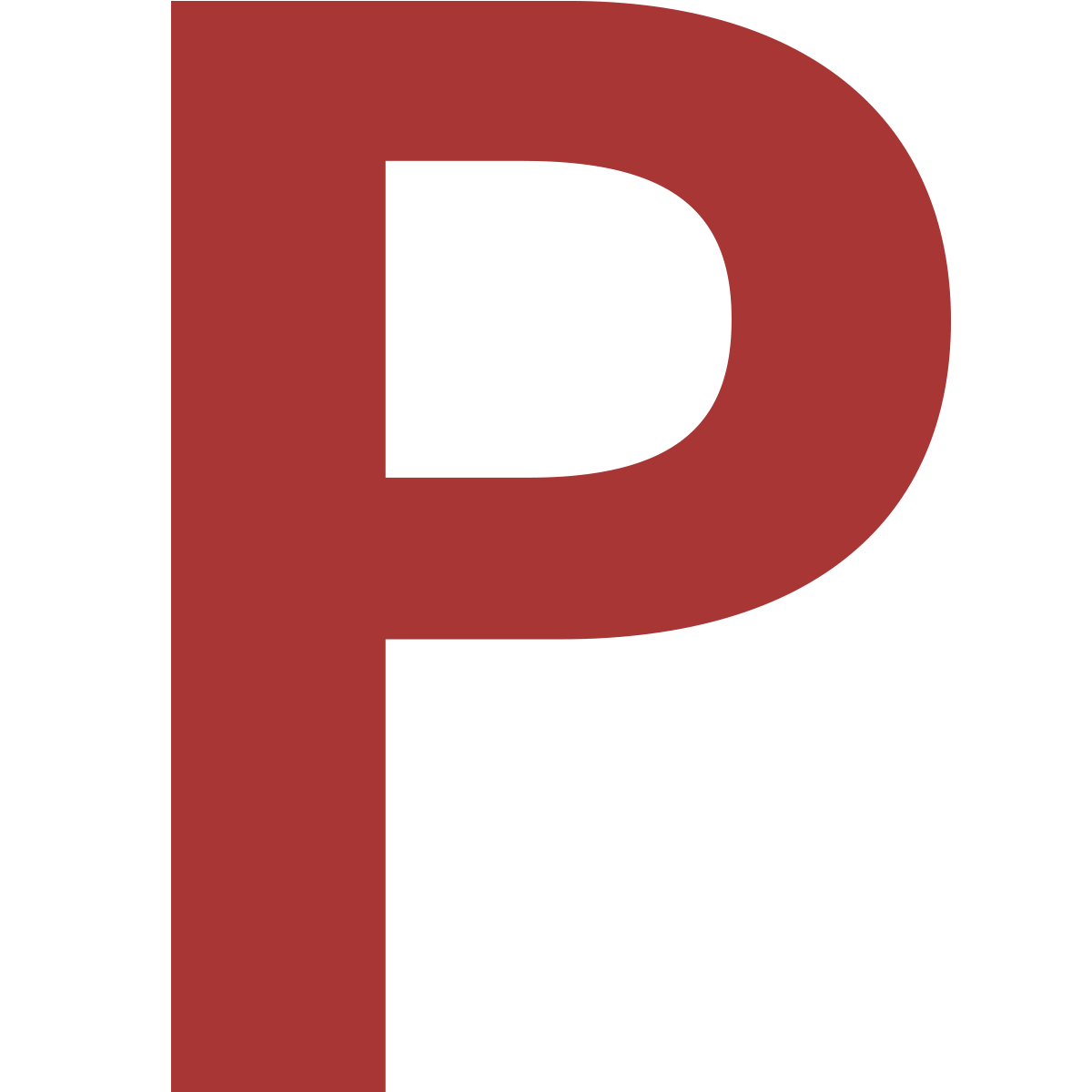 roduce stands dot Southeastern Pennsylvania country roads, where horse-drawn buggies and their, um, emissions indicate that you're in Amish country. In town, centuries-old farmers markets offer a collective sensory feast. The oldest is Lancaster's three-days-a-week Central Market, going strong since 1730. Among other foods and crafts, vendors purvey meats cured in the best German-influenced Pennsylvania traditions, among them S. Clyde Weaver, family-operated since 1920. At Long's horseradish stand, you can watch them grind the humble root into eye-watering pungency.
Should you miss market days, get your bologna fix at Stoltzfus Meats, a popular market and cafe in the town of Intercourse, 10 miles east of Lancaster. Its aisles of gleaming cases are amply stocked with meats, cheeses, baked goods, snacks, and spices. Nearby, the farming community of Ronks offers a glimpse of the "Plain" lifestyle via farm tours, petting zoos, quilt shops, and—if your timing is right—a taste of homemade root beer. We arrived too late to sample the "minty, spicy, and not-too-sweet" brew at Olde Heritage. A hand-lettered road sign promised Cold Home Made Root Beer, but all we saw at the end of the farm lane was what appeared to be a late-afternoon convocation of buggy owners. (The place is closed Sundays and "all Christian holidays.")
But Dutch Country isn't solely the province of smoked ham and sweet bologna. Here, chocolate lovers will find two capitals of cocoa: Hershey and Lititz, about a 40- and 20-minute drive from Lancaster, respectively. The latter is home to Wilbur Chocolate Company and its beloved Wilbur Buds, wrapped chocolate morsels that greatly resemble (but actually predate) their confectionary cousins, Hershey's Kisses. When we were last in Lititz, this century-old factory was still in working, Willy-Wonkaesque order, but it's closed now, replaced by a refurbished version housing an upscale Hilton hotel, condos, and retail space. Fear not, Wilbur devotees: Buds and other products are available at the company store across the street.
If you want the multi-sensory Wonka treatment, visit Hershey's Chocolate World, the legendary candymaker's full immersion family attraction celebrating its 50th anniversary this year. To mark the occasion, Hershey has added another highlight to its already popular transit ride through the chocolate- making process and its create-a-candy-bar experience. The Great Candy Expedition, a train-themed cinematic adventure, lets visitors explore Reese's Ridge, Jolly Rancher Junction, and other candy lands of their choosing.
Another intriguing trail cuts through Pennsylvania Dutch Country. "Pickled: A Fermented Trail"celebrates local brews, wines, kombucha, kimchi, and, yes, pickles. We sampled the spicy Korean side dish at Kimchee Girl, a local vendor at the Fresh Market in Hershey Towne Square, a modern farmers market housed in what was once a meat-processing facility. Their three tongue-tingling concoctions—Napa cabbage, cucumber, Korean radish—derive from family recipes.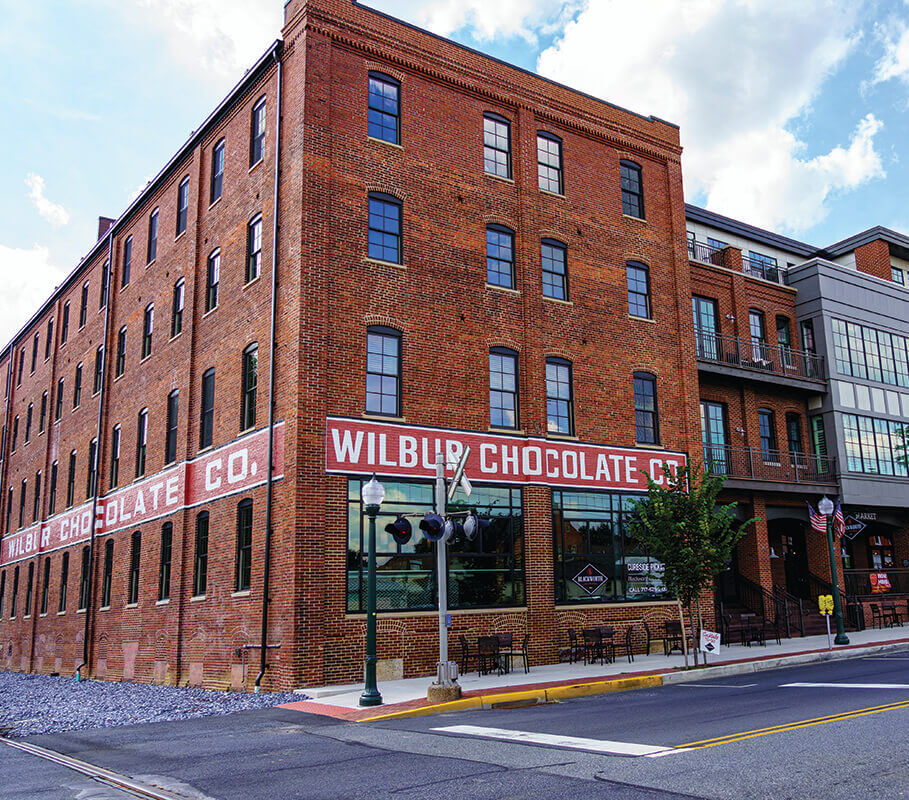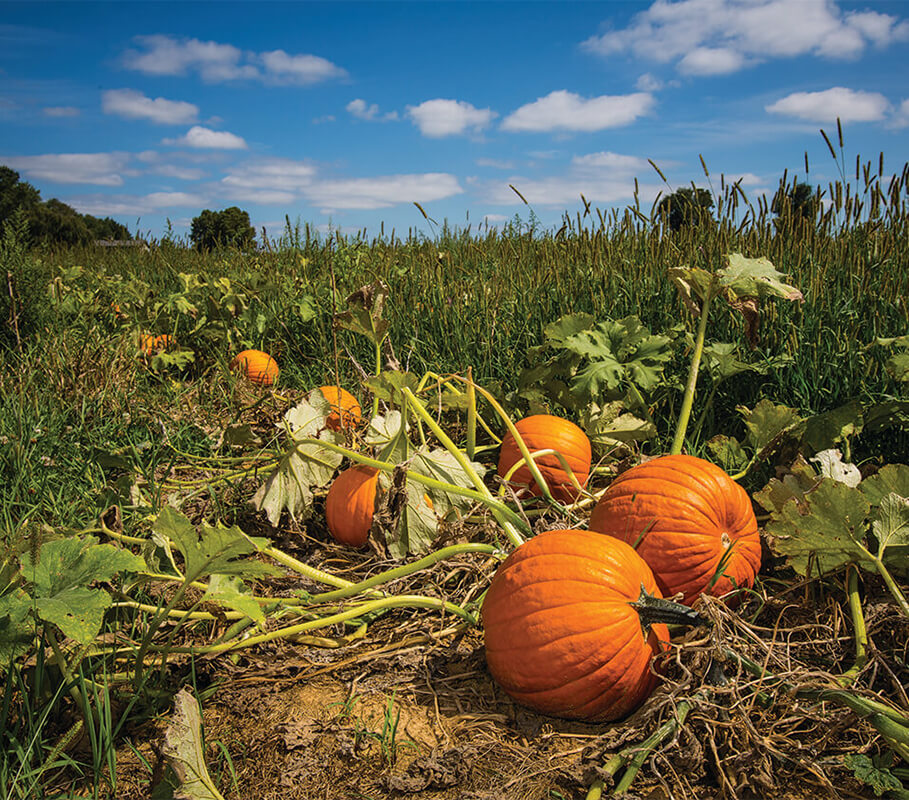 Clockwise: The Glasberg Inn in Fogelsville —COURTESY OF GLASBERG INN. A pumpkin patch in Ronks; the Lancaster Central Market; the Wilbur Chocolate Co.
BEST BETS:
LANCASTER COUNTY FARM MARKETS
ENORMITY: Green Dragon Farmers Market, Ephrata Over 400 vendors, 30-plus acres of free parking, three auctions.
COMBO FARMERS/FLEA MARKET: Root's, Manheim Country market and flea market on opposite sides of the street. A Tuesday tradition.
PICK-YOUR-OWN: Cherry Hill Orchards, Lancaster PYO apples (September and October) and pumpkins (October), with hayrides to the pumpkin patch on Saturdays in October.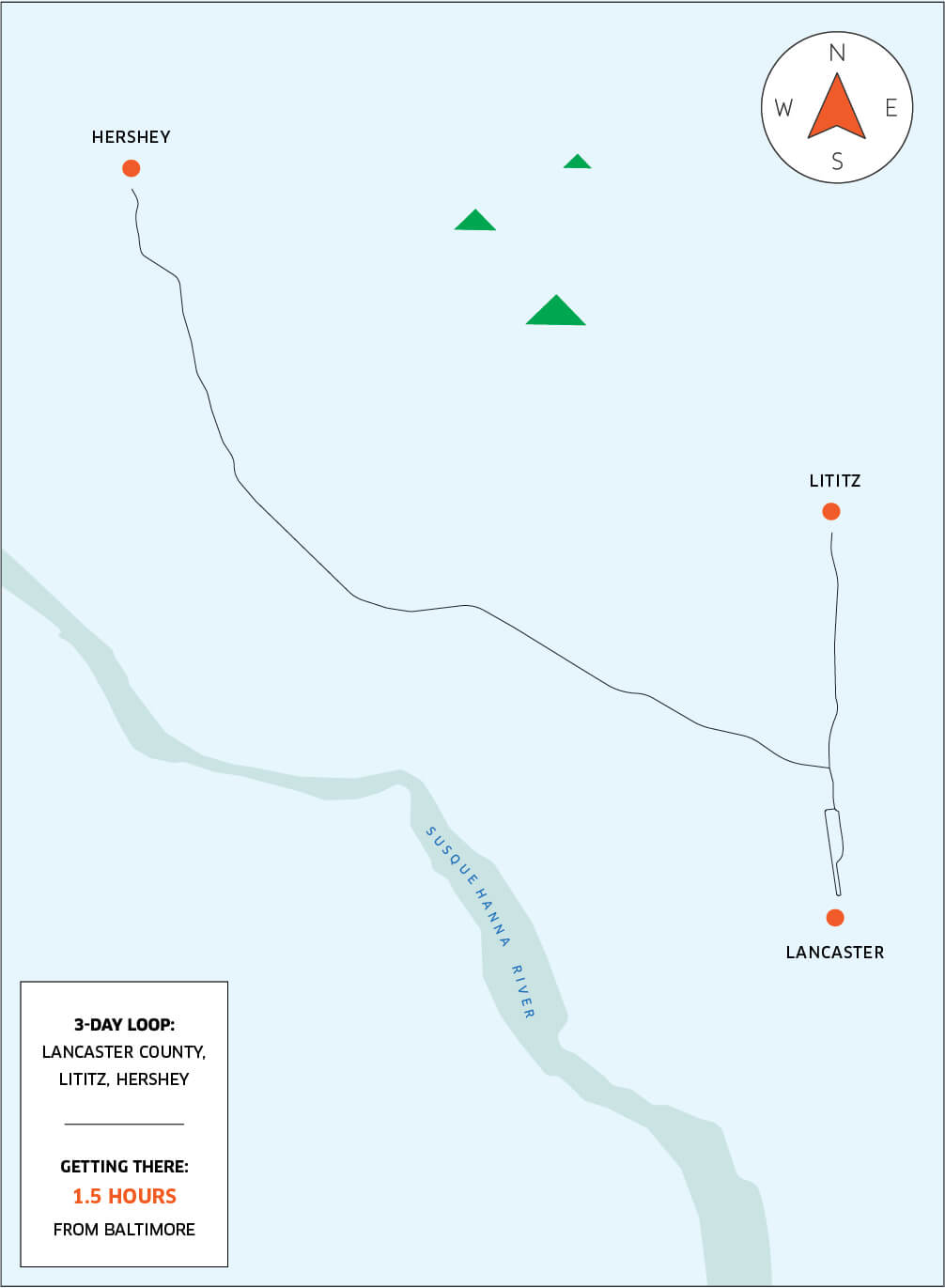 Stay
---
Chocoholics can indulge themselves at The Wilbur Lititz in its charming downtown namesake. One of Hilton's Tapestry Collection hotels, this repurposed chocolate-making plant reflects its history with exposed original brick walls and a cozy, factorychic ambiance for dining and lounging. West of Allentown, Glasbern Inn also offers a country getaway on a former working farm in Fogelsville. Carrying the Historic Hotels of America designation, the property boasts rustically luxurious rooms and cottages, numerous trails to meander, and farm-to-table fine dining.
---


rom Annapolis to Southern Maryland, the Chesapeake Bay's western shoreline closely guards its secrets. The state's first (St. Mary's City) and current (Annapolis) capitals yield new archaeological discoveries every year, it seems. And between these two small cities, the spectacular, ever-eroding Calvert Cliffs reveal fossilized evidence of creatures that lived here upward of 20 million years ago: sharks, whales, crocodiles, even seabirds the size of Cessnas.
All that to say, Williamsburg, Shmilliamsburg—and if you're into architecture, two of the nation's most ornate colonial homes can be found in Annapolis. Preservationists helped save the William Paca House and the James Brice House, both grand Georgian manors and National Historic Landmarks. The former is open for guided glimpses into lifestyles of the 18th-century sociopolitical elite. Currently getting a facelift, the latter yields surprising finds, including caches of African-American spiritual artifacts hidden beneath one wing's floor. View these and other archaeological treasures at the Museum of Historic Annapolis. The crown jewel of artifacts is a piece of type, the "death's head" stamp, used by an Annapolis printer to defy Britain's 1765 Stamp Act. While you're in town, get your ration of grog at Pusser's Caribbean Grille along the waterfront. The landmark dock bar takes its name from the Royal Navy's traditional rum, used in the Grille's signature concoction, the Painkiller.
If you dig archaeology, about an hour south, the Jefferson Patterson Park and Museum in St. Leonard is your kind of unstuffy museum: over 500 strollable, riverfront acres filled with scores of archaeological sites interpreting 9,000 years of local history in Calvert County. After a stop at the informative Visitor Center, take the Layers of Time Trail past a recreated Woodland Indian village, a tobacco plantation site, and the scenic Patuxent River. The onsite Maryland Archaeological Conservation Laboratory hosts tours on Thursdays.
Just down the road, the Calvert Marine Museum in Solomons is best known for its historic wooden workboats and handsomely restored Drum Point Lighthouse. Lesser known is the museum's paleontology gallery, which boasts an impressive collection of Miocene fossils unearthed at the nearby Calvert Cliffs. The star of the show is a 35-foot skeletal rendering of a megalodon, aka an extinct (thankfully) giant white shark with gaping, jagged-toothed jaws—it appears to be auditioning for Jurassic Park. The museum also hosts fossil-hunting field trips and First Fossil Fridays where paleontologists identify amateur fossil hunters' finds.
Conclude your Southern Maryland trek at the tip of the peninsula in Historic St. Mary's City, where Europeans first landed at St. Clements Island in 1634 and established Maryland's first capital. Today, a reconstructed chapel, state house, town center, working farm, and replica wooden tall ship, the Maryland Dove, demonstrate how the colonists lived and worshipped. Theirs is not the only story this living history museum tells; exhibits and demonstrations honor the area's Native Americans and enslaved Africans brought here to labor on plantations.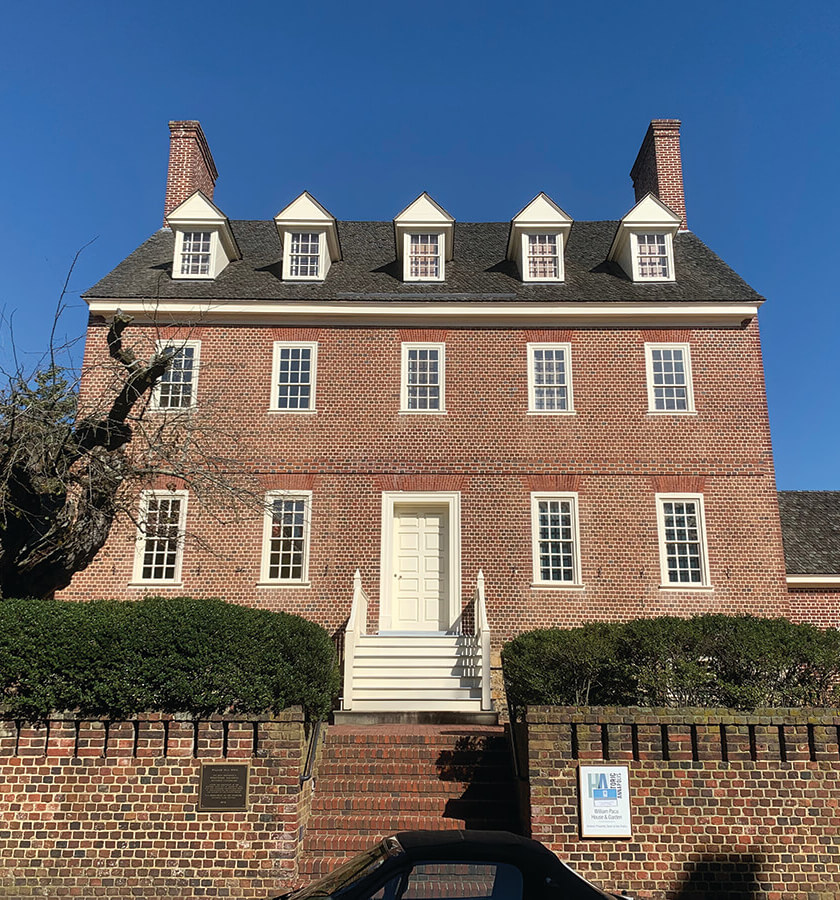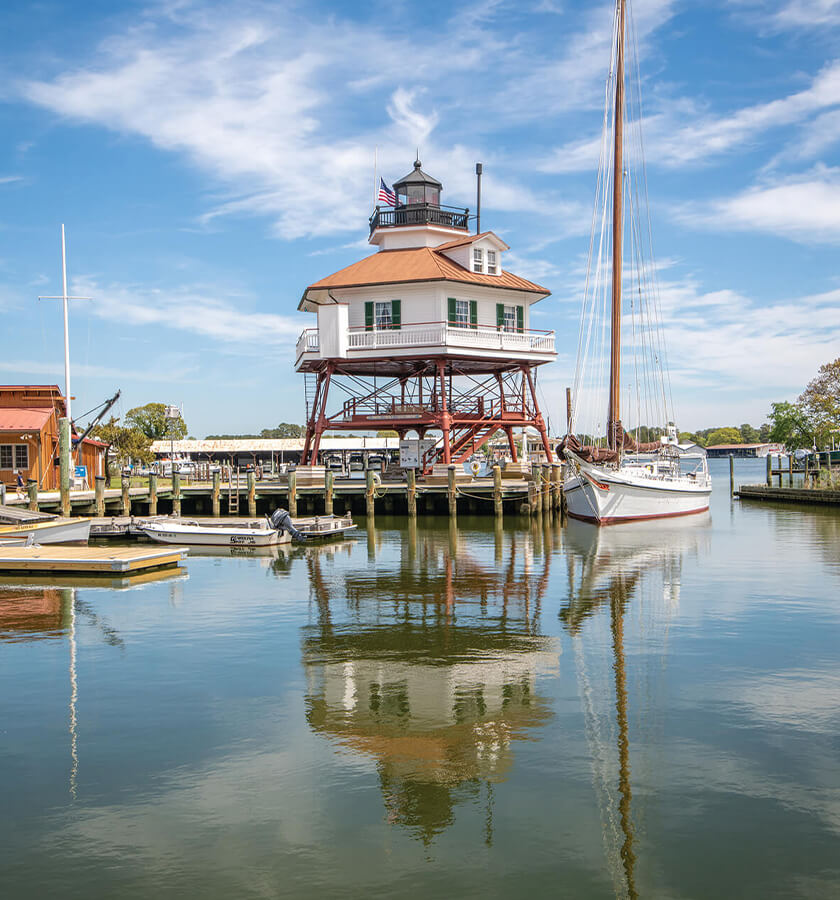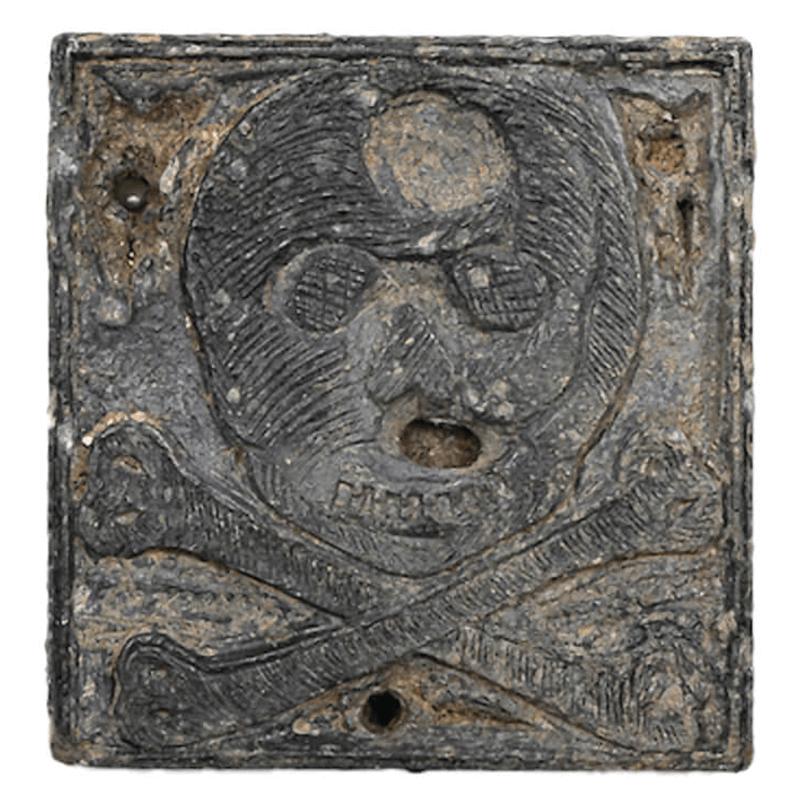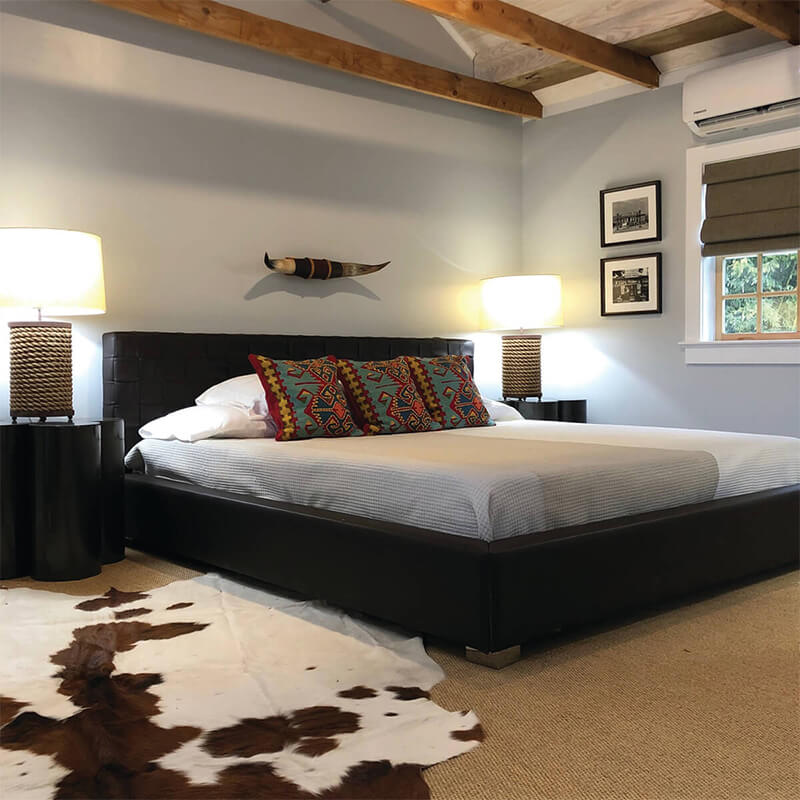 Clockwise: The William Paca House; The Calvert Marine Museum in Solomons —COURTESY OF THE CALVERT MARINE MUSEUM; the Quarters at Pier450 in Ridge —COURTESY OF THE QUARTERS AT PIER 450; The Museum of Historic Annapolis' historic stamp —COURTESY OF HISTORIC ANNAPOLIS.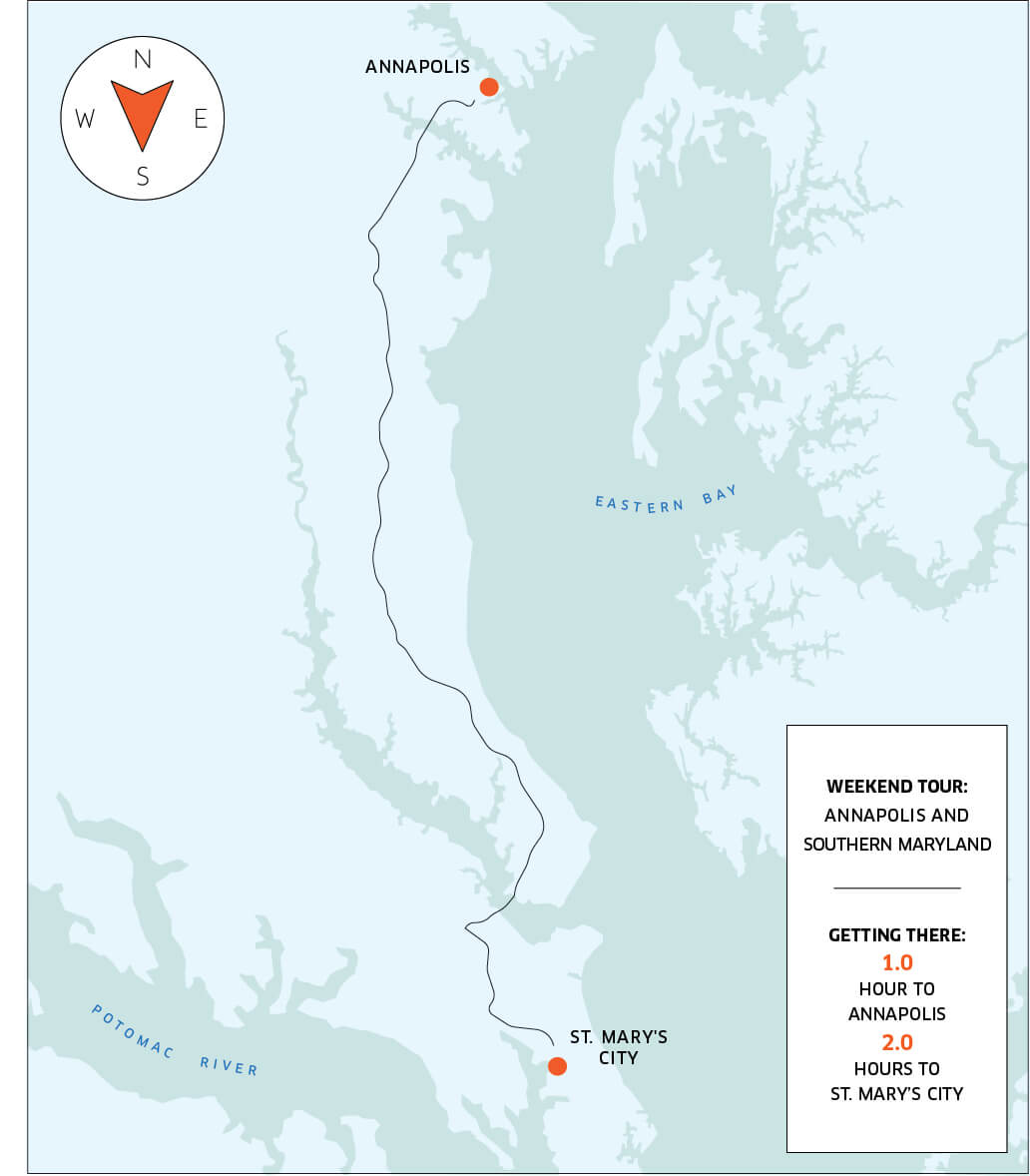 Stay
---
Up north, Historic Inns of Annapolis operates three storied inns, including the stately Governor Calvert House. Book a king room and you'll be slumbering in the original Calvert family room. But don't miss the inn's archaeological oddity: a hypocaust, or sub-floor heating system first popularized in Ancient Rome. On the southern end, The Quarters at Pier450 in Ridge draws loyal guests who love its sublime sunsets, city-caliber dining, and charming, retro aesthetic. This former fishing camp's renovated rooms now pay exuberant tribute to everything from Texas longhorns to pioneering 20thcentury interior decorator Dorothy Draper.
---


ravelers who belong to the flat-earth society—in other words, cyclists—can't go wrong bringing bikes to explore the billiards-table-level land known as the Delmarva Peninsula. Miles and miles of broad-bermed highways lined with farm fields, forests, and fascinating local history stretch from the eastern shore of the Chesapeake Bay to the sandy beaches of the Atlantic Ocean.
Let Route 50 traffic zoom by as you take Kent Island's 6.5- mile Cross Island Trail for a leisurely, two-wheeled look at the Chesapeake's largest island. This nature-park-to-nature-park northern route passes through forests and over wooden bridges that span marshes and creeks alive with herons and waterfowl. Meanwhile, the seven-mile South Island Trail parallels smaller, quieter Route 8 through woods and open areas, ending at Romancoke Fishing Pier.
Whether your tastes are protein- or plant-based, find postcycling sustenance at a local favorite, Frix's Fire Grill, tucked into a Route 50 strip mall in Chester. Its Brazilian-influenced menu includes meats (try the lamb chops) grilled over "lava rocks" as well as flatbreads, salads, and small plates.
A cyclists' dream, Talbot County offers numerous scenic trails, including a perennial favorite of regional and even national renown, the St. Michaels-Oxford-Easton Loop. Beginning in the tidewater town of St. Michaels, with its maritime museum, gift shops, and restaurants, the nearly 30-mile backroads trail encircles the Tred Avon River, linking a necklace of charming hamlets. To reach Oxford, a village of boatyards and boundless history, you'll cross the river at Bellevue via the local ferry service that's been running since Charles Calvert was governor (340 years ago).
For maximum waterfront scenery, tackle the Chesapeake Views Trail, a 28-mile peninsular route that affords some of cycling's best open-water vistas of the estuary. Beginning in tiny Claiborne, the site of an old ferry landing and just down the road from St. Michaels, you'll tool south through agricultural and fishing villages to the southern tip of Tilghman Island, catching glimpses of Sharps Island Lighthouse and even, on a clear day, the Chesapeake's western shore.
On the Delmarva's eastern side, the Delaware seashore beckons with rail trails and other sea-breezy routes. The six-mile Junction and Breakwater Trail links the towns of Lewes and Rehoboth Beach, providing a nature lover's escape from busy boardwalks and the congested Coastal Highway. The trail hugs the western edge of Cape Henlopen State Park, winding past pine forests, farm fields, and coastal salt marshes, and crossing an 80-foot-long historic wooden bridge. President Biden and the first lady enjoy biking the park's similarly scenic 5.2-mile Gordons Pond Trail when they visit their Rehoboth home. (POTUS also took a famous tumble while cycling here in 2022; we're glad he was okay.)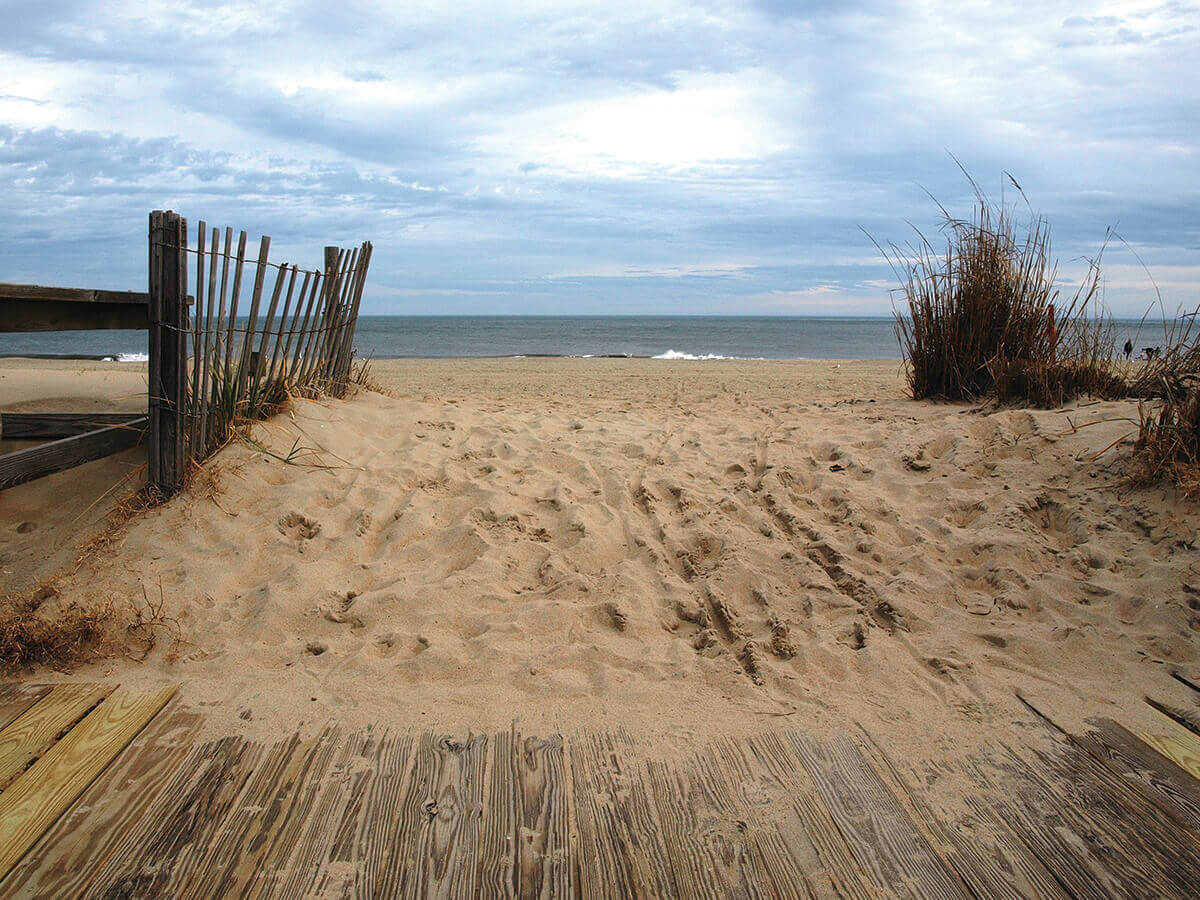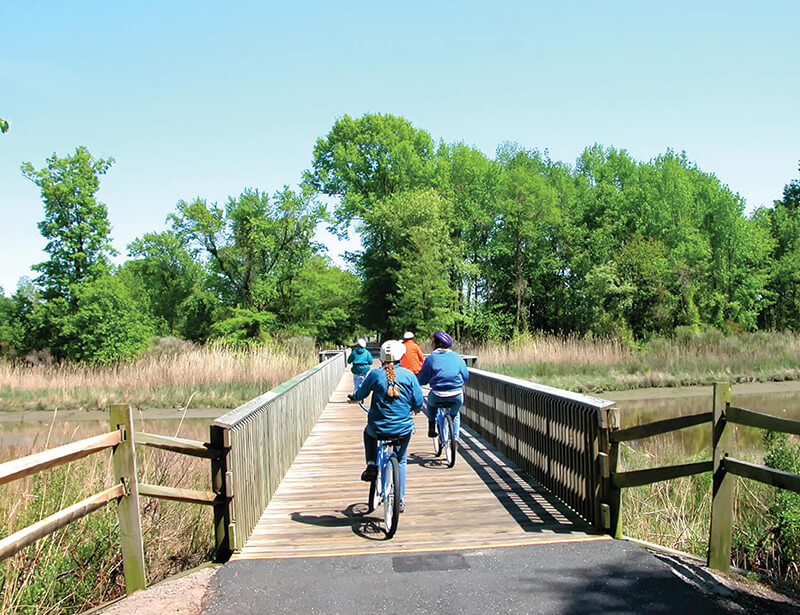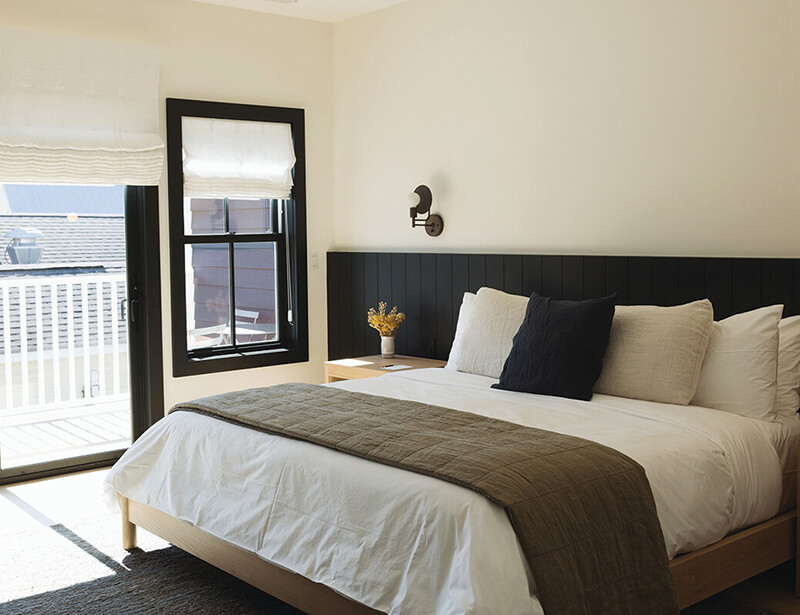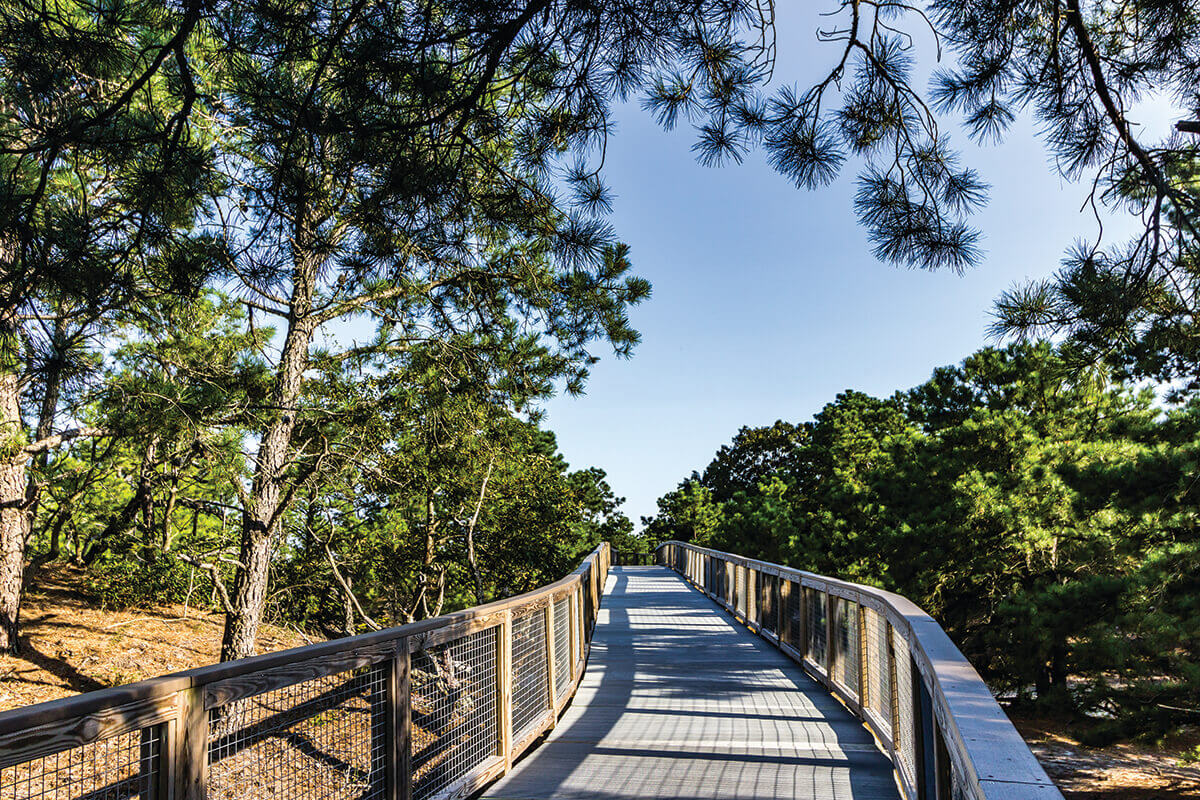 Clockwise: Rehoboth Beach overlooking the Atlantic Ocean; The Wildset Hotel in St. Michaels —COURTESY OF THE WILDSET HOTEL; Cape Henlopen State Park near Lewes, Delaware; the Cross Island Trail in Kent Island.
BEST BETS:
SHORE CYCLING
BIKING & BIRDING: School Days Trail, Easton
A 28-mile Talbot trail that passes the 450-acre Pickering Creek Audubon sanctuary for a perfect picnic stop.
BIKING & BEERING: Beer Sherpa E-Bike Adventures, Lewes, DE
A cooler-toting "beer sherpa" guides Dogfish Inn's electric bike tours to Dogfish Brewing and other area pubs.
BIKING THE BOARDWALK: Rehoboth Beach, DE
When summer ends, the resort lifts its morning-only cycling curfew on the mile-long boardwalk.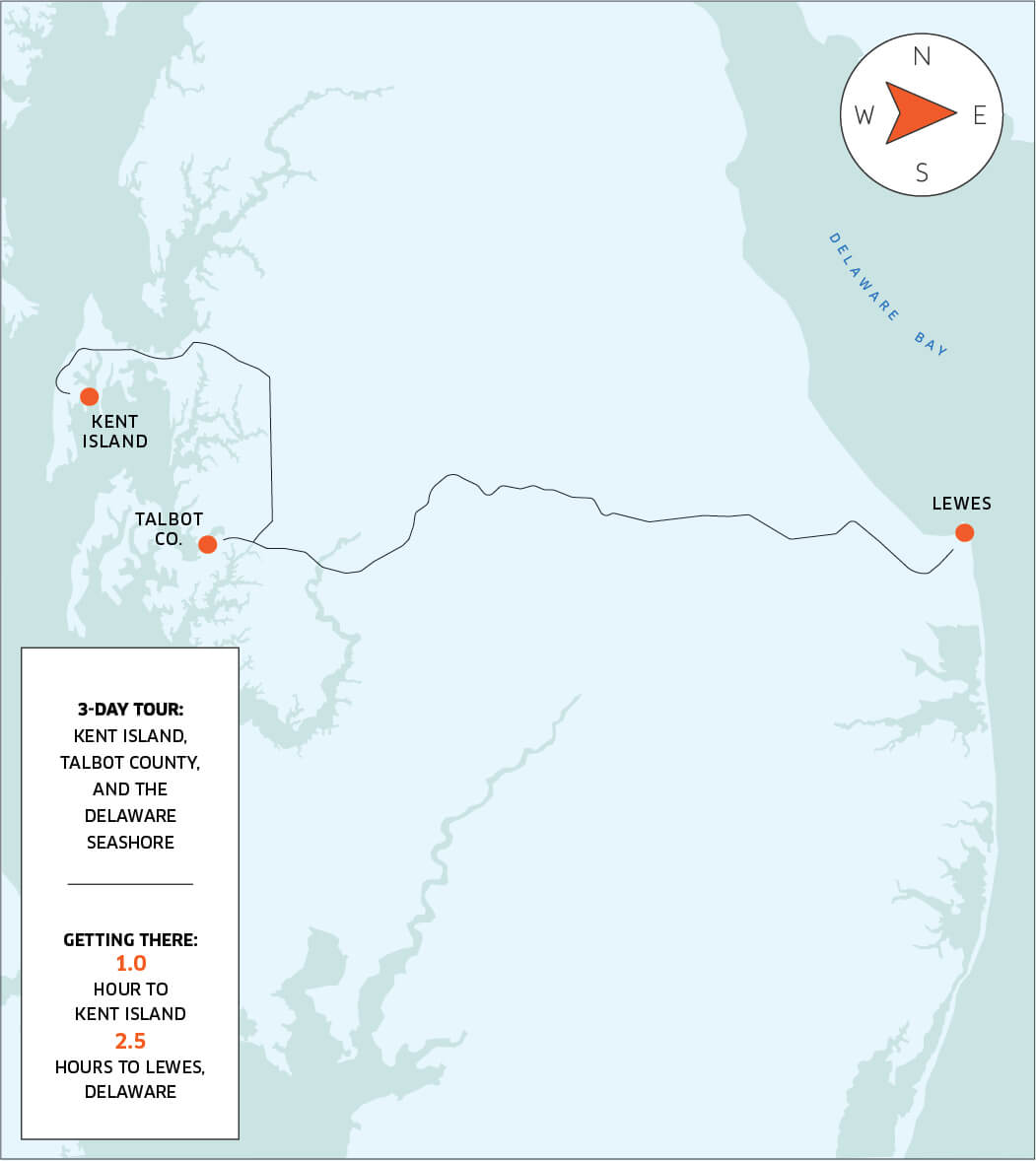 Stay
---
The Wildset Hotel in downtown St. Michaels offers the kind of amenities cyclists crave at day's end: comfy beds, soaking tubs, a nice meal, and fire pits for group or family gatherings. Three historic buildings updated with modern comforts house 34 rooms. Reflecting its stylish vibe, the Wildset's restaurant and oyster bar, Ruse, highlights fresh seafood. Across the Maryland line, you can book lodging with Southern Delaware Tourism's "Bike & Stay Package" to receive dining, drinking, and other discounts, plus an interactive trail map. Cyclists must stay at a participating hotel, such as the delightfully retro Dogfish Inn on the canal in Lewes.
---


he Shenandoah Valley and its northern gateway were much contested during the Civil War. Union and Confederate forces struggled for supremacy in border towns such as Harpers Ferry, Front Royal, and Leesburg, which changed hands with dizzying frequency. A century and a half later, this fertile valley, stretching from Maryland into West Virginia and Virginia, affords peace and plenty for all—especially if you love wine.
Frederick County's wine trail touts 14 "vintage destinations" for wineries and cideries. Nestled in farm country, multiple-medal- winning Elk Run Vineyards of Mt. Airy has been making vino for four decades. Sample its Liberty Tavern Cabernet Sauvignon, a White House favorite in the Netflix series House of Cards. While you're in town, Black Ankle Vineyards is another worthy stop, with all the grapes it uses grown on their own farms.
South of the city of Frederick, Monocacy National Battlefield preserves about 1,500 acres near the Monocacy River, where Union forces crucially slowed the advance of General Jubal Early's Confederate troops bound for the nation's capital. Although a Southern victory, history remembers the 1864 conflict as "The Battle That Saved Washington." Nearby, the Monocacy Crossing restaurant has an extensive wine list and also discounts bottles on Thursday nights and Sundays.
Just down the road, wedged between cliffs and two rivers (the Shenandoah and Potomac), Harpers Ferry isn't vineyard territory, but it was the toast of both sides during the Civil War, thanks to its strategic location. Today, most of this West Virginia town operates as a National Historical Park, drawing visitors to John Brown's Fort, the U.S. Arsenal Ruins, and other history-altering locales. The Black Heritage Walking Tour highlights its little-known but pioneering role in the Civil Rights movement.
Farther south into Virginia, Winchesteralso vied for the Civil War's most-contested title, at least partially changing hands more than 70 times, and Stonewall Jackson's headquarters survives as a museum in the city. One of the South's great triumphs occurred 20 miles south in Front Royal, where a driving tour retraces the Battle of Front Royal, including the site where teenage Confederate spy Belle Boyd informed General Jackson of Union troop movements.
Head northeast to Loudoun County and Leesburg, the county seat. Sitting just south of the Potomac River (the war's North- South border), the town claims that it was the most fought-over, changing hands over 150 times. Its military legacy is the Battle of Ball's Bluff, an embarrassing defeat for Union troops on a reconnaissance- mission-gone-wrong. Ball's Bluff Battlefield Regional Park preserves the site along with a small national cemetery.
About 200 square miles of Loudoun and neighboring Fauquier counties are designated the Middleburg American Viticultural Area, home to dozens of vineyards in a state boasting hundreds. The area's hilly terrain produces wonderful wines at hilltop vineyards with breathtaking views. The Wine Kitchen in Leesburg features select local vintages among dozens on a list helpfully subdivided into playful categories like "Pinot Envy." Enjoy them with a house-made pasta or catch-of-the-day seafood.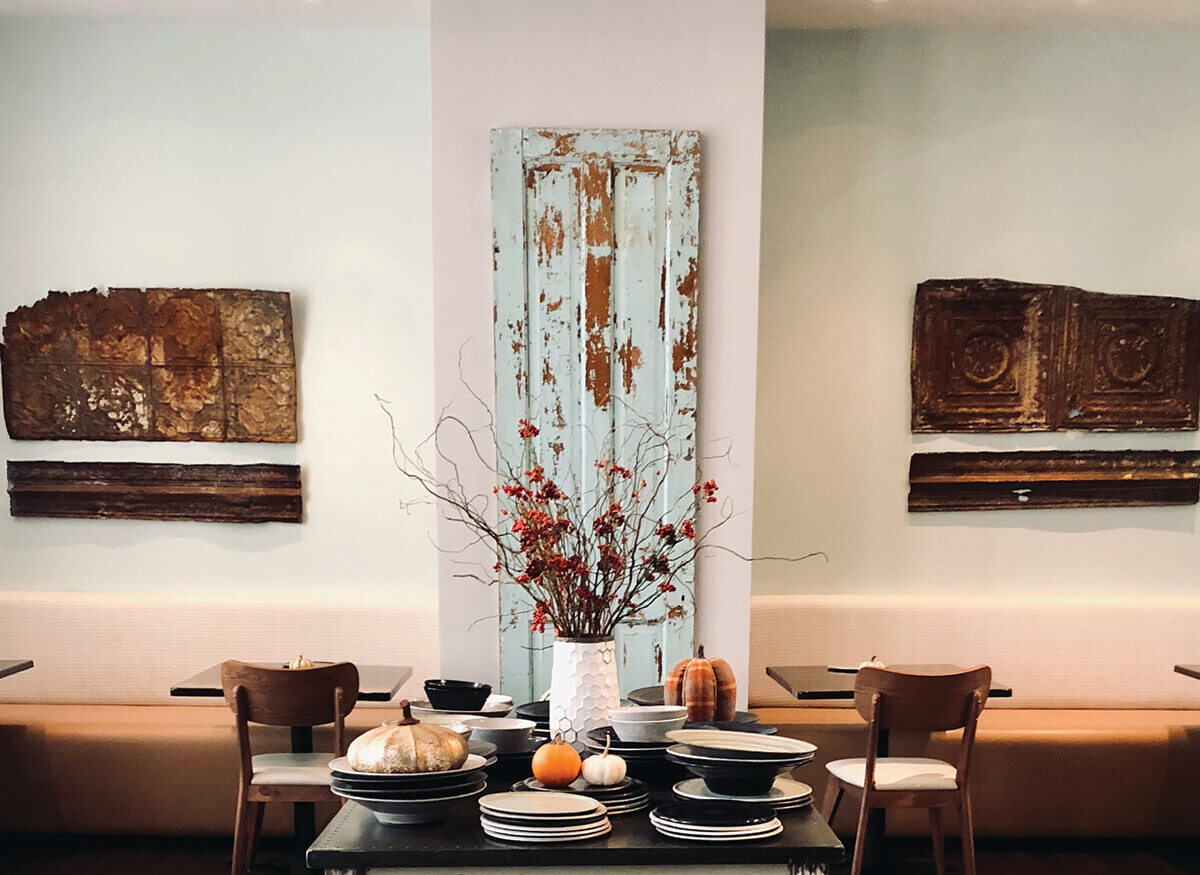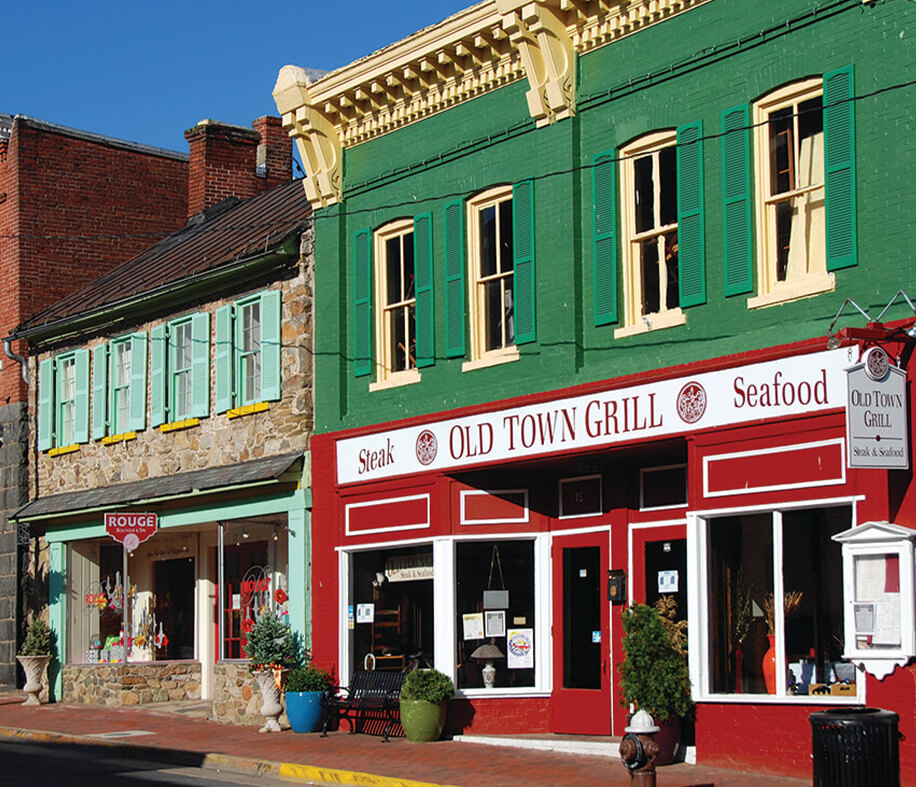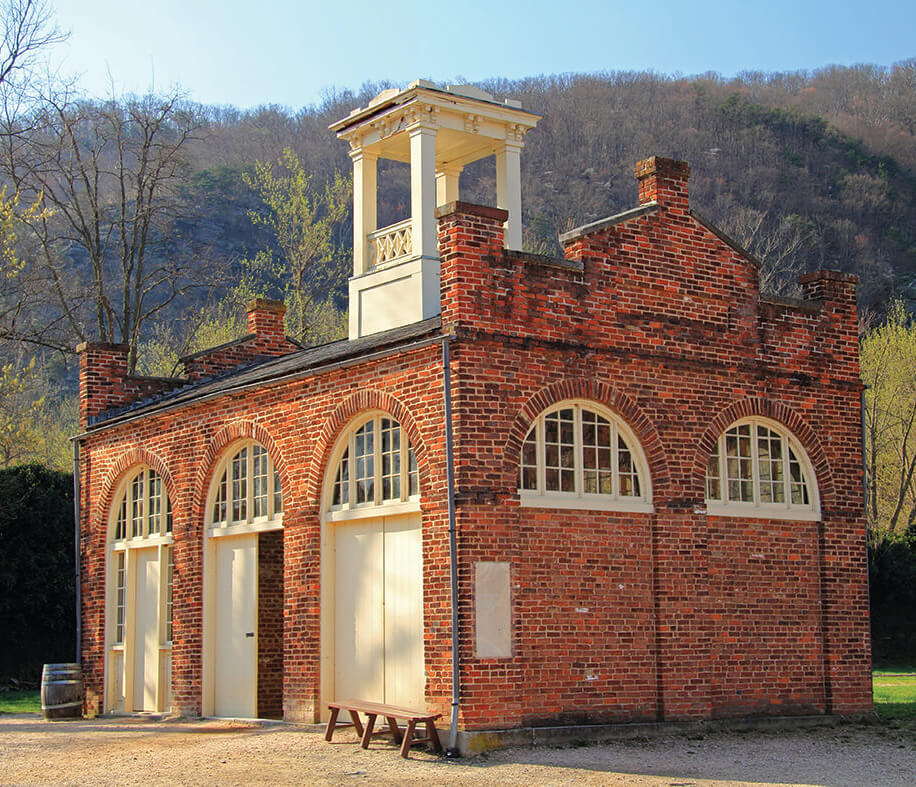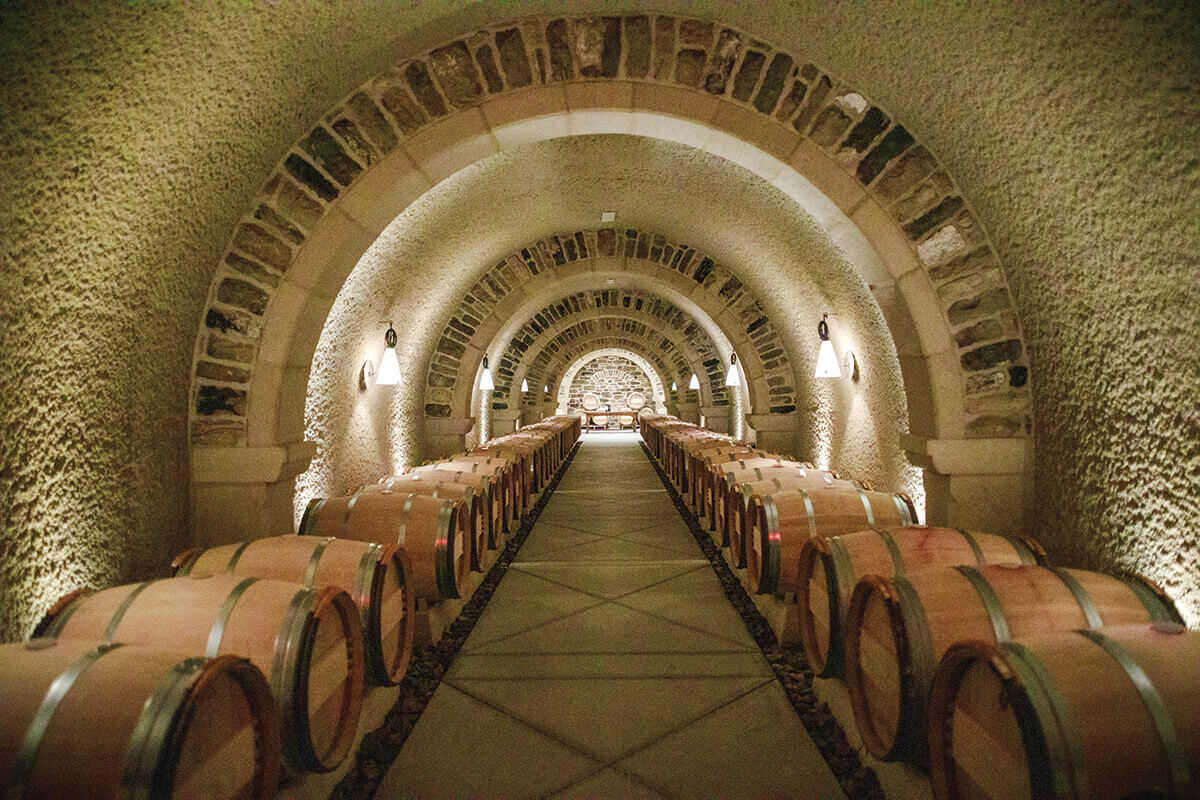 Clockwise: The Blue Door in Flint Hill —COURTESY OF THE BLUE DOOR; John Brown's Fort in Harpers Ferry; RdV Vineyards in Delaplane —COURTESY OF RDV VINEYARDS; Downtown Leesburg.
BEST BETS:
NORTHERN VIRGINIA WINERIES
TOURS DE FORCE: RdV Vineyards, Delaplane Elaborate guided tasting tours featuring sublime, high-rated wines atop Lost Mountain.
CUTTING EDGE: Walsh Family Wine, Purcellville Wine Enthusiast praises its terroir wines, hip house-party vibe, and winemaking mentorship.
STYLISH: Boxwood Winery, Middleburg Bordeaux-style vinos at a horse-country winery designed by acclaimed architect Hugh Newell Jacobsen.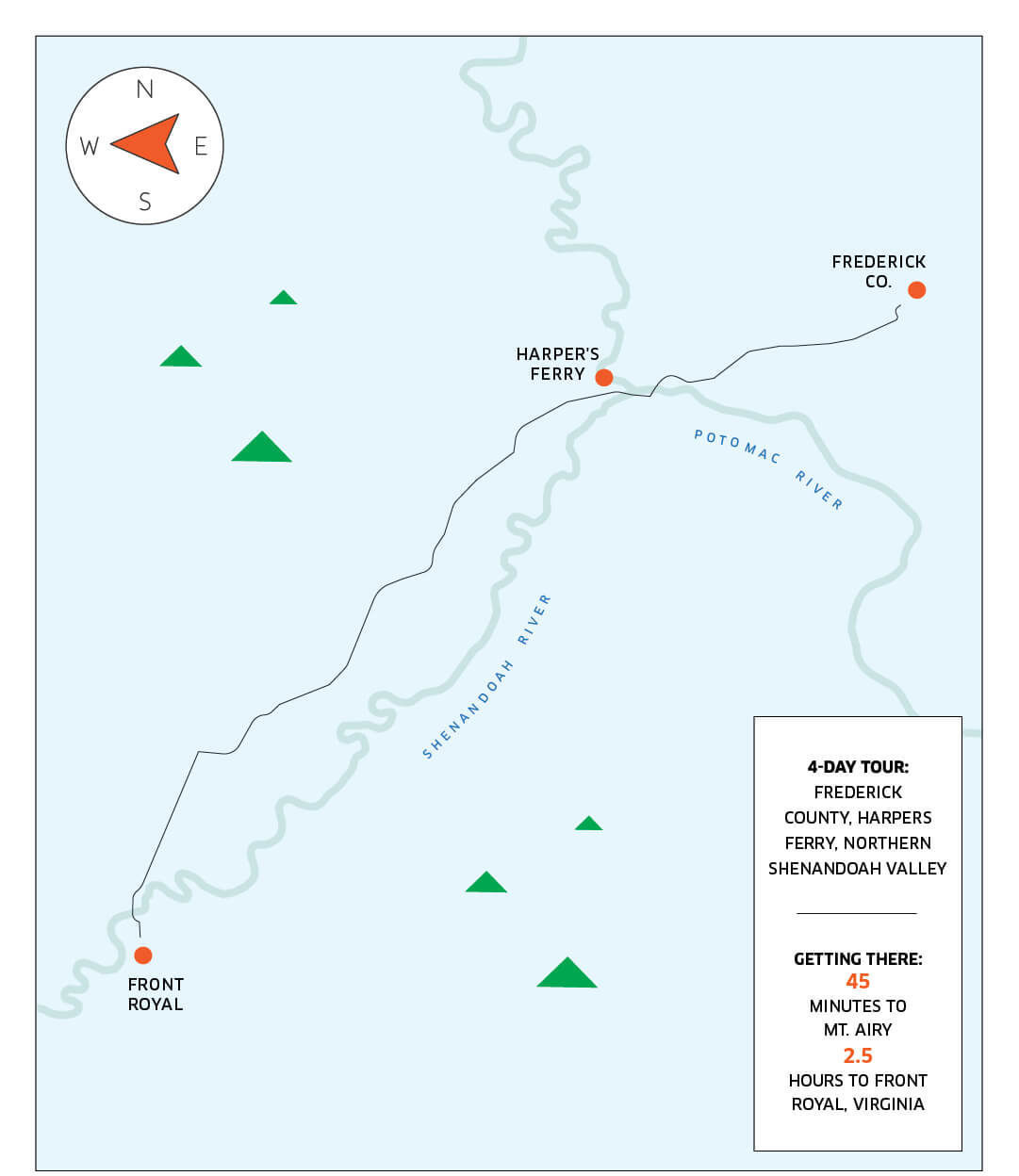 Stay
---
Snow White would have a field day at Hillbrook Inn and Spa in Charles Town, West Virginia, where five buildings (including the century-old Tudor-style manor) provide 19 rooms and suites for just-right snoozing. The inn also offers fine dining and chauffeur-driven winery tours. The Blue Door, a country inn and restaurant in Flint Hill, Virginia, offers both respite and sophisticated Italian cuisine, whose ingredients the chef sources from local farms. Weather permitting, enjoy outdoor dining beside the historic estate's lovely gardens.