Go West
Great getaways to Maryland's mountain panhandle.
September 2021
ABOVE: PHOTOGRAPHY BY JOELLE HERMAN.

hat's roughly 90 miles long but less than two at its narrowest, over 3,000 feet at its tallest, and has the same nickname as the appendages of eight other states? Maryland's panhandle, whose deep forests and mountain vistas rival Florida's northwestern corner or Texas' top hat for visitor appeal and hardscrabble history. That's right, Maryland has a panhandle, too. West of Maryland's wasp-waist at Hancock, the woods get denser, the elevation higher, the population sparser. If you're still craving elbow room after the coronavirus lockdown, our panhandle boasts four state forests, 13 state parks, a federally protected historic waterway, miles of trails, and inviting mountain towns to boot. Visit now, when the cool autumn air begins to set in, and perishing leaves will soon render vivid shades of yellow, orange, and red. This is a land of breathing room and beauty.
---

Trail Town, The Towpath, and a Tunnel Of Darkness
The largest contiguous section of state forestland, Green Ridge State Forest lies just west of Hancock. Its 48,000 lush acres touch the Pennsylvania border and hug the panhandle's undulating southeastern boundary, the Potomac River.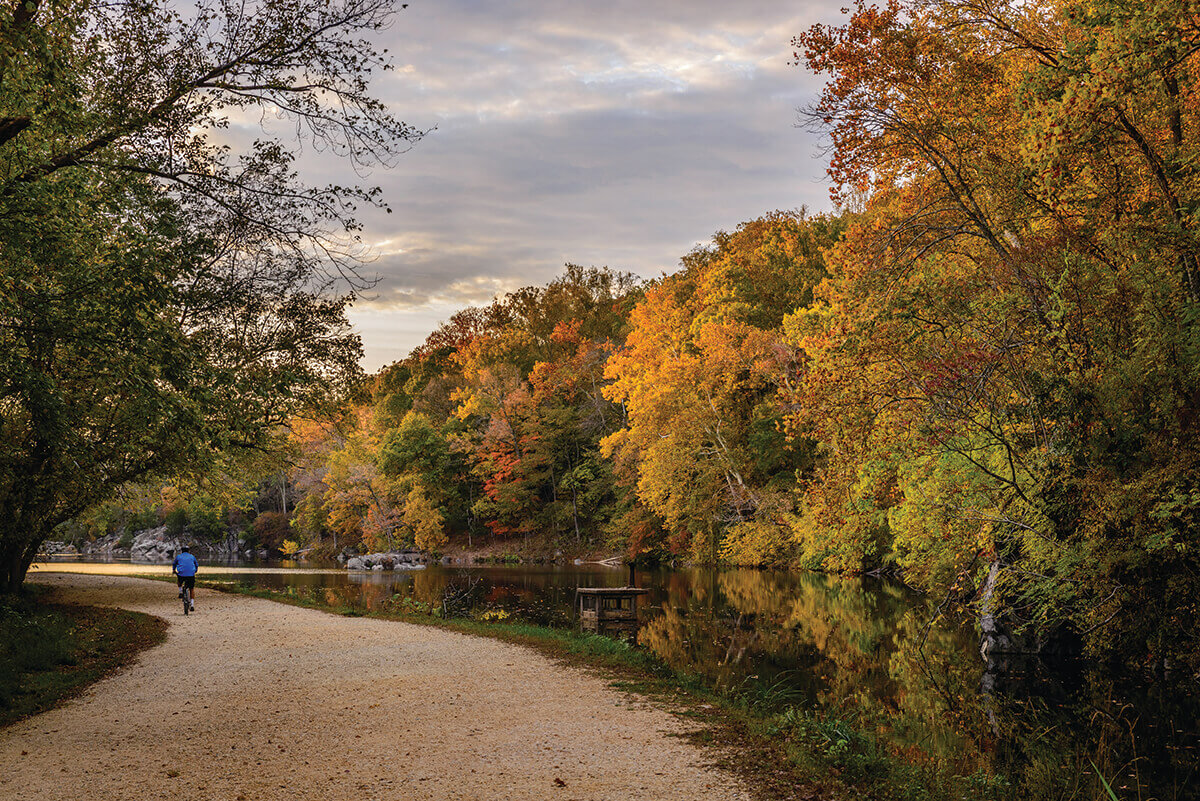 TRAILS: Two routes border Green Ridge State Forest's southern section. The famous C&O Canal Towpath is the area's premier east-west route for hikers and cyclists. Both groups also have a paved option that can bypass potential mud in wet conditions. The Western Maryland Rail Trail parallels the towpath for 28 scenic miles from Big Pool to Little Orleans. Within state forest boundaries, 50 miles of hiking trails include the challenging Long Pond Trail, a 10- mile loop near Flintstone that climbs a ridge where a waterfall cascades, and an 18-mile portion of the Great Eastern Trail, a north-south route following the Appalachian Mountains. Stop by forest headquarters for maps of a scenic 12.5-mile mountain-bike trail suitable for beginners and the 44-mile Green Ridge driving tour, perfect for viewing fall foliage, which peaks from mid to late October. Be forewarned: Many of the tour's roads are unpaved.
DETOUR: Green Ridge State Forest manager Jesse Morgan says hikers prefer out-of-the-way cafes like Bill's Place (Little Orleans), The Girls R Cookin' (Flintstone), and Road Kill Café (Artemas, PA).
LODGING: Popular with cyclists, the historic Town Hill B&B in Little Orleans sits along the National Pike across from the Town Hill Overlook and its sweeping three-state view. The inn's hearty breakfast will get your day started.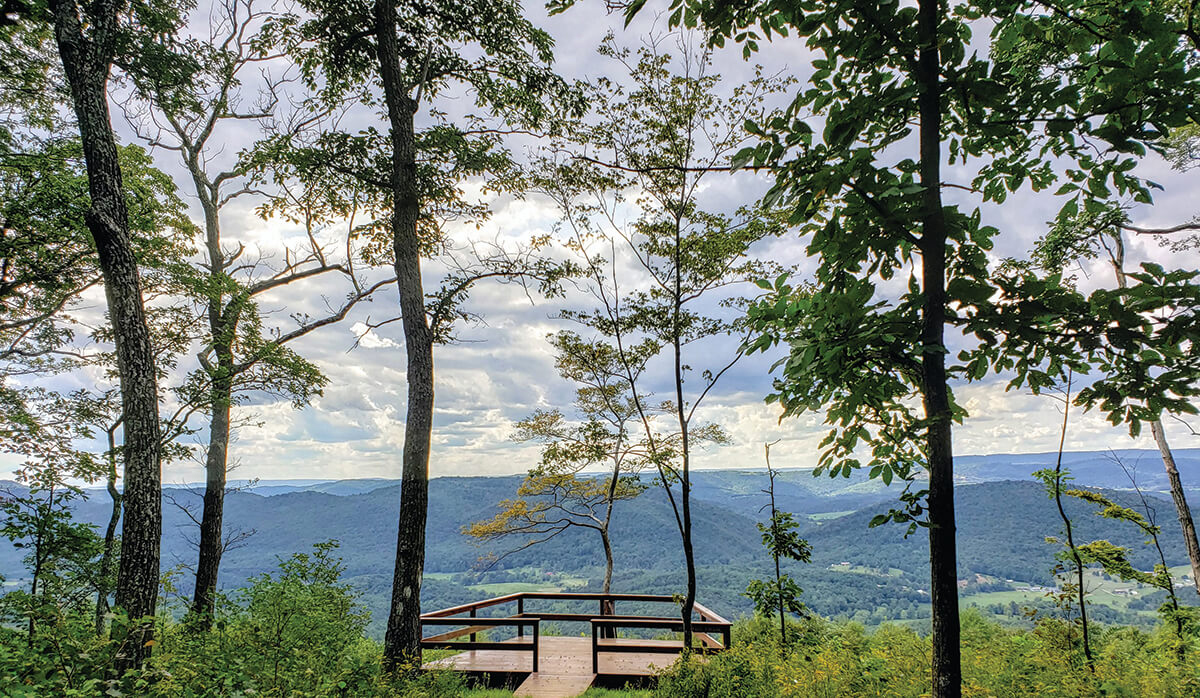 PHOTO WORTHY
Don't miss two of the Green Ridge driving tour's most breathtaking vistas. Banner's Overlook, atop Town Hill Mountain, offers views of the Potomac River, plus West Virginia on the opposite shore. Zumbrun Overlook, on Polish Mountain, looks west to Warrior Mountain and the town of Flintstone.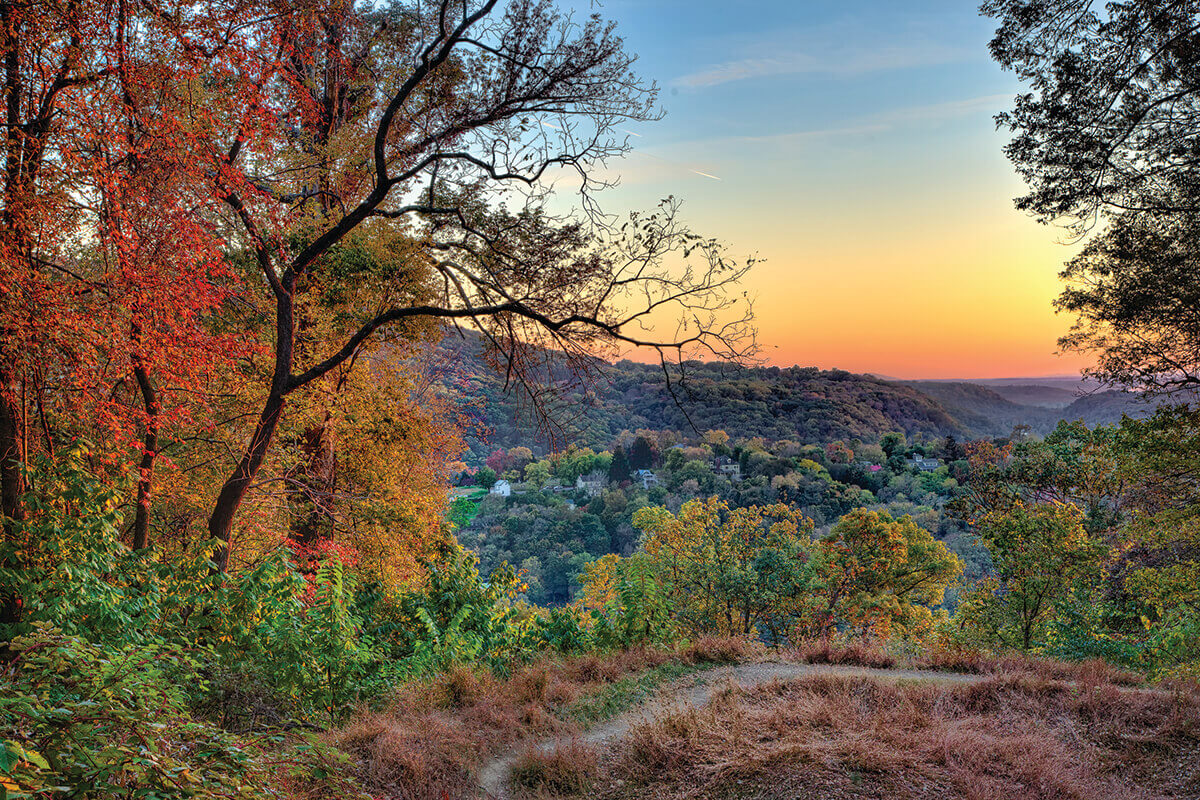 MOUNTAIN TOWN

Stagecoaches, canal boats, and locomotives once threaded through this Potomac River town in Washington County, where the borders of Pennsylvania and West Virginia nearly pinch Maryland in half. Today, much of the traffic arrives on foot or two wheels; travelers on the C&O Canal Towpath, the Western Maryland Rail Trail, and the north-south Tuscarora Trail—not to mention interstate highways that barely skirt town—find Hancock a convenient, hospitable stop.
Downtown, the parallel towpath and rail trail lie close to Main Street with its homestyle restaurants, multiple museums, and waterside parks. Discover the canal's and town's symbiotic history at the 18th-century Bowles House, a C&O Canal National Historical Park visitor center, and the Hancock Town Museum. C&O Bicycle answers cyclists' every need: rentals, repairs, shuttle services, even lodging, while the nostalgic, family-run Mr. Hardware is the pit stop for DIY supplies.
PEAK PERKS: This western Maryland portal has become such a hiking-cycling nexus that, in 2020, the state decreed it "Maryland's Trail Town," an honorific celebrated during National Trail Days in June.
UNWIND: Pet-friendly and delightfully cheeky, Buddylou's is a favorite for all travelers. From a deck overlooking the trails, eat elevated comfort food like a BLT whose "B" stands for crispy pork belly and ultracreamy mac-and-cheese, washed down with a beer or house lemonade while marveling at the eclectic retro décor. Treat yourself to a slice of "mile-high" lemon meringue pie at Weaver's, a family restaurant and bakery known for its righteous cream pies.
---
CELEBRATING A MILESTONE
Chesapeake & Ohio Canal Towpath
Once linking Washington, D.C., with Maryland's western frontier, the C&O canal and towpath were destined to be buried beneath asphalt until a Supreme Court justice took a famous hike. The federal government—the owner of the "Grand Old Ditch," as the canal is affectionately known—planned to pave most of its path to create a Potomac River parkway, threatening the remaining 19th-century canal locks, aqueducts, and trail over which mule-towed boats moved coal and other goods between the Nation's Capital and Cumberland. In 1954, the outdoorsy Justice William O. Douglas invited journalists to join him in walking the canal's length. The hike, and Douglas' public lobbying, launched a movement that blocked the parkway.
In a published letter, Douglas recounted his towpath memories poetically: "the roar of wind in the thickets" and "strange islands and promontories [seen] through the fantasy of fog." Legislation plodded toward Congress, and in 1971, the Chesapeake & Ohio Canal National Historical Park was created. In the half-century since, millions have used its amenities—deemed the National Park Service's eighth-most-visited recreation area in 2020—notably its 184.5 miles of crushed-gravel-and-stone-dust towpath. Cyclists can pedal the towpath in as little as three days, but a few extra days allow for leisurely sightseeing. Numerous access points also invite exploration on foot. The western section begins in Hancock (Mile Marker 124) and contains some of the towpath's most rugged, historic, and sparsely traveled stretches:
The fieldstone lodge at Woodmont Rod & Gun Club near Hancock (Mile Marker 134.6) has hosted prominent guests, including U.S. presidents, in its 140-plus years. Its 3,425 acres are popular with hikers, mountain bikers, and wildlife enthusiasts.

A favorite rest stop, Little Orleans (Mile Marker 140.8) boasts drive-in campsites, the Fifteen Mile Creek Aqueduct crossing this Potomac tributary, and Bill's Place, a congenial bar-venue-general store.

Dug through a rocky hill by immigrant workers, Paw Paw Tunnel (Mile Marker 155.2) is one of the canal's engineering marvels. The Paw Paw Campsite parking lot provides the nearest access.
---

Scenic Vistas, Savage Beauty, and the Best of Appalachian Arts
Heading west, Dans Mountain, between Cumberland and Frostburg in Allegany County, gives way in Garrett County to Big Savage Mountain and then the scenic ridges, trout-filled rivers, and sprawling reservoir in Savage River State Forest, which covers almost 56,000 acres.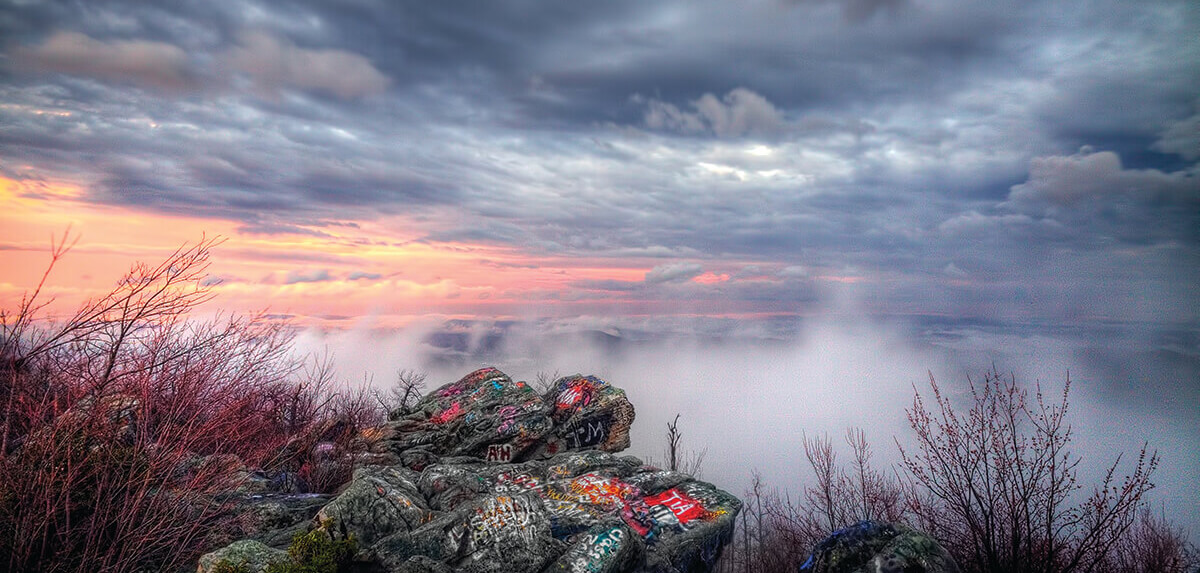 Photography by Bill Merlavage
TRAILS: The state forest's super scenic hiking route, the rocky, 12-mile Meadow Mountain Trail, largely follows the ridge top and Eastern Continental Divide. Stop at forest headquarters for information on the Mt. Aetna Tract Trails—pleasant loops for hikers, mountain bikers, and birders. The forest's Poplar Lick Trail features some unusual history. In January 1964, a B-52 carrying nuclear bombs crashed on Big Savage Mountain in a blizzard. The unarmed bombs were recovered, but three of the five crewmen died. Today, the B-52 Crash Memorial sits near Poplar Lick, the creek where one victim's body was found.
DETOUR: A magnificent reminder of the National Road's heyday, the Casselman River Bridge stands near Grantsville. The partially restored stone structure, erected in 1813, is now the namesake of a state park.
LODGING: Adjacent to Savage River State Forest, Ella's Enchanted Treehouses make charming, fully furnished, family-size accommodations. The three elevated lodgings feature kitchens, full bathrooms, Amishmade furniture, and lots of windows for nature watching.
TRAINING WHEELS: Want to savor the Great Allegheny Passage's scenery without bike traffic or uphill climbs? Tracks and Yaks now offers railbiking tours on the old Western Maryland Railroad tracks that parallel the Great Allegheny Passage (aka the GAP) between Frostburg and Cumberland. Seated on a lightweight, four-wheeled chassis (the railway version of a pedal boat), railbikers pedal slowly downhill from Frostburg to Cash Valley, rounding the railroad's famous horseshoe bend, Helmstetter's Curve. A trolley returns riders to Frostburg's train depot.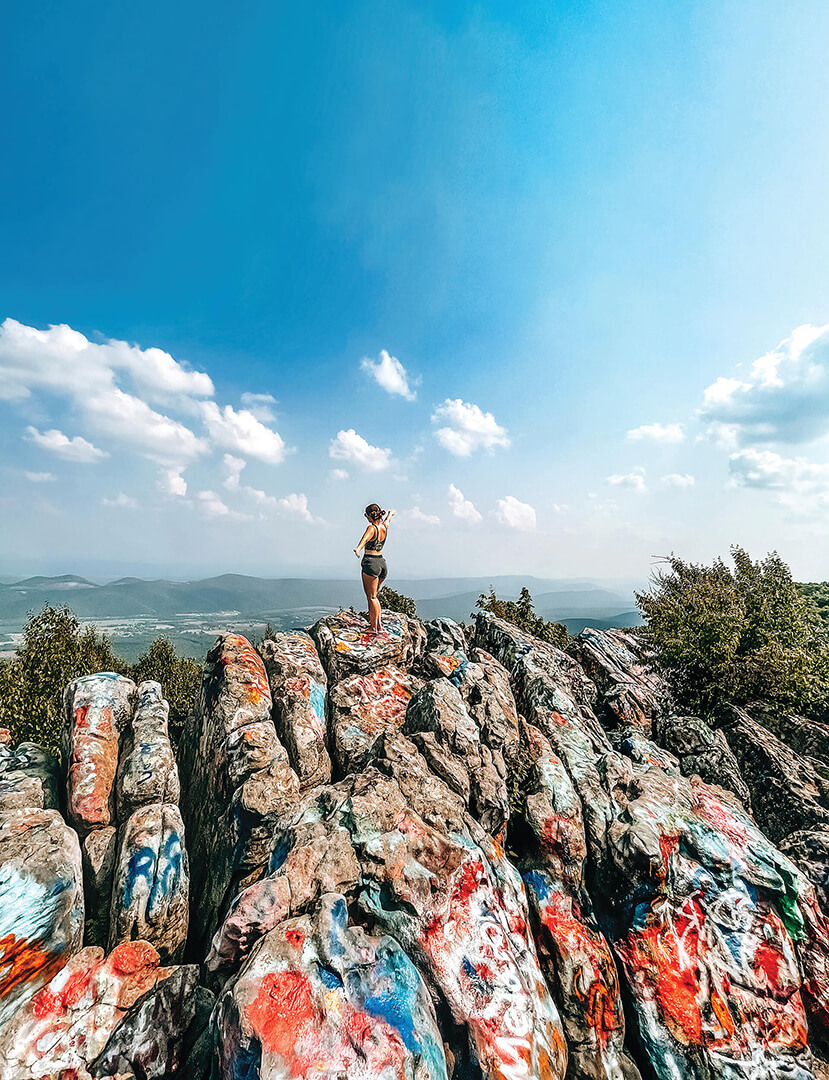 Photography by Megan Skopec.

PHOTO WORTHY
Looking for panoramas of fall color? Maryland Park Service trail manager Dan Hudson recommends Meadow Mountain Overlook in Savage River State Forest and Dan's Rock, Allegany County's highest peak. Wildlife photographers should focus on Savage River Reservoir to spot bald eagles, says Savage River State Forest manager Sean Nolan.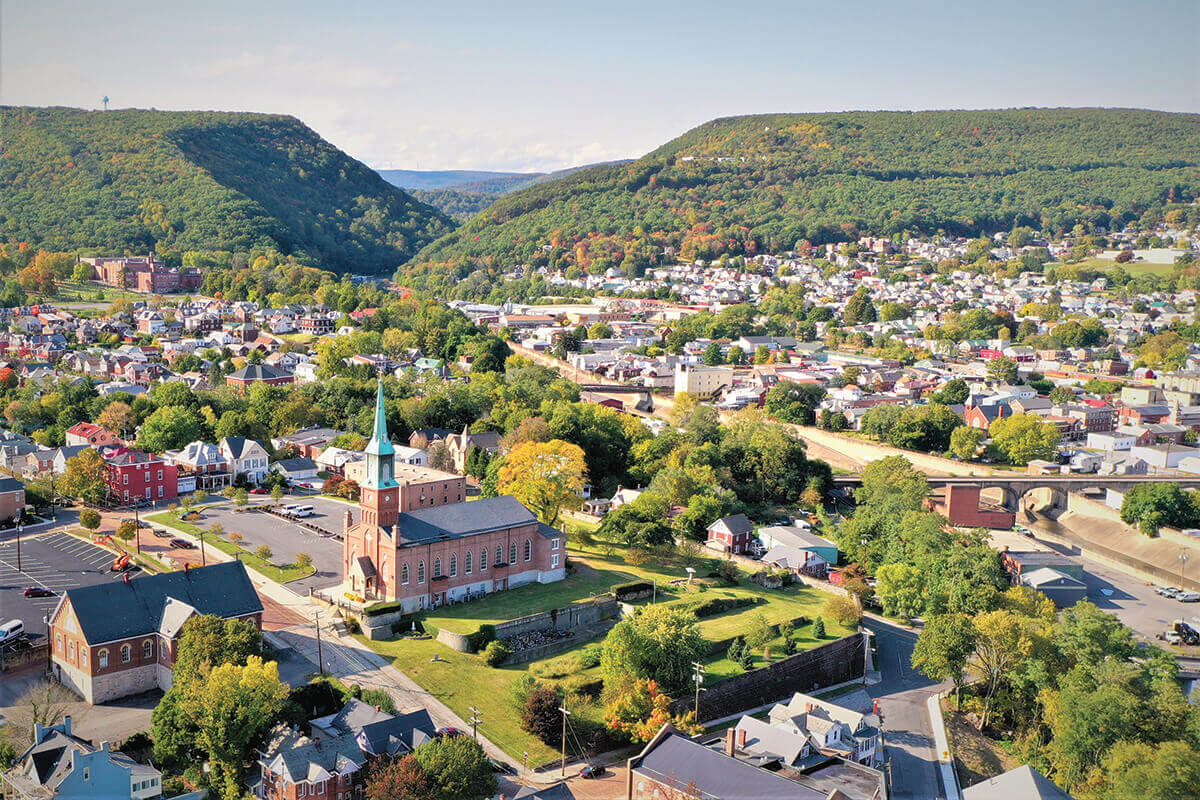 MOUNTAIN TOWN

The C&O Canal Towpath ends in Cumberland at Canal Place, a lively downtown that reflects the city's unique legacy as a transportation hub. The panhandle's most populous place and Allegany County's seat, Cumberland boasts art galleries, interesting architecture, and living reminders of its illustrious past. Don't miss the canal's Visitor Center and Museum, housed in the stately old Western Maryland Railway Station, the National Road's zero-mile marker to the first federal highway, and the Emmanuel Episcopal Church, where, in the 1800s, the Underground Railroad led enslaved people to freedom via tunnels beneath the building. The city also remains a "gateway to the west" for long-distance cyclists and hikers who tackle the GAP, a paved, 150-mile rail trail between Cumberland and Pittsburgh, PA. For a less strenuous appreciation, book passage on the Western Maryland Scenic Railroad's sightseeing train, a 32-mile roundtrip excursion between Cumberland and Frostburg.
PEAK PERKS: Cumberland's annual DelFest (Sept. 23-26) celebrates local bluegrass legend Del McCoury.
UNWIND: Try local favorite Ristorante Ottaviani for pasta, The Crabby Pig for cakes and pork, and Dig Deep Brewery for craft beers, like a house pilsner honoring the C&O Canal.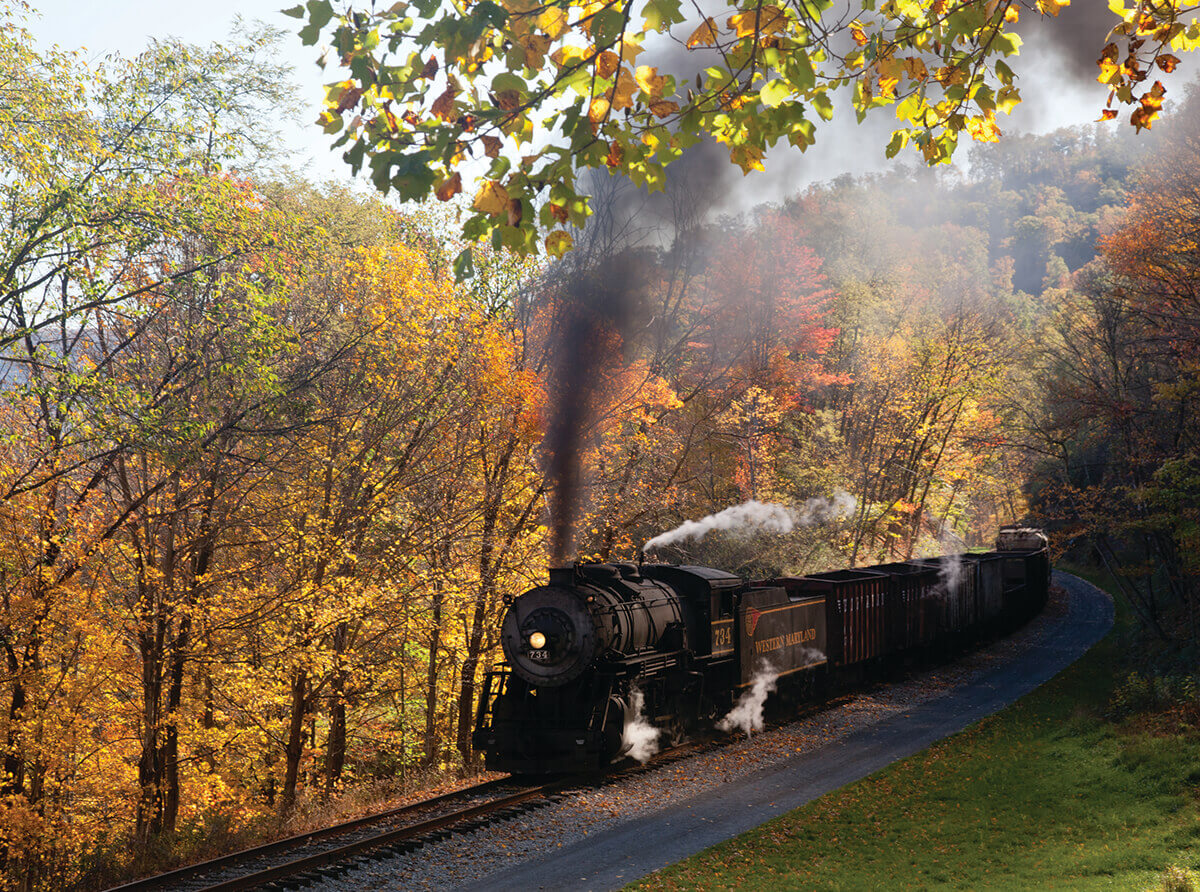 MOUNTAIN TOWN

On the eastern slope of Big Savage Mountain, Frostburg is home to Frostburg State University and a robust arts and cultural scene that celebrates regional traditions. A destination since its days as a National Road stagecoach stop, this small city draws visitors by car, rail trail (the GAP), and excursion train (Western Maryland Scenic Railroad) for its mix of mountain scenery, rich history, and eclectic shopping.
Buy artisan-made clothing, pottery, and other works at Mountain City Traditional Arts, a shop run by a university-community nonprofit. Find a live music venue—Dante's is highly regarded—and, likely as not, you'll hear bluegrass, folk, or other talented roots musicians. Also explore Frostburg's coal mining and frontier past at the Frostburg Museum and renovated, multi-balconied Hotel Gunter, where exhibits reveal the building's former lives as resort, speakeasy, and temporary jail. Shop locally at businesses such as Main Street Books, McFarland Candies, and Yellow K Records.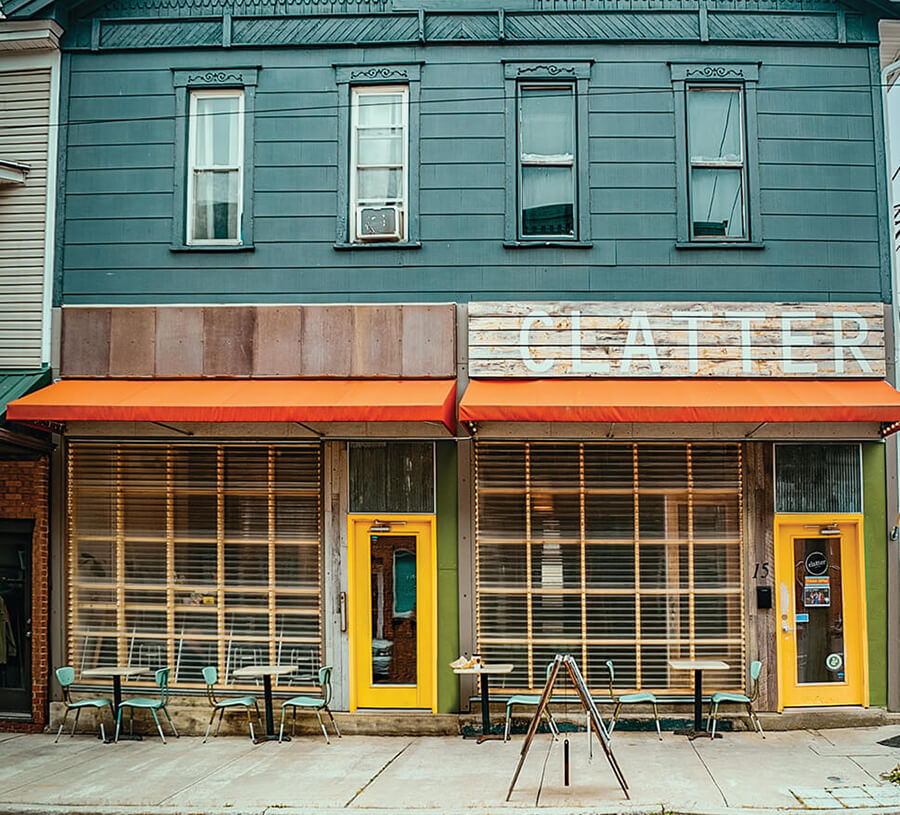 Photography by Sam Demartino
PEAK PERKS: Frostburg State University Appalachian Festival, which includes a film festival, speakers, and musical performances devoted to mountain traditions (Sept. 16-18).
UNWIND: The Princess Restaurant, family-run since 1939, serves comfort food as down to earth as its most famous patron, President Harry Truman. Enjoy puffy pancakes, creamy milkshakes, and hot turkey sandwiches at the counter or a table, including the very booth the then POTUS occupied in the 1950s. At the modern end of Frostburg's dining spectrum, Clatter Café earns raves for its lattes, locally roasted coffee, and creative ways with bagels, salads, and soups.
---

Water, Woods, and Autumn Glory
Maryland's largest lake (Deep Creek), highest waterfall (Muddy Creek), Olympic-caliber whitewater (Youghiogheny River), tallest mountain (Backbone), and dual state forests (Potomac-Garrett) fill the panhandle's western end—a lot of wilderness in one corner of the U.S.'s fifth most densely populated state.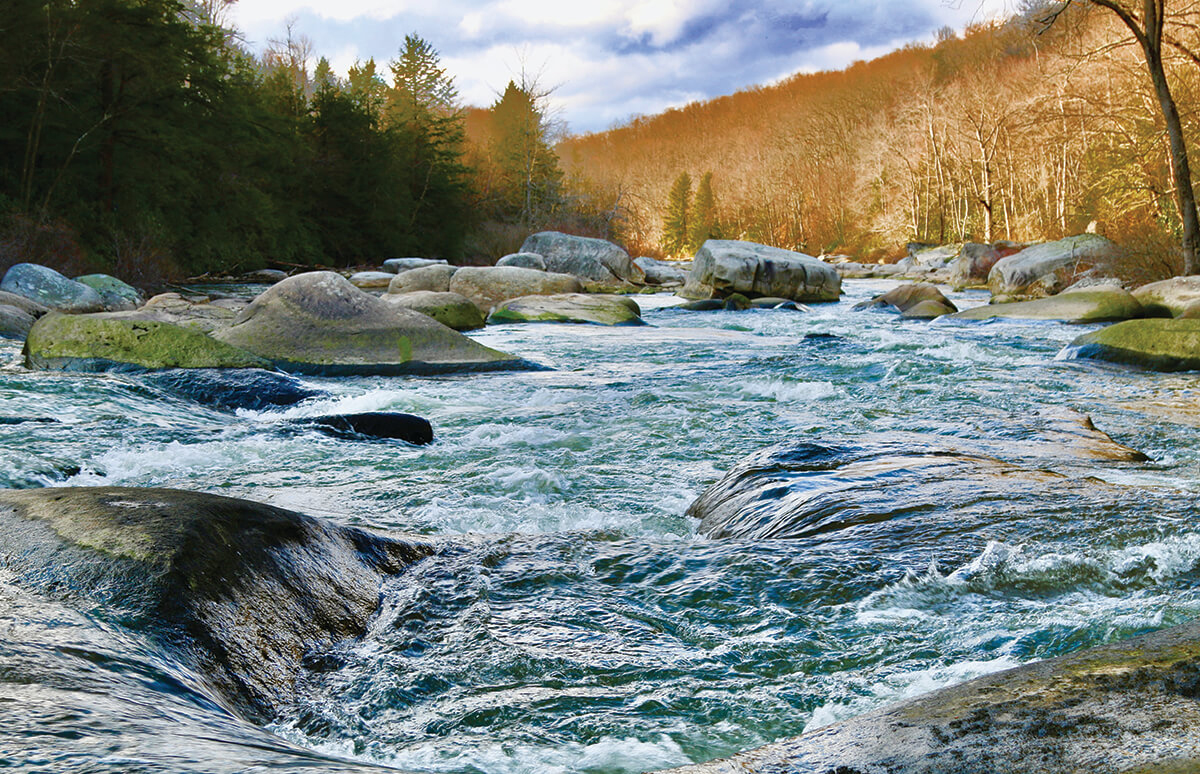 TRAILS: Renovated three years ago, Deep Creek Lake State Park trails now include a top-notch loop trail for mountain biking in Garrett County. "Bring your A-game," advises state park trail manager Dan Hudson, "the routes are rough and rocky." Potomac-Garrett State Forest offers 80-plus miles of hiking, mountain biking, and horseback riding trails. Hike between craggy boulders past gnarled tree roots at Garrett State Forest's otherworldly Rock Maze Trail. In Potomac State Forest, families love the far less challenging Lostland Run Trail with its waterfall views, suspension bridge, and Potomac River overlook. Clear, cold Lostland Run also offers excellent wild brook trout fishing, says Potomac-Garrett Forest manager Scott Campbell.
Photo courtesy of Dan Galsstetter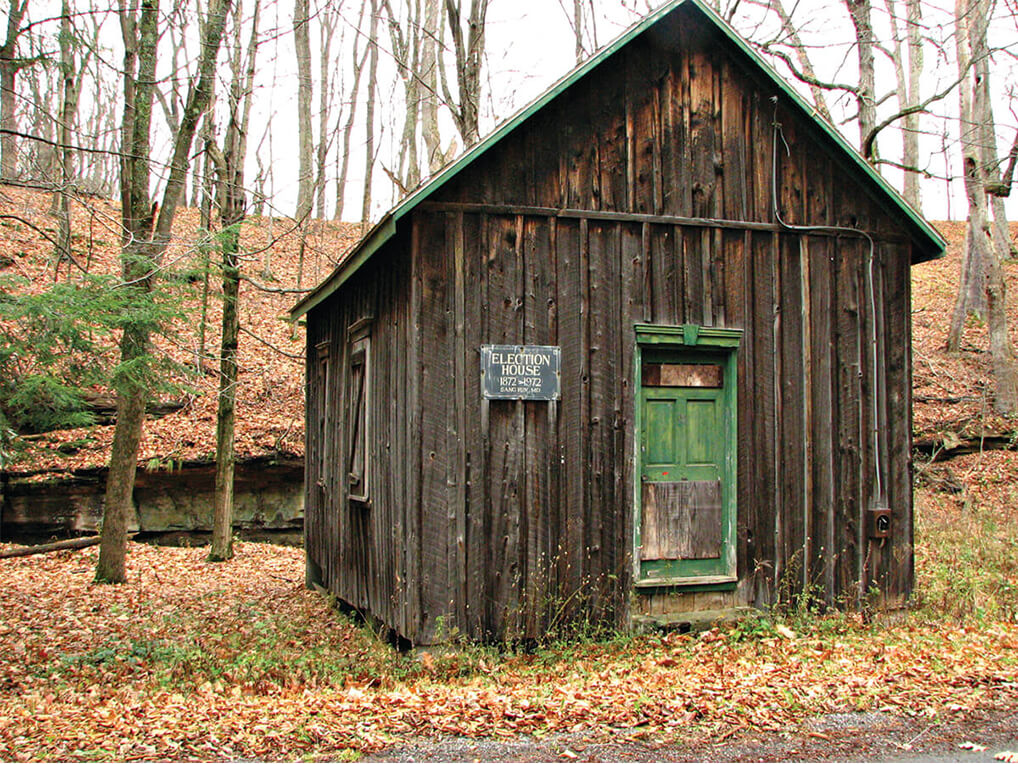 Photography by Williams Johns
LODGING: Unwind at Wild Yough Glamping Huts, situated on a ridge overlooking the scenic Youghiogheny River near Oakland. These five comfy huts have soft beds, firepits, propane stoves, and porches from which to enjoy forest solitude.
DETOUR: In Sang Run State Park, visit recently restored Sang Run Election House, a modest wooden polling place built nearly 150 years ago. Emancipated slaves and, decades later, newly enfranchised women cast ballots here.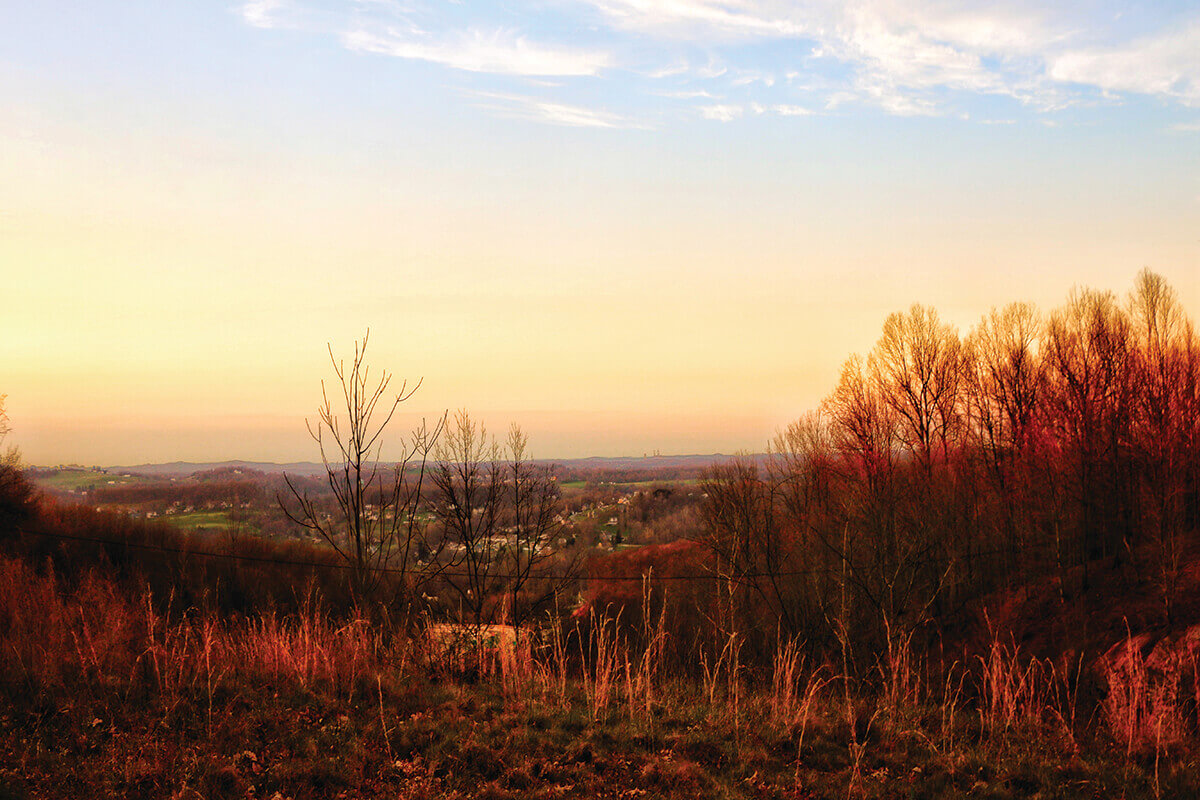 MOUNTAIN TOWN

Sometimes overshadowed by Deep Creek Lake, that popular vacation spot 10 miles away, Oakland is an attraction in and of itself. Doubly so in fall, when tens of thousands of visitors attend Garrett County's annual Autumn Glory Festival, a nearly week-long celebration of the area's flamboyant foliage.
Oakland was a resort long before a hydroelectric dam made Deep Creek a lake and then nascent recreational paradise. After the Civil War, the B&O Railroad ran an excursion line here; luxury hotels, summer cottages, even an opera house sprang up, patronized by tourists craving mountain air and scenery. Learn about Oakland's local history at the downtown Garrett County Historical Museum, Garrett County Museum of Transportation, and the town's B&O Railroad Museum, which is housed in the grand 1884 train station.
Later, browse antique shops, art galleries, and other small businesses. Bookworms love Book Mark'et & Antique Mezzanine for its curated new book selection. Shop for women's leisure clothing at Rudy's or vintage and new LPs at Flipside Sounds.
PEAK PERKS: The Autumn Glory Festival's old-time turkey dinners, local music, farmers market, and driving tours for leaf peepers (Oct. 13-17).
UNWIND: Two newcomers diversify Oakland's traditional food scene. Known for a bevy of craft beers, Vagabond Taproom serves sandwiches, salads, and tasty appetizers like blistered green beans with "comeback sauce." Relax with a craft cocktail or glass of wine on Sipside Lounge's patio, warmed by a towering stone fireplace. The lounge features live music and house charcuterie.

PHOTO WORTHY
Canyon Loop Trail at Swallow Falls State Park winds through old-growth hemlocks to Muddy Creek, a 53-foot plunge, and three other spectacular Youghiogheny River waterfalls. Enjoy sweeping views from Hoye-Crest on Backbone Mountain—at 3,360 feet, it's the state's highest point. The trailhead is located nearby in Silver Lake, West Virginia.
---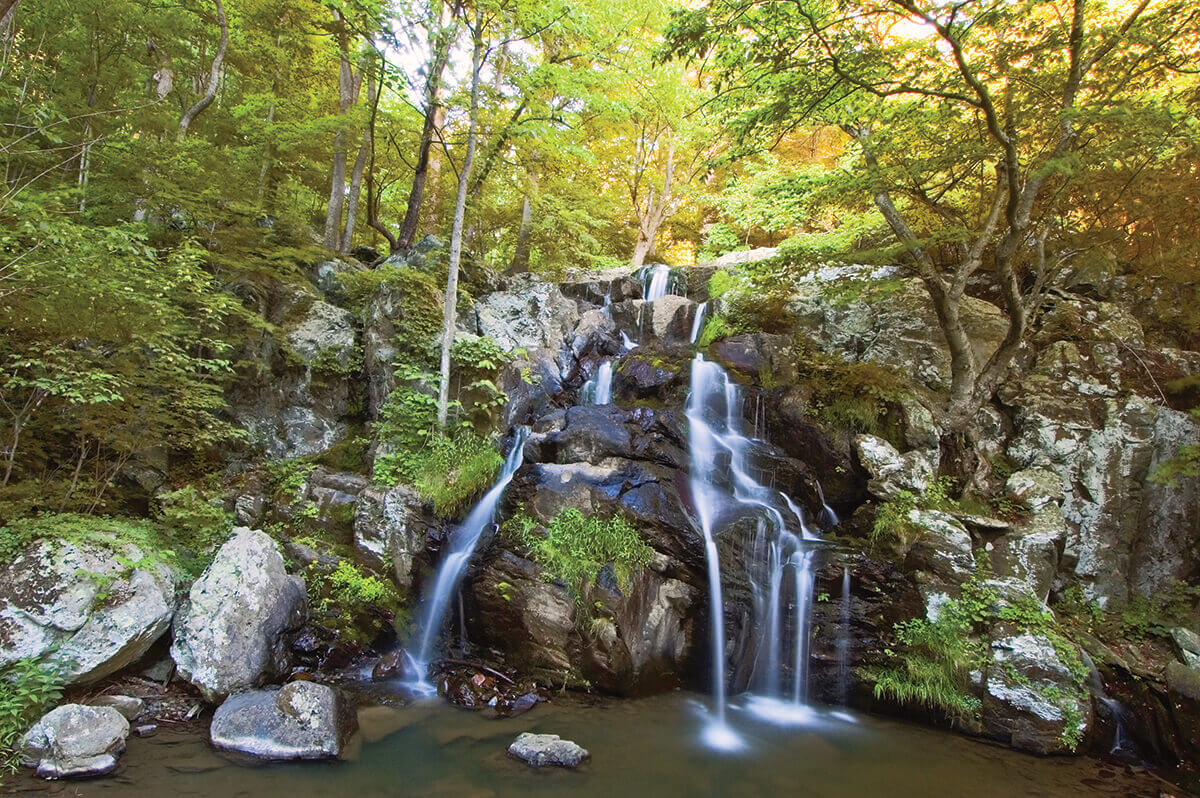 DAY TRIP
The Catoctins
The panhandle isn't Maryland's exclusive mountain realm. Rocky summits, tumbling streams, and wildlife sightings lie about 90 minutes away from Baltimore in the Catoctin Mountainsin Frederick County. Two parks—one national, one state—provide miles of trails, numerous overlooks, the fishing-friendly Hunting Creek Lake, and peeking range of Camp David, the presidential retreat.
At Catoctin Mountain Park, hike a short trail to Blue Ridge Overlook or make a strenuous climb to Chimney Rock for panoramic foliage views. Catoctin Mountain State Park's photo-worthy attractions include Maryland's highest cascading waterfall, Cunningham Falls, and a top-of-the-world promontory, Cat Rock. President Franklin Roosevelt's 1930s New Deal programs created the recreational area comprising both current parks. The first cabins were built at Camp Misty Mount, which still welcomes overnight visitors decades later.
In nearby Thurmont (home of Colorfest, Oct. 9-10), satisfy hiker-sized appetites with Thurmont Kountry Kitchen's "broasted" (battered and pressure-fried) chicken dinner followed by a "Death by Chocolate" cupcake. Pick apples or buy a fresh-baked pie at Catoctin Mountain Orchard and Bakery.
---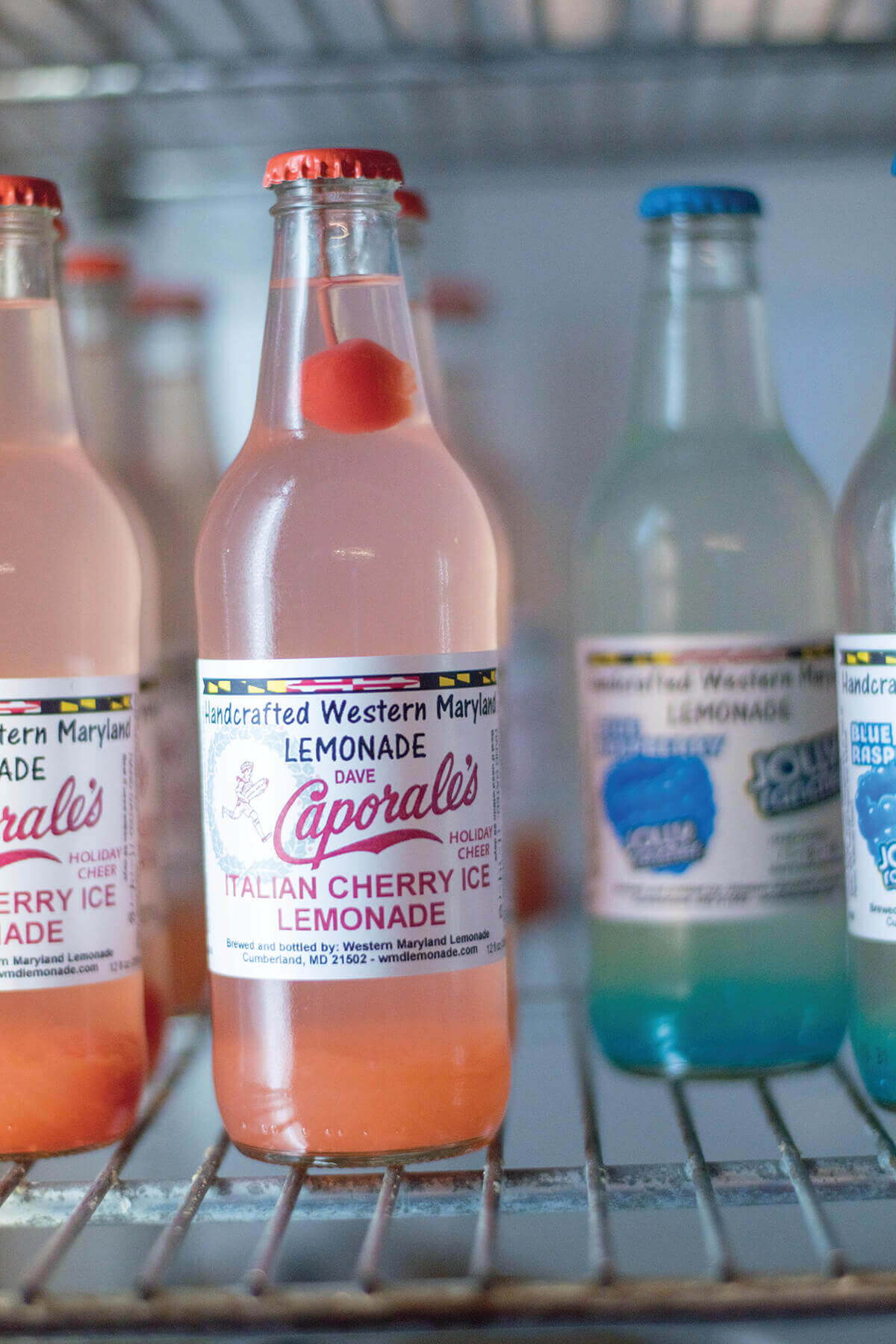 Photography by Ty Drew Photo
Local Flavors
WESTERN MARYLAND HANDCRAFTED LEMONADE
Cumberland entrepreneur Todd Helmick blends juice from handsqueezed lemons with locally harvested fruits, Allegany County honey, and other regional ingredients to make his fresh-bottled, preservative-free lemonades. Choose from an astounding 130-plus flavors, including blends featuring paw paws, a custardy fall fruit found along the canal and Potomac River.
CAPORALE'S PEPPERONI ROLLS
Concocted as a portable, onefisted meal for Appalachian coal miners, pepperoni rolls hold a special place in Western Maryland culinary memory. As the rolls bake, the pepperoni inside infuses the bread with its savory oil—the secret to the snack's appeal. Fans swear Caporale's, a fourth-generation family bakery in Cumberland, makes the best pepperoni rolls around.
STEYER BROTHERS MAPLE SYRUP
The Steyer family has been tapping Garrett County maple trees for over 110 years. Today, Steyer Brothers Maple collects sap from 30-plus acres of trees to make syrup, candies, and granulated maple sugar. At the family's "sugar camp" near Oakland, a traditional wood-fired evaporator boils sap into the delicious syrup locals love on their buckwheat pancakes.
Find the Best in Baltimore