Grape Expectations
Loudoun County vineyards prove Virginia is for (wine) lovers.
The rural two-lane roads of Loudoun County, Virginia, make for an idyllic Sunday drive. With the Blue Ridge Mountains as a backdrop, the byways carry you past historic churches and small-town Main Streets lined with American flags and antiques stores. Quaint family farms advertise fresh vegetables, eggs and honey, grass-fed beef, and "fat sheep" for sale. But there's one crop that seems to be sprouting faster than anything else in these parts: grapes. Around every bend you pass row upon row of Cabernet Franc, Merlot, Chardonnay, Vidal Blanc, and Viognier, the official state grape.
In the past few decades, the Virginia wine industry has exploded and now boasts a whopping 356 vineyards (where grapes are grown) and some 280 wineries (where wine is made), the fifth most of any state in America. Loudoun County harbors 41 wineries, the most of any Virginia county. (Maryland, by comparison, has just about 80 wineries statewide.) The quality of Virginia wines has been improving, too. Food & Wine magazine recently compared a half-dozen Virginia vintages with wines from France, and declared the Old Dominion wines very much their equal.
Lucky for Charm City wine lovers, Loudoun County and its myriad vineyards and attractions can be reached in just an hour and 20 minutes. And while we absolutely endorse checking out Maryland's ever expanding selection of wineries and vineyards, the following five Virginia vino ventures make for an awfully alluring weekend escape, especially since October just happens to be Virginia Wine Month.
Breaux Vineyards
36888 Breaux Vineyards Lane, Purcellville, 800-492-9961
Top Notes: Breaux is one of Loudoun County's largest wineries, and its setting on 400-plus acres between the Blue Ridge Mountains and Short Hills makes it one of the prettiest. As the story goes, a hobby—and then a business—was born after founder Paul Breaux uncovered three acres of grapes while clearing a field. The cheery yellow tasting room with its orange-tiled roof looks like something out of the Mediterranean, while the building's interior wrought-iron railings—and the winery's crawfish logo—reflect the Breaux family's Louisiana roots.
Vintages: These days, the vineyard grows 17 varietals, including an unusual Italian Nebbiolo grape that produces a dry, complex red. Tastings cost $10 for six wines.
The Grapevine: Because October is Virginia Wine Month, expect area wineries, including Breaux, to roll out new vintages and host live entertainment on weekends. Tours at Breaux cost $5 and are available between 11 a.m. and 1 p.m. on weekends (and by request weekdays). The usual charcuterie platters are available on-site, plus light fare, fresh-baked bread, and a decadent selection of homemade truffles.
The Finish: For an off-site lunch or dinner, head down the road to Grandale Vintner's Table, part of 868 Estate Vineyards (14001 Harpers Ferry Road, Neersville, 540-668-6000), for plates of "cashew-lacquered salmon" and crab cakes. Starting at $140 per night, Stone Manor Bed & Breakfast (13193 Mountain Road, Lovettsville, 540-822-3032) has a half-dozen period-decorated rooms in a historic home with mountain views through many of its stained-glass windows. From there, head 15 minutes north to explore the hallowed hamlet of Harpers Ferry, West Virginia, which changed hands eight times during the Civil War.
Fabbioli Cellars
15669 Limestone School Road, Leesburg, 703-771-1197
Top Notes: Located on the eastern side of Loudoun County, where you can feel the pressure of D.C.'s suburbs creeping in, the winery is well-concealed a mile-and-a-half down a gravel road past horse farms and thick woods. Tastings take place in a funky three-story, prefab circular building with an outdoor seating area out back. Co-owner Doug Fabbioli has been tinkering in the fields for more than 35 years, making him one of Loudoun's most experienced vintners.
Vintages: Fabbioli is a relatively small operation, but it produces some interesting wines, including an apéritif pear wine with an Asian pear grown inside the bottle. Fabbioli also has been experimenting with hard ciders and recently planted three acres of hops. The winery has won its share of awards over the years—try the lemony 2014 Chardonnay and the earthy 2012 Tannat.
The Grapevine: The tastings start at $15 and come with complimentary, bite-size morsels to allow tasters to see how the wines pair with different foods. The winery also offers its Something Special package that, for $30, includes the standard tasting at a private table, a guided tour, a free glass of wine, and a souvenir take-home glass.
The Finish: For lunch or dinner, your best bet is one of the numerous restaurants in Leesburg. Particularly worth a try is the bistro-style menu at the Tuscarora Mill Restaurant (203 Harrison St., 703-771-9300), about 15 minutes away. Before heading out, make a pit stop at the annual Temple Hall Fall Festival at Temple Hall Farm Regional Park (15855 Limestone School Road) for live music, pig races, corn mazes, and pumpkins galore.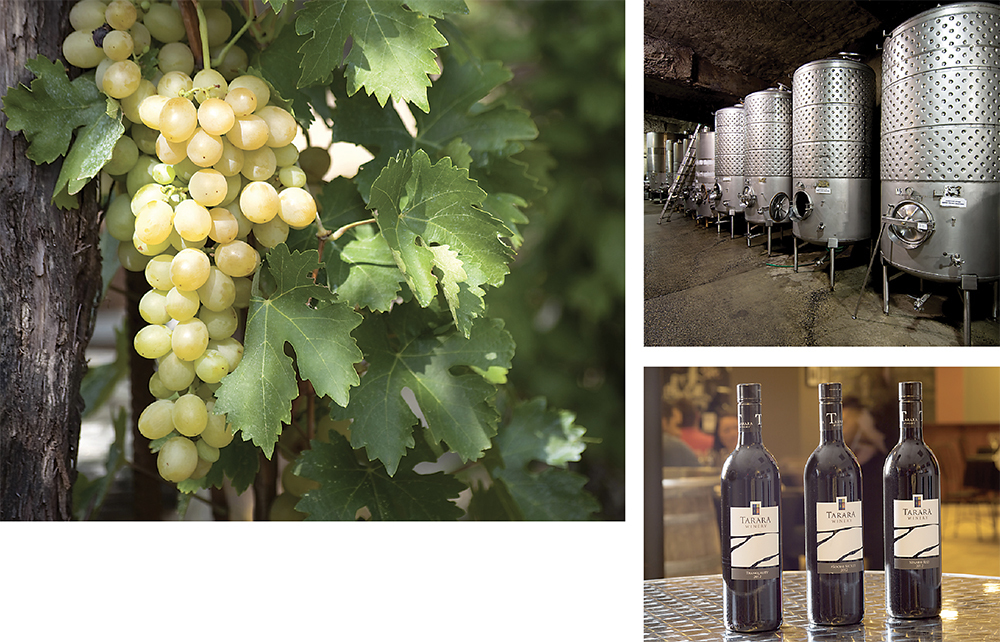 Stone Tower Winery
19925 Hogback Mountain Road, Leesburg, 703-777-2797
Top Notes: Rarely do people visit a winery to check out its furnishings, but that's often the case at Stone Tower, which is owned by Mike and Kristi Huber, founders of Virginia's Belfort Furniture. The family has done up its new showroom-size tasting room with the company's "rustically elegant" couches, wooden tables, and accouterments. The winery's setting on the 300-acre Huber family farm, with views of the Bull Run Mountains, a lovely pond, and rolling farmland, is even prettier than the scenery inside.
Vintages: Stone Tower grows a dozen varietals on 60 acres, which it bottles under its pricey Stone Tower Estate label. (Sample the 2013 Hogback Mountain red, a blend of Cabernet Sauvignon, Merlot, Cabernet Franc, and Petit Verdot, even if you balk at its $69 price tag.) More reasonably priced pours can be found under the winery's Wild Boar brand, which features wines made from Virginia grapes as well as varietals from the West Coast. Try the Malbec ($32), not often seen in these parts.
The Grapevine: Tastings cost $15 for six wines, and Stone Tower offers a variety of tours, from standard vineyard excursions that include tastings ($35) to the Winemaker's Experience ($85), which features a private tour and gourmet lunch with winemaker Tim Crowe. There's often live music on weekends.
The Finish: A small on-site market sells cheeses, meats, and breads, while food trucks—serving up everything from pulled pork to lobster rolls—often park at the winery on weekends.
If you're making a weekend out of it, crash at the Country Comfort Bed & Breakfast (19724 Evergreen Mills Road, Leesburg, 703-926-6994), where guests get huge breakfasts delivered right to their suite. Don't leave without checking out Oatlands Historic House & Gardens (20850 Oatlands Plantation Lane, 703-777-3174), a sprawling, 1798 plantation with expertly manicured grounds and afternoon tea.
Sunset Hills Vineyard
38295 Fremont Overlook Lane, Purcellville, 540-882-4560
Top Notes: Besides its tasty wines, the star attraction at this 45-acre winery is its brick-red Bavarian-style bank barn that dates from 1870 and was transformed into a handsome tasting room by a team of Amish brothers in 2008. Owners Mike Canney, a physicist and former tech entrepreneur, and his wife, Diane, who worked in the intelligence field, lend their green ideals to the business with 245 solar panels throughout the property.
Vintages: Sunset Hills grows 15 varieties of grapes on five Virginia farms, with 20 acres of grapes grown on-site at the winery. Red wine fans should try the 2012 Mosaic, a complex-tasting blend of Merlot and Cabernet Franc, while white wine aficionados will appreciate the crisp 2014 Viognier, rated 91 points by The Wine Advocate.
The Grapevine: Tastings run $10 for six wines. Musicians entertain imbibers every weekend year-round, while the Class and a Glass program pairs monthly Saturday-morning yoga classes with a glass of vino.
The Finish: Sunset Hills has a good selection of cheeses, breads, tapenades, charcuterie, and chocolates available for guests, but for a larger meal, head to the upscale Stoneybrook Farm Market (37091 Charlestown Pike, Hillsboro, 540-668-9067) for its coffee bar, gourmet sandwiches, and produce grown on the farm behind the store. Bed down for the night at Zion Springs Bed and Breakfast (16652 Mandileigh Lane, Hamilton, 540-751-9776), which has four period-decorated suites set on a 23-acre farm, starting at $159 per night. After a good night's rest, scoot into nearby Purcellville, with its antiques stores and nonchain restaurants. If you're thirsty for something different, visit one of the town's four microbreweries or sample the rye at Catoctin Creek Distilling Company (120 W. Main St., Purcellville, 540-751-8404).
Tarara Winery
13648 Tarara Lane, Leesburg, 703-771-7100
Top Notes: Tarara was the third winery in Loudoun County when it opened in 1989. Its expansive 495 acres include a mile of Potomac River frontage, a man-made lake, and an outdoor concert stage that draws thousands to its weekly shows.
Vintages: In 2013, Wine Enthusiast magazine rated three Tarara wines in the 90s, and chaos ensued. Crowds snatched up much of the Cabernet Franc, Cabernet Sauvignon-Tannat, and Merlot, so winemaker Jordan Harris went to Washington state to source more grapes and bottled them under the Killer Cluster label. (Try the not-too-sweet Muscat, a bargain at $15.) Award-winning red blends Nevaeh and Tranquility are must-tries, too.
The Grapevine: There's live music on the winery's outdoor deck every weekend, with views of the Potomac once the leaves start to fall.
The Finish: On weekends, Leesburg's The Wine Kitchen restaurant provides the winery with a short seasonal menu of salads and sandwiches. Charcuterie and cheese platters are available all week. Faith Like a Mustard Seed Farm (42906 Lucketts Road, Leesburg, 571-209-1450), a working farm and restaurant, makes a sublime destination for brunch if you want to line your stomach with orange-ricotta-filled crepes or hardy tostadas before imbibing. You can even spend the night in its homey Milk House cottage for $150. Don't leave Loudoun County without a stop at The Old Lucketts Store (42350 Lucketts Road, Leesburg, 703-779-0268), a landmark of antiques and architectural salvage, with heavy oak mantels and rusty gas station signs.