 Six stunning places to experience the East Coast's greatest great outdoors this fall.
Travel & Outdoors
Wild Wonders
Six stunning places to experience the East Coast's greatest great outdoors this fall.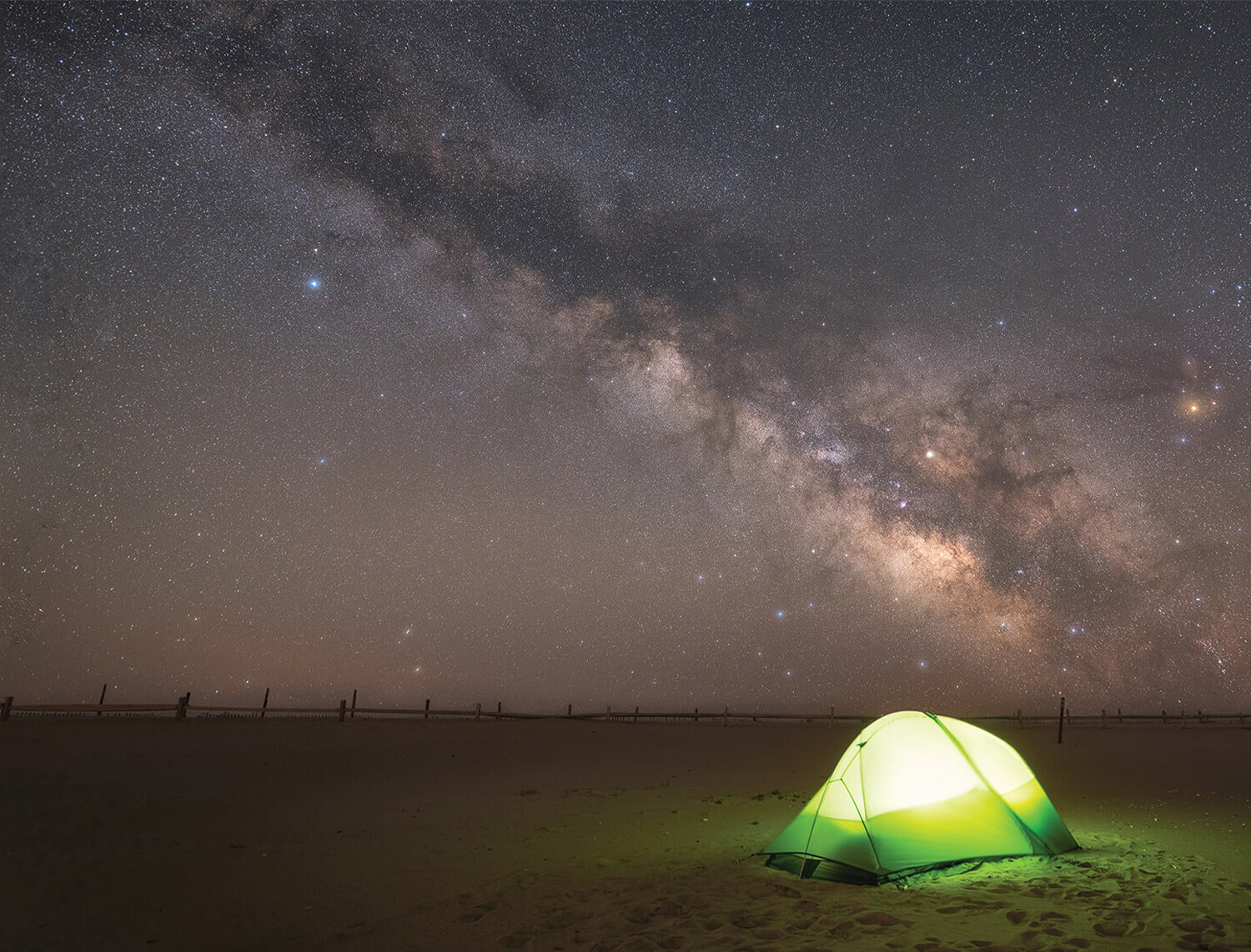 Pristine beaches. Towering cliffs. Cascading waterfalls. Big, blue-hued mountains as far as the eye can see. Baltimore is a stone's throw from some of the East Coast's greatest great outdoors, many of which happen to be located inside state and national parks. This fall, pack up the car, put away your cell phone, and consider yourself a good Samaritan for getting outside and supporting these natural treasures. Your mind, body, and spirit will thank you, too.
---
maryland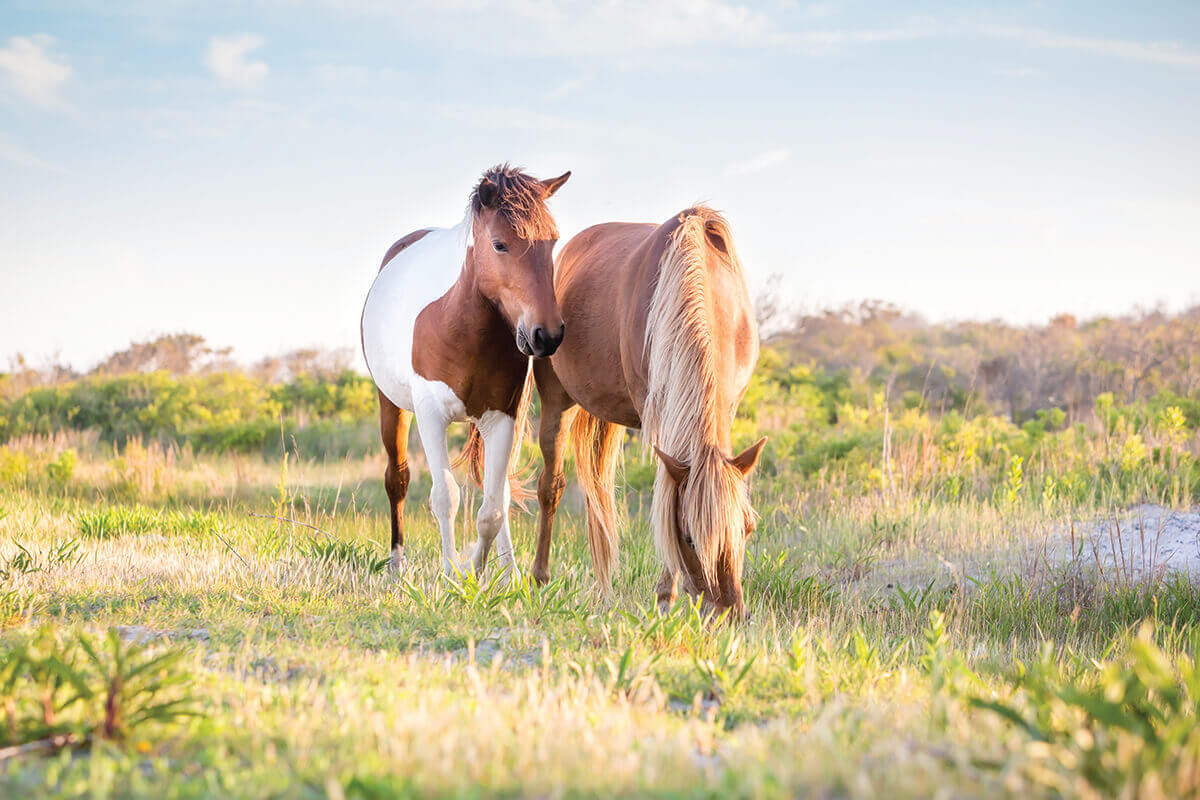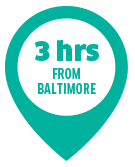 Hop on the highway and drive east as far as Maryland will take you, and hopefully you'll end up on the white sandy beaches of Assateague Island. It's hard to believe that the national seashore and coastal barrier island is in our state, especially in fall, when the cool winds off the Atlantic Ocean contrast the almost desert-like landscape and both the seaside goldenrod wildflowers and salt bush shrubs are in bloom along the dunes. The protected terrain is perfect for biking, beach-combing, surfing, and spotting the island's wild horses, which are said to have first arrived in the region after a Spanish shipwreck in the 1600s. If you're lucky, you might see a newborn foal, but be careful if you're camping—the ponies have been known to bite, break into coolers, and cause a general ruckus. Still, we highly recommend bringing your own tent. With campfires allowed on the beach, there are few better ways to toast some marshmallows and see the stars.
SISTER CITY
If you keep walking south down the beach, or take the hour-long detour drive, you can find yourself in Chincoteague on the Eastern Shore of Virginia, where the wild ponies also roam, and the Pico Taqueria offers an unexpectedly delicious array of gourmet tacos.
WILD THINGS
In addition to the wild ponies, Assateague is home to a host of flora and fauna.
Ghost Crab: These swift-footed crustaceans blend in with the sand but can commonly be spotted scurrying sideways down the beach.


Prickly Pear: This eastern cactus is a native succulent to these seaside sands, with bright yellow blooms lasting until late summer and edible fruit appearing in the fall.


Dolphins: From May through October, bottlenose dolphins are often spotted swimming in pods in the open water before heading south for winter.

maryland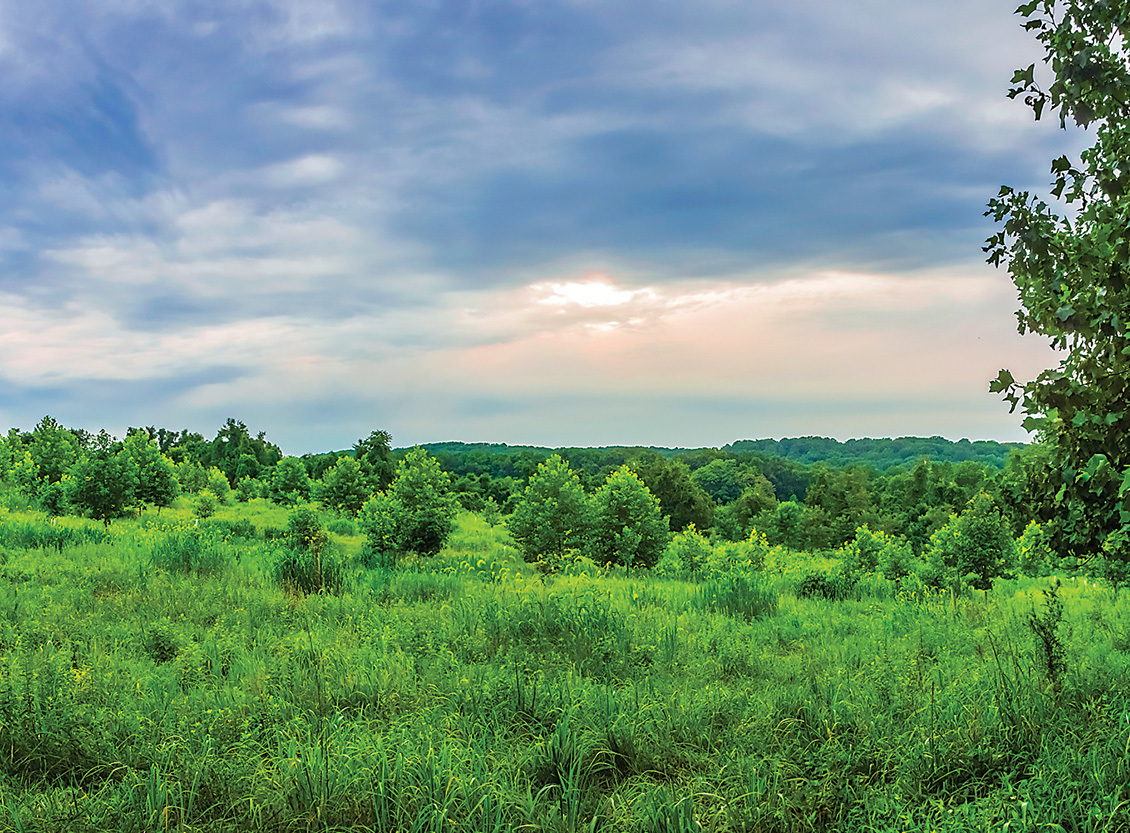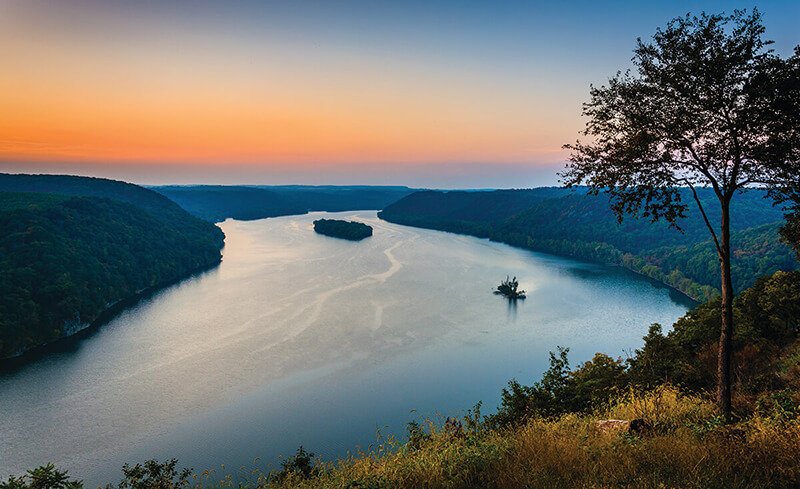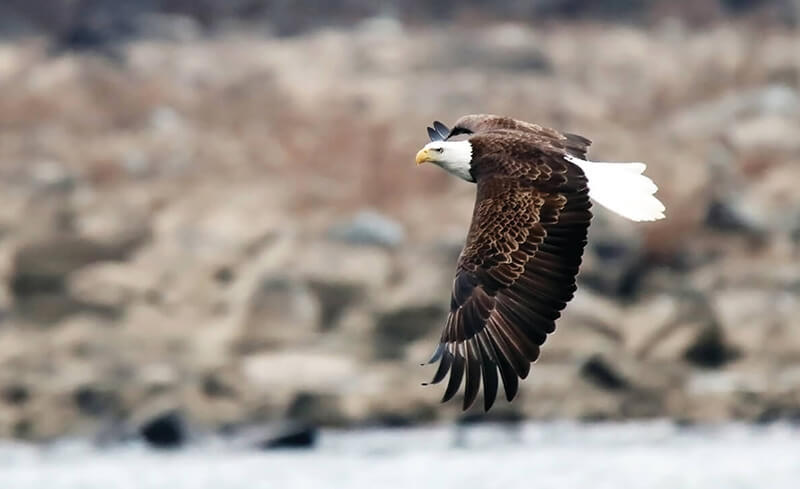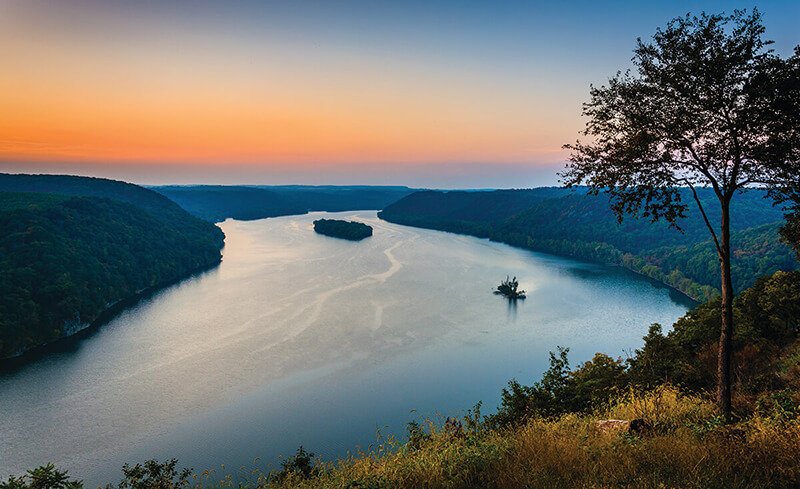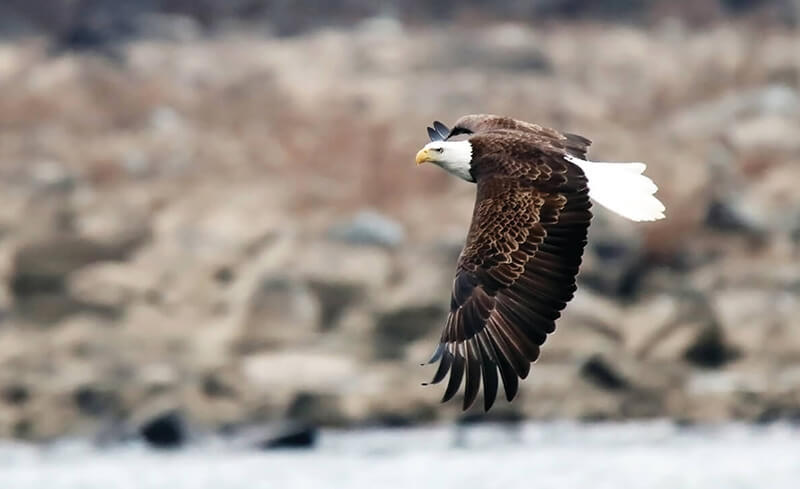 On the wide-open waters of the Chesapeake Bay, it can be easy to forget that our state estuary is actually the outpouring of the great Susquehanna River. Running from New York through Pennsylvania to Maryland, this ancient waterway was created at the end of the last Ice Age as the earth warmed and melting glaciers carved out the majestic river valley. Eventually, the Susquehannock Native Americans would call these waters home, with some evidence of their existence still surviving on the rocks of the riverbed. The best way to experience the Chesapeake headwaters, which provide nearly half of the brackish bay's fresh water, is to launch a kayak, canoe, or boat from Susquehanna State Park in nearby Havre de Grace and explore the shorelines and multiple uninhabited islands, said to have once been visited by Captain John Smith. Back on the mainland, quiet trails also offer a respite in the deep woods, with popular mountain biking paths and scenic river views.
Go Fish With a state fishing license, anglers can catch a bounty of fins here come fall, from rockfish and catfish to carp and perch.

NATIVE LAND
Not long ago, the Susquehanna River was riddled with Native American petroglyphs, most of which have been archeologically preserved in museum collections or submerged by the river's multiple dams. But across the Pennsylvania line into Lancaster County, one series of nationally protected examples still exists in the wild at the Big and Little Indian Rocks in Conestoga. Take the extra hour's drive with a water vessel to witness this prehistoric art for yourself.
WORTH A DAM
There's plenty not to like about the Conowingo Dam, especially after the recent releases following heavy rainfall that have forced Pennsylvania's trash into the Chesapeake Bay. But we can forgive them their sins this time of year, when the dam's overlook affords some awesome views of bald eagles swooping down to catch southbound fish.
Go Fish With a state fishing license, anglers can catch a bounty of fins here come fall, from rockfish and catfish to carp and perch.

CAMPING 101
A few tips and tricks for first-timers at arguably the best campground in Maryland.
Go online to reserve an ocean-side site within the National Seashore.

Prepare for cold showers. No hot water in the rustic stalls.
Pack away your food at night. The ponies are not above foraging.

Turn off your cell phone and try to find the Big and Little Dippers.

west virginia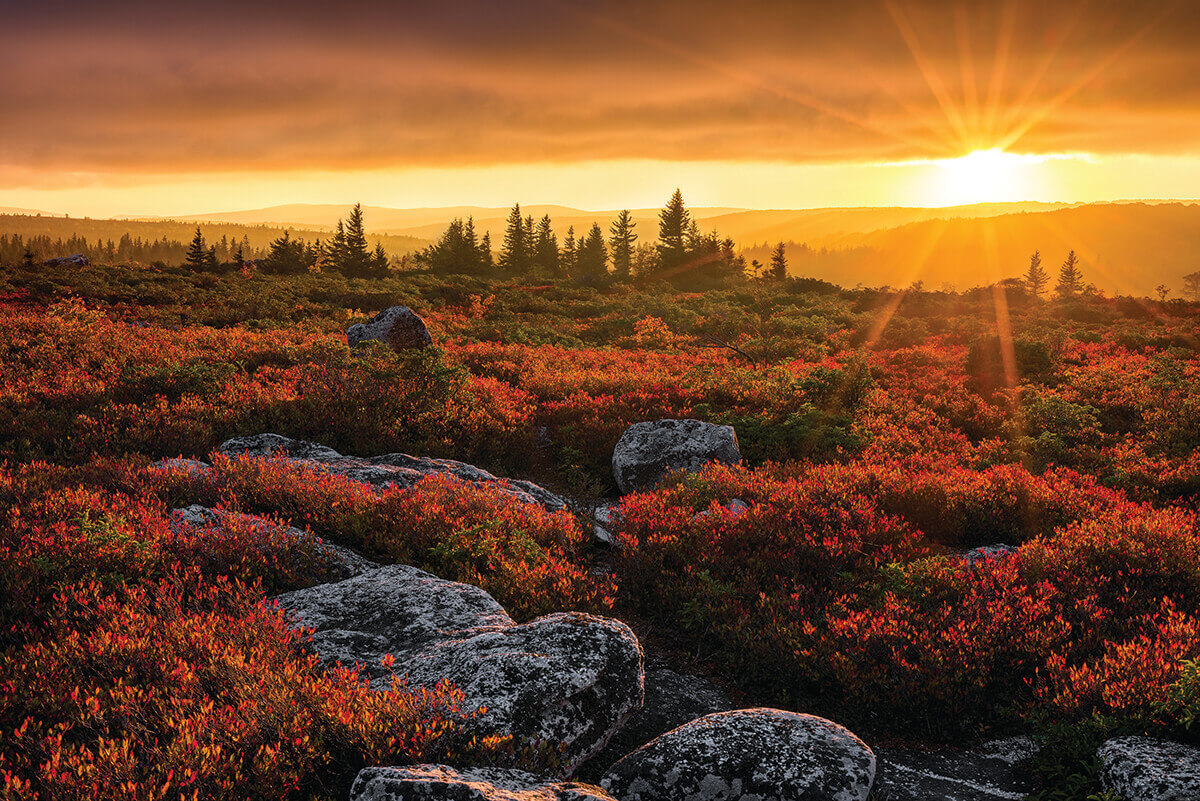 WATCH OUT! Watch where you're walking, as venomous timber rattlesnakes have been spotted in the Dolly Sods. They typically don't strike unless provoked.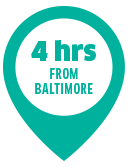 "Life is old there, older than the trees . . ." John Denver had West Virginia pegged when he wrote his 1970s hit, "Take Me Home, Country Roads," an ode that in recent years has been adopted as the Mountain State's official song. It is a wild and ancient place—especially the 17,000-acre Dolly Sods Wilderness, an undulating sea of green along the Allegheny Mountains in the heart of Appalachia. Located within the massive Monongahela National Forest, which spans the entire eastern border of West Virginia, this distinctive landscape is studded with 47 miles of nature trails through dense forest and meadowed plains, over mossy bogs and up craggy, boulder-strewn mountains that climb upwards of 4,700 feet. At the start, Blackwater Falls is a must, with accessible and awe-inspiring cascades located just outside the old coal mining town of Davis, whereas longer hikes, like the nine-mile round-trip Rohrbaugh and Blackbird Knob trails, offer a more adventurous, in-the-sticks trek. If possible, bring a four-wheel-drive vehicle for the narrow switchback roads and get comfortable with little-to-no cell service. From way up there, embrace the unplug and take a deep breath of fresh mountain air. "Almost heaven," indeed.
FALL FOLIAGE
Because of its elevation, the climate and plant life of the Dolly Sods is more similar to Northern Canada than Maryland or Virginia. This time of year, thousands of acres of wild heath will blanket the region in red, while yellow birch, beech, and black cherry trees turn the rolling hills orange and gold.
DOWNHOME DIGS
If you're looking for a comfortable bed after a day in the wild, the recently renovated Billy Motel in Davis is a fun, funky place to put your feet up. It's also a five-minute drive to the Purple Fiddle, a true-blue pitstop for old-time Appalachian music.
WATCH OUT! Watch where you're walking, as venomous timber rattlesnakes have been spotted in the Dolly Sods. They typically don't strike unless provoked.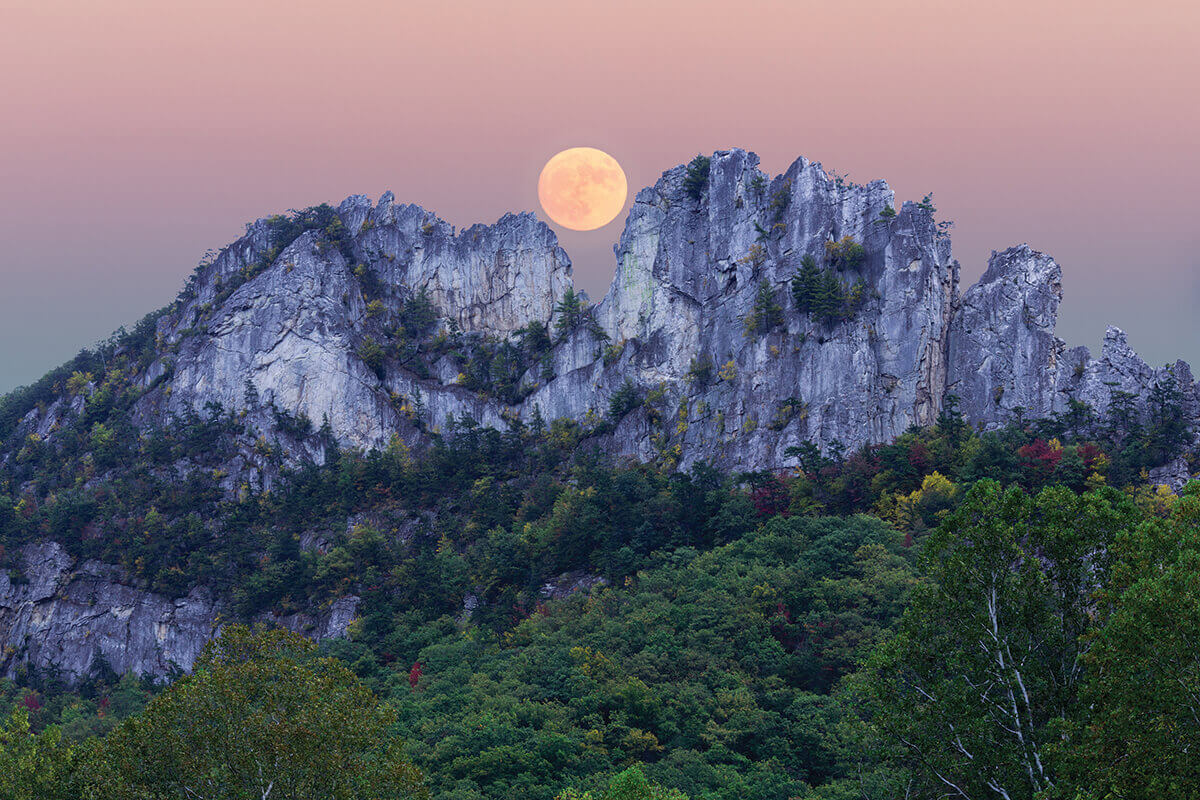 SWIM OR SCALE
Forty minutes south of Davis through backcountry roads, Seneca Rocks is one of the most beloved natural landmarks of West Virginia, with a jagged crag of sandstone shooting nearly 900 feet above the nearby North Fork of the South Branch of the Potomac River. It's a favorite for rock-climbing fanatics, while down below, a secluded swimming hole offers an icy, idyllic dip.
maryland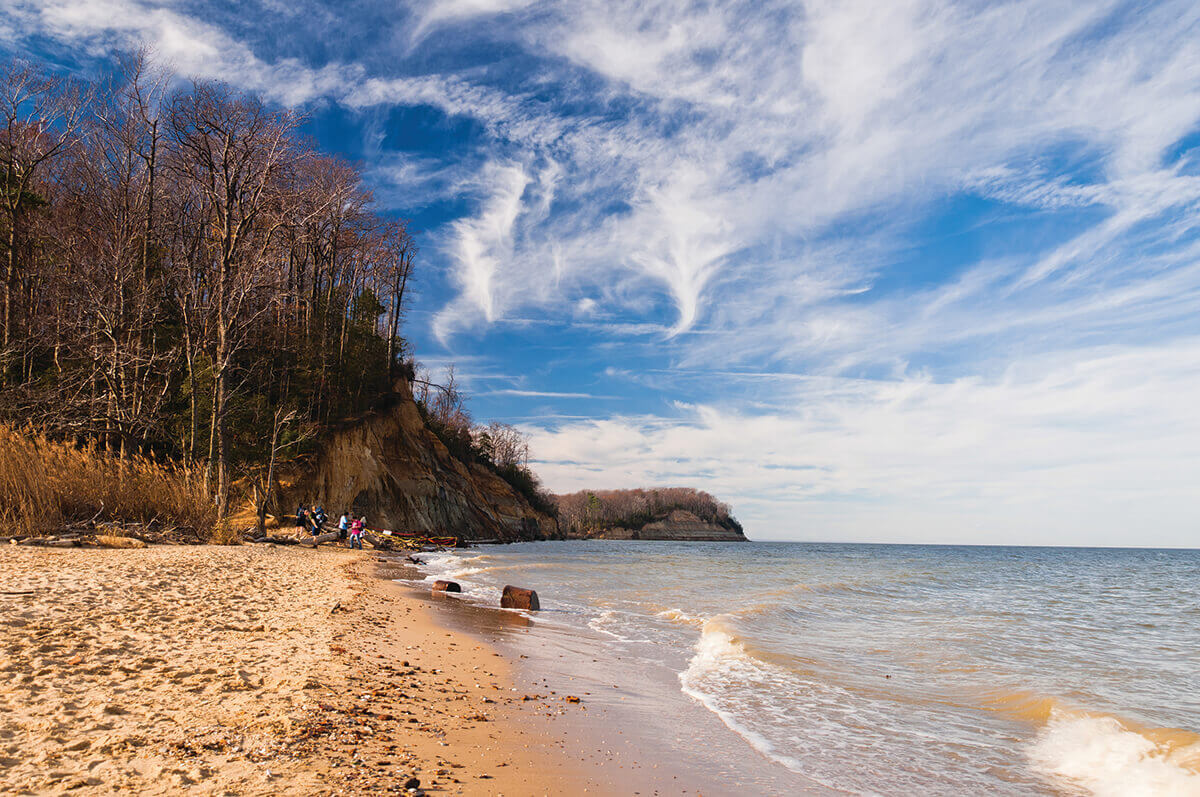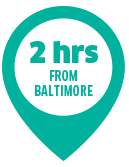 One of the state's best hidden gems is these massive, ancient cliffs along the edge of the Chesapeake Bay in Calvert County. Dating back 10 to 20 million years, when the Southern Maryland region was covered by a warm, shallow sea, these rust-colored bluffs were created over the eons by glacial melt and erosion and today run roughly 24 miles down the Western Shore as a treasure trove of prehistoric history. Walking along the shoreline in the shadow of the cliffs, you can stumble across and collect shark's teeth, whale bones, sea shells, and other fossils from before the time of man. Just arrive early, as expert treasure hunters often walk the sands at sunrise for the best finds. Bring the kids for extra hands and a day at the beach, or your dog (on leash) for an invigorating traverse over some 13 miles of the state park's hiking trails.

pit stop
The Frying Pan Restaurant in Lusby is a no-frills, old-school, worth-its-salt greasy spoon that's been serving locals home-style cooking (silver dollar pancakes, scrapple, fried oysters, chicken fried steaks) for the past 50 years.
ROCKY ROAD
This should be obvious, but don't dig into or walk directly beneath the cliffs. Landslides do occur due to active erosion.

Living History
If you don't find your own fossils, the nearby Calvert Marine Museum in Solomons is home to a stellar collection found along the cliffs, as well as historic Chesapeake boats and lighthouses.

maryland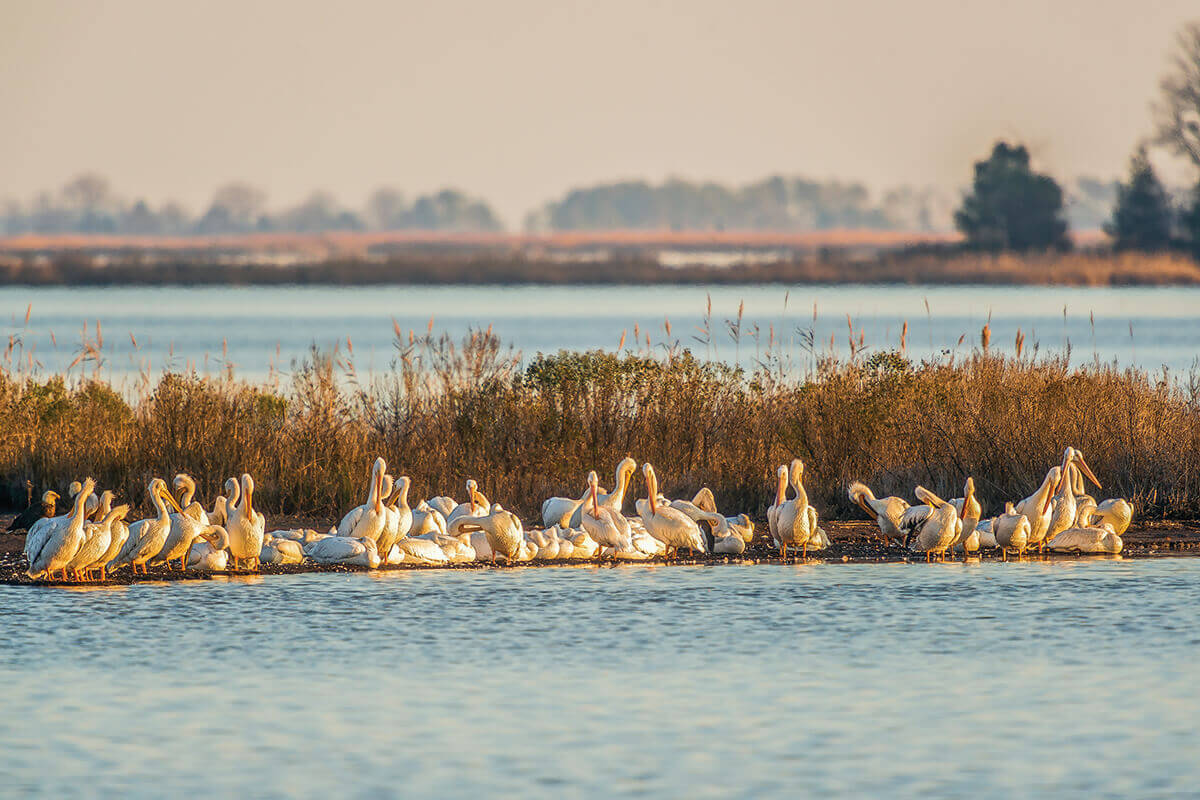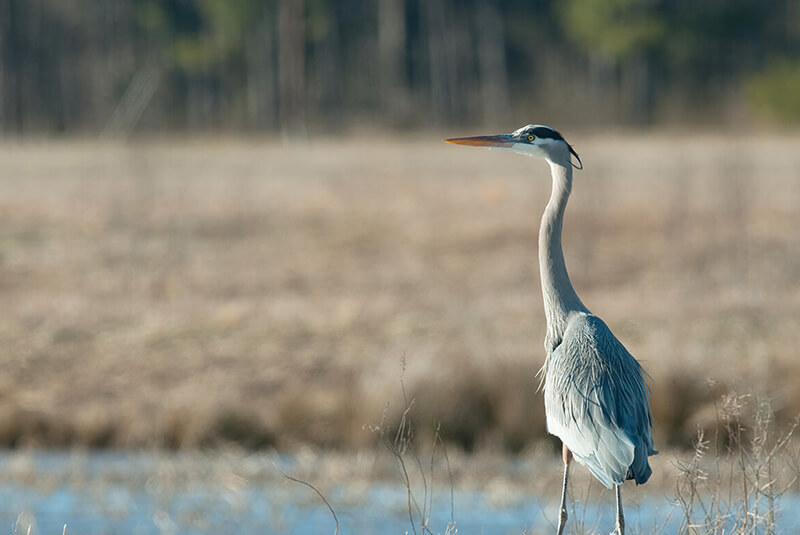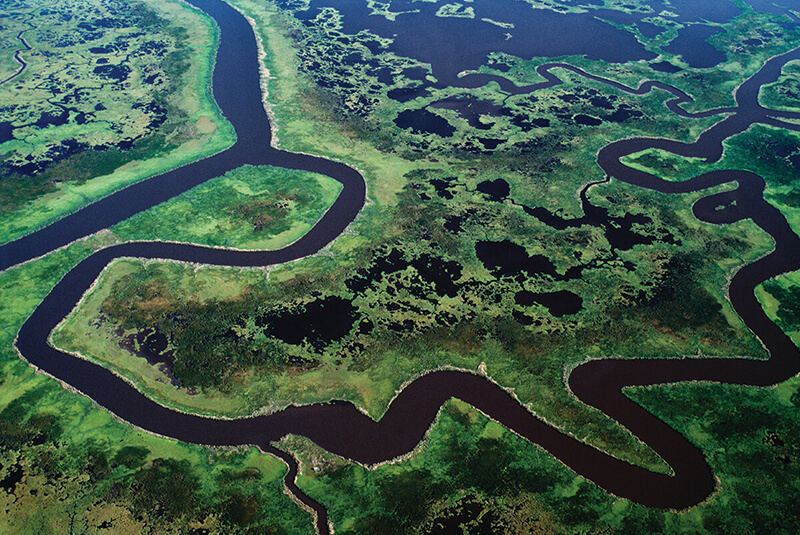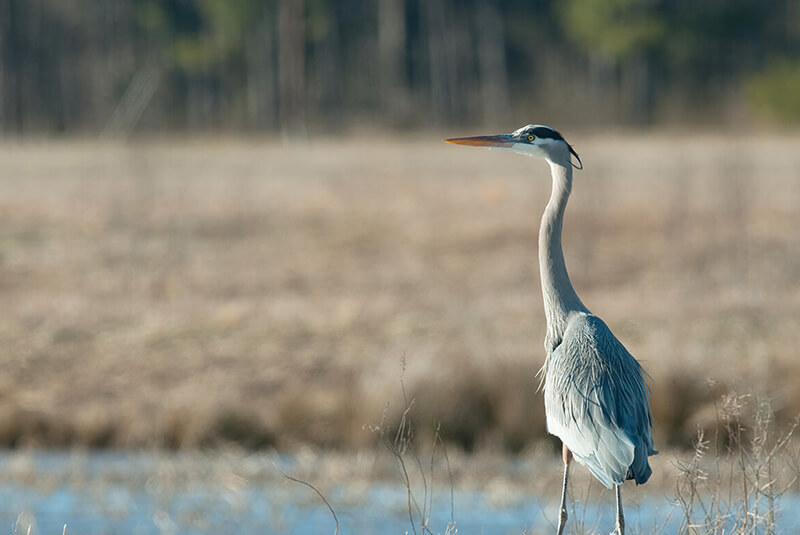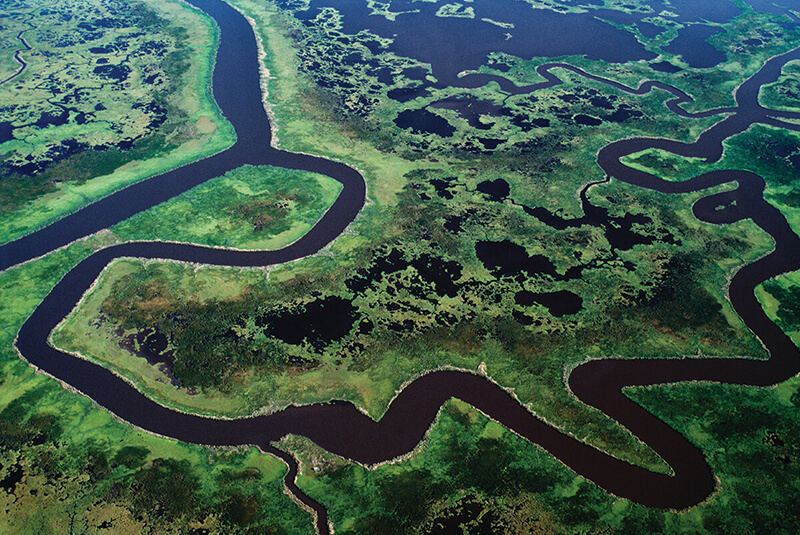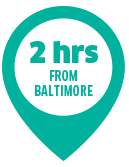 Prepare for your jaw to drop upon entering this national wildlife refuge in Dorchester County on the lower Eastern Shore. For as far as the eye can see, an expanse of forest and marsh unfurl toward what feels like the ends of the earth, with dark shallow pools of water and golden switchgrass blending with the horizon. Considered one of the "last great places" by The Nature Conservancy and known by some as the "Everglades of the North," these 28,000-plus acres are home to one third of the state's tidal wetlands and lie in a critical path for migratory birds, making it an ecological treasure of the East Coast. Get lost on an epic fall drive down the labyrinthine backroads, bike the myriad wildlife trails, or carry your kayak to explore the waterfowl sanctuary via the inky water itself.
BLACK MAGIC
The name "blackwater" comes from the local river waters that darken in color from rich tannins in the marsh soils.
GUIDING LIGHT
Before the park entrance, the Harriet Tubman Underground Railroad Visitor Center is a must-visit for moving museum exhibits and a scenic rest stop in the land where its legendary namesake abolitionist once lived and later returned to free other slaves.
FOWL FRIENDS
Bring your binoculars for bird sightings throughout the fall.


Bald Eagles: Expect to see these noble birds of prey in big numbers, as Blackwater has one of the largest populations of breeding bald eagles on the East Coast.


Geese: Starting in October, both Canada and snow geese arrive in the thousands for a winter break on their way down south.
Tundra Swans: Usually appearing in early November, these regal beauties make a statement in the sky and on land with their great white feathers and haunting call.

virginia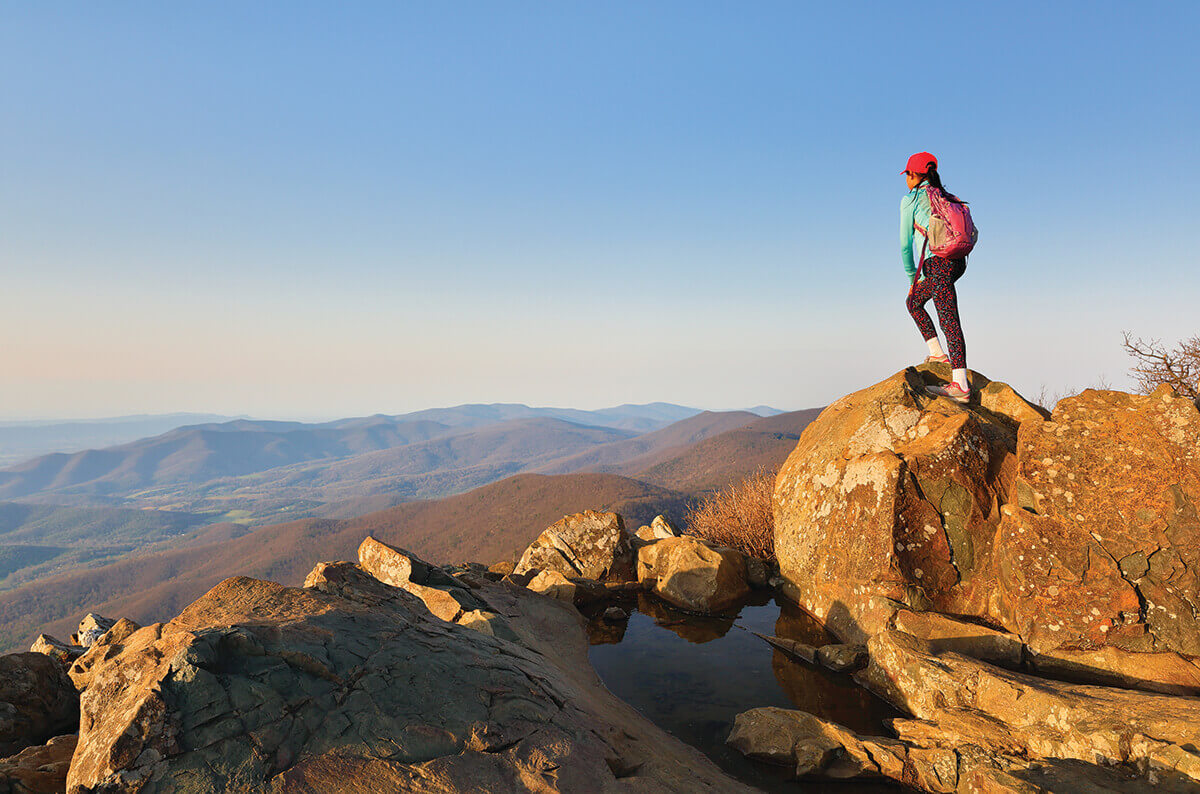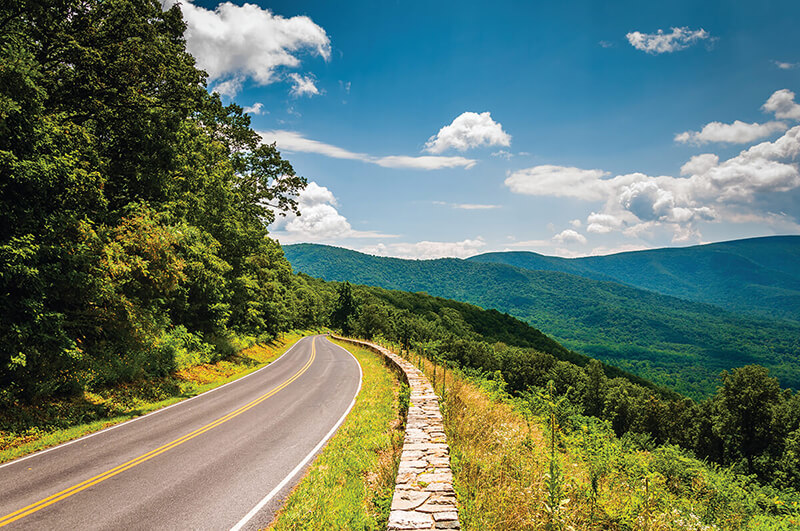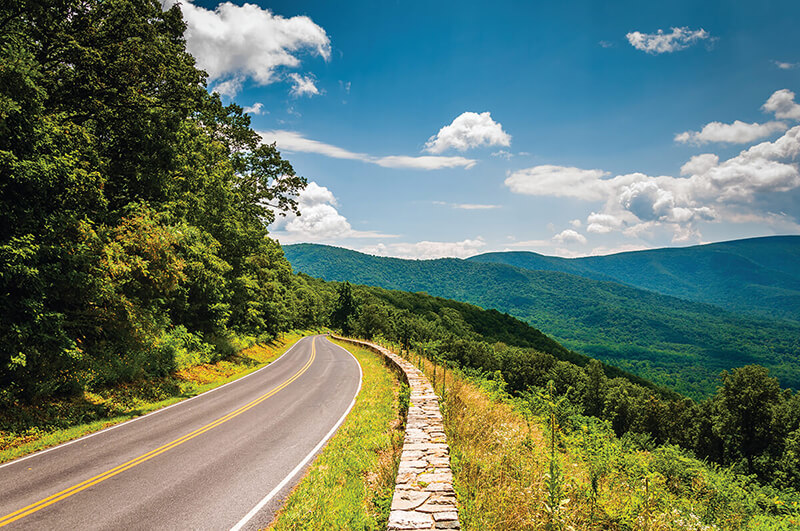 WATCH OUT! Black bears are common in these parts. Talk as you hike to make the animals aware of your presence, and if you have a run-in, keep your distance and walk away slowly without turning your back to them.
To put it simply, the Shenandoah National Park is something to behold, and the dramatic landscape, with 200,000-acres of protected land along the soaring Blue Ridge Mountains, will surely take your breath away. It's an outdoor enthusiast's Shangri-La, from the 105-mile stretch of mountaintop that is Skyline Drive, with its some 76 overlook pull-offs for taking in the magnificent vistas, to an abundance of trout streams fit for fly fishing, to tumbling waterfalls and easy detours for an afternoon of spelunking in natural caves. Of course, Shenandoah is also in the heart of the Appalachian Trail, with dozens of access points throughout the park, plus plenty of other hikes worth hoofing, like Hawksbill, a moderate climb to the park's highest peak, and the ever-popular yet challenging ascent up to the boulders of Old Rag.
ROCK OF AGES
You may have flashbacks to middle school field trips to Luray Caverns, but even for adults, these subterranean caves, the largest of their kind in the eastern U.S, are still a spectacle, from the Salvador Dalí-esque rock formations of Giant's Hall, to the optical illusion of Dream Lake, to the musical masterpiece of the Great Stalacpipe Organ.
WORTH THE DETOUR
The Seven Bends of the Shenandoah River technically abut the George Washington and Jefferson National Forests, but take the short drive to Woodstock to climb the town's observation tower. From 2,000 feet up, take in a bird's-eye view of this serpentine, riverine wonder.
WATCH OUT! Black bears are common in these parts. Talk as you hike to make the animals aware of your presence, and if you have a run-in, keep your distance and walk away slowly without turning your back to them.
SACK OUT
From camping to glamping and luxury lodging, feel comfortable putting your feet up in any of these mountain digs.
Big Meadows: This sprawling campground in the northern part of the park affords picturesque views, proximity to popular trails, and plenty of fire pit grills for roasting weenies in the woods.
Getaway House: These millennial-approved cabins offer a tiny-home experience with some modern amenities and Instagram-approved beds in the Stanardsville foothills of Shenandoah.
The Clifton: For the closest thing to a bed of roses, this historic estate features chic sleeps in former carriage houses just minutes from Thomas Jefferson's Monticello in Charlottesville.