Let's start with "out:" Overly injected frozen faces, duck lips, chipmunk cheeks, and Pamela Anderson breasts (even for her). Today, it's all about looking like the best version of yourself—refreshed, less tired, and, above all, natural. And to let you know just how "out" overdone cosmetic solutions are, Harper's Bazaar reported that makeup mogul Kylie Jenner's infamous lips are no more. In a selfie this past summer, she let fans know that she got rid of all her lip fillers—she's now sporting the more natural look.

According to the American Academy of Facial Plastic and Reconstructive Surgery (AAFPRS), one-third of facial plastic surgeons report that the "fear of looking unnatural" is a top concern among patients now.

New York facial plastic surgeon Dr. Edwin F. Williams III, a past president of AAFPRS, says, "When patients come in, they will often tell me that they're tired of looking exhausted. But it's important to them to look natural and not pulled and tight, but refreshed."

After all, who can forget the the cruel comments used to describe Renée Zellweger, Meg Ryan, Donatella Versace, and Barry Manilow over the years? But some celebs, such as Jane Fonda, Kelly Ripa, and Christie Brinkley, have had surgery, injectables, lasers, or a combination and still earn compliments on their good looks.

Michelle Flanders knows first-hand the toll that stress or fatigue takes on one's appearance. In 2017, the New York resident lost her husband suddenly. "The emotional toll was terrible. Every time I looked at myself, I saw someone who was tired and haggard," she recalls. "I just wanted to feel better about myself." So, in 2018, she had a consultation with Dr. Williams, who suggested a necklift, a partial facelift, and a chemical peel.

"I felt very comfortable with Dr. Williams' practice," says Flanders, who had been getting Botox on her forehead for several years and loved that it looked natural. In February 2018, at the age of 60, Flanders underwent surgery. She was thrilled with the results.

"I looked and felt better about myself. The best part was that it was so natural that anyone who I didn't tell, and that includes my 40-year-old daughter, never knew I had work done."

For Marylander Patti Kent, it was her eyes that made her look tired—friends would say she looked exhausted. After a consultation with Dr. Emily MacQuaid, a Maryland board-certified ophthalmologist and oculoplastic surgeon, the 66-year-old Kent had blepharoplasty—eyelid surgery—on her upper and lower lids. "The only people I told were my kids," she says. "My friends couldn't put their finger on it and would say, 'Did you change your hair color? Did you lose weight?'" Now, at age 73, Kent says, "I go regularly to Dr. MacQuaid to get Juvederm, Restylane, Botox, and anything else I need to keep me looking good while still looking natural. I feel young and want to project that."

According to Dr. Williams, "It's always difficult to tell when someone has had good plastic surgery because, quite frankly, good work is not seen unless you look at someone's before-and-after photos in the same lighting, same position, and same focus." And the same goes for nonsurgical procedures, too.
Board-certified plastic surgeon Dr. Michael Cohen, who's president and medical director of Belcara Health in north Baltimore, offers a range of plastic surgery, dermatology, podiatry, ophthalmology, skin and laser, and wellness services. -Mitro Hood
Your Face, Streaming 24/7
These days, with selfies and video conferencing, people are aware and concerned more than ever before about how their face looks. Call it the sign of an insecure, self-absorbed society if you wish, but according to the AAFPRS, "selfie-awareness" is more than a fad. In 2017, 55 percent of facial plastic surgeons saw patients who wanted to look better in selfies (up 13 percent from 2016).
And the number of cosmetic procedures reflects this. The American Society of Plastic Surgeons (ASPS) reports there were 17.5 million surgical and minimally invasive procedures (such as injectables) performed in the U.S. last year, and Americans spent more than $16 billion on cosmetic plastic-surgery procedures in 2016.
But just as most people want to look better or aren't ready to grow old gracefully, not everyone is jumping to go under the knife. Maryland board-certified plastic surgeon Dr. Gregory Dick says, "In my practice, I'm seeing more and more people wanting nonsurgical procedures. People don't want any downtime, they like that fillers are reversible if they don't like how they look, and many just don't want surgery. Also, some nonsurgical procedures are a way of seeing how they would look before they decide to have surgery."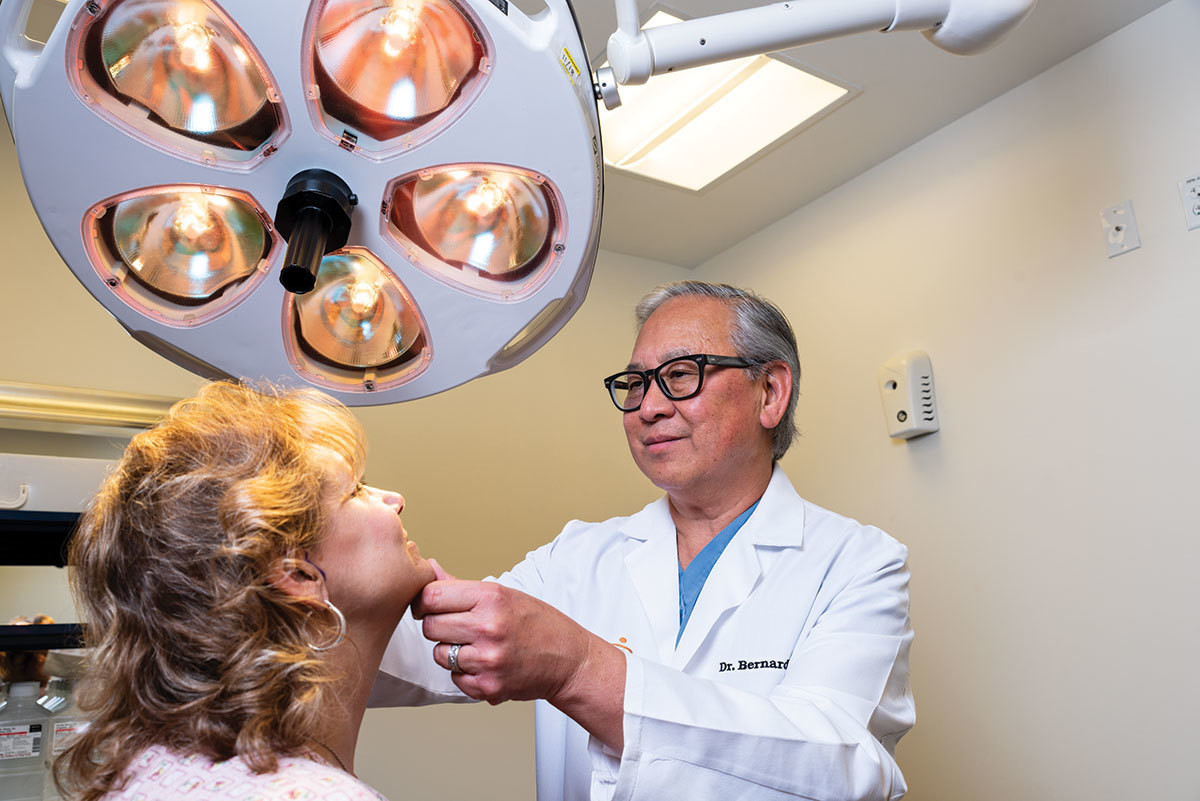 Dr. Bernard Chang, who is director of plastic and reconstructive surgery at Mercy Medical Center and also leads The Breast Reconstruction and Restoration Center, marks a patient for facial reconstructive surgery. -Mitro Hood
No Anesthesia, No Knives, Thank You
Maryland dermatologist Dr. Robert Weiss, who does many clinical trials, says, "Thanks to so many great dermal fillers and other nonsurgical procedures, more and more people are putting off or never having a facelift or other surgical procedures." This may be why the demand for facelifts has been falling. According to the ASPS, all facelifts dropped four percent, with mini facelifts dropping a whopping 14 percent from 2016 to 2017.
But what if you hate your nose—and don't want surgery? "Today, thanks to fillers, you can have a nonsurgical nose job," says Dr. Dick. "Fillers can be used to subtly improve the shape of your nose, though it can't make it smaller, and it isn't permanent. It's also a way of seeing how it will look if you do decide to have rhinoplasty."
With any filler, Dr. Dick likes to be conservative. "More can always be added. I also use filler in the cheeks and chin. And once again, sometimes a patient likes it so much that they want the look to be permanent, so we do a chin or cheek implant."
Fillers also come to the rescue for shadows and a depression under your eyes, whether the cause is genetics or a sign of aging. Products like Restylane and Juvederm, which come in various strengths and can be used on different areas of the body, can help with that and last from six months to a year. And now with the use of Lidocaine (a local anesthetic), the treatment is comfortable and there's no downtime.
Another challenge: As we age, our face loses volume and collagen. Some of the things we start to notice are sagging, more wrinkles, jowls, and turndown of the corners of the mouth. Today, thanks to a long list of dermal fillers such as Juvederm, Radiesse, and Restylane, these concerns can be addressed without surgery. Many times, Botox or Dysport is used with dermal fillers, so the results may last even longer. And there is a range of products that address different areas of the face. Dr. Weiss adds, "Even more products are in the works. In less than a year, Restylane Kysse will be out. It's supposed to last six to 12 months and will enhance lips and add definition to lip borders. There is even one in the works that will last longer than Botox. Rather than three months, it will last six."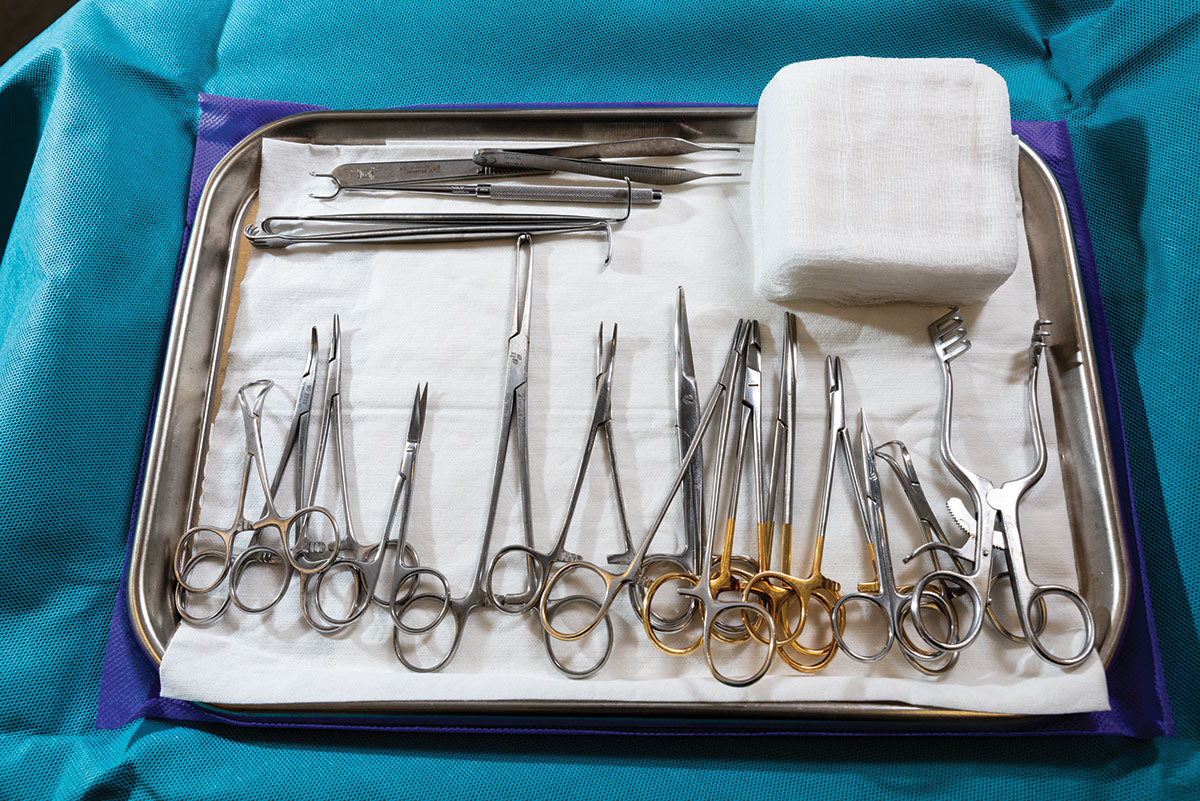 Tools of the trade: Many cosmetic procedures today are relatively minor, requiring relatively simple surgical instruments such as these. -Mitro Hood
Power Up The Lasers
According to Maryland doctor Shirley Olsen, a specialist in laser therapy and skin care, lasers also play an important role in helping to reduce wrinkles, age spots, acne scars, and other blemishes, as well as tightening skin and balancing tone. They do this by removing the most damaged outer layers of skin to reveal the healthier-looking skin and encouraging new, healthy skin-cell growth. And now doctors are using non-ablasive lasers that require less downtime.
Dr. Olsen uses fractional skin resurfacing for a fresher, more youthful skin tone and texture and to diminish the appearance of wrinkles and texture imperfections. In addition, she uses intense pulsed light (IPL) to reduce the signs of sun damage, rosacea, and brown spots on the face, hands, and body. It can also be used to lessen the appearance of mild acne scars, dark circles around the eyes, and fine lines around the eyes and mouth.
"With more people paying attention to their face and chest, I'm now seeing people who want laser treatments for their hands to remove brown spots," notes Dr. Olsen.