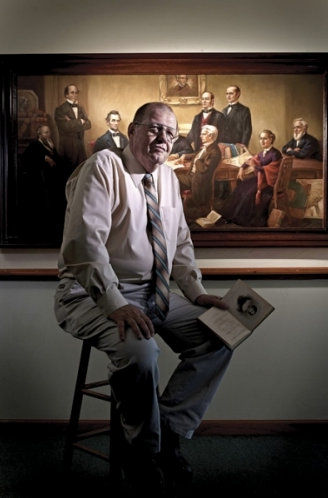 On a cool, autumn evening, motorists traveling U.S. 50 through Cambridge were doing double takes. As if twilight on the Choptank River had conjured apparitions, there was Abraham Lincoln, alive and well, smiling and waving from a horse-drawn carriage ambling across four lanes of highway. Sitting across from the President was a woman, not so familiar, her black and gray hoop skirt blooming about her feet, a crimson sash around her neck. Red ringlets framed a face that wore a faint grin suggesting, "I know something you don't."
The carriage then rolled down a long lane to the Hyatt Regency Chesapeake Bay Resort, where a Confederate soldier greeted Lincoln and his companion. Addressing the President, the soldier saluted and extended his hand. "You're welcome to Cambridge, Mr. President," he said. "For the evening, you can consider me a reconstructed rebel."
Then, Lincoln and his companion make their way down the red carpet. It was an odd scene, but world premiere movie events don't often come to Cambridge. When they do, folks in Dorchester County sure know how to mark the occasion, especially when the film celebrates one of their own. In fact, Bruce Bridegroom's indie feature, Lost River, isn't really about Lincoln; it's about Eastern Shore-native Anna Ella Carroll. Carroll, who's buried at Old Trinity Church outside Cambridge, was a Civil War heroine, "secret" member of Lincoln's cabinet, and a figure that has largely been erased from history.
Carroll and Lincoln—or rather, Lost River stars Tami Sutton and Fritz Klein—mingled with VIP guests in the Hyatt's Chesapeake Foyer room, before the screening. "So good to see you," Lincoln boomed, as he worked the room and posed for photos. One might have thought he was preparing for another run at the White House in 2012. For her part, Carroll was quieter and demure.
As the lights dimmed in the sold-out 1,200-seat ballroom, Frank Bittner breathed a sigh of relief. The head of the local Friends of Anna Ella Carroll group, he was thrilled that Carroll was finally getting her close-up. Sipping a 7Up, he wearily noted that he and the group had dreamed of "[the day] when someone beyond the boundaries of Dorchester County, someone on the Western Shore or in Washington—just someone else in the country—would find out about [Anna Ella Carroll] and finally give her the recognition and credit she deserved."
Bittner had never heard of Carroll before he moved to the Shore 14 years ago. But her story became an obsession for him.
Born and raised in Baltimore, Bittner grew up in a tight-knit Curtis Bay neighborhood made up of Polish, Czechoslovakian, and Ukrainian families. "When you were being brought up, you were taught to be involved in your community," says Bittner, a communications technician and engineer by trade. "Family is number one, church is number two, and community is number three."
In the early 1970s, Bittner moved to Fells Point. Inspired by the newly elected mayor, William Donald Schaefer, Bittner's commitment to community grew. In 1971, he founded East Baltimore Christmas, an annual caroling procession through the streets of Fells Point that's still going strong after 40 years. He also became the Polish community's liaison to Schaefer's Office of Special Projects and helped organize the city's first ethnic festivals. "Don saw the value in community service." says Bittner. "He knew how to use one or two or three elements to create a fourth, fifth, and a sixth . . . And that inspiration is how I really learned, 'OK, we can get other people excited and they'll want to get involved.'"
In 1996, Bittner's life, and his relationship to the community, changed forever. He came home one evening to a robbery in progress. Beaten badly, he woke up four days later at Shock Trauma. He had severe brain damage and spent more than two years relearning how to walk and talk.
During this time, Bittner's friend, Reverend E. Owen Groman, had become rector at Old Trinity Church, a few miles south of Cambridge. Groman made arrangements for Bittner to rent a house from a parishioner on Hooper's Island, a remote watermen's community. The house was 90 years old and never had a lock on its door. "At a time when I had to learn how to re-trust mankind," recalls Bittner, "there were quite a few caring and kind people that still had old thoughts and appreciated one another."
One day, a neighbor told Bittner about a Dorchester woman who had been part of Lincoln's cabinet and was buried at Old Trinity. "I heard this story and I was amazed," says Bittner.
He learned that Carroll was born August 29, 1815 and raised on her family's plantation, Kingston Hall, in Somerset County. As part of the distinguished Carroll family, she had politics in her blood. Her father, Thomas King Carroll was a prominent lawyer and governor of Maryland (1830-31); his cousin, Charles, who died in 1832 at the age of 95, was the longest surviving signer of the Declaration of Independence.
Speaking of the Carroll family's legacy, Lincoln once told a group of congressmen visiting the White House that, "Miss Anna Ella Carroll is the head of the Carroll race, and when the history of this war is written, she will stand a good bit taller than old Charles ever did."
Having been tutored by her father, Carroll emerged as a shrewd political strategist and an eloquent writer. Not only was she active in Maryland politics for more than 20 years, she also worked as a lobbyist for the railroad industry and gained access to the halls of Washington.
After Lincoln's election in 1860, she emancipated her slaves and railed against secession in her writings. Her first major political pamphlet, 1861's Reply, vigorously defended Lincoln against accusations that he'd unconstitutionally gone to war against the Southern states. It caught the attention of the President, who requested a meeting with the "daughter of Maryland." More pamphlets on behalf of the administration followed, including The War Powers of the General Government, which argued in favor of Lincoln's imposition of martial law and suspension of the writ of habeas corpus.
The Friends believe that, in 1861, Lincoln sent her on a mission to gather intelligence for the war effort. Carroll traveled to St. Louis, interviewing soldiers and consulting riverboat captains, and sent a detailed plan to the war department suggesting that Union forces move along the Tennessee River, rather than the Mississippi, to push into the South.
General Ulysses S. Grant enacted just such a plan, captured Confederate forts along the Tennessee River, and set the Union on a course to victory. "It's almost beyond belief that she was able to make that trip, make the observations she did, and come back with a plan of what they ought to do," says retired Brigadier General Wilma Vaught.
Vaught, who learned about Carroll while attending the Industrial College of the Armed Forces, served for 28 years in the Air Force and retired in 1985 as one of the most highly decorated women in the country. "There were so few women who played anything that could be described as a key role during that period of time," says Vaught, who ranks Carroll alongside Civil War-era heroines such as Harriet Tubman and Clara Barton.
Historian C. Kay Larson concurs. "She was the most important political woman of the 19th century, suffragists aside," says Larson, author of 2004's Great Necessities: The Life, The Times, and Writings of Anna Ella Carroll, 1815-1894. "Very few can compete with her in terms of political, legal, intellectual, and military influence—male or female."
Others aren't so sure, and a recent Washington Post Magazine story outlined doubts some historians have about the timeline of events and the extent of Carroll's contribution to the war effort. Bittner is well aware of the doubters and welcomes the discussion. He says, however, the full truth may never be known, because important documents have either been destroyed or misplaced.
We do know that after Lincoln's assassination, Carroll spent nearly 20 years appealing to the government for compensation for her contributions. In 1881, Carroll's name was put on pension rolls, and she was paid the meager sum of $50 a month for the rest of her life. She died in 1894, largely forgotten.
But she may have gotten a nod in Francis B. Carpenter's 1864 painting, First Reading of the Emancipation Proclamation. The painting, which hangs in the U.S. Capitol, depicts Lincoln and his cabinet gathered for the historic moment when slavery was abolished. It includes important figures such as Secretary of War Edwin Stanton and Secretary of State William Seward. In the lower right-hand corner, there is an empty chair draped with a red shawl and surrounded by books and maps of the Tennessee River. Bittner and the Friends are convinced it is Anna Ella Carroll's chair.
A few months after the Lost River premiere, the Friends of Anna Ella Carroll gather at Earl Brannock's home in Cambridge for one of their semi-regular meetings. Seated around a dining-room table and nibbling on coffee and crumb cake are Bittner, Brannock, and their friends Sandy Saunders, Hugh Carter Vinson, Mable Potter, Irene Harper, and Andrew Todd.
At 57 and 26, respectively, Bittner and Todd are the whippersnappers of the group. The rest of the members, in their 70s and 80s, are old enough to remember when Carroll's story was part of the local schools' history curriculum.
Todd, who created the group's website (friendsofannaellacarroll.org), doesn't seem to mind the age difference. "I just have to repeat myself a lot," he says.
The others laugh, and Saunders chimes in, saying, "Hey, old people rock," which probably goes without saying for a bunch of history enthusiasts.
The Friends formed in the late-1990s as a loose-knit group to swap bits and pieces of Carroll lore. It was all pretty casual until Bittner, while surfing the Web, learned about the Lost River movie, which was written and produced by Bruce Bridegroom, a Tucson lawyer and historian. Bridegroom became fascinated with Carroll after reading an obscure biography, My Dear Lady: The Story of Anna Ella Carroll, the Great Unrecognized Member of Lincoln's Cabinet, which was published in 1940. "I felt she needed a champion," says Bridegroom, who wasn't aware of Bittner's group. "I felt if somebody else doesn't do it soon maybe it would never get done."
He shot the film in Arizona and Mississippi, much to Bittner's chagrin. "When I got in touch with him I think I scared him a bit," recalls Bittner. "I said, 'I'm from Dorchester County. We own Anna Ella Carroll, by the way. She's buried here. She's ours, and you've made a movie about her and you didn't come talk to us.'"
So Bridegroom traveled to Maryland in February 2010, screened Lost River for the Friends, and offered them the world premiere to make amends. At that point, the Friends sprung into action and pulled out all the stops for last year's elaborate Anna Ella Carroll Day—which included the film event, a grave-side ceremony at Old Trinity with General Vaught and other dignitaries, an afternoon tea, and tours of the area.
The group, which recently won the "Organizational Excellence" award from the Chesapeake Country Heritage Area, also commissioned artwork by Talbot County artist Laura Era. At first glance, the new piece looks like a copy of Francis Carpenter's 1864 painting. But, in Era's piece—which is titled Maryland's Version of First Reading of the Emancipation Proclamation—Carroll is seated at the table. The artist took other liberties, as well. "I have two people in the painting looking out at you, and that's her and Lincoln," says Era, who nicknamed the portrait "Anna and the Boys." "Those two are the stars of the show and the important figures, and I wanted that to be a connection between the two of them."
Era also gave Carroll a "Mona Lisa" look. "[You're] not sure what she's thinking," she says, "but it could be, 'It's about freaking time.'"
But the group isn't resting on its laurels. To everyone's delight, Bittner reports that the State of Maryland has proclaimed an annual Anna Ella Carroll Day, which will be commemorated this year on Saturday August 27, two days before her birthday. It will include a Lost River screening in Cambridge and other Carroll-centric events around town. There's even talk of getting Carroll's story back into the local schools' history curriculums.
"All of these things that connect to Anna Carroll have come back to roost," says Bittner. "It was just so many good things that fell together. It's almost like she refused to rest 'til she got her recognition."
---
---