---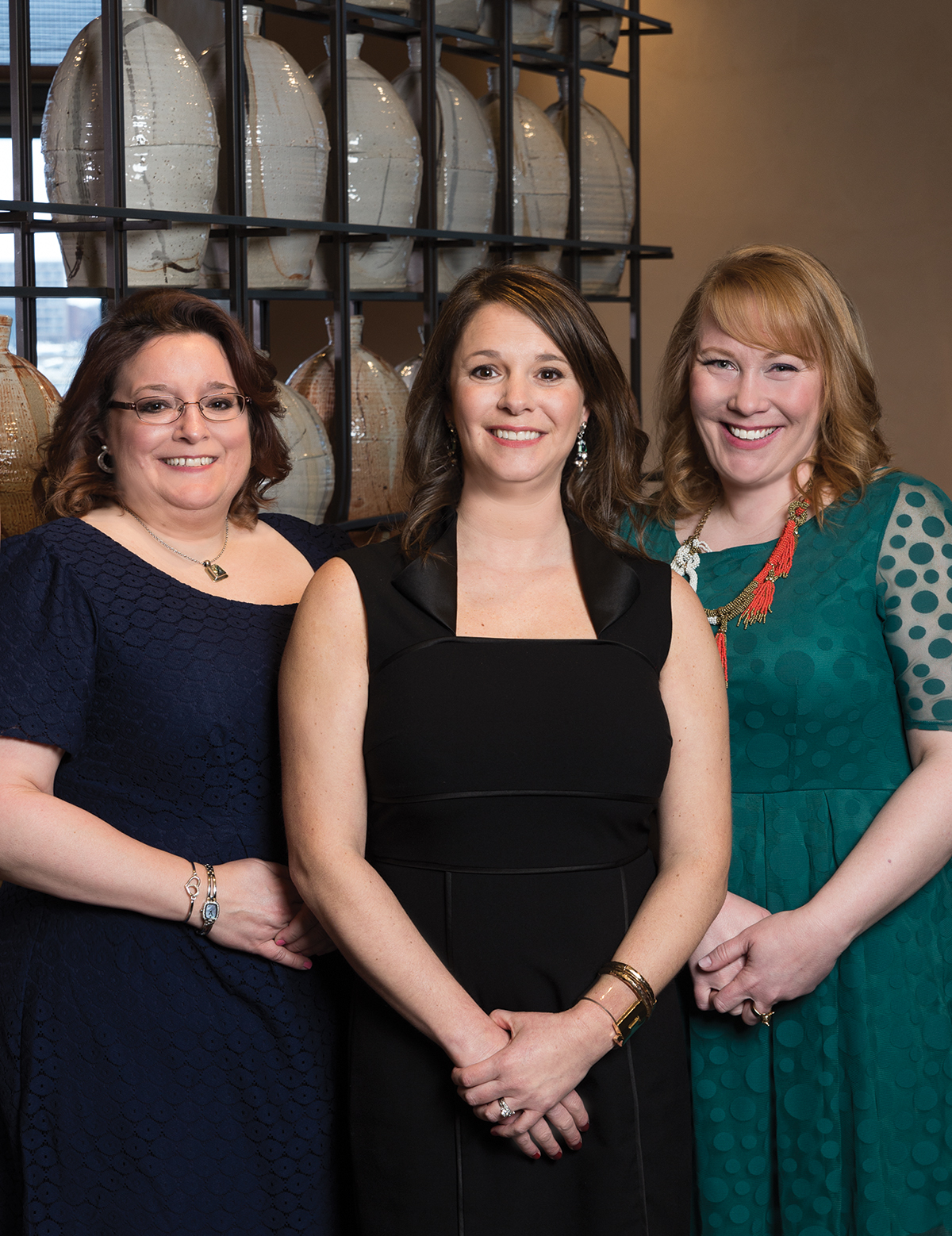 Jackie Bayer
ASID, CID
Sadie Sanchez
allied ASID
Carla Snider
Design Directors and CFO, respectively
Amanda Austin Interiors is a full-service interior design firm in Federal Hill. Its motto, in the words of its late founder, is "A house is bought…a home is made. [It] is a sacred place [and] should be the place that you most want to be." What is your design philosophy? "Less is more," say Jackie Bayer and Sadie Sanchez. What sets you apart from other interior designers? "Being a small company allows us to tailor our services to each individual. We treat each project completely differently from the next, while still applying the same talent and fine-tuned skill set we're known for." What industry awards have you won? "We were recently named among Houzz.com's Best of Houzz 2014." What's next? "Carrying on the bustling business Amanda Austin created. We continue to be inspired by her memory and her positive outlook on people and life."
Amanda Austin Interiors
1020 S. Charles Street, Baltimore, MD 21230
443-759-6177, AmandaAustinInteriors.com
---
Lisa Phillips
Owner
Celeebrate Us Gift Baskets and More
1304 Whatcoat Street, Baltimore, MD 21217
443-591-2658, celeebrateus.com, [email protected]
Lisa Phillips's new Celeebrate Us shop specializes in custom gift baskets. What's your goal for Celeebrate Us? "I hope to become a franchise like Edible Arrangements," says Phillips. What's your educational background? "I'm currently in the UB/Towson M.B.A. Program, which I feel will help in the business." What industry awards have you won? "I was an American Marketing Association scholarship winner." Tell us about your work in the community: "I've worked with Big Brothers/Big Sisters, Girl Scouts of Maryland, and Black Professional Men Inc." If you had a motto, what would it be? "Forget the gift card—get a gift basket and let us do the work. The extra 'e' in our name is because we do extra!"
---
Rita Moore
Owner/Stylist
Colours Salon
2346 York Road, Timonium, MD 21093
410-252-0933, [email protected]
Colours is a full-service salon, handling everything from hair, nails, skin care, and massage to bridal styling and makeup. How did you get into this field? "I grew up in a large family and loved styling my sisters' hair from a young age," says Moore. How has Colours grown? "In 21 years, we've tripled our staff to 30, and gone from just hair and nails to full service." What tells you you're doing it right? "We hear all the time how Colours creates a warm, inviting atmosphere. Our clients are our family." What about off-hours? "I've been recognized by GBMC and Johns Hopkins for my work promoting breast-cancer awareness."
---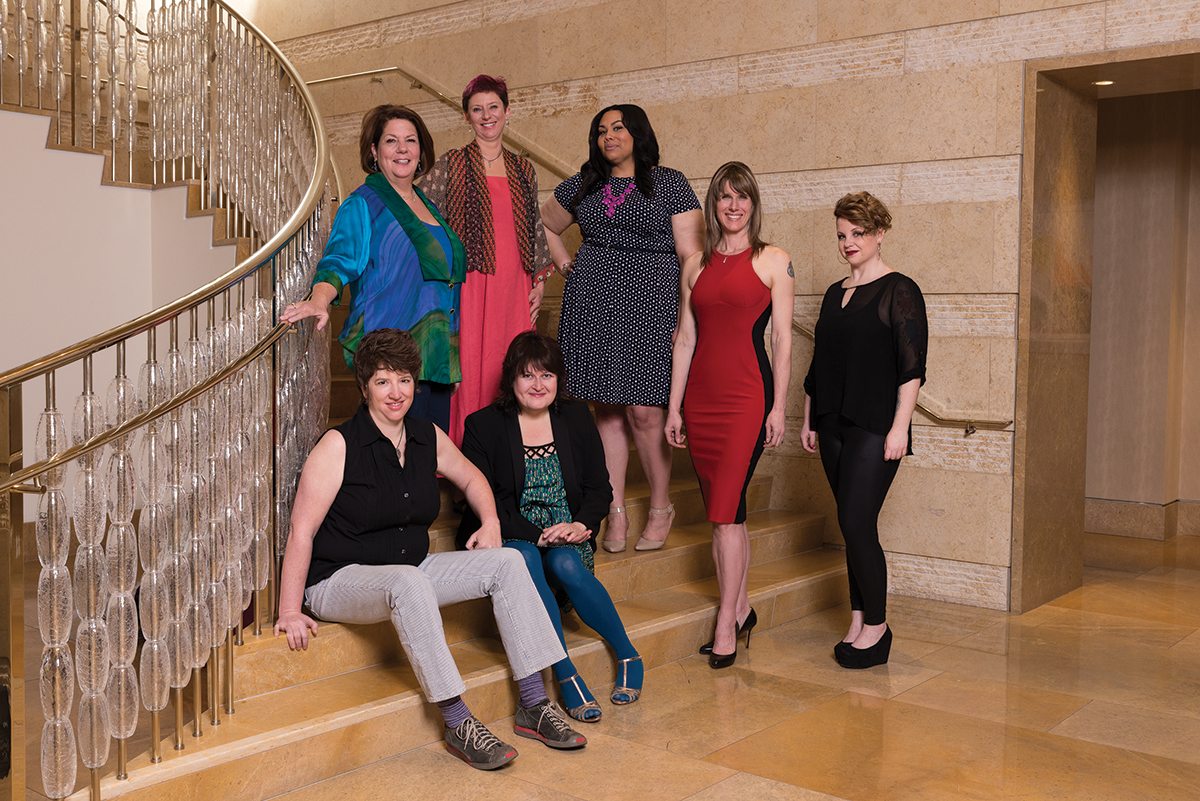 Standing(l.-r.): Sue Caldwell, Edye Sanford, Jade Greer, Jacq Jones, and Lindsay Hall. Seated(l.-r.): Amanda Pellerin and Susannah Siger.
Sue Caldwell
LovelYarns
3610 Falls Road
410-662-YARN
Edye Sanford
Designs from the Edge
edyesanford.com
410-467-8729
Jade Greer
K Station Boutique
1007-A 36th Street
410-400-9113
Jacq Jones
Sugar
1001 W. 36th Street
410-467-2632
Lindsay Hall
Flaunt
803 W. 36th Street
410-235-1001
Susannah Siger
Ma Petite Shoe
830-832 W. 36th Street
410-235-3442
Amanda Pellerin
Artist
Feldenkrais Practitioner
Ma Petite Shoe Cafe


[email protected]
These seven women in business are leaders in Hampden's merchant community, having built their enterprises from the ground up. Their stories are as varied as the women themselves.

Tell us about Lovelyarns: Sue Caldwell opened the shop in 2006 and is proud to stock a large selection of locally hand-dyed yarns. Look for her "knit graffiti" at ArtScape and around town.

What is Designs from the Edge? Edye Sanford designs and sews beautiful, original apparel for women and children, whether it's a dream wedding gown, custom pants, or a vintage re-design.

Why is K Staton Boutique different? Owner Jade Greer's big idea came when she was flipping through a Baltimore magazine in the checkout line. "I instantly noticed not one boutique catered to me, a woman who loves fashion at size 18/20."

What's hot at Sugar? "Fifty Shades of Grey reminded women that passion is important," says owner Jacq Jones, "and our body-safe adult toys help bring the spark back!"

What sets Flaunt apart from the other salons? The glass of wine as you enter, followed by a personal consultation, and product education keep Lindsay Hall's clients both comfortable and current.

How has Ma Petite Shoe evolved? Susannah Siger grew her original boutique into a store that sells not just shoes, accessories, and exotic chocolates, but added in 2013 a Frenchie café.

What happens when an artist creates her own career? Amanda Pellerin is currently on the artist roster with Young Audiences of Maryland, co-owns Ma Petite Shoe café, and is a certified Feldenkrais practitioner.
---
Annie Balcerzak
Realtor
Purchasing real estate is one of the most important investments you will ever make. Annie is committed to delivering a high level of expertise, customer service, and attention to detail to the marketing and sales of Baltimore real estate. Her clients describe her as driven, energetic, and extremely knowledgeable. "Annie will be your Realtor for life, not just a transaction," says one of her clients. Tell us about your awards: Annie has proven to be a top producer in her field, and in 2013 she was inducted onto the Presidents Circle of Prudential for her achievements. What is a particular strength you have? Her ability to relate to buyers and sellers, and put them at ease throughout the transaction is unmatched. "I strive to actively listen to and react to every need of my clients as if it were my own personal home. I truly love what I do, and I think that shines through with my clients." What about your other activities: In her spare time, Balcerzak has also rehabbed over 35,000 square feet of combined property. "I love getting my hands dirty, and learning new skills." If you walked into one of her rehabs, you'd likely see her mudding drywall or laying tile. "Being able to walk through a property and paint a picture of what "could be" to a client is a huge help to them." Balcerzak is also heavily involved in Jr. Achievement and working with the city's youth.
Prudential YWGC Realty
1425 Clarkview Road, Baltimore, MD 21209
410-627-8998
---
Toni Sullivan
Spa Director
Four Seasons Hotel Baltimore
200 International Drive, Baltimore, MD 21202
410-223-1440, [email protected]
Toni Sullivan is director of the Spa at Four Seasons Hotel Baltimore, a full-service spa, offering everything from massages and facials to make-up applications, body treatments, and even energy work. As an added bonus, the Spa is designed for guests to stay a while and rejuvenate in the Heat Experience and relaxation rooms. During the summer months, guests can "Daycation," with a spa treatment and access to the infinity pool overlooking the harbor (Monday through Thursday). What is your educational/training background? "I trained at the Christine Valmy Institute where I received my Esthetician Certificate. I received my Cosmetology License from the New York Beauty School and Esthetician License from the California State Board." How did you decide on this career track? "Horrible skin!" says Toni. "I am a firm believer in first impressions and it was devastating to not be able to put my best face forward. Even worse, it impacts your confidence and self-esteem. I vowed to study skincare and really understand it to help myself and others shine from the inside out. I immediately fell in love with the industry and have enjoyed watching it transform over the years. Spas used to be limited to facials, massages, and body treatments. I decided to take a more holistic approach to our own spa menu, offering a line of treatments dedicated to healing and rejuvenation, which can lift the spirit and create a greater sense of emotional well-being." Tell us about the growth of your company: "We've been very fortunate to see the spa's revenues grow, both in retail and treatments/services. Employee satisfaction is up, and we've had a great response to our Spa and Fitness Center membership program." How have you been recognized by your industry? "The Spa was named Best Spa in Baltimore in Baltimore magazine's Best Of issue in 2012 and Forbes Travel Guide awarded the Spa four stars in 2013, which was another big accomplishment for us. Tell us about your community involvement: "The Ronald McDonald House in Baltimore has touched my heart. I especially love spending time with the children during Activity Hour. Their optimism in the face of adversity is truly inspiring." What are the latest trends in the field? "Wellness travel continues to be a big trend. We're addressing spiritual and physical imbalances with our new line of energy modalities, complimentary wellness workshops, and consultations with an on-site herbalist. We're also in the process of launching an exclusive treatment that combines the most recent advances in technology and skincare called the HydraFacial. Proven effective for all skin types, the HydraFacial combines cleansing, exfoliation, extraction, and hydration all while delivering antioxidants, Hyaluronic Acid, peptides and other essential nutrients." If you had a motto (or if you already do), what would it be? "Be still and breathe."
---
Michelle Sartori
Associate
Corbin Salon
1422 Clarkview Road, Baltimore, MD 21209
410-494-8888
Michelle Sartori comes from a long line of expert stylists, so it's no wonder she's earned numerous professional accolades, including Best Haircut and Best Updo from International Sebastian in Los Angeles, as well as Baltimore's best colorist of 2013. What do you find fun about your work? "My clients have their own needs, so each one represents a different challenge," says Sartori, who tailors her services accordingly. What sets you apart? "My expertise and knowledge of hair and coloring techniques." What's today's biggest trend? "Windswept updos, high shine, and lots of texture." What's your motto? "Don't sweat the small stuff!"
---
Megan L. Avery
ChFC
President and Founder
Legacy Consulting LLC
Legacy Tax Advisory LLC
1301 York Road, Suite 602 Lutherville, MD 21093-6009
410-828-9505, [email protected]
www.YourLegacyPlan.com
What is your primary mission? To bring a personal approach and sound strategies to help individuals and families plan for their future. What's the key to success for clients? Their understanding of how the financial tools work is vital to them making prudent decisions. Tell us about your experience: I'm a Chartered Financial Consultant (ChFC) who started my first company in 1998. I am an independent registered representative with Questar Capital Corporation (QCC) and member of FINRA/SIPC, specializing in tax, income planning, and estate-planning. I hold several financial and securities licenses in six states and run a busy tax practice.
---
Mary Anne Barker
Owner of La Chic Boutique
La Chic Boutique, a consignment shop opened four years ago by Mary Anne Barker, is known for its variety of high-end women's clothing, shoes, boots, and accessories, including authentic designer bags and wallets. What sort of merchandise do you look for? "We only accept items that are in pristine condition—in fact, most items still have the tags," says Barker. "And if you're looking for a true vintage find, we carry items that date back to the last century." What sets La Chic apart? "I always listen to my customers and consignors to keep the shop and the merchandise fresh and up-to-date. We also offer a personal stylist experience, which is usually only found in the best department stores." If you had a motto, what would it be? "I already have one! 'Where you don't have to spend a fortune to look like a million.'"
La Chic Boutique
5614 Newbury Street, Baltimore, MD 21209
443-869-2247, lachicboutiquemd.com
---
Jennifer Bayne
Realtor®
Long & Foster Real Estate
6080 Falls Road, Baltimore, MD 21209
410-377-2270 (office), 410-409-2393 (cell)
[email protected], www.LivingMD.com
Ranking in the top 5 percent of Realtors in Long & Foster's firm, Jennifer has more than a decade of experience that provides insight into the area's market trends. What's your personal credo? "I'm a firm believer in living life to the fullest. In 2011, my 14-year-old daughter survived ovarian cancer, which makes me passionate about life." How does that translate into your work? "I'm dedicated to helping others make the most of their opportunities and pursue their dreams." What sets you apart from the competition? "My professional guidance about the evolving real-estate market and down-to-earth approach offer clients much-needed comfort in the most expensive transactions of their lifetime." Log on to read Jennifer's rave reviews at LivingMD.com.
---
Jodie Gil
President
Patrick's Hair Design
9194 Red Branch Road, Columbia, MD 21045
410-730-1700, Patrickshairdesign.com
The expert stylists at Patrick's Hair Design have been pampering clients for 30-plus years, says Jodie Gil. What's your latest offering? "We have introduced a fantastic new color line called Illumina—it gives amazing shine!" What sets you apart? "My ability to challenge myself and my staff so we continue to grow and give great service." How do you give back? "I am involved with ARC of Howard County and served on the board. I also contribute to many local fundraisers."
---
Jody Berg
Principal
Jody Berg had two goals in mind when she left a high-powered advertising job in 1989 to open Media Works: to provide clients with stellar service, while allowing employees to lead full lives outside of work. Now marking its 25th anniversary, Media Works has grown into a regional powerhouse. What are your professional goals? "To have continued growth with the same core values we started with." What sets you apart? "Besides service, I'd say educating our clients on all the new digital, mobile, and legacy advertising opportunities." Tell us about Media Works's esprit de corps: "I have a group of smart, dedicated, open-minded employees who enjoy coming to work, and it shows in their work. We truly enjoy working together and spending time outside of the office."
Media Works, LTD
1425 Clarkview Road, Suite 500, Baltimore, MD 21209
443-470-4400, medialtd.com
---
Gloria Brennan
President
Permanent Make-up of Maryland
Locations in Baltimore, Timonium & Owings Mills, MD
410-905-8242, permanentmakeupofmd.com
[email protected]
Gloria Brennan is the founder of Maryland's first day spa, About Faces, and its first licensed aesthetician. Many followed her path to successful careers under her apprenticeship. Gloria specializes in cosmetic tattoos (eyebrows, eyeliners, lip definition, beauty marks), as well as medical tattoos (cancer and acne-scar camouflage, plastic surgery, areola reconstruction, hair follicle reconstruction and alopecia.) Where did you get your training? I attended the Fashion Institute of Technology in New York and learned photography makeup, skin care, and the science of color. Why did you get into this field? I've always been in the business of makeovers, so this was a natural career path. I get to use my talents to change lives in a meaningful way. I love this work.
---
Erica Russo
Owner/Operator
The Point in Fells
1738 Thames Street, Baltimore, MD 21231
410-327-7264, thepointinfells.com
Erica Russo helms the popular restaurant/bar The Point in Fells. What industry awards have you won? "Baltimore's Best Reinvented Restaurant, Baltimore's Top 50 Restaurants, City Paper's Best Brunch, and Baltimore's Best Restaurant-Urban Cuisine." How do you give back? "By volunteering at schools, homeless shelters, and soup kitchens, and by donating to Johns Hopkins, Living Classrooms, Family Crisis Center, and schools." What sets you apart? "Our strong family base, knowledge of customers' needs, and drive to give customers new, exciting things."
---
Lynn R. Chincheck, DDS
Lynn Chincheck believes that most people appreciate a beautiful smile, and it's her goal to make sure that her patients walk out of the office confident and happy that they have had their expectations met or exceeded. What sets you apart from the competition? Dr. Chincheck builds health-centered relationships with her patients. Her strong commitment to continuing education ensures that her patients' health goals are realized in the most optimal way. What is your educational/training background? A magna cum laude graduate of West Virginia University, Dr. Chincheck went on to receive her DDS at that institution's school of dentistry, fulfilling her dream of becoming a medical professional. Tell us about your practice since its founding: Dr. Chincheck established her own private practice in 1990, and employs six team members with a combined total of more than 120 years of dental experience. What is your practice's guiding principle? "Lasting beauty, "she believes," requires care and skill—without sacrificing comfort or good health." Dr. Chincheck believes in providing each of her patients with "the health they deserve and the beauty they crave."
Lynn R. Chincheck, DDS
9475 Deereco Road, Suite 402, Timonium, MD 21093
410-561-8845, lynnchincheckdds.com
---
Shari Kohn, DDS*
Dental School: University of Maryland,
Pediatric Dental Residency: University of Maryland
Melena Evancho, DDS*
Dental School: University of Maryland,
Pediatric Dental Residency: National Children's Medical Center
Elizabeth Prada, DMD, MPH*
Dental School: University of Pennsylvania,
Pediatric Dental Residency: University of North Carolina
* Diplomate, American Board of Pediatric Dentistry
Dentistry For Kids teaches families about prevention to ensure good oral health. With 22 years of experience, Dr. Shari Kohn understands that the habits established in childhood persist throughout her patients' lives. Drs. Evancho and Prada share these philosophies. Why is it important to start dental care early? Dentistry For Kids emphasizes the age 1 dental visit, providing a "dental home" for a child's comprehensive needs. What other strengths does the practice have? The staff is consistently recognized in Baltimore magazine's Top Dentist surveys. The practice recently welcomed Dr. Elizabeth Prada, who brings experience in pediatrics and public health. What makes Dentistry for Kids different? Compassion and attention to detail set us apart. Dental visits can be a great experience for the parent
and the child—if done correctly.
Dentistry for Kids
100 Sparks Valley Road, Suite C, Hunt Valley, MD 21152
410-771-8200, toothfairy2.com
---
Ann Y. Fenwick, CFP, MSFS
President
Ann Y. Fenwick strives to build lifelong relationships with her clients while helping them navigate this volatile economy. What's unique about your approach? "Taking each client's circumstances into consideration, I design unique strategies to meet that client's needs." But it doesn't stop there: "Financial planning is not a one-time event, it's a lifelong process," says Fenwick. Tell us about your community involvement: "I participate in the Baltimore Women's Giving Circle, as well as by supporting other organizations." Has your business grown? "Yes, nearly every year since its inception." What industry recognition have you received? "The Chairman's Award every year since 2005. I also serve on the Rep Council of NFP Securities, Inc., and the Advisory Board of Fusion Advisors." What's your focus? "Empowering women, both from a personal and financial perspective, and providing them with the tools to become successful." What sets you apart? "Very personal attention to detail. We're service on steroids!"
Fenwick Financial Services, LLC
1777 Reisterstown Road, Suite 280, Pikesville, MD 21208
410-821-0089, fenwickfinancial.com
---
Kimberly Klacik
Founder
Potential Me
8721 Lackawanna Avenue, Baltimore, MD 21234
410-458-3961. potential-me.com
Kimberly Klacik helps purchase professional/special-occasion garments for women on their way to college, the military, trade school, or the workforce. How has your organization grown? "In just over a year, we have tripled our number of clients, donors, and sponsors. Our revenue has also tripled." What recognition have you earned? "We were named a 'Local Influencer' by Charity Meets Style." What are your goals? "To implement Potential Me in 20 high schools by the end of 2015."
---
Michele A. Shermak, MD, FACS
1304 Bellona Avenue, Lutherville, MD 21093
410-616-3000, www.drshermak.com
A highly skilled plastic surgeon, Dr. Shermak focuses on helping patients achieve their best version of themselves. What are your specialties? "I'm expert at body contouring and mommy makeovers, facial rejuvenation, and breast procedures." Tell us about your training: I graduated Phi Beta Kappa and magna cum laude from Franklin and Marshall College, and earned my medical degree from The Johns Hopkins School of Medicine. I trained in plastic surgery at Johns Hopkins. I joined Johns Hopkins faculty after fellowship in Nashville, and transitioned into private practice 4 years ago." What makes your practice stand out? "I understand that each person is unique, and my practice is intentionally client-centric, focused on offering a wide range of options to allow patients maximum flexibility and support."
---
Georgeanna Garceau
Owner, Realtor, Broker
Kelly Garceau
Manager, Realtor
Danielle DeLuca
Manager, Associate Broker, Realtor
Garceau Realty, a residential and commercial brokerage, opened in 2008 in Harford County. Later that year, they opened an office in Canton, and have plans to open a third office in Lutherville. How did you get started? "After I had my children, Kelly and Dani, I decided to pursue a career in real estate thinking it would offer the flexibility I needed as a mom," says Georgeanna. How do you measure your success? "During my first year, I was No. 1 in sales at my brokerage, Better Homes and Gardens, and have been a top producer ever since. Kelly and Dani saw my success and followed suit." What sets you apart? "Our exceptional sales team and first-rate marketing that increases exposure with professional photography, premier marketing materials, and advice on staging and minor improvements." How do you give back? "We are involved with Believe in Tomorrow's Children's Home, the Alliance for Lupus Research, and Upper Chesapeake Health Foundation, to name a few."
---
Lisa Ishii, MD, MHS
Facial Plastic Surgeon
Johns Hopkins Otolaryngology–Head and Neck Surgery
Dr. Lisa Ishii, a facial plastic surgeon, sees patients at The Johns Hopkins Center for Facial Plastic & Reconstructive Surgery at Green Spring Station in Lutherville and The Johns Hopkins Health Care and Surgery Center at White Marsh. What qualities make you stand out among the competition? "As a national leader in evidence-based medicine for facial plastic surgery, I am committed to providing only the highest quality treatments for my patients," says Dr. Ishii. What services do you offer? "I focus on facial cosmetic surgery," says Dr. Ishii, who is an expert in facelifts, eyelid surgery, non-surgical treatment, fillers, and hair transplantation. What is your training? "I completed my residency and fellowship at The Johns Hopkins School of Medicine," says Dr. Ishii, who is double board-certified in otolaryngology/head and neck surgery, as well as facial plastic and reconstructive surgery.
Johns Hopkins Center for Facial Plastic & Reconstructive Surgery
877-546-4530, hopkinsmedicine.org/facialplastics
---
Alyson Wells, MD, FACS
Board-Certified Plastic and Reconstructive Surgeon
A board-certified plastic and reconstructive surgeon, Dr. Alyson Wells has built a thriving practice at Valley Plastic Surgery and Medi-Spa. What is your training background? Dr. Wells attended some of the most prestigious institutions in the country for her medical and surgical credentials—Washington University in St. Louis, The Johns Hopkins Hospital, and the University of Miami—prior to establishing her practice. Her academic achievements reflect the skill, dedication, and professional discipline that define her approach to the art and science of plastic surgery. What services do you offer? Valley Plastic Surgery focuses on facelifts and other facial aesthetic procedures, breast surgery, abdominoplasty, and body contouring with the unique goals and needs of each patient in mind. The medi-spa provides personalized treatments that combine organic skin products with medical-grade ingredients to produce superior results. What are your personal or professional goals for the future? A wife and mother of two ypung boys, Dr. Wells balances family, career, and community as she focuses on exceeding the expectations of her patients. Her mission is to continue as the premier choice for plastic and cosmetic surgery in the Baltimore region.
Valley Plastic Surgery and Medi-Spa
10151 York Road • Suites 112-114 • Hunt Valley, MD 21030
410-628-8200 • vpsurgery.com
---
Elizabeth Spannhake, DDS, MS, MPH
Spannhake Orthodontics
Specialist in Orthodontics for Children & Adults
Board Certified
7801 York Road, Suite 315, Towson, MD 21204

410-321-5004, smile-experts.com
Dr. Spannhake is dedicated to providing patients with a smile that boosts confidence and opens doors. What services does your practice offer? My orthodontic specialty practice provides treatment modalities including Invisalign, Incognito (lingual braces), Traditional Stainless Steel and Ceramic brackets as well as Zoom Tooth Whitening. What sets you apart from the competition? Utilizing state-of-the-art technology as well as an outstanding and educated staff, my practice ensures excellent orthodontic care and results. What other professional pursuits are you engaged in? I am a Clinical Associate Professor at the Temple University School of Dentistry teaching in the Department of Orthodontics on a biweekly basis throughout the year.
---
Sarah McGee
Owner
Visual Changes Salon and Spa
8529 Baltimore National Pike, Ellicott City, MD 21043
410-461-2421, visualchanges.biz
Sarah McGee's Visual Changes Salon and Spa offers an array of services. What do clients want? "A salon and spa where everyone knows their name, yet it exudes the professionalism and experience necessary to meet all their needs without breaking their bank." What industry awards have you won? "In 2013, Baltimore magazine named us a Top Salon." How do you give back? "We support the Claudia Mayer/Tina Broccolino Cancer Resource Center, UMMC, and Locks of Love, among others." What's your motto? "If you aren't going crazy, you aren't working hard enough."
---
Lori Villegas
Senior Vice President, Wealth Advisor
As a Morgan Stanley Wealth Advisor, Lori Villegas works with her clients to help manage, preserve, and transition their wealth. What services do you offer your clients? Villegas helps clients achieve financial success and security, with a focus on first-generational wealth. She also works with business owners and executives to help them preserve their wealth and assist them in creating individual plans that address their distinct needs. What qualities help you to stand out among the competition? "Being a woman in a male-dominated field gives me a distinct perspective," says Villegas, who was named as one of Maryland's Top 100 Women 2012 by The Daily Record. Tell us about any involvement you have in the community: Villegas gives back to the community by mentoring other business women, participating in Giving Circles, and working with various charitable organizations. "I hope that my small impact will help Baltimore be a better city," she says.
Morgan Stanley
650 S. Exeter Street, Suite 1100, Baltimore, MD 21202
410-736-5570, [email protected]
©2014 Morgan Stanley Smith Barney LLC. Member SIPC. Source: The Daily Record's annual "Maryland's Top 100 Women" winners, May 7, 2012. Factors considered in the ranking include professionalism (achievement in chosen professional field, exercises leadership and has significant contributions to profession), volunteerism (contributes significant time and effort to volunteerism and leadership with the community), and mentorship. Investment performance is not a criterion. Morgan Stanley LLC notes tax laws are complex and subject to change.
---
Janet P. Woodyard, MD, FACS
Plastic Surgeon
As one of the region's most respected plastic surgeons, Dr. Janet Woodyard feels fortunate to have been able to help thousands of patients achieve their personal goals. What services does your practice provide? Dr. Woodyard masterfully utilizes a comprehensive repertoire of both surgical and nonsurgical techniques to consistently provide beautiful results. What is your educational background? Dr. Woodyard is a graduate of the University of Maryland School of Medicine, and completed her plastic surgery residency at Washington University in St. Louis. She is board certified by the American Board of Plastic Surgery and a member of the prestigious American Society of Plastic Surgeons. Dr. Woodyard has been in practice for over 20 years in the Owings Mills area. "My goal is to provide natural results with the safest, most advanced techniques available and to always do so with care and compassion," says Dr. Woodyard, whose practice focuses on cosmetic surgery of both the face and body.
Dr. Janet P. Woodyard Plastic and Reconstructive Surgery
20 Crossroads Drive, Suite 12, Owings Mills, MD 21117
410-363-9000, woodyardmd.com