After eight inches of snow, it may seem like an unlikely time to highlight the upcoming golden anniversary of one of Maryland's landmark beaches. But actually, it was on this day, March 6, in 1962, that the infamous Ash Wednesday storm that year provided an "unexpected opportunity," in the words of the National Park Service, for the Department of the Interior to acquire the remaining unprotected portion of Assateague Island and set it aside as a national seashore.
Two decades earlier, the U.S. Fish and Wildlife Service had set aside the Chincoteague National Wildlife Refuge on Virginia's southern end of the island. However, according to the National Park Service, most of Maryland's northern portion of the island—which includes 32,000 acres of marine and estuarine waters—had been purchased for private development.
Residential construction, roads, and other infrastructure work were well underway, according to the story, when the powerful Ash Wednesday nor'easter washed over the island, destroying most of the development.
Ultimately, President Lyndon Johnson, with his signature, officially established the Assateague Island National Seashore on Sept. 21, 1965. The Dispatch of Ocean City recently recounted the events here.
Assateague is one of the largest and last remaining Mid-Atlantic barrier islands largely untouched by development. The state of Maryland manages two miles of the Maryland portion of the island as Assateague State Park. The National Park Service, which says it's planning special events this year to commemorate the national seashore's 50th anniversary, reports that more than 2 million visitors took in the island last year.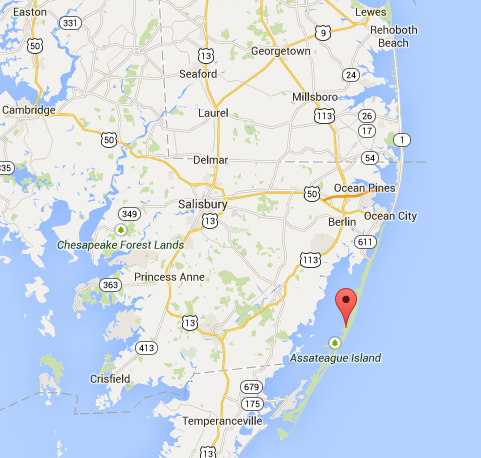 Oh yes, about the horses. According to the National Park Service, those "wild" horses are, in fact, feral horses, which means they are descended from domestic horses that have reverted to an undomesticated state. And not to worry, they're plenty tough to bear the winter—even this one. Local folklore, the NPS goes on to explain, has it that the Assateague horses are survivors of a shipwreck off the coast of Virginia.
More likely, but not as good of a story, the horses were brought to the island by late 17th-century mainlanders. Either way, don't miss an opportunity to visit them once the snow melts. This July marks the 90th anniversary of the annual "Wild Pony Swim" from Assateague Island to Chincoteague Island.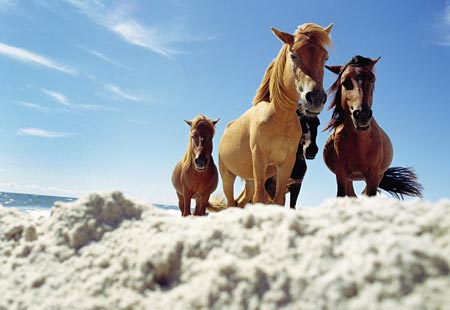 ---
---